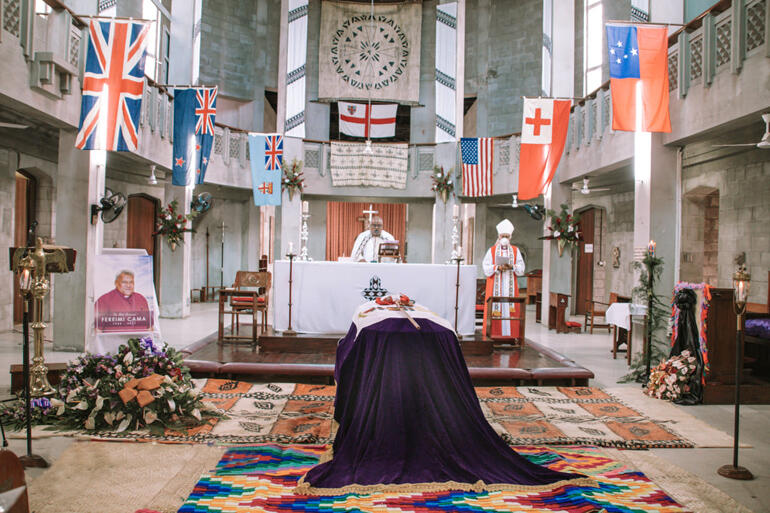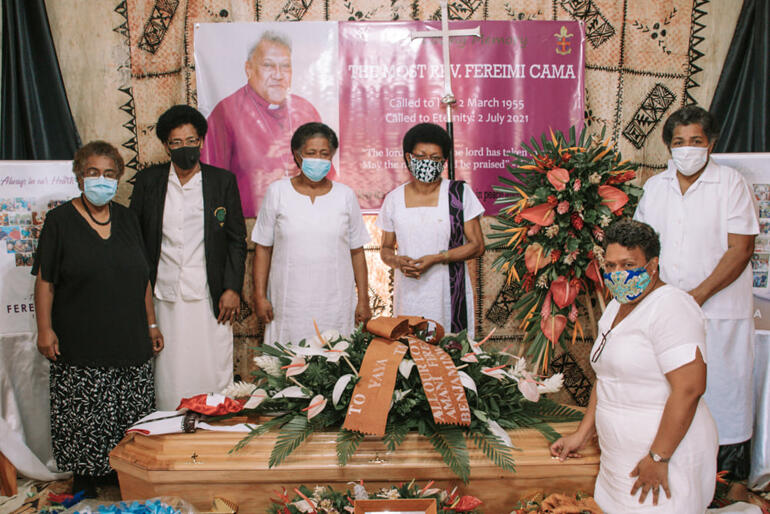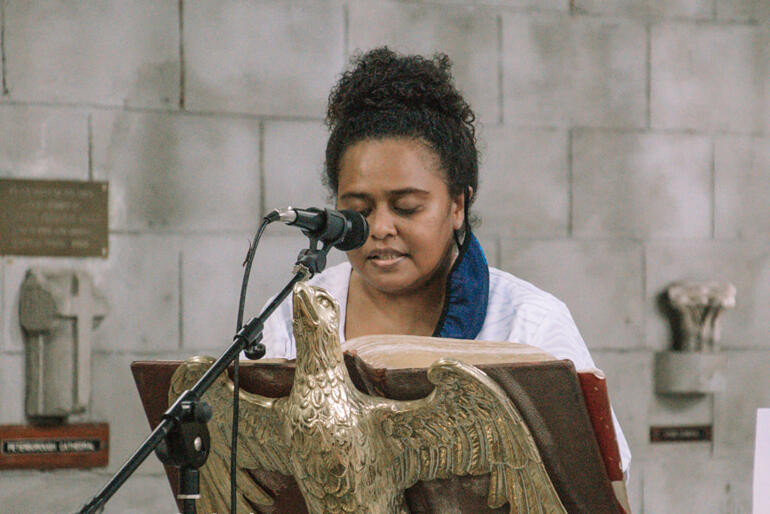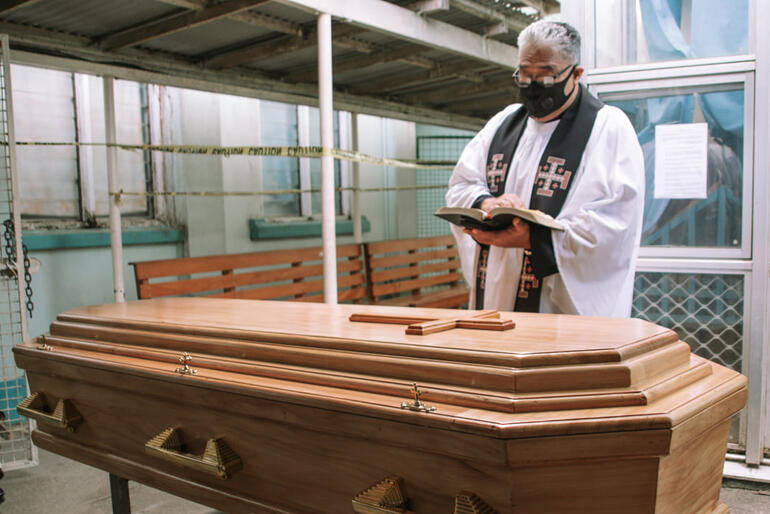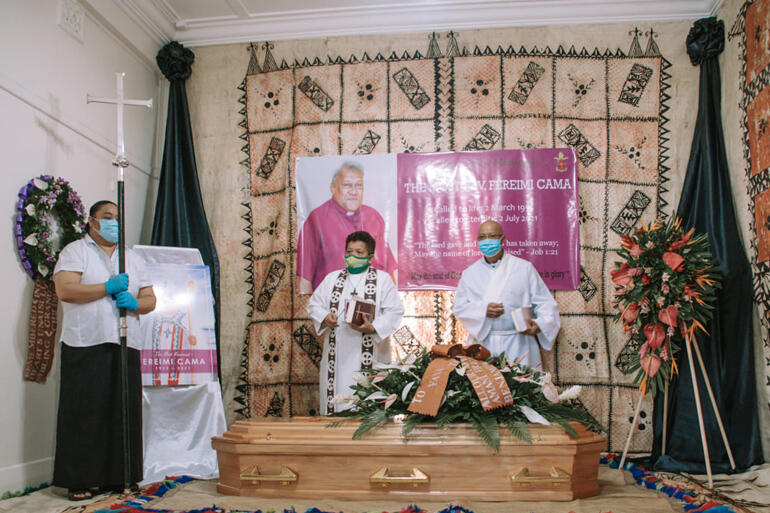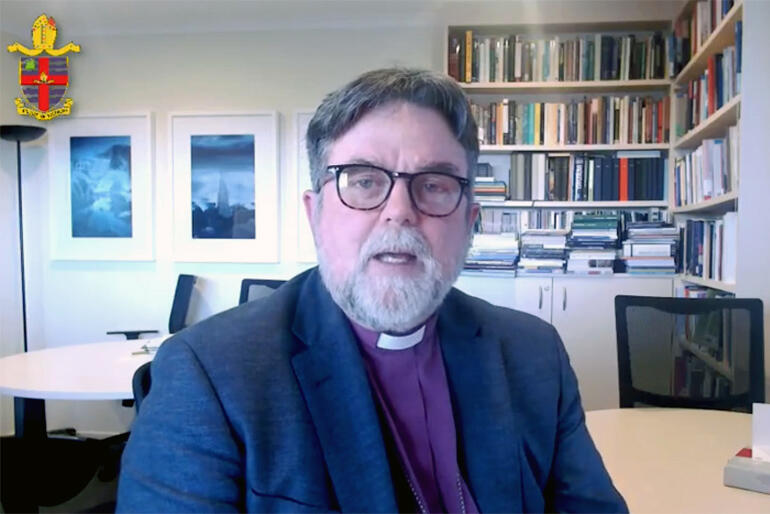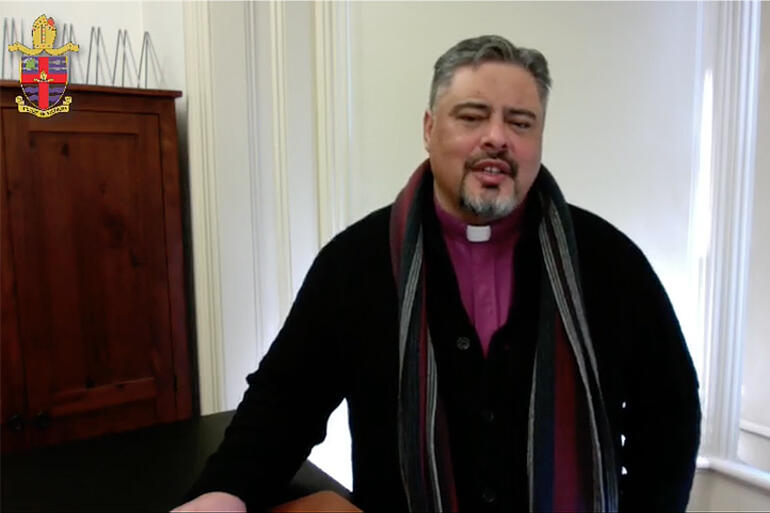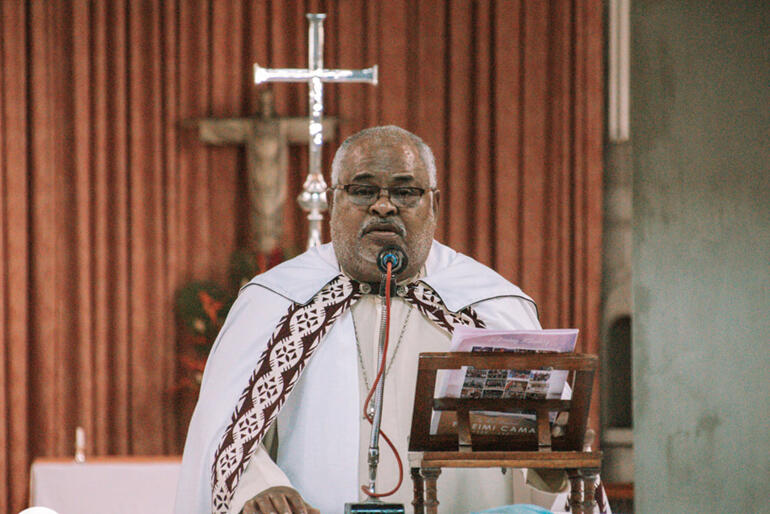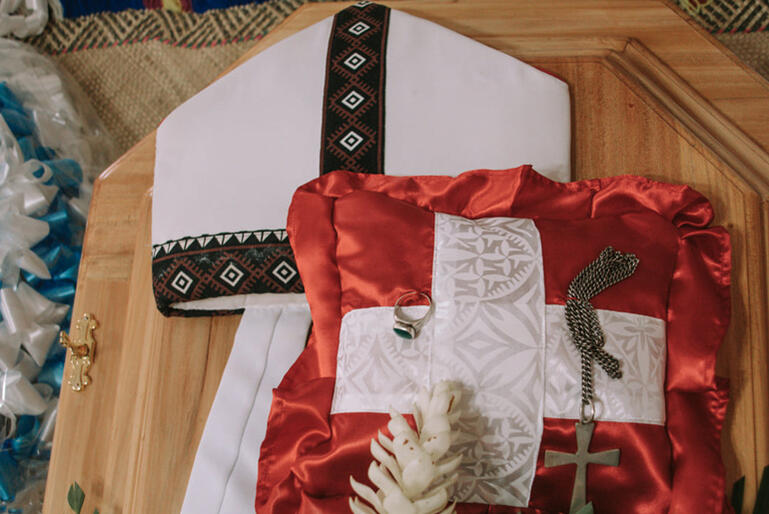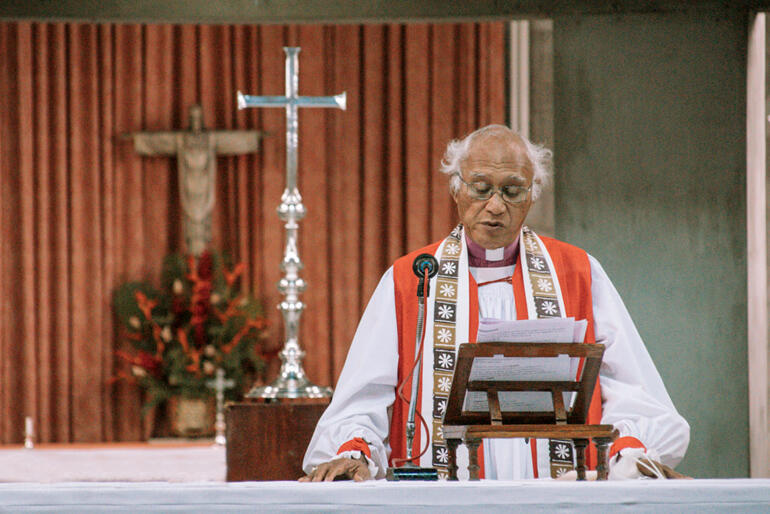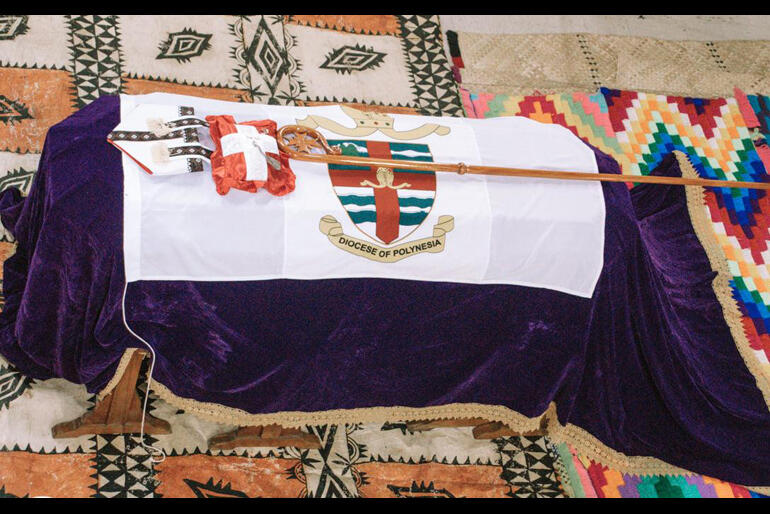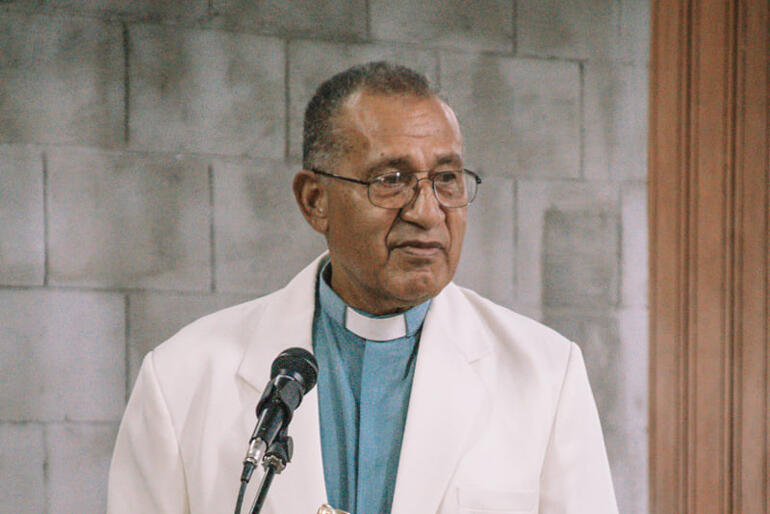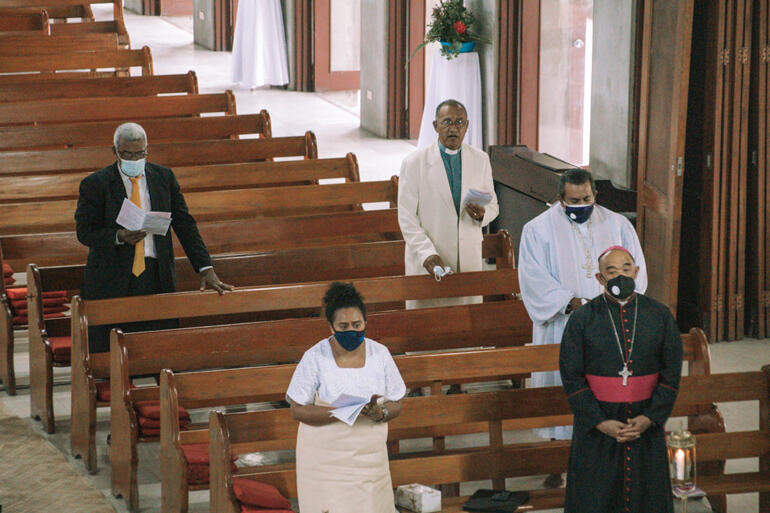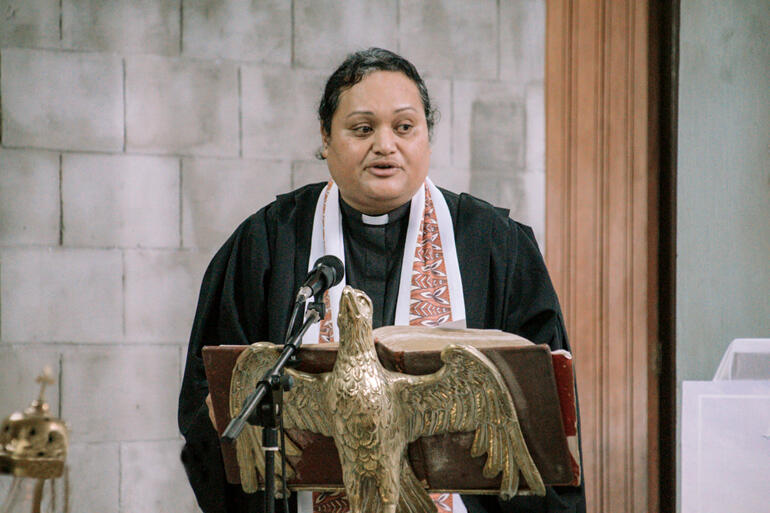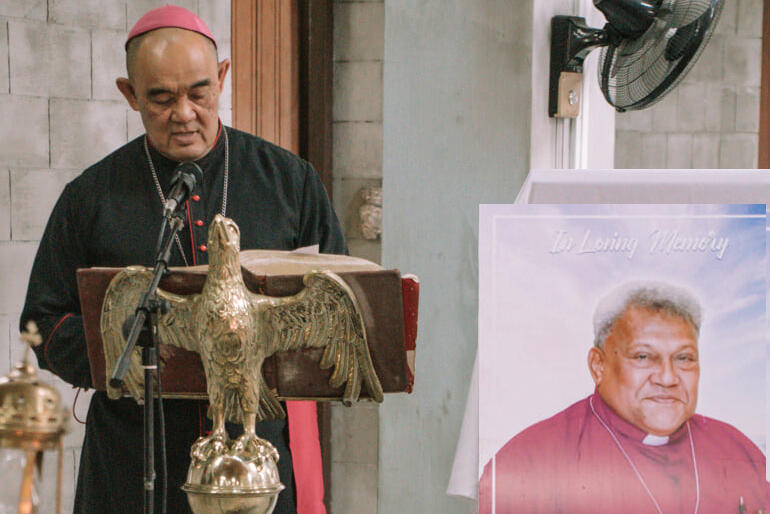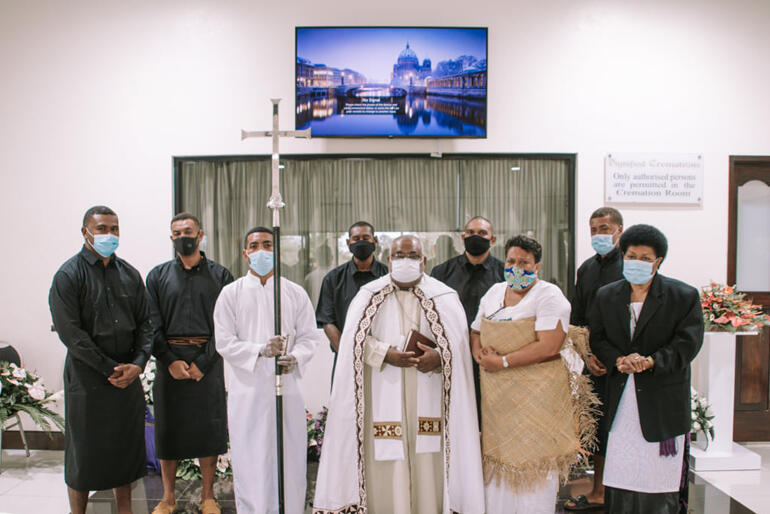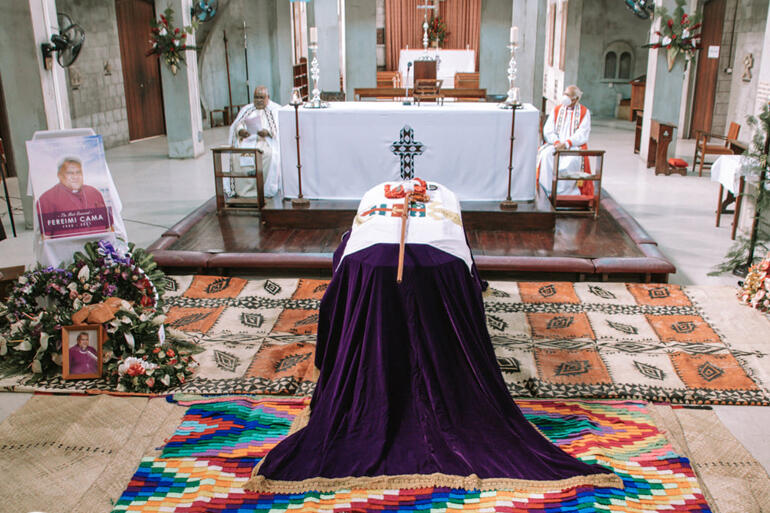 On Friday morning 9 July, Archbishop Fereimi Cama was honoured and farewelled at a funeral service held at Holy Trinity Cathedral, Suva.
Family and church dignitaries shared the stories of his life and made their farewells in the church where Archbishop Fereimi had served as a priest and dean, and where he was installed as 7th Bishop of Polynesia and Archbishop of Aotearoa New Zealand and Polynesia.
Fiji's Covid-19 restrictions limited how many could pay their respects at the Cathedral, yet many of those closest to Archbishop Fereimi were able to accompany their beloved Archbishop on different stages of his final journey.
Yesterday over 1000 people followed the service and funeral cortèges in real time, watching from across Fiji, Tonga, Samoa and Aotearoa New Zealand, as well as from the UK and around the globe. The video covering Archbishop Fereimi's funeral service and final journeys has since gathered more than 11,000 views.
The Most Rev Justin Welby, Archbishop of Canterbury sent a letter extending his personal condolences to the family and province and paying tribute to Archbishop Fereimi's excellent example of leadership amongst the Anglican primates and beyond,
"Archbishop Fereimi's wise and pastoral ministry expanded from the Diocese of Polynesia and the Province to the whole Anglican Communion. He was a strong leader on climate justice advocacy and natural disaster preparedness, which are profoundly important to the Pacific Islands and to us all."
"I know that your brothers and sisters across the Anglican Communion will be holding you in prayer and love at this time. May he rest in peace and rise in glory."
Leading Archbishop Fereimi's funeral service on Friday was the Vicar General of Polynesia and Dean of Suva, the Very Rev Orisi Vuki, assisted by Archbishop Emeritus Winston Halapua who spoke in deep appreciation of his successor.
Archbishop Emeritus Winston preached the gospel, picking up on Archbishop Fereimi's pastoral heart and his love of growing – both of ministries and food, which had given him great joy as he shared the fruits of his labour with others.
"You and I need to follow his example," said Archbishop Winston, calling on mourners to remember that such service in love conquers death and brings hope.
"He would want his beloved family to continue growing with God and growing in love for one another."
Friday's first tributes and words of condolence came in video messages offered by Archbishop Fereimi's two fellow primates in the Anglican Church of Aotearoa New Zealand and Polynesia.
Archbishop Philip Richardson shared treasured memories of Archbishop Fereimi from the February 2020 primates' meeting in Jordan they attended together, where Archbishop Fereimi had made a lasting impression on all the primates as he chaired a major session with precision and good humour.
Archbishop Philip described Archbishop Fereimi as a man of dignity and humility with a generous and open heart – that he will sorely miss.
"On behalf of Tikanga Pākehā…the Bishops of Tikanga Pākehā …and on behalf of the whole Church, thank you to you his family for sharing him with us.
Thank you for the gift that he has been to us."
Archbishop Don Tamihere offered condolences and sympathy to Archbishop Fereimi's family from the Pihopatanga o Aotearoa, then addressed Archbishop Fereimi, whom he has known for 30 years,
"I am still devastated at your passing. You've been a friend for a long time. I'm going to miss our prayers together, our conversations together, I'm going to miss your wisdom, your guidance, your smile."
"But I know that your darling wife Mereadani will be waiting eagerly to welcome you into heaven and into the presence of the joy of our Lord."
Yesterday at 10am Archbishop Fereimi's procession entered Holy Trinity Cathedral, as he was borne aloft by six priests of the diocese, accompanied by a recorded choir of St John's Theological College students.
The day before, Archbishop Fereimi's journey back to his home for vigil with his family was blessed by Fr Sione Uluilakepa and on arrival at his house by Rev Amy Chambers and Fr Daniel Houng Lee. Final rites at the Bishop's house were led by Fr Jone Tuiwaiwai from the House of Sarah, while PCC General Secretary Rev James Bhagwan was the narrator for the livestreams.
Prayers and a time of silent remembrance began the funeral in Suva Cathedral yesterday, followed by readings from Romans 8: 35-39, read by Apaitia Toka, and the gospel from John 20: 11-18 read by Archbishop Fereimi's daughter Litiana Cama Seru.
Rev Tomasi Tarabe from Vanua, Ono-i-lau gave the first eulogy in Fijian, sharing memories of Archbishop Fereimi's life with the many Fijian speakers tuning in to the predominantly English language service.
Litiana Cama Seru gave the eulogy for the family, speaking from her own and sister Ranadi's words of Archbishop Fereimi's selflessness and unconditional love, and the decency, dignity, honour and respect he demonstrated not only to those he loved most dearly, but to any who would ask for his help.
"Daddy… you were the light of so many of our lives. None of us can truly believe that you are no longer with us…and words alone cannot even begin to describe the grief we feel at your untimely loss."
Litiana spoke of her father's attention to detail (including his unswerving punctuality), his generosity, and his love of tending his food garden, which he had led many across the diocese to take up recently as a way to support their families and neighbours during the economic hardships of the pandemic.
Diocese of Polynesia Registrar Rev Sepiuta Hala'api'api gave the eulogy on behalf of the Anglican Church, outlining Archbishop Fereimi Cama's many contributions to the local and global church, picking up on his foundation as a teacher, his priestly roles and his courageous service during the 2000 Fiji parliament hostage crisis.
Rev Sepi Hala'api'api set out how Archbishop Fereimi had strongly supported young people as leaders in the church, and as leaders in mitigating climate damage through environmental advocacy and CIVA disaster preparedness training.
She shared messages of support from USPG and the Diocese of Lincoln who gave their thanks for Archbishop Fereimi's work leading climate justice education and mission amongst them.
Archbishop Fereimi's encouragement of women's leadership and of children showed in his support for the House of Sarah, and promotion of the zero tolerance of violence against women campaign, as well as in his role as Board Chair for St Christopher's Home and the Moana Boys' Home in Suva.
Anglican schools and colleges across the Diocese of Polynesia yesterday expressed their sadness at their Archbishop's passing, including St John the Baptist Theological College in Suva, where Archbishop Fereimi had lectured in theology, and St Andrew's School in Tonga, which declared a day of mourning on Friday to mark Archbishop Fereimi's passing.
Catholic Archbishop of Suva, the Most Rev Peter Loy Chong who is the Fiji Council of Churches (FCC) Chair, spoke of Archbishop Fereimi's friendship, hospitality and initiative, as well as his contributions to the FCC and Pacific Council of Churches. Archbishop Peter spoke of Archbishop Fereimi's approach in the FCC, saying that while he was a quiet person, he was a very active listener and very pragmatic in getting onto the practical matters of carrying out a pastoral programme.
"Archbishop Cama we will miss you – as a friend, as a leader, as one who witnesses to not only spiritual wellness, but physical wellness and most of all as a radical, vulnerable servant in the footsteps of Jesus.
"May you now with Jesus experience the joy of the Resurrection."
The full livestream of yesterday's cortège from the Bishop's house to Holy Trinity Cathedral, the funeral service and his final cortège is on the Anglican Diocese of Polynesia Facebook page.
More tributes from the World Council of Churches, the Anglican Consultative Council, USPG General Secretary as well as from Bishops, Archbishops and Primates of the Anglican Communion can be found at the conclusion of the livestream as well as here and here.