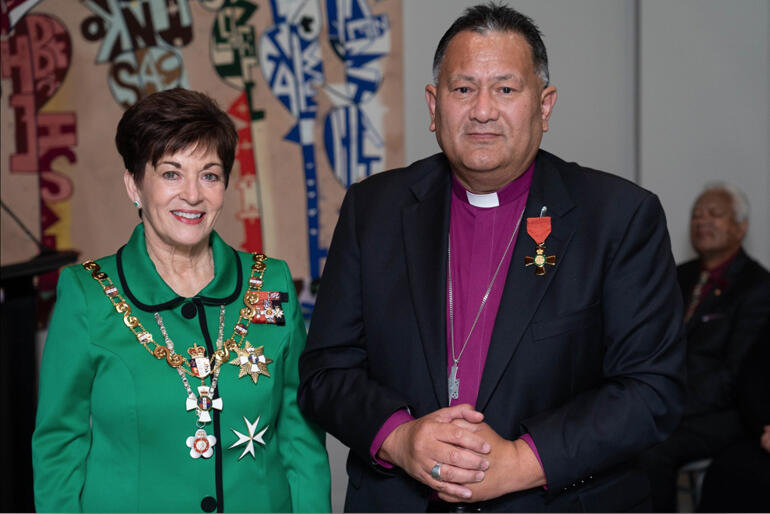 Bishop Te Kitohi Pikaahu has received the honour of Officer of the New Zealand Order of Merit (ONZM) from Governor General Dame Patsy Reddy in a ceremony at Government House in Auckland.
"It is humbling to receive this recognition, which I see as a reflection of the contributions of Mihingare over the last thirty years." said Bishop Te Kitohi.
The ONZM recognises Bishop Te Kitohi Pikaahu's 33 years of service as a priest and 19 years serving Mihingare – Māori Anglicans in Northland and Auckland – as Bishop of Te Tai Tokerau, as well as numerous national and international responsibilities.
The ONZM cites how Bishop Te Kitohi has used his influence in governance and scholarship to raise the voice of indigenous peoples in the global and local church, and especially the aspirations of Māori and indigenous peoples within the Anglican Communion.
Bishop Te Kitohi Pikaahu's international roles cited in the honour include his work as Chair of the Anglican Indigenous Network of the Anglican Communion, numerous WCC representations, and contributions to the International Anglican Liturgical Consultation and international liturgical scholars' network Societas Liturgica.
Bishop George Connor has observed Bishop Te Kitohi's commitment and passion for liturgical work at the three-Tikanga level as a member and for seven years Chair of the Common Life Liturgical Commission (CLLC).
"As a member of CLLC of many years Bishop Te Kitohi Pikaahu brought skills and insights from both te Ao Māori and his academic liturgical studies at Oxford University."
"This blending of academic, pastoral and cultural aspects was an important contribution to the many issues that CLLC dealt with over the years. As an effective chair of CLLC he continued to bring his commitment, enthusiasm and insights into the various issues of the time."
The ONZM also notes Bishop Te Kitohi's contributions to the Māori ecumenical movement through its principal gathering, Te Runanga Whakawhanaunga i ngā Hāhi.
Rev Tara Tautari – who is a member of Te Runanga and General Secretary of the Methodist Church of Aotearoa New Zealand – has worked closely with Bishop Te Kitohi as he chaired Te Runanga Whakawhanaunga i ngā Hāhi over the last two years.
Tara spoke with Taonga about Bishop Kito's contributions during the time she has worked to help Te Runanga reconfigure its life towards the future, a move that has led to a new constitution being ratified last week.
"As Chair, Bishop Te Kitohi has brought energy and vision to the work of Te Runanga, driven by the desire to bring together the Māori churches and taha Māori of our churches. With his support we now have a new constitution in place giving us greater impetus going forward." she said.
Amongst Bishop Kito's achievements supporting Māori organisations are occasions where he has encouraged non-Māori led national organisations to embrace Māori perspectives.
One place where that approach has recently begun to bear fruit is with the New Zealand Bible Society, where Bishop Te Kitohi's input from a Mihingare perspective has already helped shift the society's strategic direction,
"Bishop Pikaahu has helped us to engage more effectively and appropriately with our bicultural context… embracing the story of Maori and that of Te Paipera Tapu in the history of Bible Society… especially as we celebrate 175 years of Bible Mission in New Zealand." said Bible Society CEO Neels Janse van Rensburg this week.
Bishop Te Kitohi has also communicated to the Bible Society's leaders the long-expressed desire of Mihingare to have a Bible in contemporary Te Reo Māori,
"He has given us valuable advice and direction on work to develop a more contemporary Te Paipera Tapu fit for a younger generation of Te Reo speakers." said Neels.
Other national roles cited in the award include governance, chaplaincy, and advisory roles for the Māori Women's Welfare League, St Stephen's and Queen Victoria Schools Trust Board Chair, Te Whare Ruruhau o Meri foundation Chair, as New Zealand Defence Force Anglican Liaison Bishop and Chaplain's Council and Police Commissioner's Maori Focus Forum member.
The full list of Bishop Te Kitohi Pikaahu's roles as cited for the honour is here.