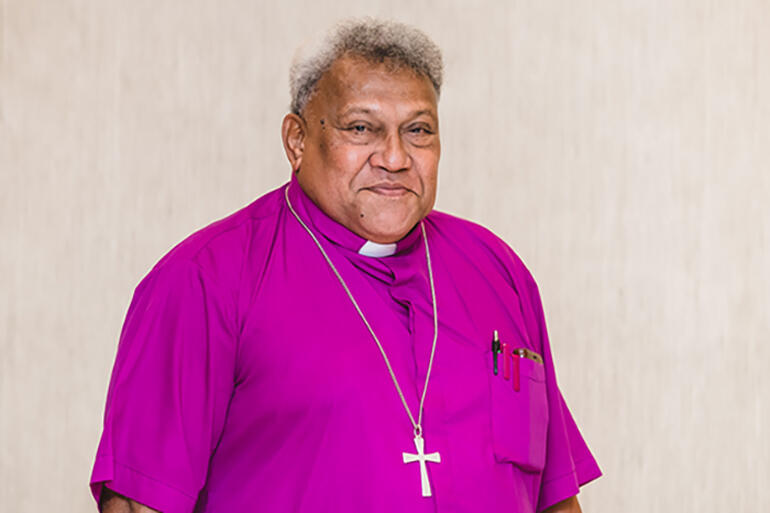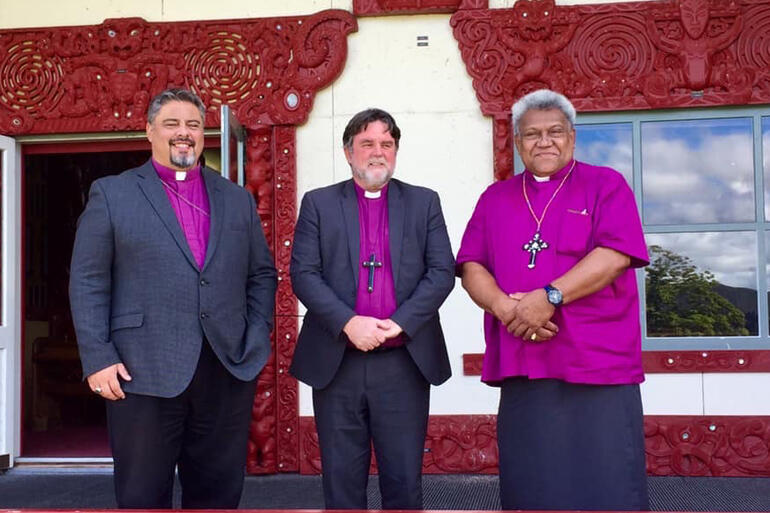 The Most Rev Fereimi Cama, one of the three Archbishops of the Anglican Church in Aotearoa New Zealand and Polynesia, has died.
A communiqué from the Diocese of Polynesia this afternoon reported that Archbishop Fereimi died this morning at the Colonial War Memorial Hospital in Suva. He was 66.
Archbishop Don Tamihere and Archbishop Philip Richardson have forwarded words of condolence to Archbishop Fereimi's family and the faithful in his care in a heartfelt mihi sent to the Anglican Diocese of Polynesia and the wider Anglican Church today.
"He tangi apakura mōu, e te Ātipīhopa e Fereimi, tō tātou hepara kua riro atu nei ki tua te arai, ki te moengaroa.
Whakauru atu ki te Kāhui Wairua e te Ātipīhopa, e te Pononga Pai. Noho mai rā i runga i te rangimārie."
"Our hearts echo softly with the ancient laments of our people, sung for you Archbishop Fereimi; our shepherd who has departed from us, gone beyond the veil, taken to the place of eternal rest." the Archbishops' mihi concludes.
Archbishop Fereimi has served as Archbishop since March 2019 when he was ordained as Bishop of Polynesia, becoming the first i-Taukei (Fijian) to shepherd the diocese and to serve as Archbishop of the Anglican Church in Aotearoa, New Zealand and Polynesia.
As well as shepherding the diocese in mission and ministry, Archbishop Fereimi has been a diocesan and international leader on climate justice advocacy and natural disaster preparedness, and a strong supporter of the Diocese of Polynesia's House of Sarah and its work to eradicate violence against women, especially in the Pacific. Most recently Archbishop Fereimi has encouraged Anglicans across Polynesia to plant gardens to support their neighbours suffering from economic hardship due to Covid-19.
Beginning his career as a Methodist school teacher, Fereimi Cama switched to the Anglican Church during the first Fijian coup in 1987, when he moved to become a member at Holy Trinity Cathedral Suva. His wife, Mereadani Cama was a lifelong Anglican.
Quickly rising into church leadership, Fereimi Cama was ordained as both deacon and priest in 1990 and continued as a teacher and worker priest until 1995, when then Bishop of Polynesia Jabez Bryce sent him to study for ministry at St John's Theological College in Auckland.
By 1997 he had gained a Bachelor of Theology degree and was appointed Assistant Priest at Holy Trinity Cathedral, Suva. Later, when he took up the Cathedral's leadership as its Dean, he proved his faithfulness and mettle while offering Eucharistic and pastoral ministry to MPs and their families caught up in the 2000 Fijian parliament hostage crisis.
Archbishop Fereimi served as Dean of Suva until December 2012, when Archbishop Winston Halapua appointed him priest in charge of the parish of St Matthew's Samabula. From there he moved to study missiology for 18 months at Carey Baptist College in Auckland.
In 2016, Fereimi Cama was appointed Vicar of St Peter's Lautoka, soon after which his wife Mereadani died. He continued at St Peter's until 2019, when he was elected Bishop of Polynesia and became one of the three Archbishops of the Anglican Church in Aotearoa, New Zealand and Polynesia.
Archbishop Fereimi Cama is survived by his daughters: Mereia Ranadi, married to Sireli Waqalevu, and Litiana, married to Maciu Oli Seru, his sons; Joji Cama and Josefa Cama; and grandchildren Amani Fereimi and Benjamin Waqalevu.
Archbishop Fereimi Cama's funeral will take place on Friday 9 July 2021 at Holy Trinity Cathedral Suva and will be live-streamed from 9am Fiji time and linked from the Diocese of Polynesia Facebook page.
'May the soul of God's servant, rest in peace and rise in glory.'