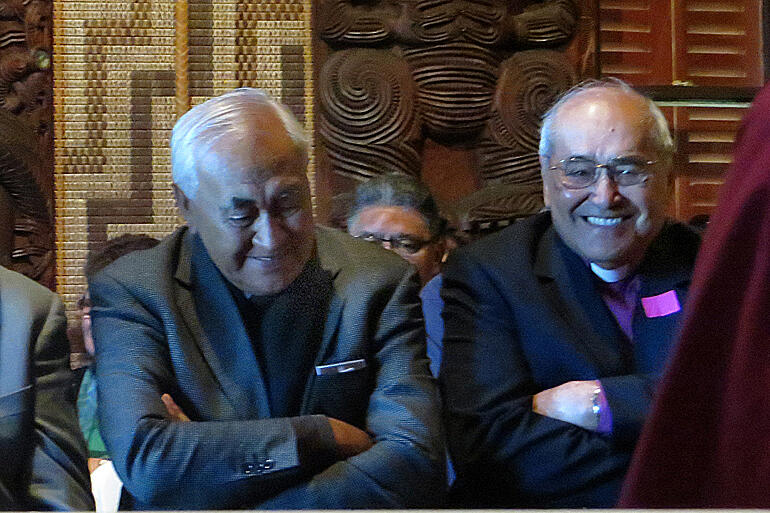 There is a story that I took Waiohau to visit te Pokiha Hemana, te Ariki o te Arawa Waka, which turned out to be an interview for the appointment as te Minita-a-Rohe o te Waiariki and vicar of St Faith's Church, Ōhinemutu. It is true. Te Pokiha was Bishop Manu Bennett's uncle.
I was delighted that Waiohau was appointed to follow me in Rotorua. It was also another link between Ngāpuhi and Te Arawa as Waiohau was following in the footsteps of Ihāia te Ahu, the first vicar at St Faith's.
One of Waiohau's enthusiasms over many years was Te Runanga Whakawhanaunga o ngā Hāhi o Aotearoa (the Council of Māori Churches). He was also involved with the Urban Rural Mission of the Conference of Churches of Asia and visited many countries and churches throughout Asia. He told stories of people from many different cultures where he visited who had claimed him to be their relative. In at least one case a woman in South China claimed he was her son.
Waiohau's commitment to ecumenical dialogue also saw him serve for a number of years on the Anglican Roman Catholic Commission of Aotearoa New Zealand.
He had worked hard during the 1980s as one of those that revised Te Pouhere - the Constitution of the Church. This took some years to achieve. Eventually, and in anticipation of the finalising of this revised constitution, Waiohau, Brown Turei and Muru Walters were ordained bishops at Ōhinemutu on 7 March 1992.
With the implementation of Te Pouhere -The Constitution in May 1992, Waiohau became the first Te Pīhopa o te Tai Tokerau and was able to set up the new Hui Amorangi which covered the area roughly from the Bombay Hills to the far north.
Initially Waiohau lived in Auckland and worked from an office in Parnell. Then in the mid-1990s he and Gwen moved to Paihia and established his office and headquarters. The ongoing development of the Hui Amorangi throughout Te Tai Tokerau continued from there.
Among Waiohau's particular interests was a love of liturgy and he served on General Synod's Prayer Book Commission from 1981-89, and in addition to that was also one of the translators of the widely-used Eucharistic liturgy Te Whakawhetai me te Whakamoemiti (A New Zealand Prayer Book He Karakia Mihinare o Aotearoa pages 476ff). His voice can still be heard on the audio recording of this Eucharist available on the General Synod website. As the only Māori member of the Commission, he oversaw the final form of all te reo material in the Prayer Book. A number of prayers in Māori which Waiohau personally wrote are found in the worship resource Celebrating Common Prayer and are an enduring taonga.
After a ministry spanning more than forty years, Waiohau retired in 2001 and he and Gwen moved initially to their home at Rāwhiti in the eastern Bay of Islands. Later they moved back to Paihia.
I agree with a comment I remember from a friend of Waiohau's who had known him from the days of his curacy in Mt Eden. "He was the embodiment of what it is to be a Christian, pure, simple, straightforward holiness".
Moe mai, e te hoa, i te uma piri o te Ariki.