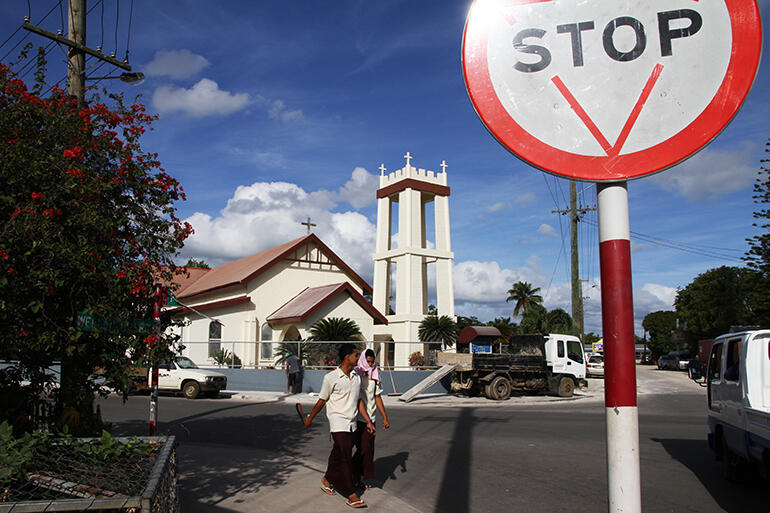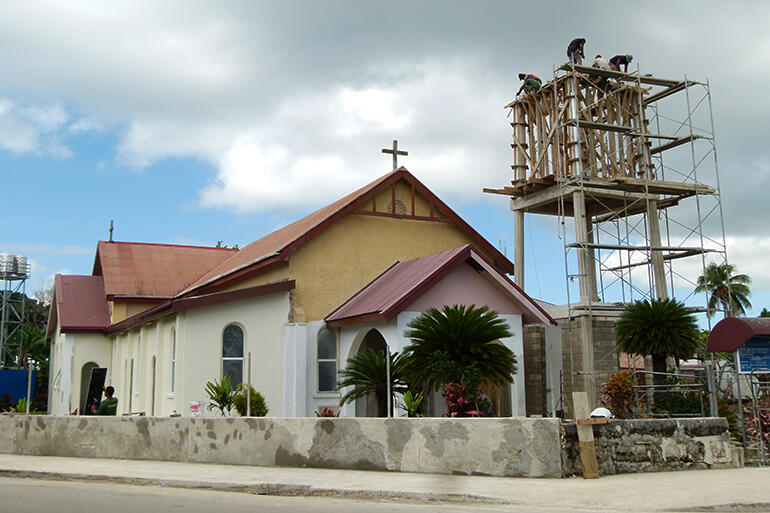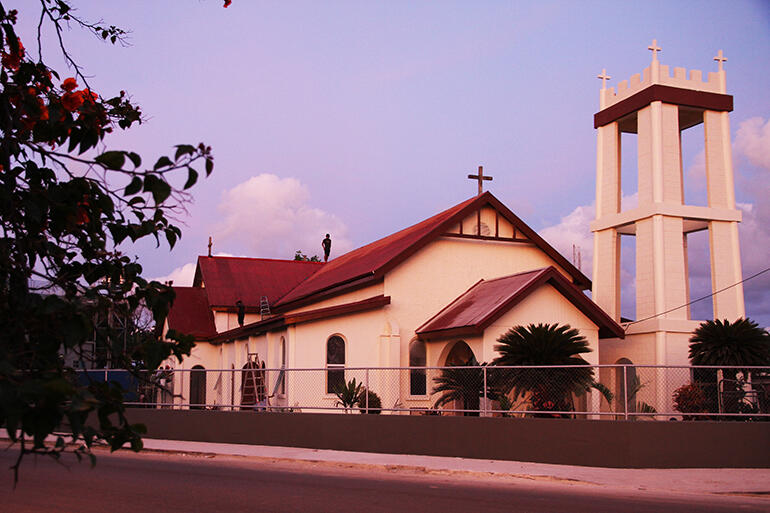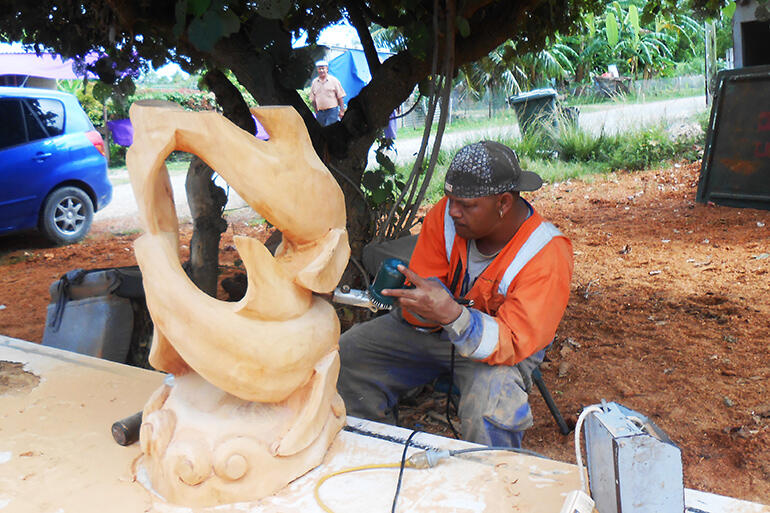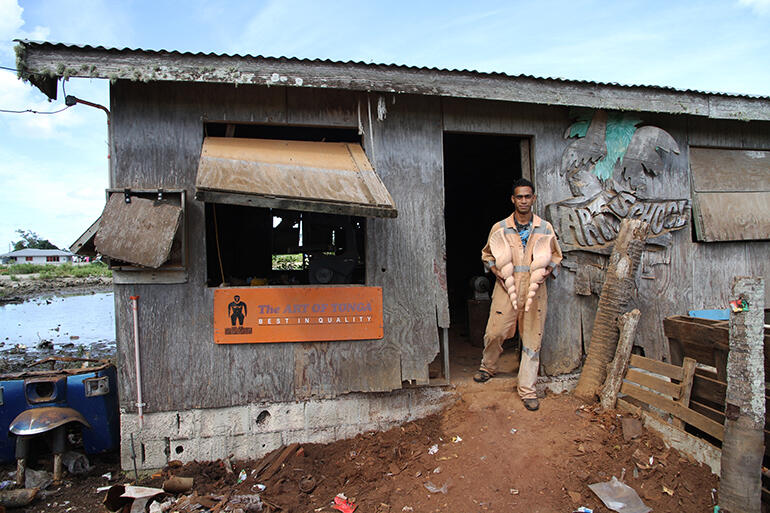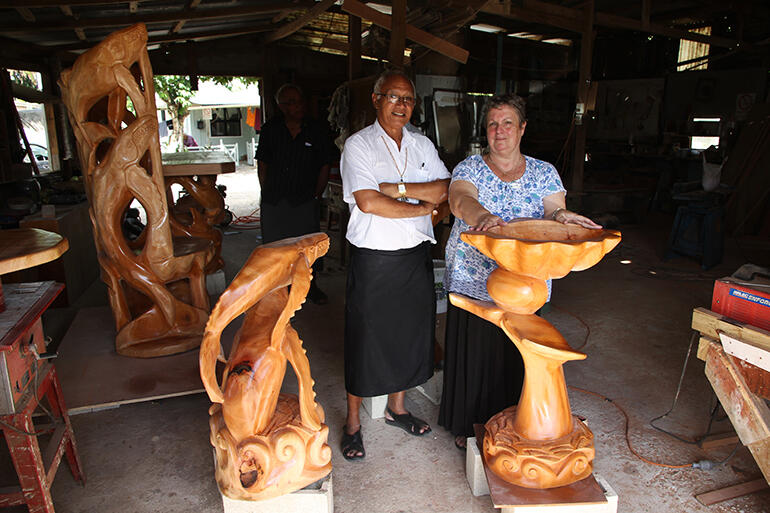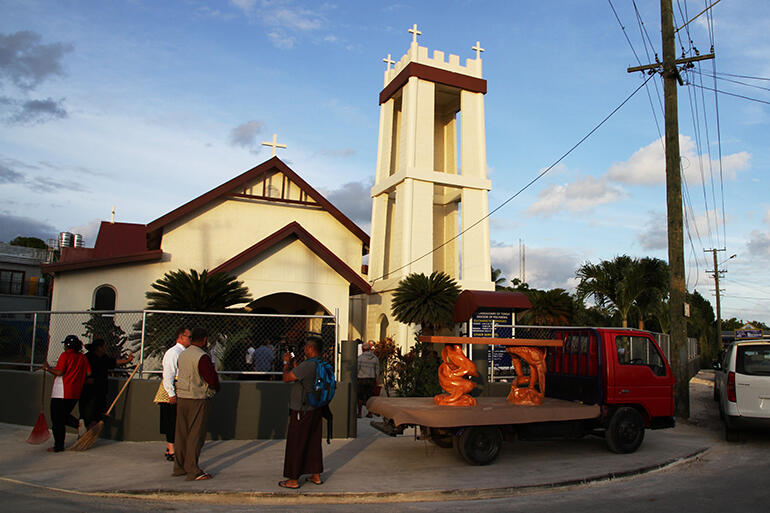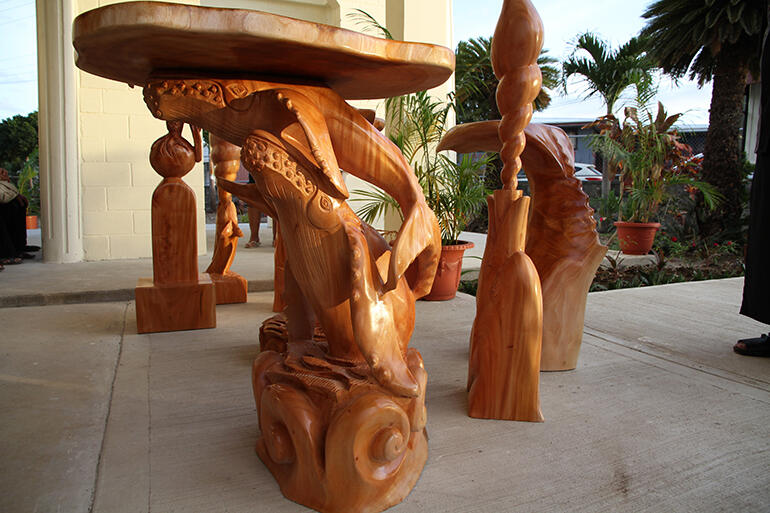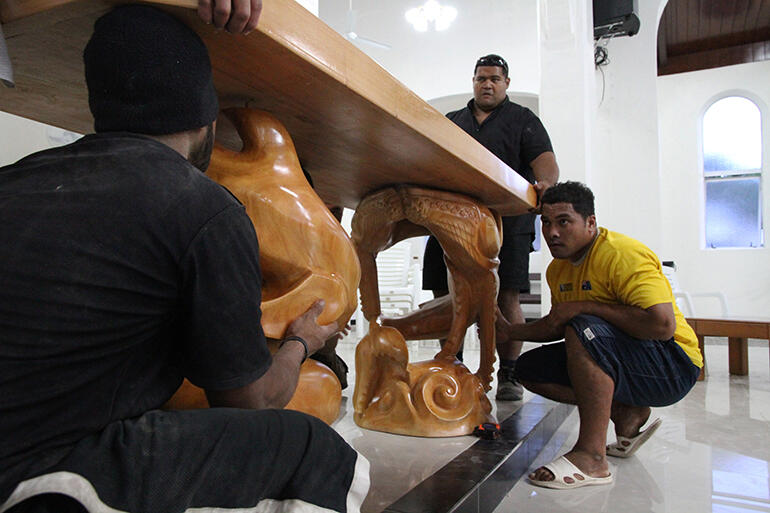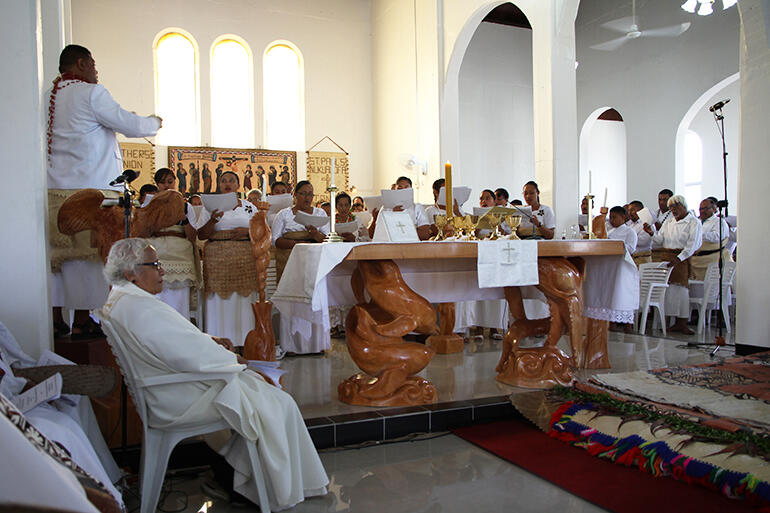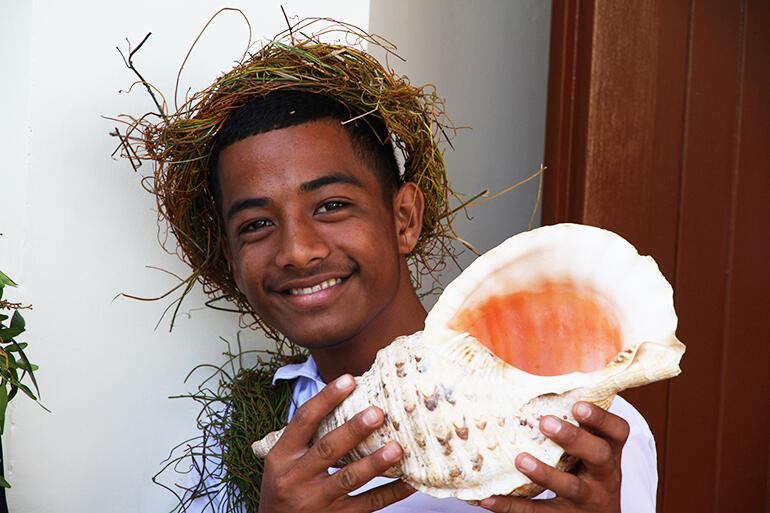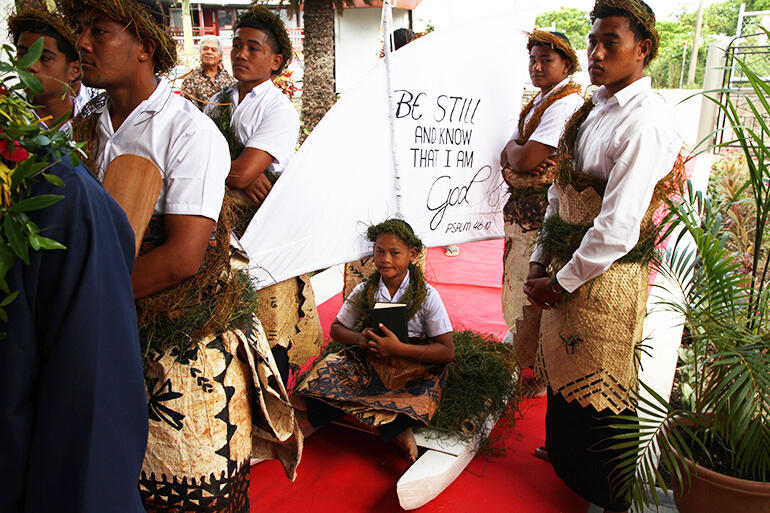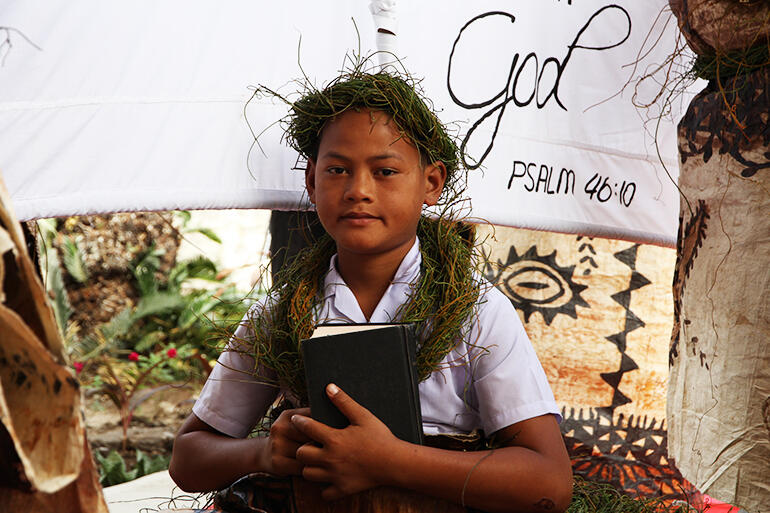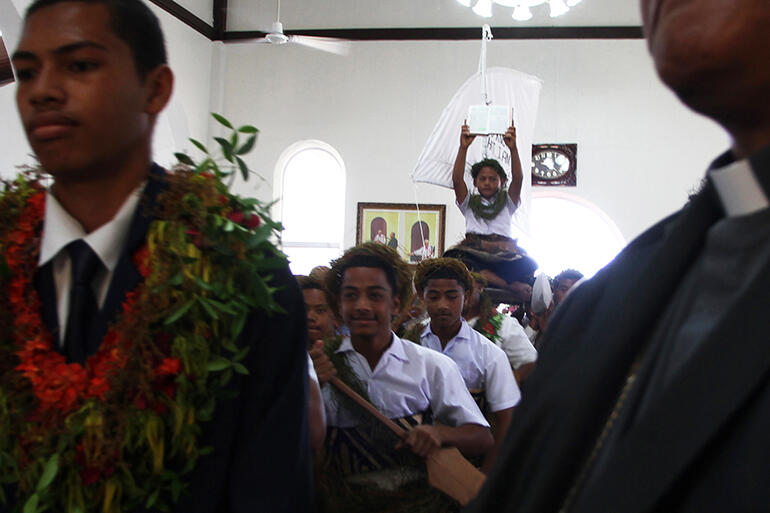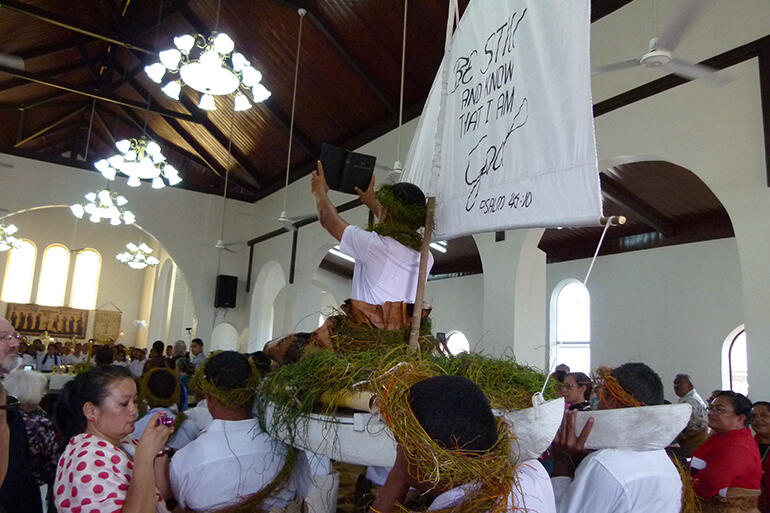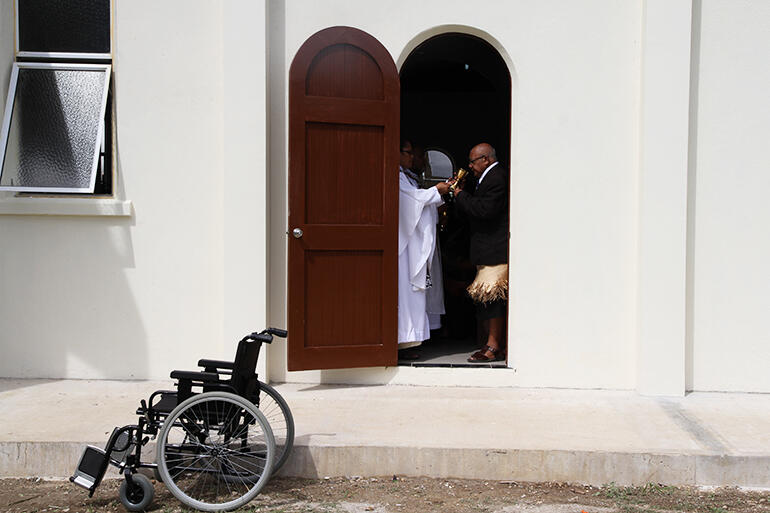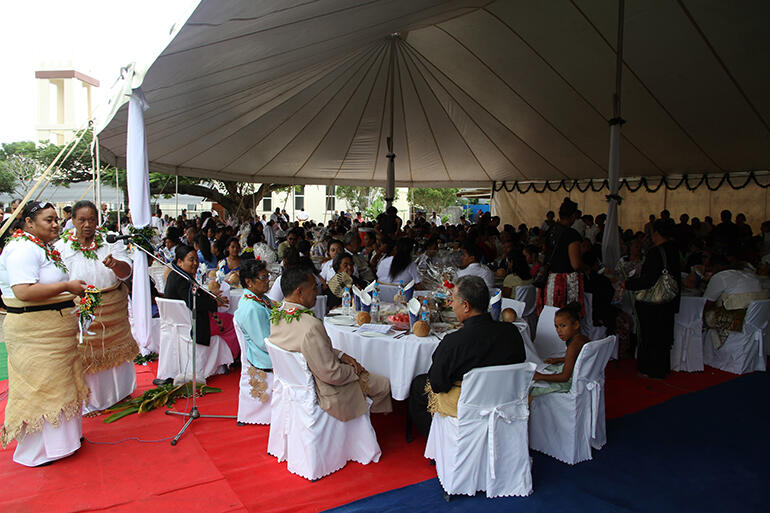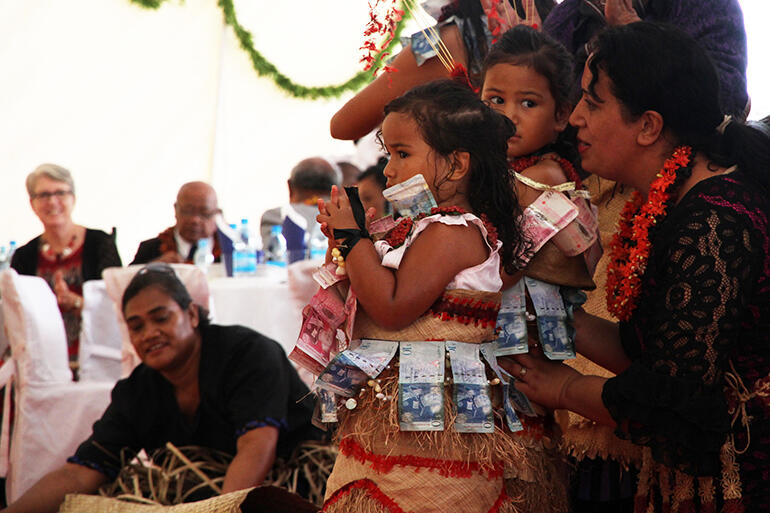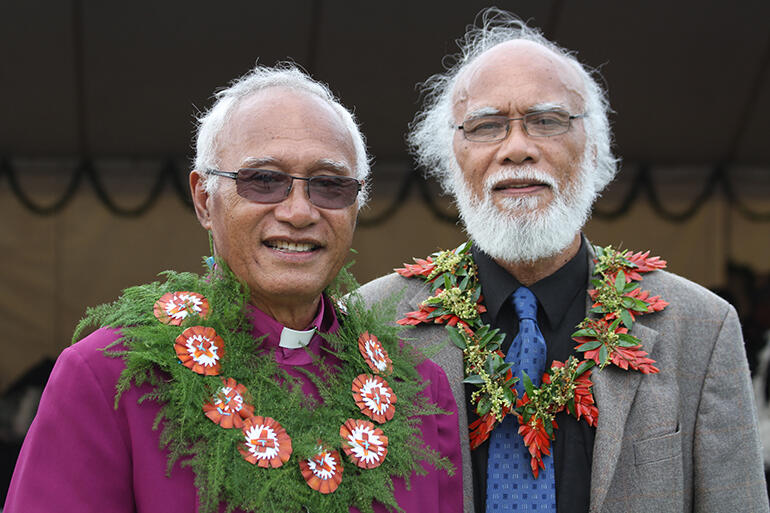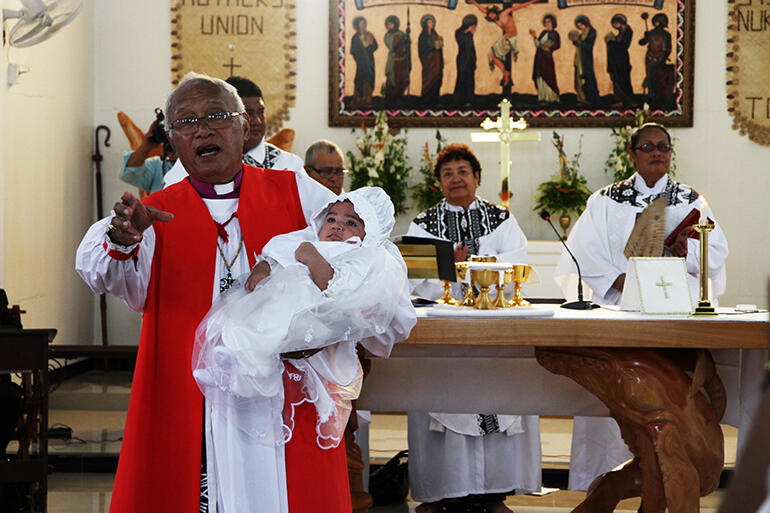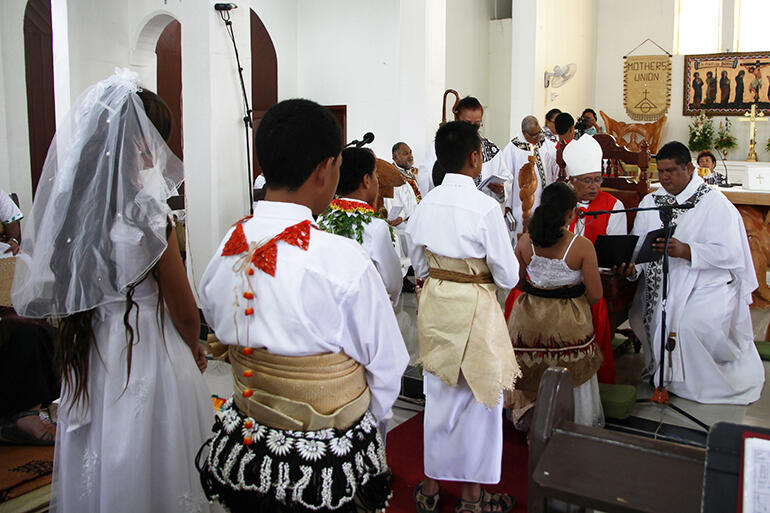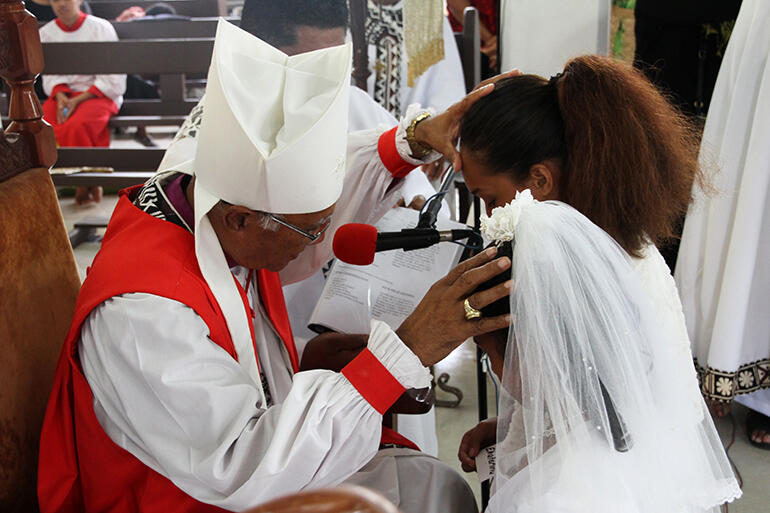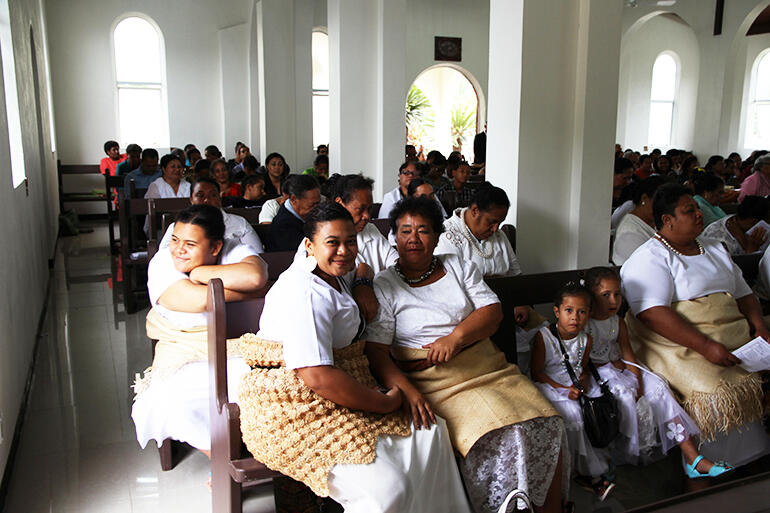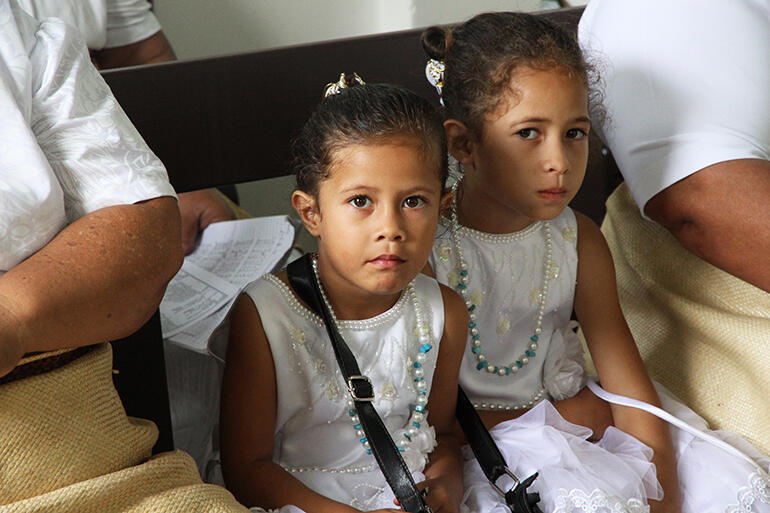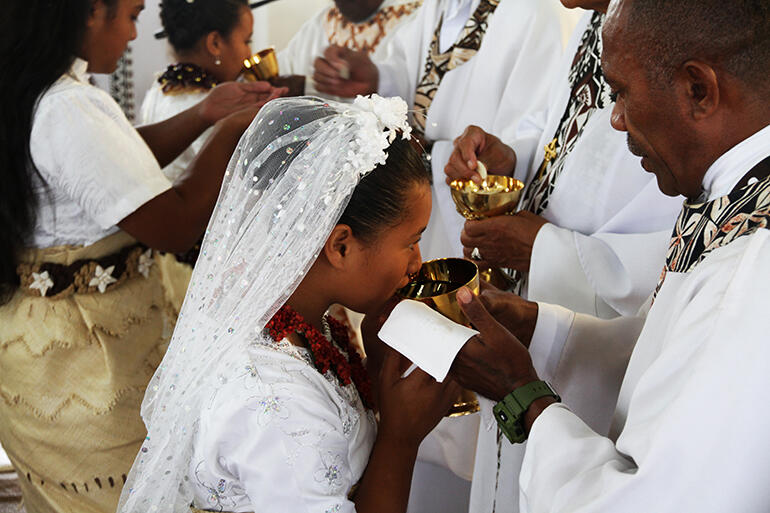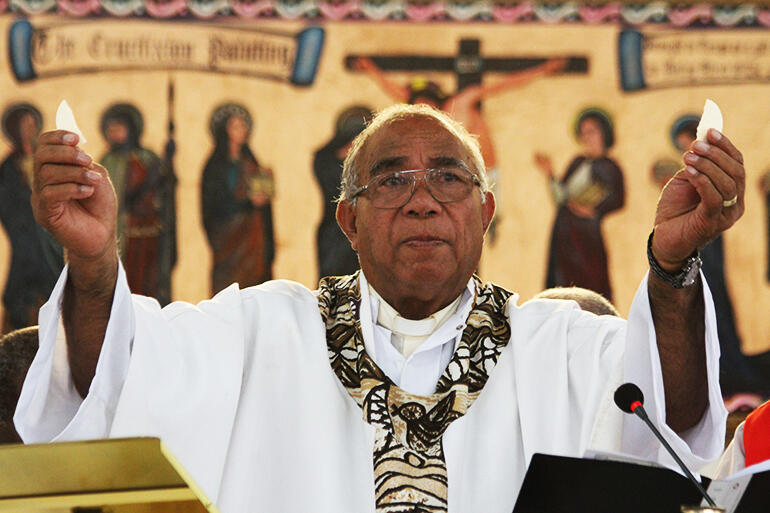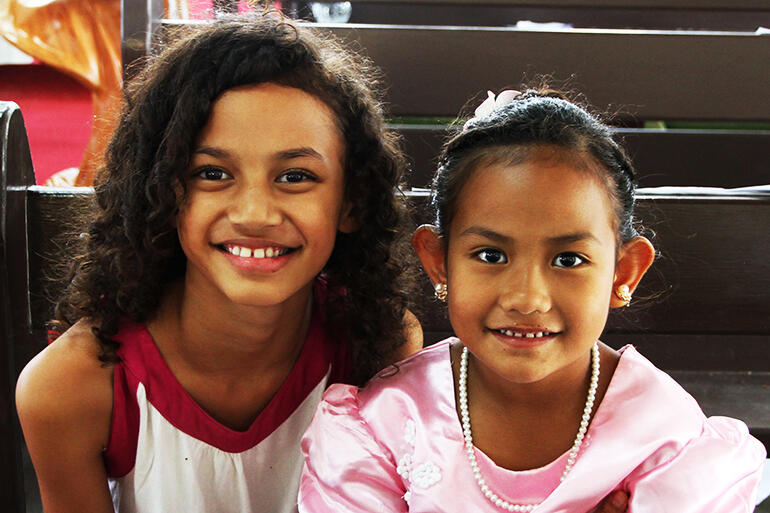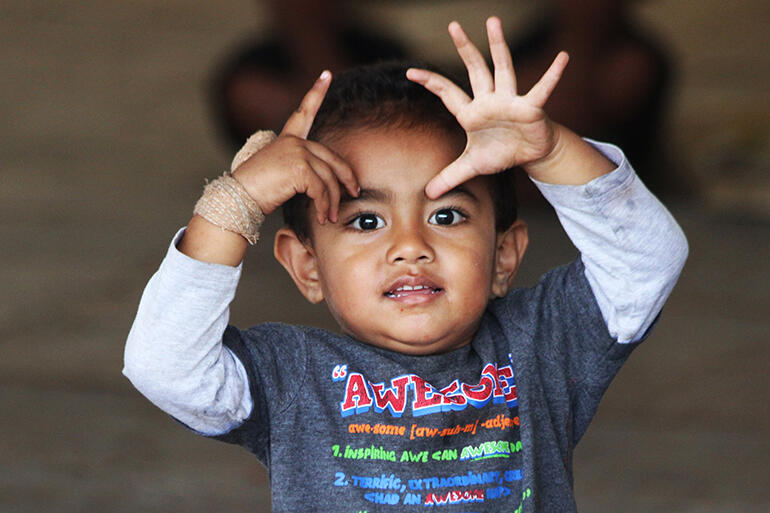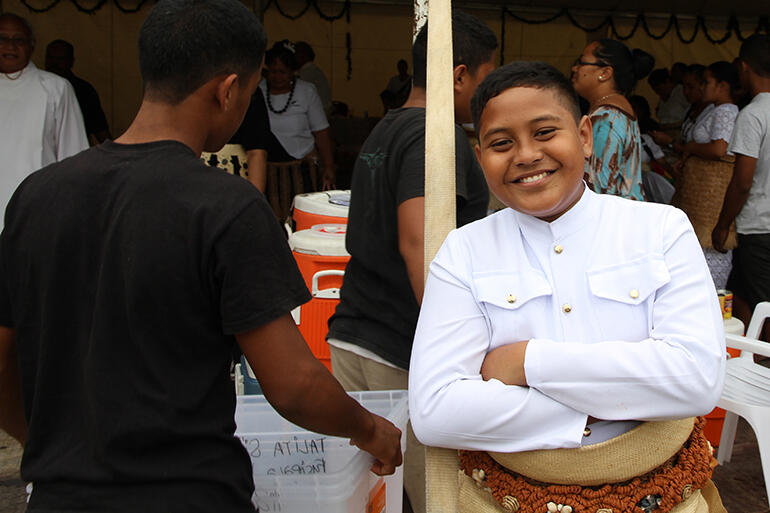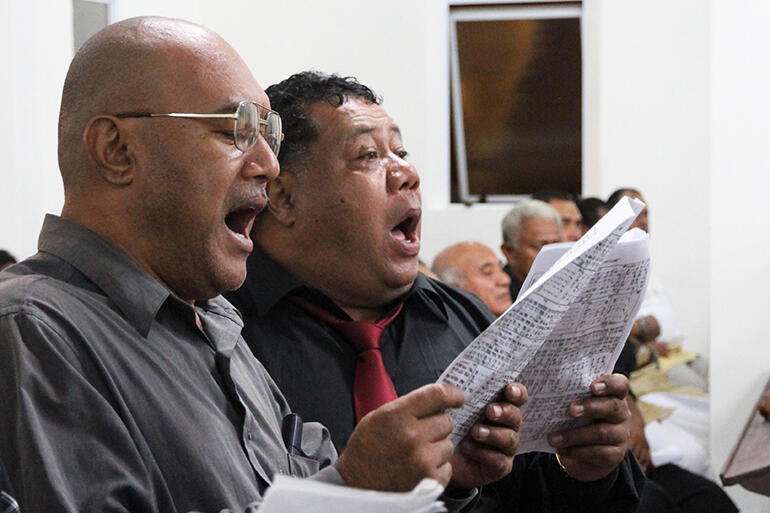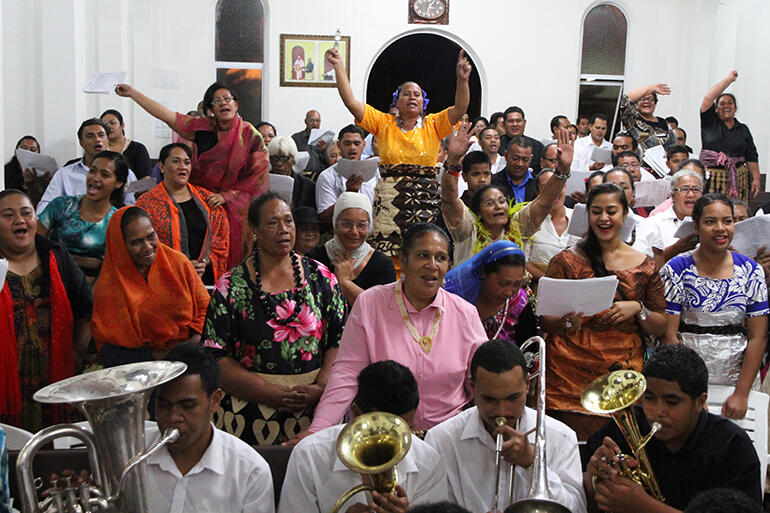 Tongan Anglicans are celebrating the end-to-end, top-to-toe refurbishment and expansion of St Paul's, Nuku'alofa, which is the largest Anglican Church in their kingdom.
Prior to the transformation, St Paul's – which was consecrated in 1931* – had been in a sorry state. There were gaping cracks in the walls, exposed rusty reinforcing steel where chunks of plaster had fallen from pillars, rotten window frames and a leaking roof.
Now, thanks to a $340,000 make-over, St Paul's has been transformed, and widened to become an immaculate three-aisle church, complete with a landmark new bell-tower. It is now, in effect, Tonga's proto-Anglican Cathedral, complete with an exquisite new carved-wood cathedra.
That's the thing about this renewal – it didn't stop with the transformation of the building.
Carving out truth
Its crowning jewels are a new altar, cathedra,candle stands, baptismal font and credence tables all carved from red mahogany into various marine forms – whales, dolphins, turtles and sea shells – by local artists.
One end of the new altar table, for example, is held up by a pair of plunging dolphins – while the other is supported by a mother and baby whale, apparently ascending a circular stairwell to the sea's surface.
The bishop's cathedraalso features carved whales at play – tourists flock to Tonga each season to see them en route to the Antarctic from their Indian Ocean breeding grounds – with a high backrest in the form of a giant turtle which, in South Seas mythology, has special spiritual significance.
This new altar furniture is the carvers' interpretation of Archbishop Winston Halapua's brief to them – that they create work which not only proclaims Tongans' joy in being an oceanic people, but which is a metaphor for moana theology, Archbishop Winston's outworked conviction that the love of God in the trinity is made manifest in the ocean and islands of the Pacific.
Tongans are indeed a highly religious people – it feels like there's a church on almost every major intersection – and time and again they sacrifice to put the Houses of the Lord before their own homes.
Even so, they're often strapped for cash – so when it comes to fundraising for church building projects, they usually look to their wealthier cousins living in mainland USA, or Hawaii, or in Australia and New Zealand for the means to complete their church projects.
But in the case of the restored St Paul's, the local people did it all off their own bat. They gave sacrificially, and they staged a series of concerts which not only met but exceeded their fundraising target, so their reborn church is debt-free with money left in the pot for maintenance.
Royal benediction
What's more, the drive for the refurbishment came, in the first place, from a group of women, led by the Rev Colleen Cowley – who is not only a priest assistant at St Paul's, but also one of the most successful businesswomen in the Kingdom.
Work started on the rebuild last September, and at dusk last Friday evening, on the eve of the rededication, you could still see crews of workmen painting the roof, and attending to odd jobs in the church and around the grounds.
St Paul's was rededicated last Saturday morning before a congregation of 350 people, which included the Tongan Queen Mother, Her Majesty Queen Halaevalu Mata'aho, and her grandson, Pince Tungi.
And on Sunday, it was standing room only again, as Archbishop Winston baptised one baby – and confirmed about 30 candidates.
They rounded off their celebration weekend in the evening, with a po hiva, during which choirs from each of Tongatapu's five Anglican churches duelled for choral supremacy, while their efforts were interspersed by speeches from a number of church figures. The Rev Sue Halapua, who is Archbishop Winston's wife, was the guest of honour.
Footnote: To see further photos from the rededication, click here.
* An earlier version of this story had the consecration of St Paul's dated as 1906. Thanks to Stephen Donald for the correction.