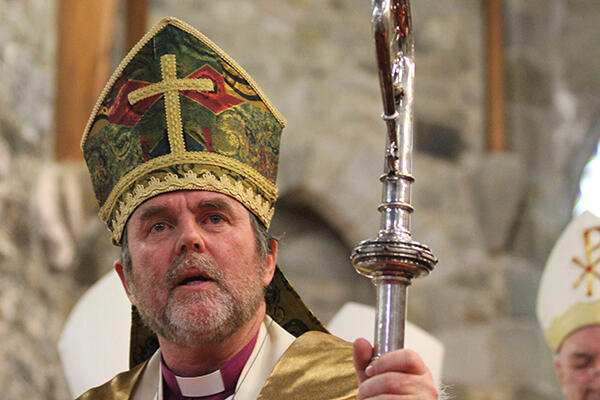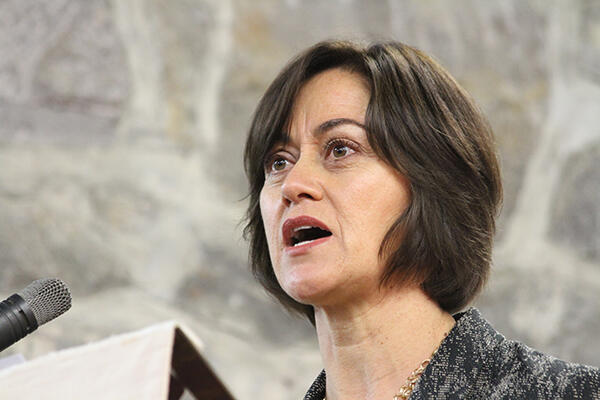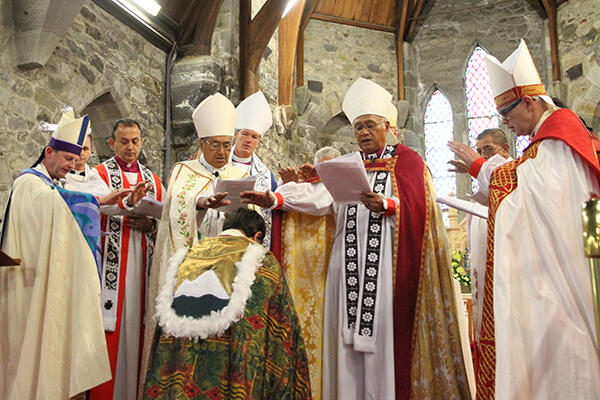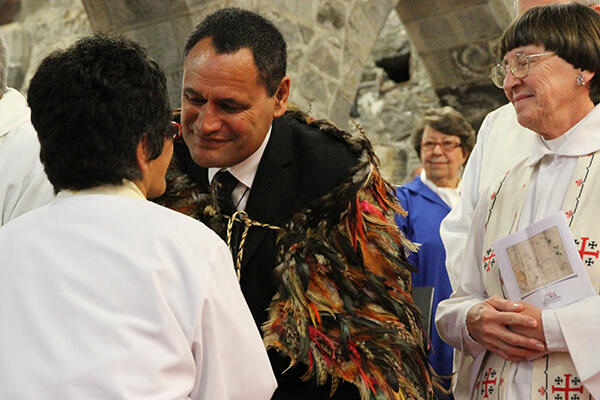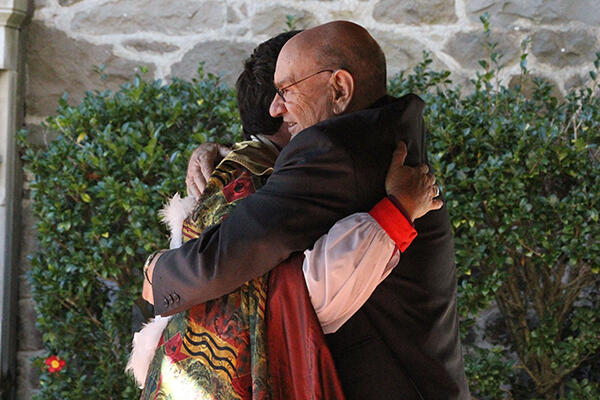 Some 500-odd people jammed into Taranaki's Cathedral today to witness Archbishop Philip Richardson being 'sworn-in'.
And the woman he'd invited to preach at his commissioning service challenged him – indirectly but unmistakeably – to lead the church out of its stuck-ness over the issue of same-sex blessings and ordinations.
Sarah Reeves, who is a judge in the Maori Land Court and the daughter of Philip Richardson's mentor, the late Bishop Sir Paul Reeves, extolled Philip as "a good shepherd of his people".
She acknowledged the steps taken this year by the Cathedral towards full reconciliation with Taranaki Maori – including one more taken today.
She noted, too, Archbishop Philip's "gift of relationship and commitment to the wider community" and his skill as a "multi-tasker" with the church.
But it will be Philip's willingness to grapple with challenges from here on, she implied, that will mark his time as Archbishop.
"The economist John Kenneth Galbraith said all great leaders have one characteristic in common: they are willing to confront the major anxiety of their people in their time."
And she made plain what she believes the major anxiety of our times is – our church times, anyway – and therefore where the challenge for Archbishop Philip lies.
"Our church is painfully and publicly grappling with the issue of blessings for same-sex couples and ordination of people in same sex relationships.
"So, Archbishop Philip, you have your work cut out."
She then touched briefly on how she feels about the same-sex anxiety:
"I can't help thinking: Is this really the defining issue of our time?
"Will we really tear ourselves apart over this?
"Surely, this is but a sub-set of building a just and life-giving community for all?
"Society at large has taken measure, and moved on.
"Why can't we?"
Surely a sign of parental failure?
Judge Reeves' sermon was by turns witty, warm – and challenging.
"I was 8 when my father became a bishop, and as children we spent hours bouncing around in the back of the car, subject to the frenzied but God-inspired driving of our father.
"We listened to a lot of his sermons. We came to believe we had cracked his formula: soften them up with a good laugh, hit 'em with two, maybe three key points wrapped in compelling anecdote and pithy theological insight… Bang. In and out in seven minutes."
"As an adult I would try and tease him: 'Three daughters, and not a priest among us – surely that's a sign of parental failure?'
"He never rose to the bait. He would just smile and say: 'God works in mysterious ways.'"
She then went on to more serious things:
"Religion no longer dominates the social structures that shape our lives. The concept of community is under siege from fiscal management. Our churches are emptying out. Has the church finally become irrelevant?
"The key here, I believe, is that the church can never be an alternative to society. The church will always be judged by its involvement with and connection to society.
"We are not, and cannot be, an ark with the anchor out. Creation and redemption must co-exist."
The Wano whanau's contribution
Today's service of recognition and commissioning was also the feast of Ruatara, Te Ara mo te Rongopai – the Gateway of the Gospel.
So it was fitting that with Wharehoka Wano's collation into the newly established Reeves canonry, it also marked another step on the Cathedral's journey to it being a place for all Taranaki people, Maori and Pakeha alike.
The generations of the Wano whanau have made big contributions to Taranaki life, and Wharehoka is a teacher and educational consultant, a specialist in matauranga Maori who played a significant role in the tangi for Sir Paul Reeves.
He was welcomed into his new cathedral ministry by Archbishop Philip, Dean Jamie Allen, and by the Cathedral Kaumatua, Archdeacon Tiki Raumati.
Special moments
The service was marked by some richly emotional moments, both spoken, and unspoken.
Such as when young Katy Allen, the daughter of the Cathedral Dean, Jamie Allen, and Tarryn Harrison, of St Mary's Diocesan School for Girls at Stratford, escorted the new Archbishop to the chancel steps – and on behalf of the congregation, recited to him his responsibilities:
Bishop Philip, remember always with thanksgiving that God has entrusted to your care Christ's beloved bride, his own flock, bought by the shedding of his blood on the cross…
And then Archbishop Philip turned to face the altar, and knelt with his head bowed for an extended period of silent prayer.
That culminated with his two brother Archbishops, Winston and Brown, laying hands on him and invoking the blessings of Christ, the Spirit and Trinity upon him – while the congregation also reached out their hands of prayer and blessing to him.
And the man himself? What did he make of it all?
"It did feel like a pretty special morning."
He'd been especially moved, he said, by that prayer of silence, by the large number of folk who had travelled from far and near to be with him, by the aroha of the bishops as he knelt on the chancel steps – and by the sense of being swept up by the local Church, and by the universal church.
Think on that
Sarah Reeves told today's congregation that Archbishop Philip had invited her to reflect on the kind of church that she and her children wanted to be part of.
They wanted, she said, "to worship in a community where all are welcome" – and she finished her sermon by quoting from St Anthony of Egypt, the founder of monasticism.
That quotation directly followed Judge Reeves' rhetorical questions about the church's struggle with same-sex matters:
"Our life and our death are with our neighbour," she read. "If we win our brother, we win God. If we cause our brother to stumble, we have sinned against Christ."
She then added a brief kicker of her own:
"Think about that.
"Amen."
Heartfelt attachment to Taranaki
Taranaki has shaped the whole Richardson family for good, which is why Philip set his heart on being commissioned in New Plymouth, and not one of the big centres.
"Taranaki has become our turangawaewae, the place that we depend upon as I prepare to face the challenges that lie ahead," he said yesterday as he reflected on 14 years as Bishop of Taranaki.
He and his wife, Belinda Holmes, will therefore remain in their New Plymouth home.
Philip was born in Devonport in 1958 and went to Rangitoto College. He holds a BA and BTheol from Otago, and has also studied at Tamil Nadu Theological Seminary in South India and at St John's College in Auckland.
He was ordained priest in 1982 and helped set up a community house and ministry in Glen Innes in 1981, before being sent in 1984 to Whangarei as an assistant priest.
From there he went to Dunedin in 1988 for further study, and was appointed Warden of Selwyn College at the University of Otago in 1992.
During seven years at Selwyn College he became increasingly involved in the church at a provincial level.
He was only 40 when elected as Bishop of Taranaki, in 1999.
Philip and Belinda have two adult children, Josh and Clare.
#
Footnote: Pictures and the full text of the sermon will come later.