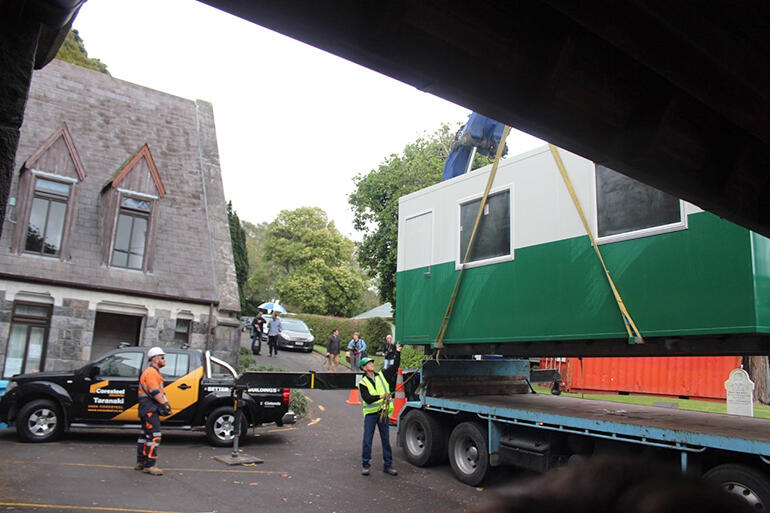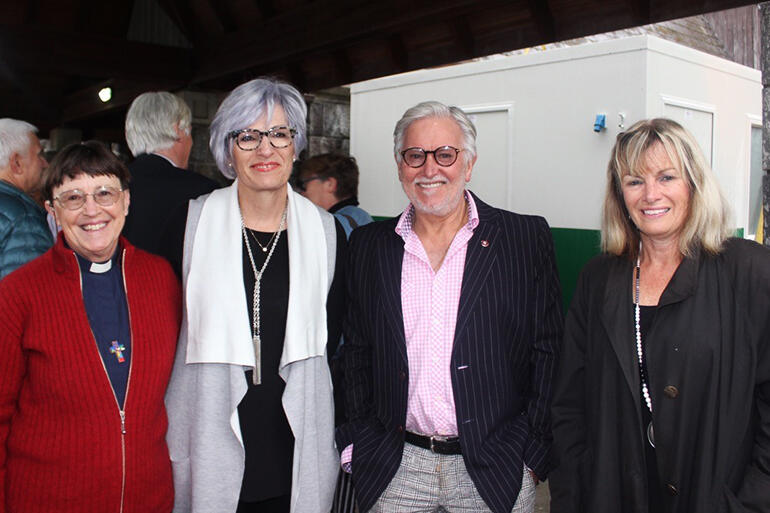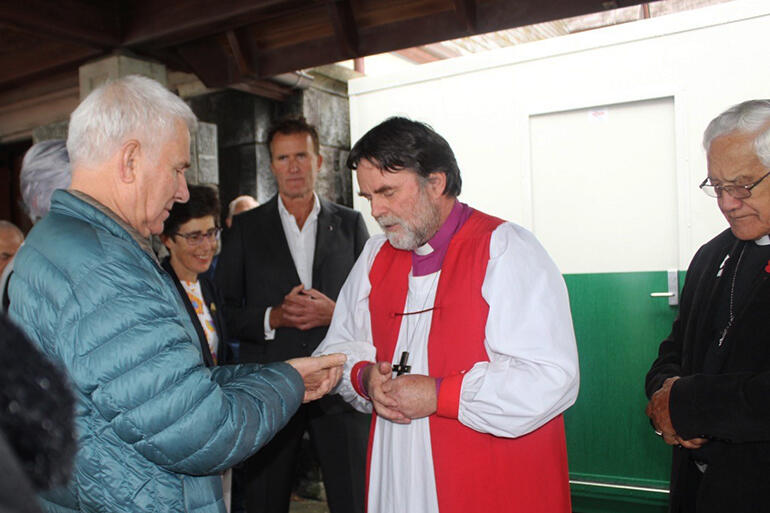 An ambitious project to both earthquake and future-proof the iconic Taranaki Cathedral is gathering pace.
Early yesterday, construction workers slung a portable building onto the Vivian St New Plymouth cathedral site.
That temporary building will become the office for Jan Mason, a New Plymouth businesswoman who will start work as the Campaign Manager for The Cathedral Project – A Taranaki Taonga on May 1.
The Cathedral Project is a $15 million venture, whose first stage is to strengthen the iconic 170­ year-old stone church – which was closed in January 2016 – so it can safely withstand earthquakes.
While that earthquake-proofing work is being done, says Dean Peter Beck, it makes sense to future-proof both the building and its site.
So stage two of the project will see the development of an atrium hospitality space behind the historic cathedral.
This atrium, in the words of architect Jenny Goddard, is conceived as "as a light-filled jewel", which will not only become "a premier welcome and function space in the region" – but also generate extra revenue for the cathedral.
Building on the vision
The project plans – which have been lodged for consent – will also see a more versatile seating arrangement within St Mary's, so that at short notice the cathedral can be reconfigured as a concert chamber, for instance, or as a forum for debates.
Dean Peter Beck says the two-stage strategy will allow the Taranaki cathedral community "to build on our existing vision of an outwardly-facing cathedral that welcomes people of all faiths and none.
"This is our chance to create a flexible space that allows for contemporary or traditional worship, a meeting or musical performance."
"The total vision is of a single cathedral with worship, mission, education, visitor hospitality and tourism all accommodated on our beautiful and historically significant site."
Vivid memories
The newly-recruited Campaign Manager, Jan Mason, arrived in Taranaki almost 35 years ago. She's owned three New Plymouth businesses, and has recently been working for The Cancer Society.
She says her most vivid early memories of New Plymouth are of Pukekura Park – and of St Mary's Church.
"Just to repair St Mary's," she says, "was not doing it justice. To have the vision to give it new life is exciting. My role is to tie it all altogether."
Archbishop Philip Richardson, who is also the Bishop of Taranaki, is optimistic about what will happen.
"Reopening St Mary's has never been in any doubt," he says.
"The remediation work will be done with sensitivity and a 'light touch', and will only enhance this cathedral's beauty and significance to our community."
More than bricks and mortar
Former New Plymouth mayor Peter Tennent is chairperson of the Campaign Executive Committee which is spearheading the fundraising campaign.
He says playing a leadership role in the multi-faceted project is an exciting prospect.
"Those of us involved are all motivated by the heart, by emotion, by the prospect of the lifting of this community and country – and less by the bricks and mortar of this project."
Footnotes:
The old cathedral has been closed since January 2016 after a Detailed Seismic Assessment (DSA) revealed it needed earthquake strengthening.
Although the cathedral's offices and Hatherly Hall (which houses the church offices, a reception area and meeting rooms) have remained open, Sunday services are being held across Vivian St in the Peace Hall.
St Mary's was built in 1846 and is the oldest stone church in New Zealand.