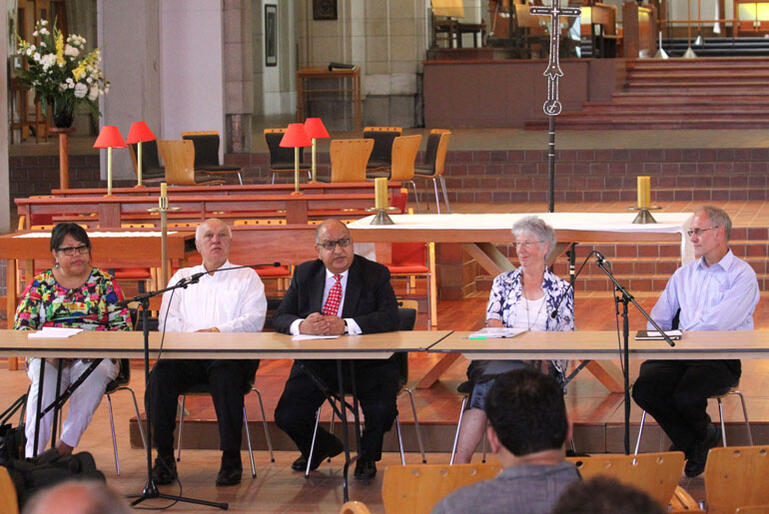 The long-awaited report of the Ma Whea? Commission into the question of same-gender blessings and ordinations has been released.
The report, which is the fruit of 15 months' work by five eminent New Zealand citizens, lists 10 options to inform the General Synod debate at Waitangi next month.
The options range from a more conservative statement about who can be blessed and ordained (ie a firmer statement than the canons now prescribe) through various degrees of change and liberalisation.
The options are:
Option A: Affirming Traditional Understanding
Option B: Preserving Present Circumstances
Option C: Bishops to Determine What Equals Right Relationships
Option D: Delegate to Diocesan Synods/Te Runanganui Power to Determine Right Relationships
Option E: Adopt a New Understanding
Option F: The Anglican Church Having Two Views
Option G: Dual Episcopacy
Option H: Planned Dismembering
Option I: Anglican Church to Add a New Rite of Blessing by Priests of Those in a Same Sex Relationship.
Option J: Adopt a Two Year Period of Focussed Discussion within Church Communities with a View to Making a Decision in (say) 2016
(These options are unpacked in a precis here. The unedited options can be read in the Ma Whea? Commission report, which can be downloaded below. The list of options begins on P38.)
It is also important to note that none of these pathways is recommended – because in the words of Michael Hughes, this church's General Secretary, "that is rightly a decision for the General Synod/Te Hinota Whanui to make."
The Ma Whea? Commission (full title: Ma Whea?:Mei Fe Ki Fe?: Where To? Anglican General Synod Commission on same gender blessings and ordinations) was chaired by Sir Anand Satyanand, a lawyer who served as judge and ombudsman before being appointed as New Zealand's 19th Governor General.
His fellow commissioners were Dame Judith Potter (a High Court Judge), Emeritus Professor Sir Tamati Reedy (Educationist), Mrs Mele Taliai (a Tonga New Zealander lawyer) and Professor Paul Trebilco (Professor of New Testament Studies).
The Ma Whea? Commission report summarises 199 submissions on the ordination and blessing of people in same-sex relationships.
It summarises the biblical and theological work done by our church from the missiological, doctrinal, canonical, cultural and pastoral points of view. And in the light of Anglican ecclesiology, it considers ways forward.
The Ma Whea? report contains a number of appendices – including another significant and long-awaited piece of work, the report of the Commission on Doctrine and Theological Questions.
This Commission was asked by the General Synod Standing Committee to look into the theological rationale for the possible blessing and marriage of people in permanent, faithful same-gender relationships.
"This report," says Michael Hughes, "contains a full and robust theological rationale to support such blessings and marriages – and a thorough and equally robust assessment of that rationale, including a rebuttal of certain aspects."
It does not recommend a position of this church on these matters. That too, says Michael Hughes, "is rightly the responsibility of the General Synod/Te Hinota Whanui."
(A precis of the Doctrine Commission report can be read here. The full report begins on P62 of the appendices to the Ma Whea? report.)
The Ma Whea? Commission was set up before the New Zealand Parliament passed its marriage equality legislation, and the Commission's terms of reference were not changed to take account of that.
The Doctrine Commission, on the other hand, did its work in the wake of the law change, and it considers a theological rationale for the marriage of people in permanent, faithful same-gender relationships.
The Doctrine Commission's full report can be downloaded below:
The GSSC commends both the Ma Whea? and Doctrine Commission reports to the church for prayerful consideration and discussion.
And through its General Secretary it has expressed "its deep gratitude to the members of both Commissions, for the extensive work they have undertaken to produce these two careful and comprehensive pieces of scholarship, which deserve to have profound and far-reaching impact on the life of the church."