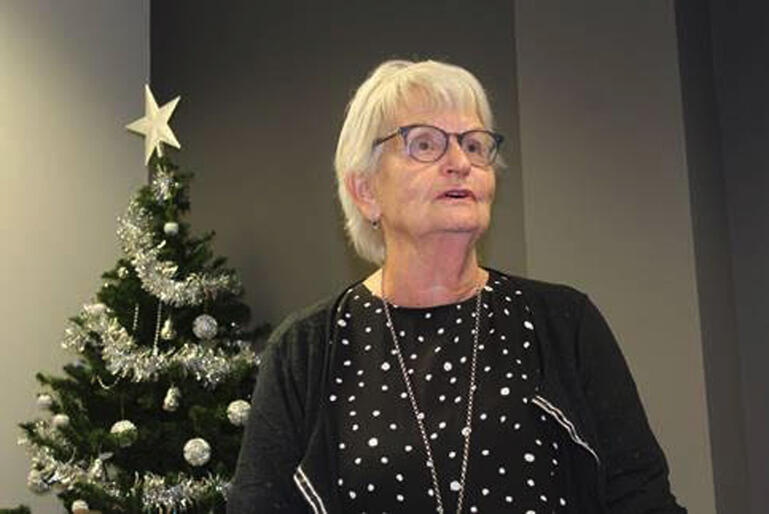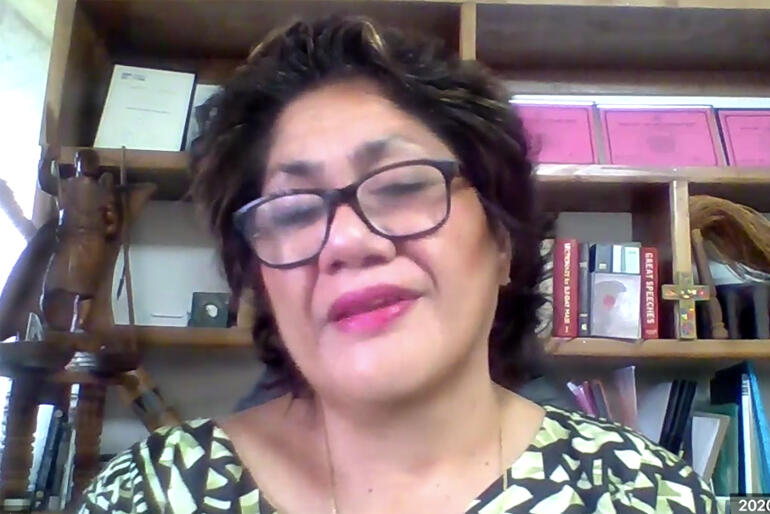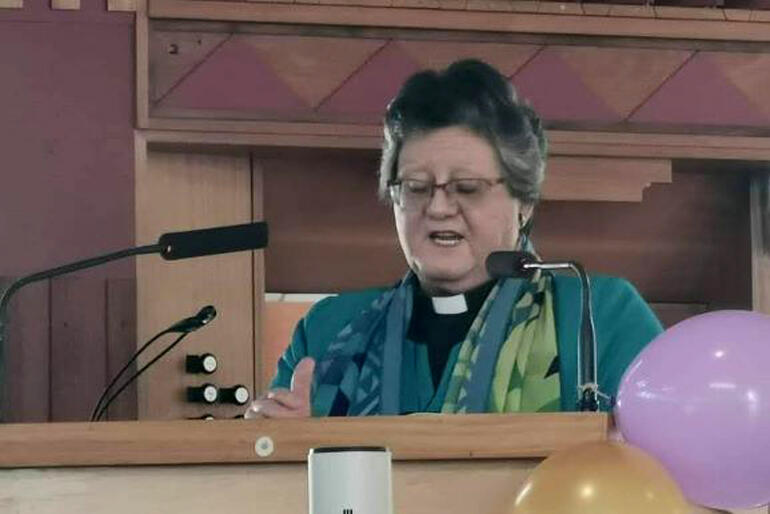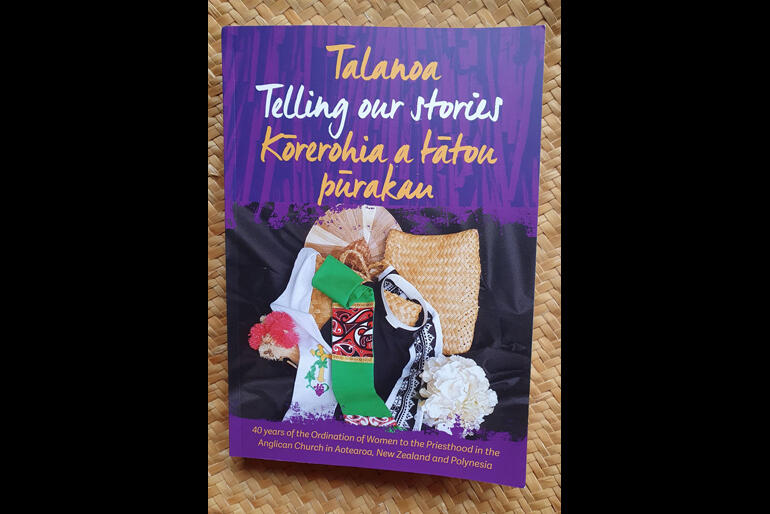 This morning in Christchurch, the Anglican Women's Studies Council (AWSC) held their South Island launch of "Talanoa, Telling our Stories, Kōrerohia o tātou pūrakau," an anthology celebrating 40 years of the Ordination of Women to the Priesthood in the Anglican Church in Aotearoa, New Zealand and Polynesia.
The new book, published by the General Synod Office comprises essays, biographies and reflections from 47 women clergy, including two collectively-written texts, which tell the stories in honour of the 800+ women ordained in this province over the last 43 years.
'Talanoa' was first launched at St Luke's Anglican Church in Rotorua this October by thirty AWSC supporters and Bishop Ngarahu Katene, and blessed by Dean of Waikato Very Rev Wendy Scott.
Edited by Rev Numia Tomoana, Rev Bettina Maxwell, Ven Carole Hughes, Ceridwyn Parr, Dr Eseta Mateiviti-Tuvalu and Rev Jacynthia Murphy, the Talanoa anthology opens with sermons preached in Auckland and Christchurch on 3 December 2017, to mark the anniversary of the first women's ordinations in this Province on that date in 1977.
Rev Dr Patricia Allen, who opened the speeches at this morning's launch, opens the book by acknowledging the inheritance of today's female clerical leaders from previous generations of women,
'Women make progress over the dead bodies of their sisters', theologian Carter Hayward said."
"We are here today because they were there, fiercely convinced that to be healthy and whole, society and the Christian Church need the full participation of women, as well as men."
Patricia Allen's essay 'May it Be So' scans the development of women's ordained ministry from their role as deaconesses, through their work to obtain theological education and ordination through many structural barriers.
She refers to the 1990 ordained women's conference that brought together 100+ women clergy for the first time in this Church that led to Rev Claire Brown and a group of Dunedin women inviting Penny Jamieson to put her name forward as Bishop of Dunedin. Bishop Penny went on to become the first woman in the Anglican Communion to be elected as a diocesan bishop.
Women clergy in Te Pīhopatanga
Rev Jenny Quince, who compiled the 800+ list of women in this province in holy orders before the 40th celebrations, offers an overview of the rise of women clergy in Te Pīhopatanga o Aotearoa, honouring Rev Puti Hopaea Murray as the first female Māori Anglican priest,
"Rev Puti paid a huge price for all Māori women, in ministry and in the community."
"One of her greatest achievements was helping to establish the Maori arm for
Anglican Social Services – Te Whare Ruruhau o Meri. She wasn't just a 'Prayer,' she was a 'Doer'."
"She refused to accept second best and instilled in those of us who knew her a sense of pride, dignity and a warrior disposition."
Rev Jenny also honours Rev Emmeline Taukamo, the first Māori woman deaconed in Te Pīhopatanga o Aotearoa and Rev Jane Hanna, who in Manutuke in 1987 became the first Māori woman ordained priest within Te Pīhopatanga o Aotearoa
Women clergy in Polynesia
Rev Brenda Reed Moenoa reports next on the development of women's ordained ministry in the Diocese of Polynesia in her essay 'Hold on to the Hope' which follows the story of the 37 women ordained in the diocese (up to 2017) beginning with the first woman ordained in the diocese in 1985, the English nurse evangelist Sister Betty Slader.
Nine years later, the second woman priest was ordained, Rev Susan Mary Halapua, in 1994.
Then in 1995, the first Indigenous woman priest Rev Sereima Lomaloma (Fiji) was ordained, followed by Rev Toeumu Fineanganofo (Tonga), Rev Caroline Amy Chambers (Fiji) and Rev Elenoa Mancini (Tonga) in Auckland 2004.
Rev Brenda Reed Moenoa outlines some challenges that remain for women in ordained ministry in the Pacific: for example, most women clergy hold non-stipendiary roles, with churches choosing male leaders and directing female clergy to pastoral roles rather than liturgical leadership or being appointed leaders of church communities.
Leading like Lydia
Rev Helen Jacobi offers the final overview essay on the rise of women's ordination in the province and calls for vigilance amongst both women and men to keep on encouraging and mentoring young women into the roles of vicar, archdeacon, dean and bishop, and not automatically diverting them into service roles when they are capable of leadership. She identified a shift in the way women have strived to contribute their ministry talents to the Church.
"In 1977, the driving force for women's ordination was not to change the church, but a desire for justice, equality and inclusion."
But later as women began to experience their own effectiveness in ministry roles that changed,
"With the leadership of women came issues of inclusive language in worship, and a desire to explore different, less hierarchical models of leadership."
The main body of the book includes personal stories, poems, reflections, prayers and essays on the journey toward and within the ordained ministry, shared by: Rev Jacynthia Murphy, Rev Janet Crawford, Rev Rawinia Douglas, Rev Becs Conolly, Ven Taimalelagi Tuatagaloa, Rev Brenda Reed, Rev Saitalia Bourke, Rev Tufa Tiatia AhChing, Rev. Sonya Hunter, Rev Claire Brown, Rev Arihia Whiona Stirling, Bishop Denise Ferguson, Rev Tricia Carter, Rev Dinah Lambert, Rev Mona Scott, Rev Eseta Mateiviti Tulavu, Rev Gayanne Frater, Rev Nganehu Mere Wallace, Rev Jean Brookes, Rev Helen Wilderspin, Ven Helen Roud, Rev Isabel Mordecai, Rev Rosemary Neave, Rev Wendy Scott, Parish in Te Anau, Rev Jenny Dawson, Jessica Hughes, Rev Joyce Marcon, Rev Nyasha Gumbeze and Rev Lesley Hyde.
Each of the stories contains gems of wisdom that offer insights from women's ministry experiences of serving in a world and a church accustomed to men's vocations as the norm. The fascinating and varied personal accounts cover too much ground to scan them all, but each give a glimpse into the dynamic relationship between the women's sense of call and the recognition of their communities.
Two examples give a taste of the many stories contained in this volume.
A voice from the 'Famous Five'
Rev Jean Brookes writes as one of the first five women ordained in this province 1977, alongside Rev Heather Brunton, Rev Wendy Cranston, Rev Cherie Baker and Rev Rosemary Russell. She was also founding Chair of the first Anglican Women's Resource centre in this Province. Her story (Pg 137) shows the impact of a strong social justice lens that has shaped her ministry in Treaty of Waitangi justice and reconciliation work between Māori and non-Māori New Zealanders, gender justice, fair wage and housing rights campaigns and many other fields where she has worked to challenge unjust structures.
12,000 miles to answer the call
Another highlight is the critical essay by Rev Nyasha Gumbeze (Pg 226) in which she explores the challenges she faced when hearing the call to ministry in Zimbabwe, a country that did not recognise women's ordination. Rev Nyasha recounts her experience of moving 12,000 miles from her home to answer that call in the Anglican Church in Aotearoa New Zealand, then details the challenges of serving in a second language, and as a priest and a Shona woman working amidst the expectations and patterns of New Zealand English-speaking Anglicans.
The book 'Talanoa, Telling our Stories, Kōrerohia o tātou pūrakau' is available for purchase for $25.00 from the Aotearoa, NZ and Polynesia Anglican General Synod Office via: gensec@anglicanchurch.org.nz