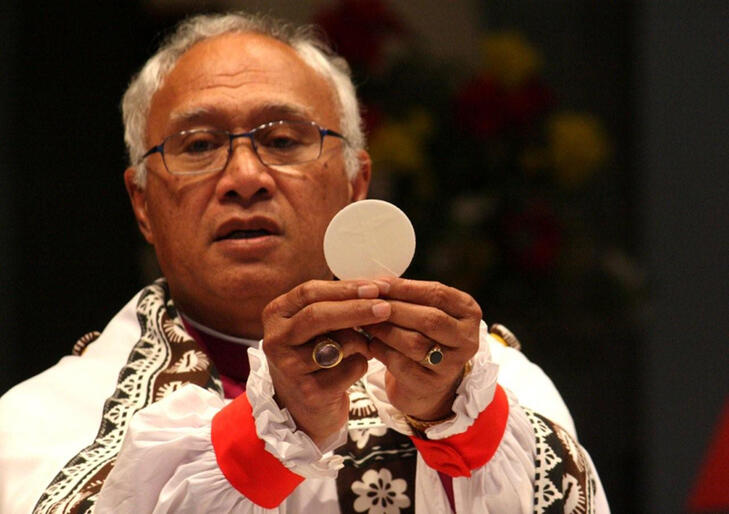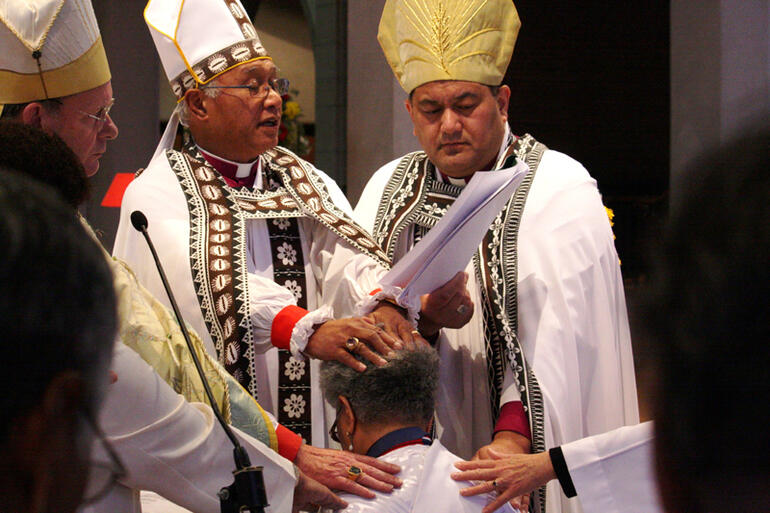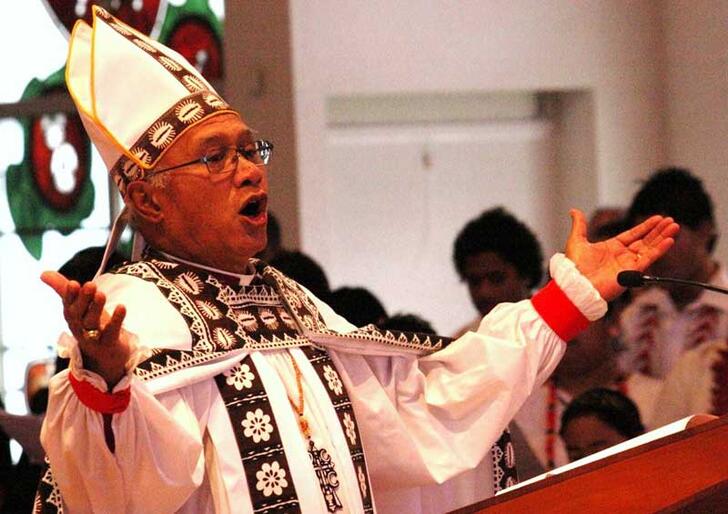 The newly elected Bishop of Polynesia, the Rt Rev Dr Winston Halapua, was born in Tonga in 1945, the seventh of 10 children born to Fine and Lesieli Halapua.
Fine, his father, who was a teacher and then principal of St Andrew's High School in Tonga, was also an ordained Anglican priest who later became a bishop.
While his father was a highly respected man in Tonga, times were often tight for the Halapua family – especially when, in 1952, Fine was selected for theological training in Suva.
The Halapua family depended on the generosity of family friends and the church to get by – and in 2005, Winston told the Anglican magazine Taonga that this generosity had deeply influenced him.
"Even people who didn't know us came and shared what they had. They knew that Dad had been sent away by the church for training. So when they supported us, they were doing that for God.
"The church was everything. It was the community. It provided the school. It provided friendship… and it very much embodied hospitality. Looking back, it was the sharing that shaped us."
In 1966, at the age of 20, Winston followed in his father's footsteps to St John's College in Suva. From there he was sent to Pacific Theological College (also in Suva) where he completed, with distinction, his Bachelor of Divinity.
He was ordained an Anglican priest in 1972, served his curacy at Viti Levu West and Lautoka, and he was then sent by his bishop for postgraduate study at Birmingham University, in the UK. While he was there, he met Sue White, a Methodist student who was to become his wife.
They married in Fiji in 1977, have two adult sons, Anthony and Joseph – and Sue is now an Anglican priest serving the Diocese of Auckland as a vicar at Holy Trinity, Otahuhu.
Winston served as Vicar of St Luke's Suva, from 1977 to 1982, then as warden of St John's College Suva (1982-1989). He served as the diocesan secretary from 1984 to 1987 and Vicar General (the bishop's 2IC) from 1987 to 1994.
During these years he also pursued sociology studies at the University of the South Pacific reeling in first a BA, then an MA and finally, in 2002, a doctorate with a dissertation on militarism in Fijian politics. He also became a Fijian citizen.
In 1996 Winston brought his family to New Zealand when he was appointed a lecturer at St John's College in Meadowbank, and Archdeacon of Auckland for the Diocese of Polynesia.
The following year he became the first Principal of the College of the Diocese of Polynesia at St John's – which is one of the constituent colleges of the Auckland University School of Theology. Since then, much of Winston's time has been taken lecturing at the university.
Mission of the church
His predecessor as Bishop of Polynesia, Archbishop Jabez Bryce, was keenly focussed on the mission of the church, and in 2005 Bishop Bryce led the diocese to choose three assistant bishops to strengthen the outreach of the diocese in its various regions and islands.
Winston Halapua was elected as one of those three "episcopal unit" bishops. He was consecrated a bishop in Suva's Holy Trinity Cathedral in April 10, 2005, along with Bishop Api Qiliho, who is an ethnic Fijian, and Bishop Gabriel Sharma, who is an Indo-Fijian.
In 2008, at the invitation of the Archbishop of Canterbury, Dr Rowan Williams, Bishop Halapua served as chaplain for the Lambeth Conference of bishops.
Bishop Bryce had intended to step down this year, and an electoral college to choose his successor was already set down for May.
But when Bishop Bryce died in February, the Diocese of Polynesia brought the electoral college forward to the end of April.
Under the Anglican scheme of things, an electoral college makes a nomination, which is then sent to the other archbishops and bishops for ratification. Assuming there are no hitches there, the next step is normally a postal of the members of General Synod, a process which can take up to a month.
However, by moving its electoral college forward, the Diocese of Polynesia paved the way for the poll of General Synod members to take place on the floor of the General Synod meeting.
In that 2005 article in Taonga magazine, Dr Halapua had reflected on what it meant to serve the Diocese of Polynesia in New Zealand, and to be a bishop in the Anglican church of Aotearoa, New Zealand and Polynesia. Hospitality, he said, was the key.
And that, he said, was not a novel concept for Polynesians.
"When we moved as a tribe from island to island in the Pacific," he said, "we didn't just go and impose ourselves.
"We entered into the hospitality of an invitation, and learned to function together. Together, we can learn to share the same grace given to us all."
The same hospitality is at work in the church here, he says.
"It was hospitality that enabled Tikanga Polynesia to have its own voice, and to run its own life within our three-tikanga church.
"Pakeha and Maori have opened up their constitution to embrace us, and it is for us to be connected, to respond to that hospitality, and not work in isolation, but to work together…
"The most important thing for me is not what we do as Tikanga Polynesia, but what we do together."
Dr Halapua will be installed as the new Diocesan Bishop of Polynesia at Suva's Holy Trinity Cathedral on August 1 this year.