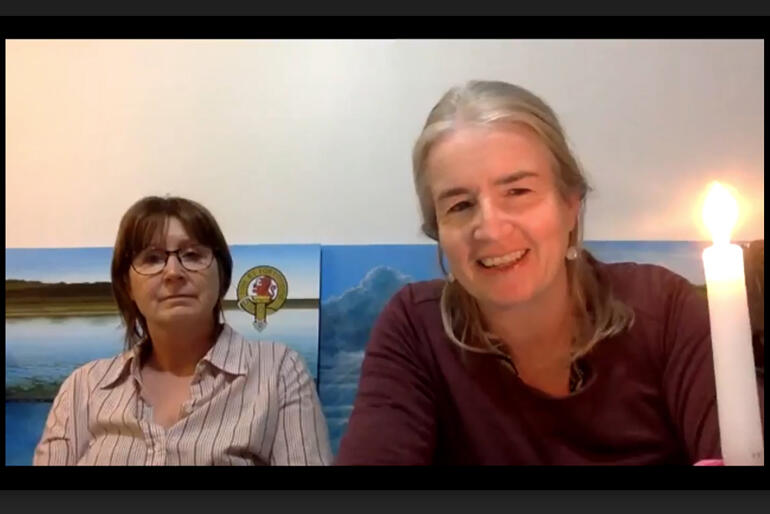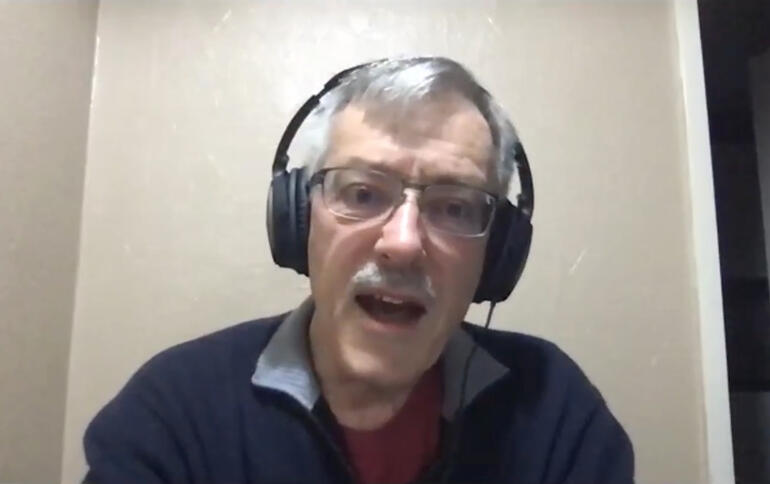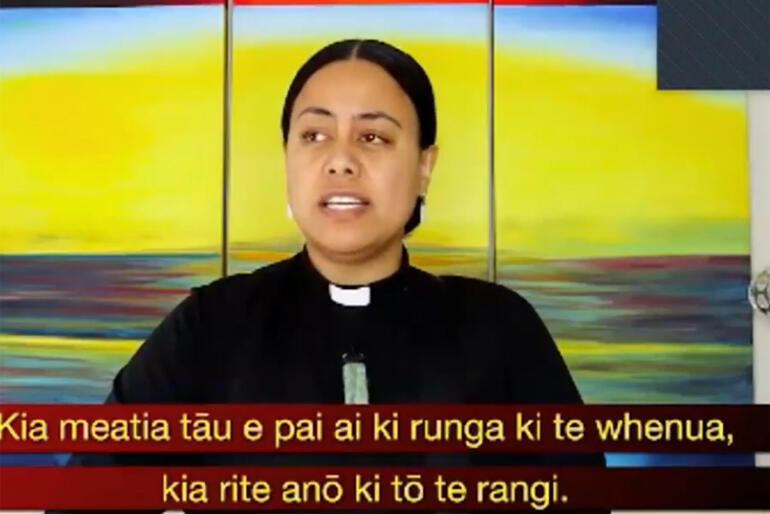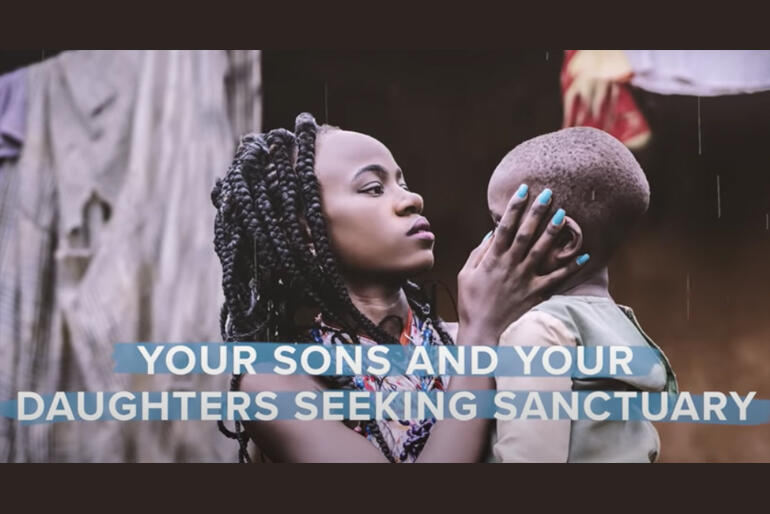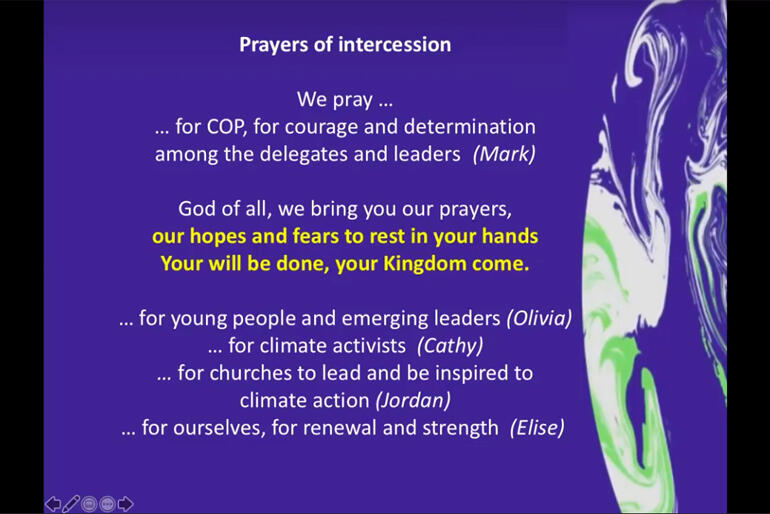 More than 70 Christian climate activists and supporters in Auckland, Wellington and Dunedin joined in an online Vigil on Sunday 31 October to pray for state negotiators and civil society groups now in Glasgow for the 26th United Nations Climate Conference (COP26).
The vigil opened a series of daily prayer vigils run by the Anglican-initiated ecumenical prayer movement known as 'Karakia For Our Climate'.
Online vigils each day of COP26 held on the Karakia for our Climate Facebook page will enable Aotearoa-based Christians to pray for climate justice over the course of the COP26 underway now and running through till 12 November. Undergirding their prayers is the hope for greater leadership and voice for indigenous peoples and developing nations most likely to be hit the hardest by temperature and sea level rises and extreme weather events.
The Karakia For Our Climate movement began back in 2019, when Wellington Anglicans Kate Day and Elise Ranck came up with the idea (in conversation with Auckland's Rev Mark Barnard) to establish prayer vigils in solidarity with the nationwide school climate strikes.
Now in 2021 prayers are needed again as COP26 is being flagged as the final turning point, or the last chance for global leaders to step up and cut their country's emissions to contain temperature rises to a less planet-damaging 1.5%.
On the night before COP26 meeting opened, 'Karakia For Our Climate' held a vigil led by Presbyterian minister Rev Sylvia Purdie from the Christchurch branch of the A Rocha Christian conservation NGO.
Silvia was supported by Olivia Yates and Cathy Bi-Riley from the Diocese of Auckland, Otago University chaplain Rev Jordan Redding and the Diocese of Wellington's Creation Care Worship Enabler Elise Ranck.
Vigil prayers included St Francis of Assisi's Canticle of the Sun, Te Inoi a te Ariki led by Rev Keri Ann Hokianga from Te Pīhopatanga o Te Tai Tokerau, and a musical prayer for climate action: Renew our world.
Rod Oram, who is a journalist and Anglican environmental justice portfolio advisor, zoomed into the vigil from his 'Open Hotel' homestay along the road from the COP26 meeting in Glasgow, where he is reporting on the proceedings for Newsroom.
Rod referred to COP26 as the most complete human hui you could imagine – a 'gathering of the clans' hosted in Scotland by the UK and Italy, bringing together people from across the 200 attending nations and involving up to 25,000 people.
"There are people from every country, every race, every economic system and every ideology here… and from every place along the wealth to poverty spectrum."
Rod explained how compulsory daily Covid tests and mask mandates are keeping delegates and visitors safe, as Government officials and state representatives taking part in the first week of the UN-organised negotiations are joined by thousands of civil society groups representing charities, NGOs, scientists, schools and academia, as well as people from across business and industry.
Rod spoke of the huge crane that rises over the skyline of the Glasgow event, standing as a towering symbol of the industrial age that has pushed humanity to where we are now – in very destructive ways for the planet.
Rod asked that as people pray for life-protecting outcomes from COP26 to keep in mind that the crunch moment for decisions which will begin around 36 hours before the end-of-week deadline looms at midnight on the final day of the official state negotiations this week.
Rod reported that faith groups were playing a strong part at COP26, as well as precursors like the religious leaders' statement that came out last week led by the Vatican, the interfaith rally for climate justice that brought (a limit of) 500 into Glasgow's George III Square on the second day of the negotiations, as well as climate justice pilgrimages led by different faith groups that were beginning to arrive in the city already by last Sunday.
Call for prayer
Karakia For Our Climate heard how Aotearoa New Zealand's Government has declared a new nationally-determined contribution to emissions reduction that Rod Oram says presents the 'right number' to get us to net zero by 2050.
"But even if you have a net zero declaration, you have to have the commitment and plans to drive those emissions goals."
"We make these declarations, or our Governments make them, but we have barely begun to create the strong consensus to make that possible."
Responding to Rod's prayer requests from COP26, Karakia for our Climate agreed to:
- Pray for revelation for many people to gain an awareness of the great damage we are all doing to God's creation(our life support system),
- Pray for repentance for the many ways in which we have broken our spiritual relationship with nature
- Pray for renewal of a spirit of kinship and of support for others
and he said there is a real need for declarations and efforts to be backed by money, not just words.
"Money is very important in making these goals real – and developed countries are being very mean." So he asked for prayer that nations will fund the changes they need to make,
"So that everybody on this planet can get on with this vital, rewarding work of combatting climate change, in the name of God and of restoring humanity's relationship with the living earth."
Throughout COP26 the Karakia For Our Climate prayer mailing list provides daily updates on what has happened at COP26 to enable churches and individuals to focus their prayers.
Daily vigil prayers are being held by Karakia For Our Climate on Facebook up until the final day of COP26 on 12 November when in-person services will be held in Auckland(Covid levels permitting), Wellington and Dunedin.

Other events and vigils
12th Nov (at the end of COP26) Regional ecumenical prayer vigils
o Auckland/ Tāmaki Makaurau: 7:30pm online or outside St James, Church St, Māngere Bridge (Covid level-dependent - make sure to check emails/ Facebook).
o Wellington/ Te Whanganui-a-Tara: 6:30pm at Anvil House, 138 Wakefield St., Wellington
o Dunedin/ Ōtepoti: 5:30pm at Knox Church, Dunedin.
6th Nov: Global day of climate action. Consider organising events in your own area, or join those organised by Rise up for Climate Justice
Resources to use in your own churches and communities