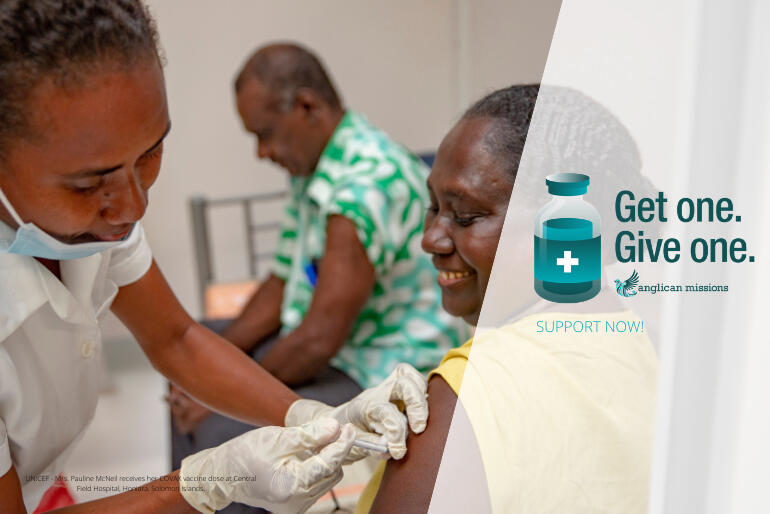 Anglican Missions has launched a new global vaccination fundraising campaign known as 'Get one. Give one.'
The Get one. Give one campaign gives people in Aotearoa, New Zealand and Polynesia an easy way to share the benefits of a Covid-19 vaccine through a dedicated Givealittle page, which sends donations to countries struggling to even vaccinate vulnerable citizens such as health and border workers.
People will be invited to make a donation when receiving their own vaccination.
"We know that as vaccines roll out across our countries, a lot of people are looking for a way to pay it forward, to acknowledge how blessed we have been and to help our global neighbours who are going without." said Anglican Missions National Director Michael Hartfield today.
"The 'Get one. Give one.' campaign gives us the chance to remind the world that even though our borders are closed, we still care about what happens to others – and we want everyone safe from Covid-19."
Reports from Unicef calculate the cost of delivering one vaccine to be between NZ$5 and $10.
The 'Get one. Give one.' campaign asks donors to give NZ$10 each to cover the delivery of a single vaccine. The money factors in the cost of distributing and storing the vaccine and staffing overseas vaccination centres.
"There's so much need out there and we invite those who can afford it to consider helping to vaccinate not just one person, but as many as they can," Mr Hartfield said.
Donations to the campaign will go directly to the Covax Alliance, which delivers vaccines to countries in need through Unicef and Gavi, the Global Alliance for Vaccines and Immunisation.
All donations over $5 are tax deductible and are welcome anytime, whether you've had your jab or not. To donate a vaccination, go to: 'Get one. Give one.' - https://givealittle.co.nz/fundraiser/get-one-give-one.
Anglican churches, schools and organisations can play a big part in helping to spread this campaign out into their communities beyond church walls.
Supporting the 'Get One. Give One.' campaign is simple, here are some ways your community can help:
Spread the word with family, friends and your workplace. This is a chance for families, workplaces, schools and churches to mobilise together to make a difference.
Organise a fundraising event. Downloadable promotional print and digital resources, as well as ideas for how to run Get one. Give one. fundraising events, can be found online at https://www.dropbox.com/sh/1hrji1a1054ao6u/AABzSuJe8T_nENzzUOwlVZy-a?dl=0.
Put up the campaign web banner and Facebook cover photo on your timeline to show your support.