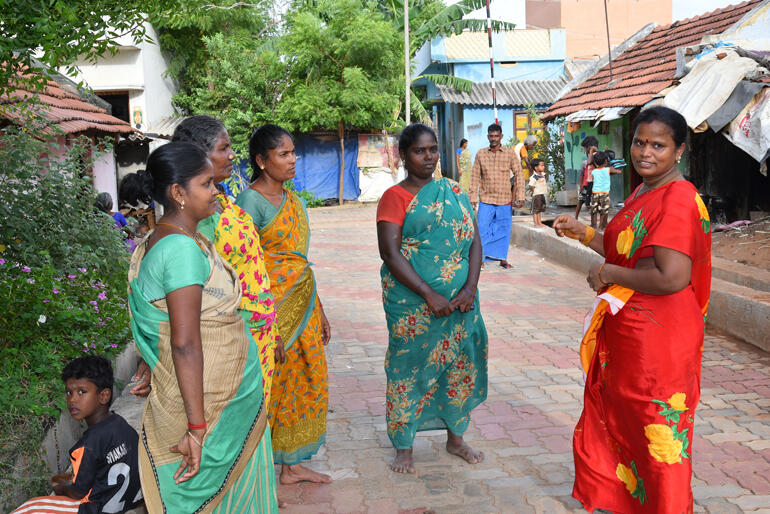 As Christian World Service makes its annual Christmas Appeal for 2021 they are calling for support for rural Dalit women who still face the abuse and limiting pressures of caste discrimination.
One woman who has seen real change in her life due to CWS' help, is Muneeswari, who lives in Tamil Nadu in South India. There, her Dalit community (once known as 'untouchables') have endured centuries of discrimination and abuse as outsiders in the caste system – which today is officially illegal, but still operates in many rural areas.
In Muneeswari's village in Tamil Nadu, strict rules have long governed Dalit behaviour. Dalit people are often not allowed to wear shoes or cross the paths of people from a different caste. In many places they can only take water from one tap in the village and can only live in certain areas. At school, the Dalit children sit at the back of class – where they are usually ignored. And unlike their peers, Dalit children are made to clean their own dishes (to save soiling others) as well doing lowly chores not required of others, such as cleaning the school toilets.
At times, people from higher castes will force a Dalit person to perform a demeaning act to remind them of their disdained position in the caste pecking order. That happened last year when Muneeswari's supervisor in the rice fields demanded that she clean his work-soiled shoes. In the caste system, Dalits are considered below the lowest determined caste, which is represented by the feet of Brahma, the God whose different body parts determine the castes.
Muneeswari at first refused to touch the supervisor's shoes, but when he demanded she comply, she feared she would lose her job – so reluctantly did what he asked. She didn't want to be demeaned, but even with her husband's income, losing her pay would mean not enough food for their family.
The moment that changed Muneeswari's life was deciding not to put up with that treatment. Instead she walked into her local Dalit women's association (known as a sangam) to ask for help to regain her dignity. That sangam is part of a nationwide Dalit women's network supported by one of Christian World Service's partners in India, the Women Development Resource Centre.
The sangam women understood the symbolic shaming Muneeswari had suffered at the hands of her employer, and marched straight to the Police to call out his actions.
At first the duty officer asked to speak to the man privately, but Muneeswari and the sangam leader refused to leave. They knew that until the officer insisted the supervisor make a public apology to Muneeswari, the social damage of his actions would stick.
But that was only the beginning for Muneeswari.
When her employer was forced to treat her with respect by giving a public apology, she saw that from now her whole life could be different.
Muneeswari joined the sangam and learnt she could have better opportunities through help from government benefits that she was entitled to under Indian law, but had never known about.
Now, after only a year of connecting with the Christian World Service supported women's association, she has a house registered in her name, her income has nearly tripled and her son has begun studying at college. When her daughter is older, she wants to send her on to higher education as well.
Today, thanks to Christian World Service's partner and the local sangam's work, Muneeswari is a changed woman. She walks confidently home after a hard day's work in the rice fields and she chats happily with the other women.
She no longer has to worry about being abused by people who will get away with their actions. She knows her rights and she has support of her local sangam, should anyone try to push her back down.
The Women Development Resource Centre is just one of Christian World Service's partners that stands up for the rights of Dalit and Tribal (indigenous) people in India that gifts to the 2021 Christmas Appeal will support. Through its 317 sangam with more than 24,000 members, and with our help, the sangam women can go on being essential to lifting up their communities.
To support Dalit women like Muneeswari through CWS this year, please donate now to the 2021 Christmas Appeal.