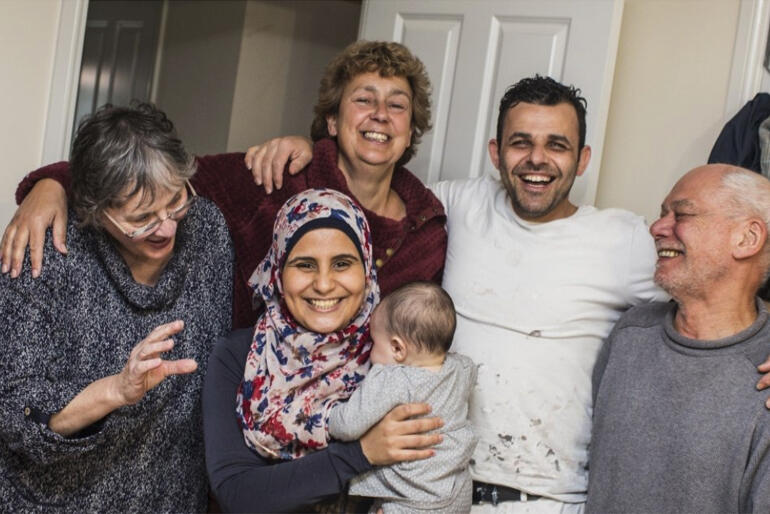 The Community Organisation Refugee Sponsorship pilot scheme (CORS) is encouraging churches, faith groups and community groups to consider becoming approved refugee sponsors with the backing of new organisation assigned to supporting their work with refugees.
Over the next three years between 2021-2024, churches, faith and community groups across Aotearoa will be able to sponsor up to a total of 150 refugees on top of the Government's refugee quota.
With global refugee numbers hitting 82 million displaced people, including 26 million UNHCR recognised refugees awaiting resettlement, and only 100,000 worldwide places set aside for refugees, every extra person that a church can welcome helps.
In the first community sponsorship (CORS) pilot in 2018, church and community-based sponsor groups had to make their own roadmaps for the first 23 refugees who came here under the scheme.
Now as the CORS scheme expands, any community group that wants to sponsor a refugee family will now have the backing of Government-funded support through 'HOST Aotearoa New Zealand,' that offers information and back-up to lead them through the process.
"We are here to help community groups work out exactly what they will need to sponsor a refugee family, help them make a practical step-by-step settlement plan in their location, and complete all the planning they need to become an approved community organisation sponsor." said HOST Aotearoa New Zealand National Programme Manager, Birgit Grafarend-Watungwa this week.
HOST Aotearoa New Zealand is modelled on the HOST International model, and was set up back in 2018 to promote manaakitanga towards newcomers here. Since then it has gathered practical experience in the field, helping former refugees to gain skills and training to smooth their entry to the workforce here.
As HOST works with sponsors and former refugees, they have the backing of other refugee-led organisations including ChangeMakers Resettlement Forum and Voice of Aroha and other key players in refugee settlement support such as Belong Aotearoa (an Auckland-based settlement support organisation) English Language Partners and the NZ Government's Ministry of Business, Innovation and Employment - Hīkina Wakatutuki (MBIE).
For people getting started on the journey towards partnering with a refugee family in their settlement here, HOST Aotearoa New Zealand website sets out how a church or community group can become a refugee sponsor and offers clear guidelines on the roles and responsibilities a sponsoring community must be ready to take on.
These include organising arrival orientation with interpreter support, providing a 'ready to move in' furnished rental home, clothes and set-up essentials for family members and providing practical support to the family as they settle in – for everything from setting up a bank account or applying for WINZ income support, to choosing schools and doctors, or securing English language and employment training.
Another key requirement for all sponsors is that they identify how they intend to connect the newcomers with mana whenua in their area.
Informally Taonga has heard that set up costs for sponsors might range anywhere from $6000 -$15,000, depending on what resources a sponsoring community's own members can provide and the size of family they are supporting.
But unlike in the first pilot, sponsors in the expanded CORS scheme will not have the benefit of their family spending two weeks of integration training at Mangere's Resettlement Centre. At the moment HOST is developing practical reosurces that will enable sponsors to provide the same quality of orientation with families in their own locations.
But Birgit says local orientation won't necessarily lead to more costs for sponsors.
"If your church has people who can accompany their family to visit essential services, help families get children to schools and appointments in their first weeks, help them visit WINZ and the bank, help interpret into English and back, or even support their language learning, then that figure will come down... each time that church volunteers with the right expertise can help." said Birgit.
That's why HOST doesn't put dollar figures on the sponsor-family relationship, because the range of circumstances sponsors might have adds too many "it depends" into the mix.
"As sponsors make the settlement plan for their future family, they also have the opportunity to work with others in their communities to gather volunteer or business-sponsored support for the new family's needs." she said.
Nick Regnault, who is SouthWest Baptist Church's CORS pilot scheme coordinator from the first CORS pilot in 2018, said that when asked, local businesses were often willing to find a way to share resources with the arriving families.
"Sponsorship requires some fundraising, but mostly it's about being a friend. It takes time and commitment, and being prepared to ask for help."
"But we found that just about everywhere we went, people wanted to help refugees."
To check out the new resources available for churches that are interested in becoming refugee sponsors, go to HOST Aotearoa New Zealand.
To view the start to finish process of becoming a CORS sponsor, go to: sponsor roadmap
To see Immigration New Zealand's guidance on developing a settlement plan in your community, you can download the PDF from INZ here: Settlement Plan guide.