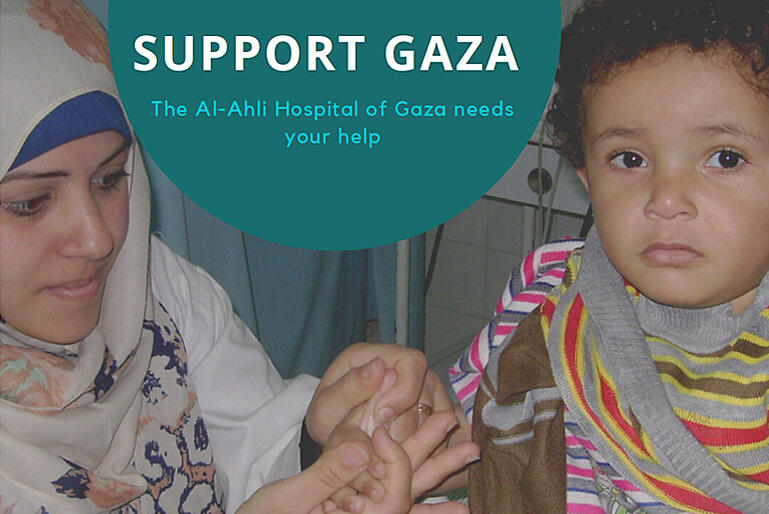 Anglican Missions have opened an appeal to support the Diocese of Jerusalem's Hospital in Gaza as it offers medical care, including for people suffering due to escalated violence in the Holy Land.
The appeal comes as nine hospitals and health centres in Israel and the occupied Palestinian territories have been damaged in bombing strikes.
Anglican Archbishop of Jerusalem, the Most Rev Hosam Naoum has urged Anglicans to respond with financial support for the Al Ahli Hospital, which is at the centre of Gaza City and on the frontline of current relief efforts. The hospital is managing to continue providing medical treatment despite the loss of electricity and blast damage to its windows. An additional surgery ward has been established to treat those wounded in the conflict and generators are running around the clock to keep the hospital functioning.
Director of Al Ahli Hospital Suhaila Tarazi spoke to the EO of the Episcopalian friends of the hospital in the middle of night time bombing recently.
"I've lived through three wars in Gaza and I've seen nothing like this. The destruction is everywhere. I can't describe the horror and fear we feel."
"The innocent in Gaza and Israel are dying. Men, women and children who have done nothing wrong. We ask God to inspire the war decision makers of Hamas and Israel to stop this new tragedy as there will be no winner in this war."
With bomb strikes continuing to hit densely populated civilian neighbourhoods in Gaza, emergency medicine and medical supplies are in short supply and the hospital is struggling to keep up with growing fatalities and injuries.
Al Ahli hospital's doors are open to everyone in need. It offers one of the few public Christian witnesses in Gaza and is often described as a "beacon of hope".
The UN reports that the hostilities and violence that have continued to escalate across Israel and the occupied Palestinian territories over recent weeks are not letting up.
Over 200 people have been killed over the past seven days including 58 Palestinian children and in Gaza, 94 buildings have been destroyed with 42,000 people seeking UN protection in 50 schools.
The UN and its humanitarian partners are now providing emergency food and non-food items to displaced families in Gaza as the security situation allows.
Wellington-based Director of Anglican Missions Michael Hartfield reports that donors in Aotearoa, New Zealand and Polynesia can support Al Ahli Hospital with confidence, as it has been a reliable partner with proven best practice in international development for many years.
As well as the hospital's proven record and the clear urgency of need, Michael Hartfield confirms that this appeal is strongly in line with the Anglican Communion's mission priorities of proclaiming the good news of the Kingdom and responding to human needs by loving service.
To donate to the Al Ahli Hospital Appeal, please go to the Anglican Missions' donate page and enter your donation amount in the box labelled Emergency Appeal: Al Alhi Arab Hospital, Gaza.
Archbishop of Jerusalem Hosam Naoum has also asked Anglicans around the world to pray for the people of the Holy Land with the following prayer:
Almighty and Everlasting God:
Our days are in your hands;
we lift up all those in the Holy Land who are victims of violence and injustice, that you might empower your Church to bring healing to the wounded, relief to the suffering, and comfort to those who mourn;
we pray also that you would soften the hearts of all those involved in the recent conflicts, that they would be led to work for justice and lasting peace in the land where your Son, our Lord Jesus Christ first came to bring hope and abundant life to all people;
these things we ask in his Holy Name.
Amen.