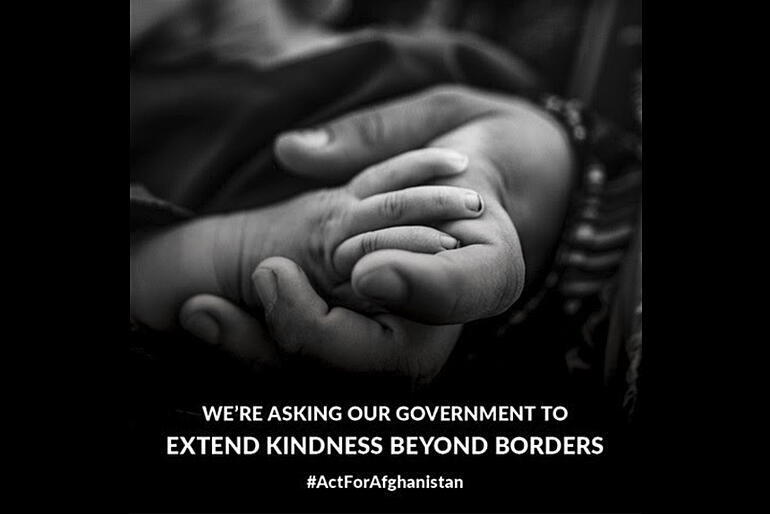 More than sixty Aotearoa New Zealand churches and church leaders, aid and development agencies, community groups and Afghan advocates have signed a letter calling the New Zealand Government to play our part in supporting people whose lives are under threat in Afghanistan.
The letter, which was signed by Anglican Missions, Christian World Service, Anglican church leaders Archbishop Don Tamihere and Archbishop Philip Richardson, calls for the New Zealand Government to put kindness first and act urgently to avert the deepening humanitarian disaster in Afghanistan.
The first section of the letter asks our Government to:
– at least double its humanitarian support to Afghanistan
– send aid to countries bordering Afghanistan that are receiving refugees
– aid organisations in Afghanistan that work to uphold the rights and dignity of every individual
In its second section, the letter reaffirms that the more than 21,000 people represented by the signatories want to show their care for 6000 the Afghan New Zealanders who fear for their relatives and neighbours still in Afghanistan, by ensuring that we:
– evacuate all those left in Afghanistan who were part of, or connected to our mission there
– open a pathway for 1500 refugees on top of the set quota, for those people who are now at risk due to their connection with our presence in Afghanistan
– make the way plain for at risk Afghans to gain visas to join their families living in Aotearoa, and for those that can qualify for 'critical visitor' visas
– expand the community sponsorship scheme (CORS) to widen the scope of people who can come to live in our communities with the help of a community group or church
Finally the letter asks our Government to stand up for human rights in Afghanistan by standing by its call to remain focused on the rights of women and girls, and to take an international lead to
"Drive agreement in the international community to establish a robust investigative mechanism – with a mandate to document, collect and preserve evidence of ongoing crimes and human rights violations across Afghanistan."
The letter points out that their call for 1500 places is a significant effort, but small in the global context. Both Canada and the UK have set aside 20,000 extra refugee places for Afghans fleeing the current crisis, and the US has committed $500million to supporting Afghan arrivals.
"The New Zealand Government spent 20 years and hundreds of millions of dollars in military expenditure as part of the international intervention in Afghanistan. We have an obligation to the people of Afghanistan to stand by them now. Be it the provision of aid, or safe pathways to New Zealand, the time for response is immediate and the cost of inaction is high."
To download the full Open Letter in PDF follow the link below.
Every Anglican voice we raise voice in support of this call helps the Government understand that more Aotearoa New Zealanders care.
Follow the link below to find resources to help your church community, pariha, youth group, rōpu rangatahi, kāhui wahine, or AAW show your care for our Afghan neighbours, these include texts to help write letters to Govt Ministers or your MP, and share your support for the #ActforAfghanistan call on social media platforms. Anglican Resources for #ActforAfghanistan