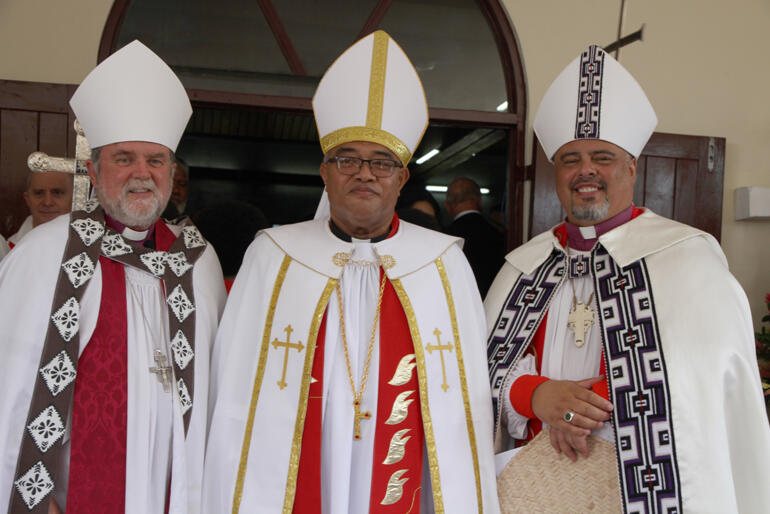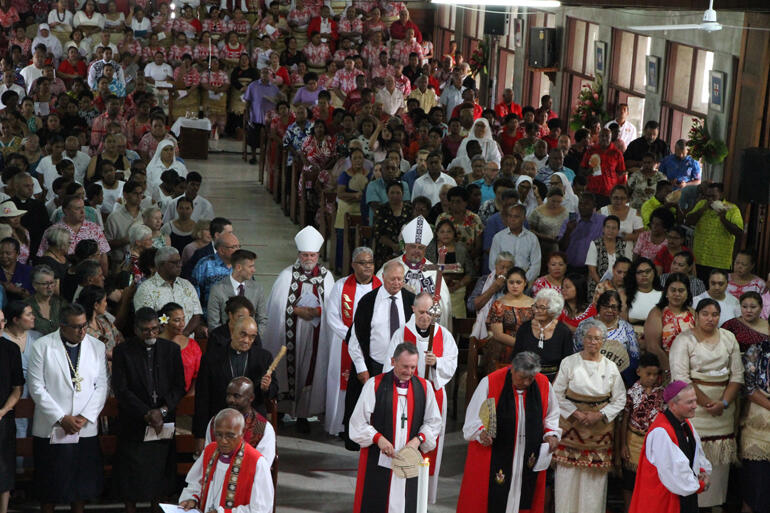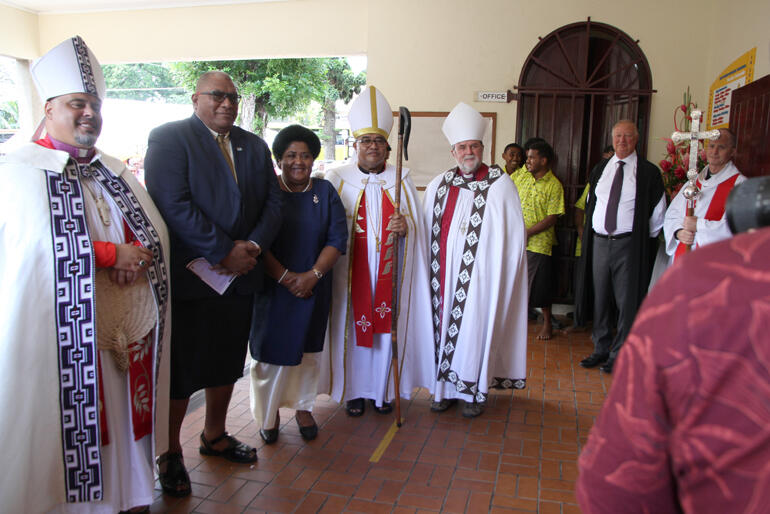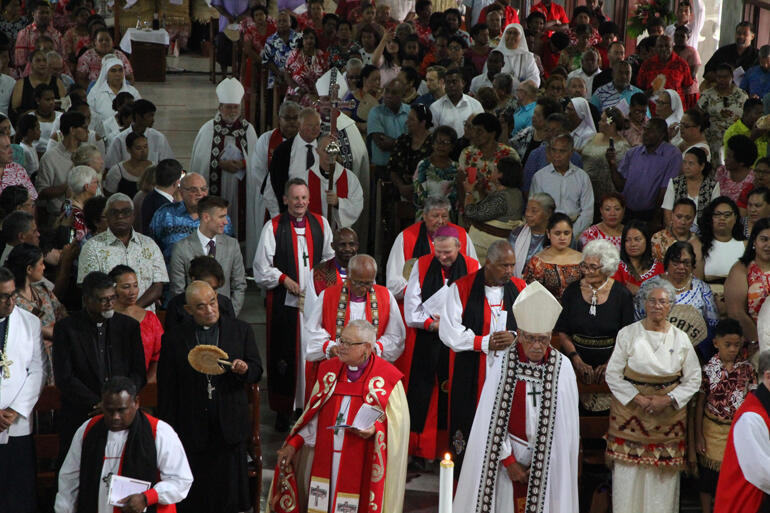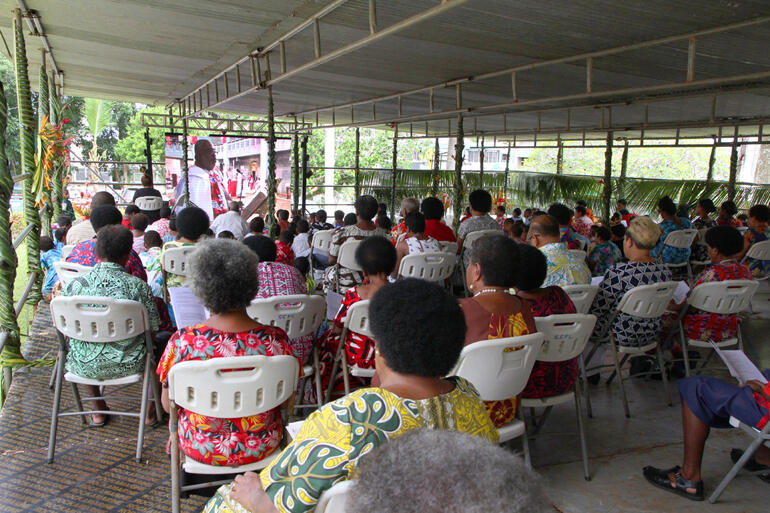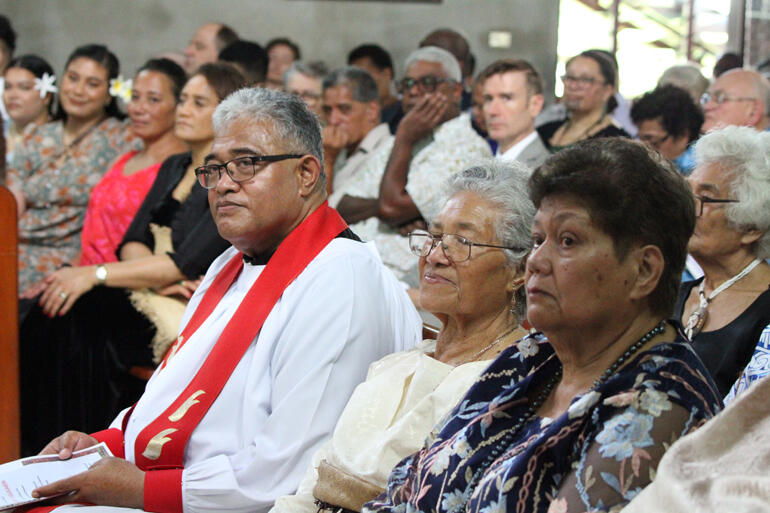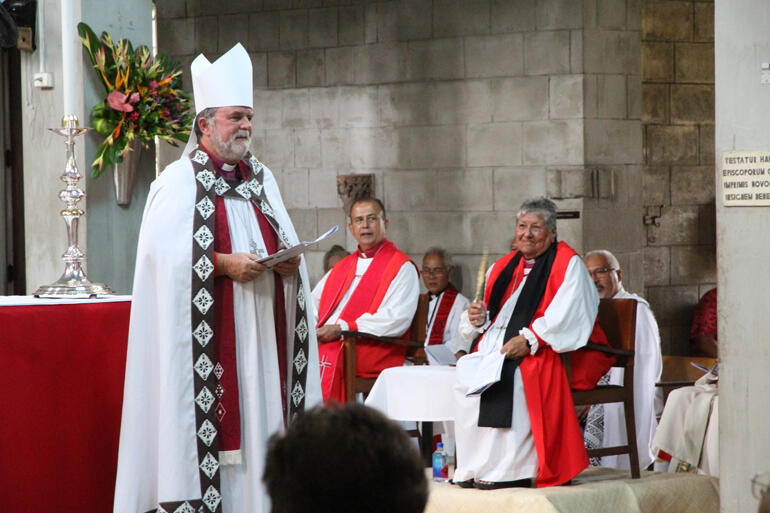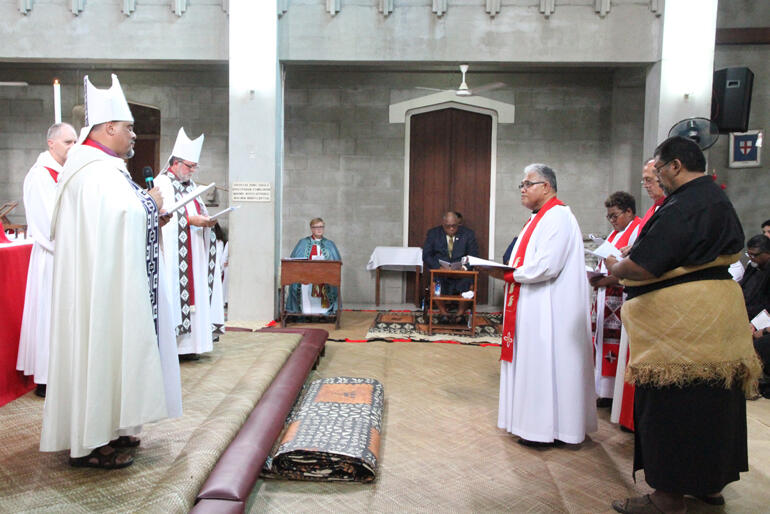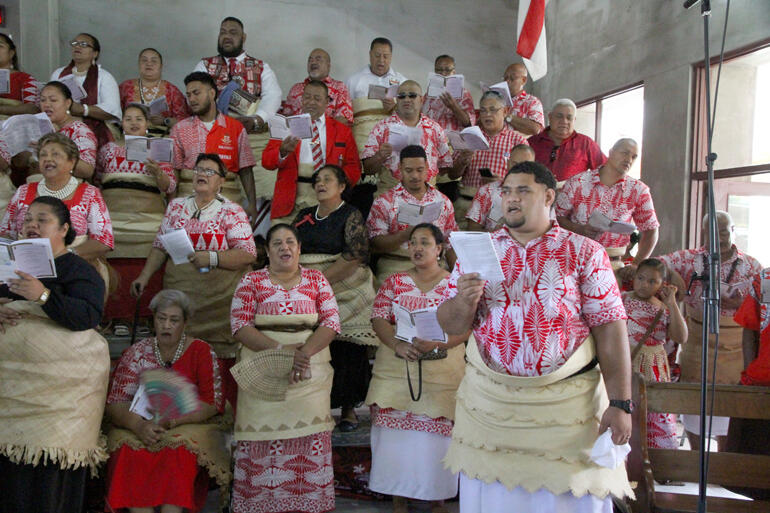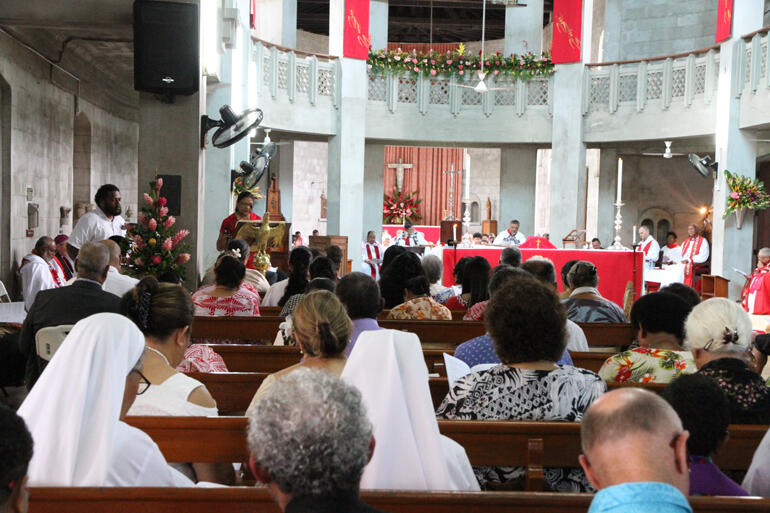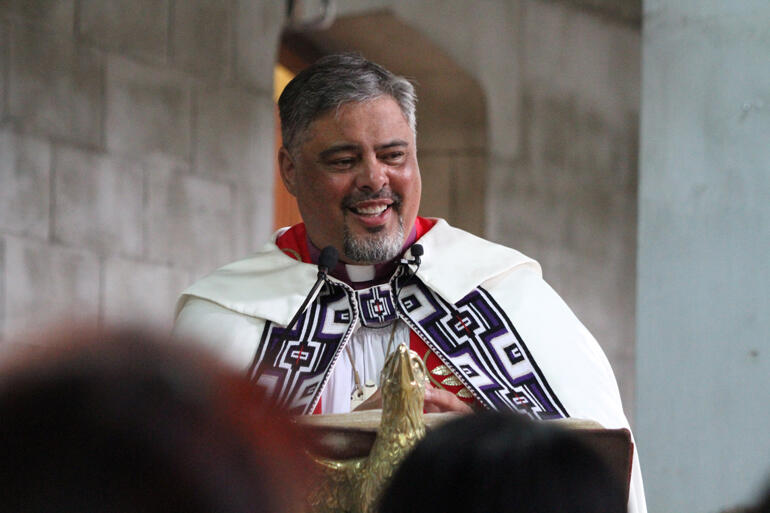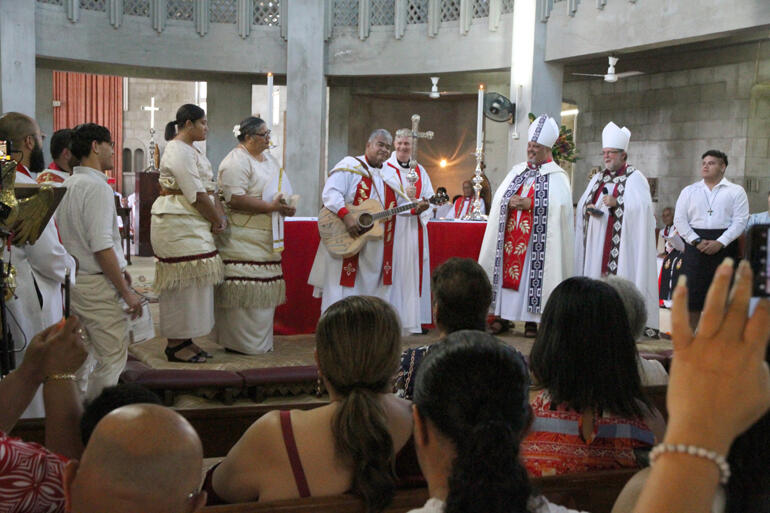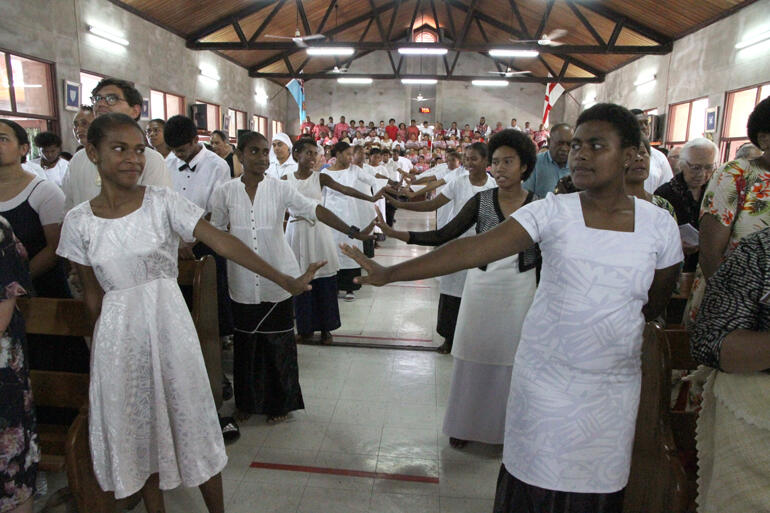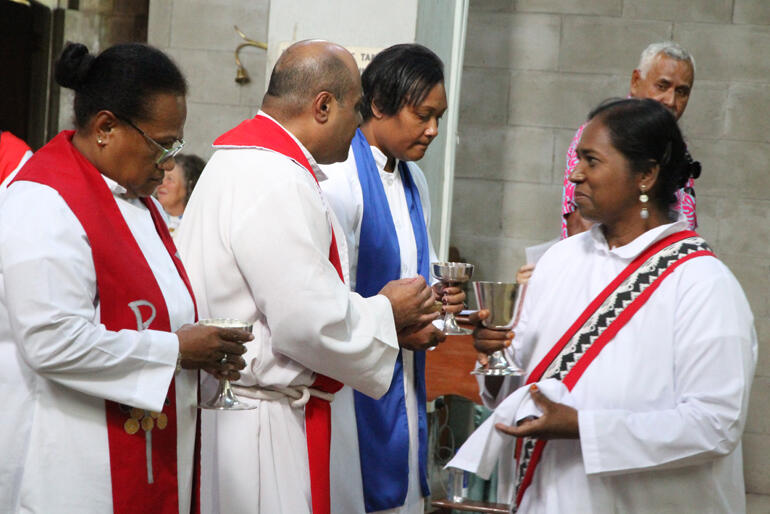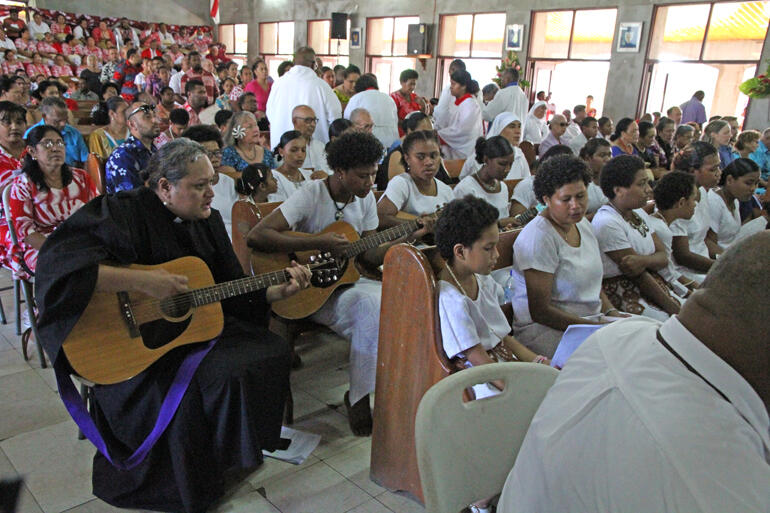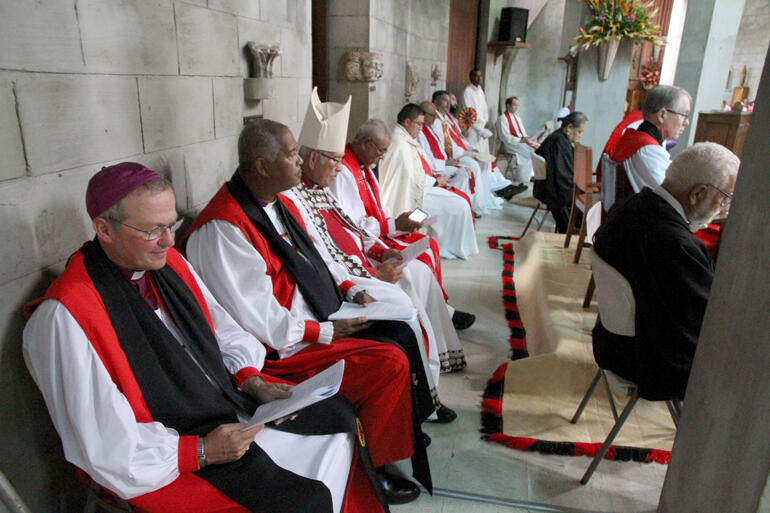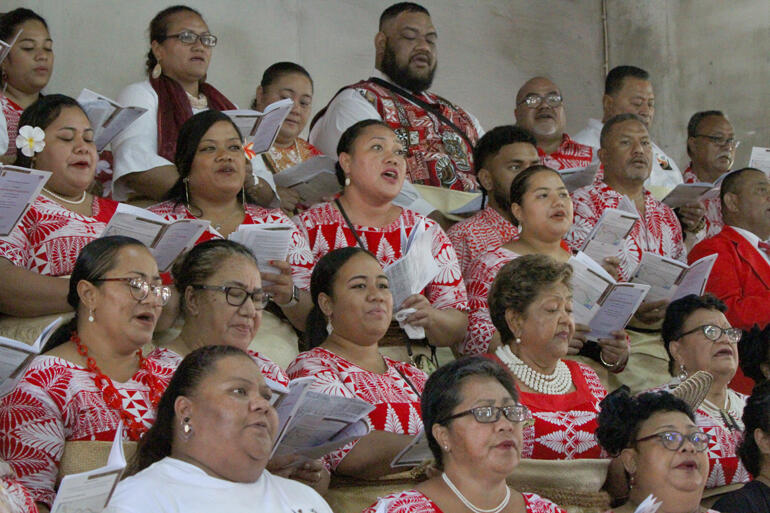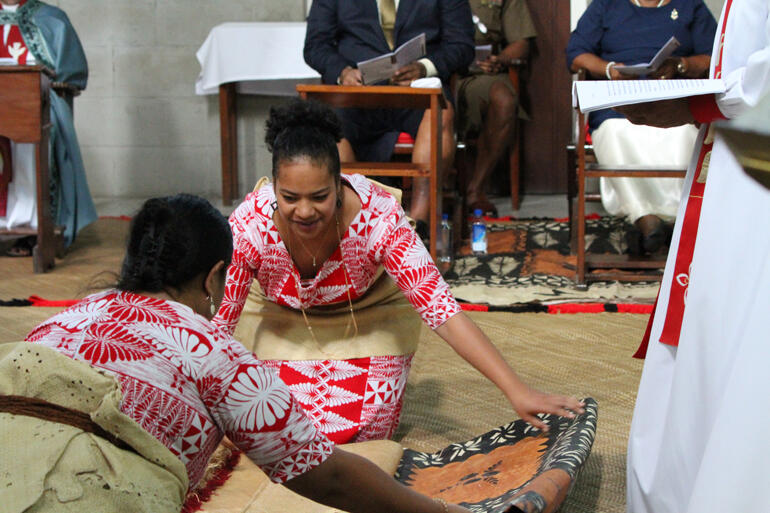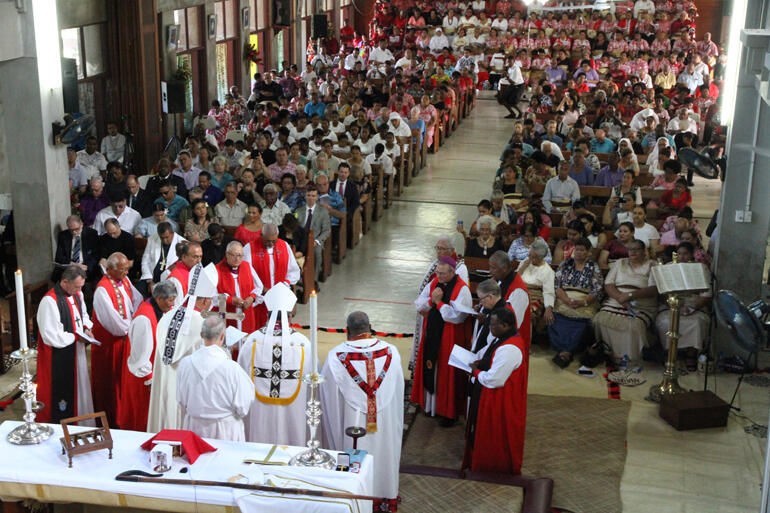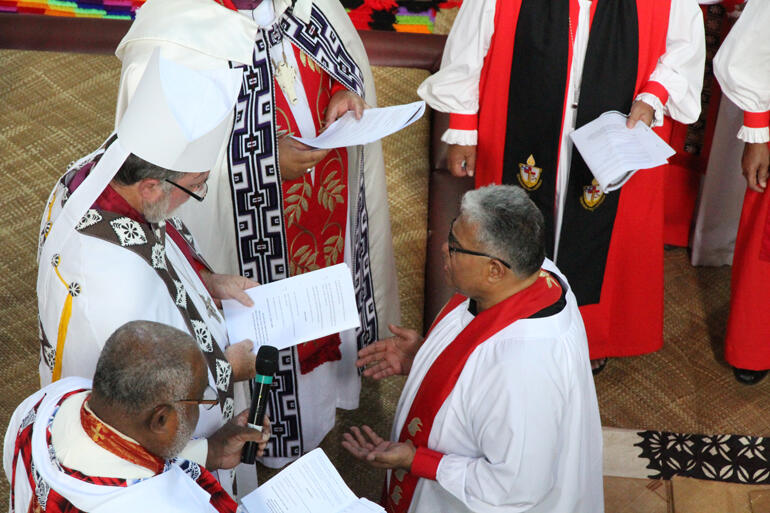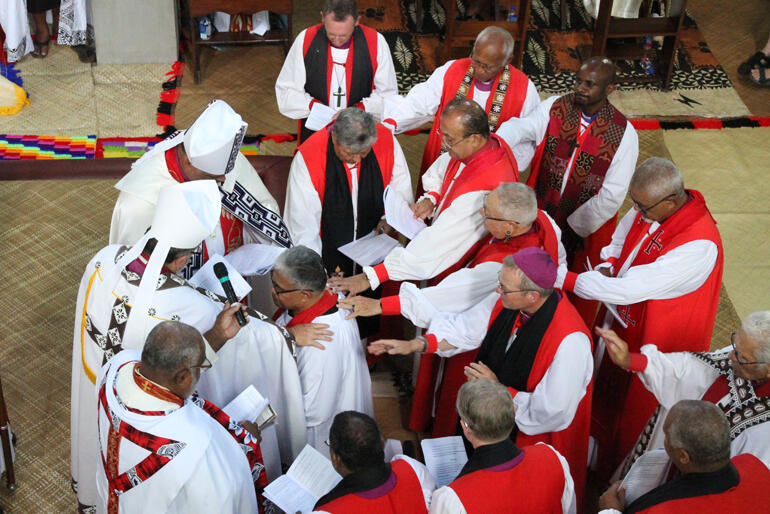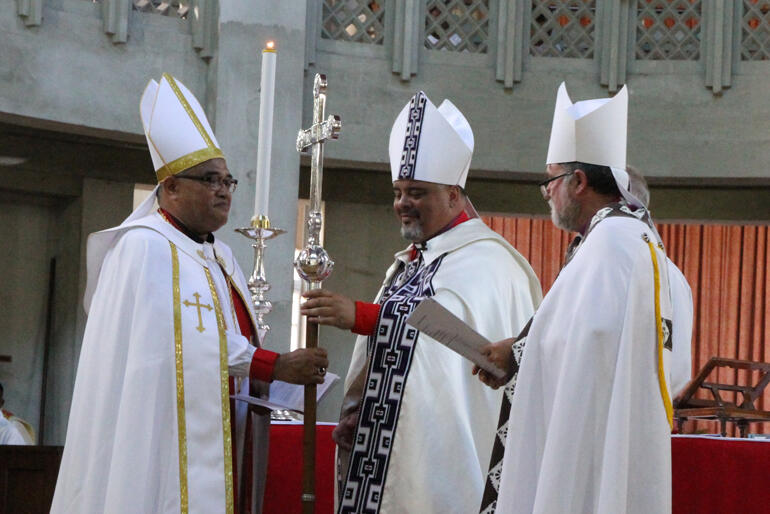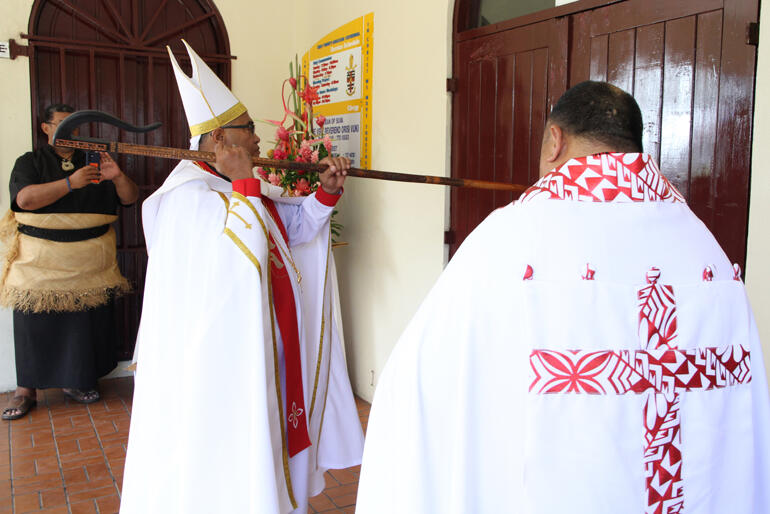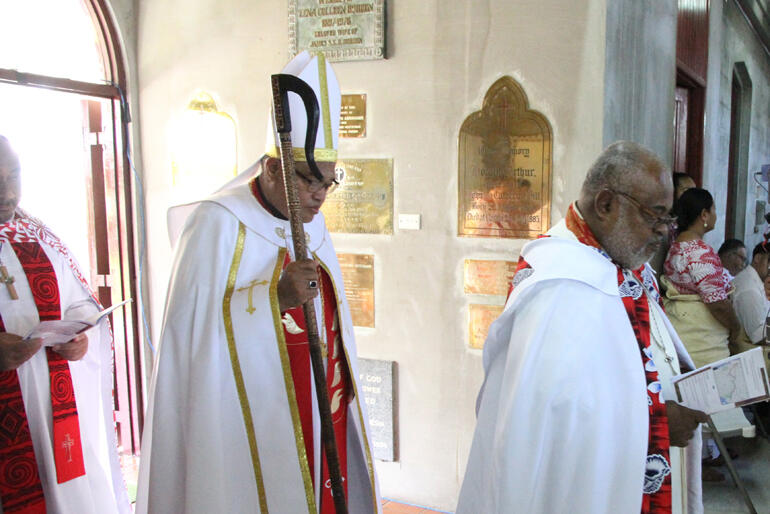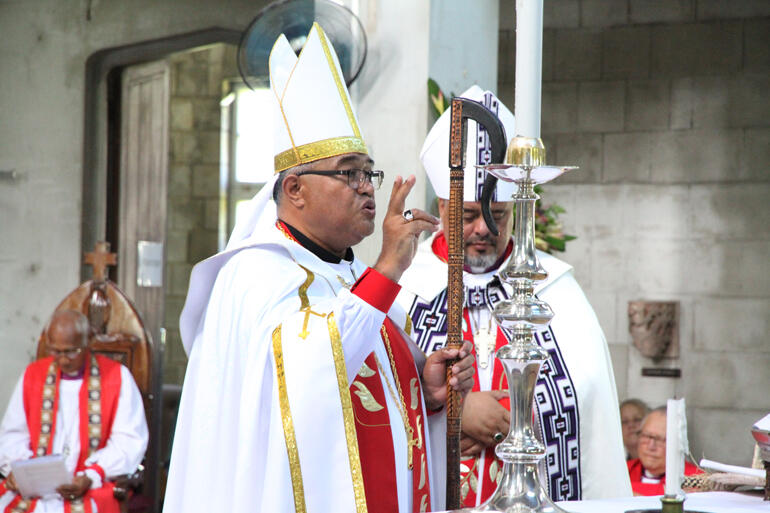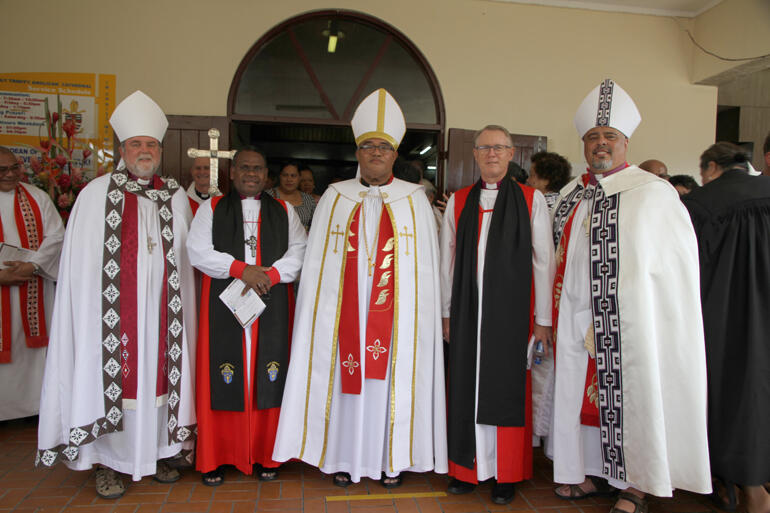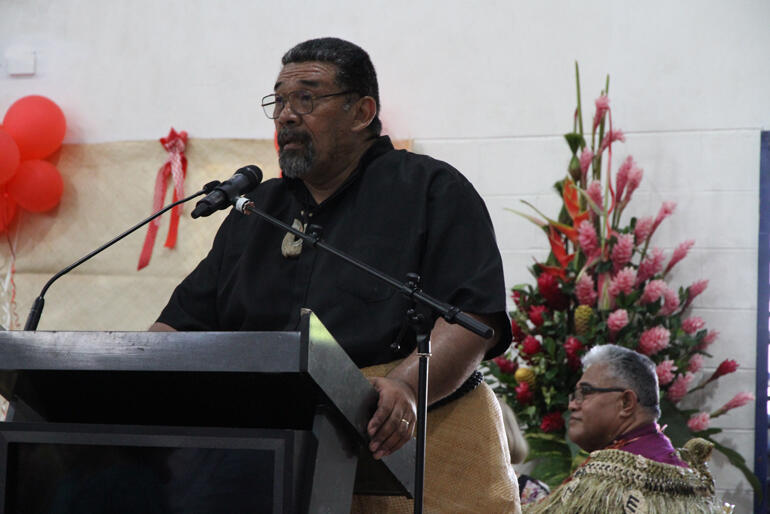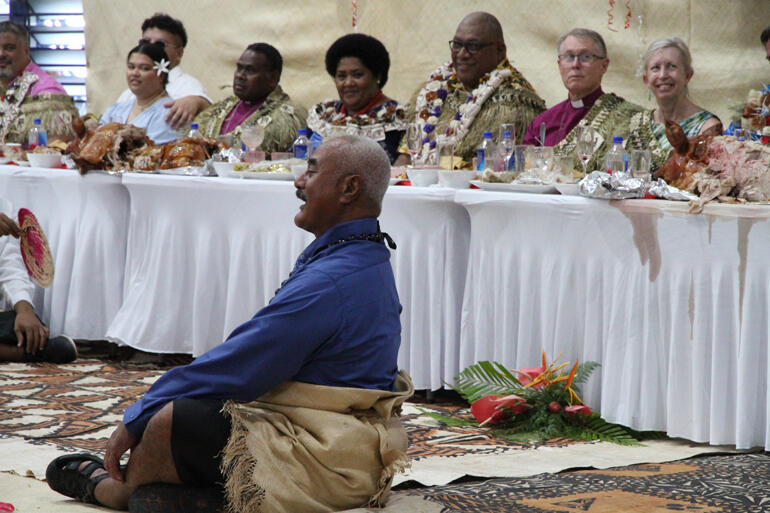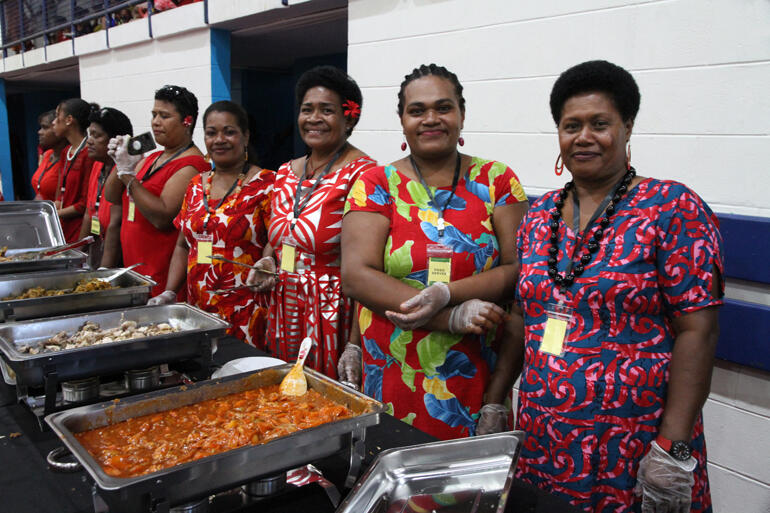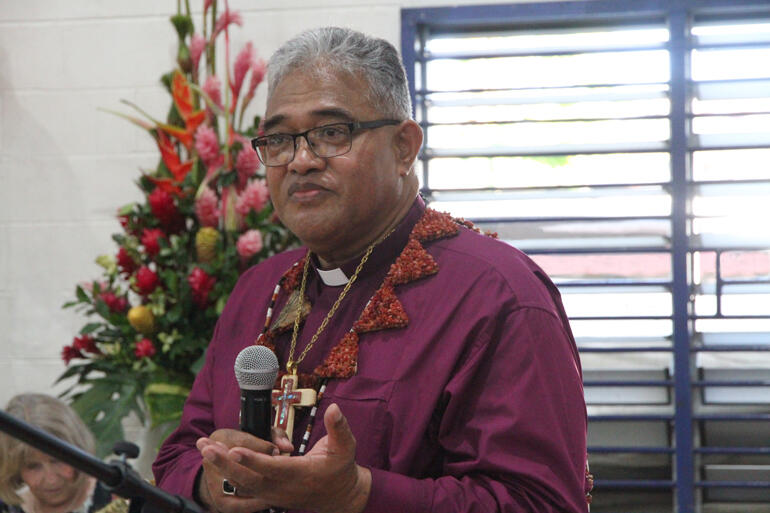 Anglicans were out in force in Suva this Saturday 11 March as 1000+ worshippers gathered at Holy Trinity Cathedral to join in Eucharistic celebration and support the Most Rev Sione Uluilakepa's ordination and installation as Bishop of Polynesia.
At the service, which was livestreamed in full, Archbishop Don Tamihere and Archbishop Philip Richardson welcomed Bishop Sione as an Archbishop of the Anglican Church in Aotearoa New Zealand and Polynesia and newest of the Church's three primates.
Archbishop Philip reflected on the wairua he felt at Holy Trinity Cathedral on Saturday,
"I think that amongst all the enthusiasm and variety of the celebration, the spirit of today's event was a sense of settled joy, a contentment to have oversight back within the Diocese itself, to have a son of Polynesia as their shepherd once more."
Since first mourning Archbishop Fereimi Cama's death in mid-2021, the Diocese of Polynesia has remained under the Aotearoa New Zealand Archbishops' care, who were formally thanked for their oversight in a small ceremony on Saturday.
Archbishop Sione's ordination drew major interest in Fiji, with the country's President, His Excellency Ratu Wiliame Katonivere and his wife Madam Filomena Katonivere attending as guests of honour.
Also at Holy Trinity to support Archbishop Sione were British High Commissioner to Fiji Brian Jones, General Secretary of the Pacific Conference of Churches Rev James Bhagwan, Catholic Archbishop of Fiji Most Rev Peter Loy Chong, Anglican Archbishop of Melanesia Most Rev Leonard Dawea and Archbishop of Adelaide and Primate of Australia Most Rev Geoffrey Smith.
Archbishop Geoffrey Smith was there to honour and affirm his Church's long standing relationships with the Church in these islands,
"I came because this relationship with Polynesia and Aotearoa New Zealand is very important to us."
Archbishop Geoff was struck by the beauty of worship on Archbishop Sione's big day, which he found exceptional,
"It was a great event. The choir was fabulous, they filled the streets and the bay with their sound. Another highlight was the children of St Christopher's singing during communion. The quality of their singing was just beautiful – the harmonies, the strength of their sound, they were a well-oiled machine."
Another high point of the service was when members of Te Pīhopatanga o Aotearoa stood to back their gift of a Pacific-patterned guitar to Archbishop Sione with the waiata "He Aroha." Archbishop Sione responded in double quick fashion, picking up his new guitar and striking the perfect chord to accompany his brothers and sisters from Aotearoa.
Archbishop Sione's commitment to reflect the diversity of cultures and nations in this Church came through in Saturday's rich array of songs, prayers and readings in English, Fijian, Hindi, Te Reo Māori, Rotuman, Samoan and Tongan.
Over his thirty years in ordained ministry, Fr Sione has served through many languages and cultures of communities across Fiji, Tonga, Samoa and Aotearoa New Zealand.
Preacher on Saturday, Archbishop Don Tamihere set out for Fr Sione the qualities of a shepherd, both those embodied by his sheep farmer uncle and the long lineage of biblical shepherds.
He challenged Fr Sione to emulate Abel in giving his best, Abraham's intercession, Isaac's obedience, Rebecca, Leah and Rachel's hard work, Jacob's tenacity and endurance, Moses' character shaped in toil and David's care and protection for the flock.
"Whenever I hear a story of shepherds and sheep from the Bible it feels to me it is more than a metaphor. There is something literal in it, something practical, something real."
"...There is something about the shepherd's heart that allows us to see and hear God. Jesus said, If you love me, feed my sheep. A good shepherd lays down all for the care of the sheep."
Archbishop Sione also spoke of his call to be a shepherd in the lead up to his ordination this week,
"What drove me into this role was allowing for the Spirit of God to speak –listening to the cries and the joys of our world – listening to the land, to the moana and to those who are vulnerable and voiceless."
"There is a lot for the Church to do as we hear, and as we face the issues that arise. Our task is to help transform suffering into victory and hope."
Archbishop Sione sees that despite the critical challenges people face in a world of increasing hardships, especially due to climate change, hope in Christ can make all things new.
"Our task is to enter into partnership with God and one another to allow something better to grow out of these crises we face: Covid, or Cyclones or volcanic eruptions. Our hope is in our prayer and our liturgy which offer proof of new life emerging out of devastation – and in our practical work that builds resilience through the work of the Church."
As Archbishop Sione will share his expertise as a liturgist and ministry educator who has mentored and trained many throughout the Diocese, most recently since 2018 as Principal of St John the Baptist Theological College in Suva.
Lecturer at St John's Suva, Liliani Havili describes Archbishop Sione as a man of vision.
"He draws people in and gets them on board, especially young people. He encourages young people to grow and take leadership by giving them firsthand experience as leaders, which is radical in our culture."
Liliani warns her new bishop can sometimes be unyielding, and she understands why.
"It's because he loves what he's doing for God and he wants to offer God the very best, he wants the best when it comes to serving God."
Dean of Suva Fr Orisi Vuki was pleased to see the Cathedral brimming with people as a sign of the unity and diversity of the Diocese and wider Church gathered in person in Suva for the first time since Covid barred travel across the region.
Orisi said that at age 57, Archbishop Sione is a young person to take up the reins, but he is ready to lead by engaging with others, both turning to elders for wisdom and uplifting the voices of youth. He is delighted to have a new occupant in the Cathedral sanctuary,
"For so long we have been looking after a seat which was empty, now it has been filled and for us that is hopeful, it is a new start."
Bernie Moa who belongs to the Episcopal Unit of Polynesia in Auckland played and led music on Saturday and supported Suva Cathedral with logistics this week. From his perspective as an engineer and project manager he believes that Archbishop Sione's practical side will serve the Church well,
"He encourages people to innovate, to try new things and he wants young people with skills to be vocal and speak their minds."
"He is also getting things formalised into structures and systems that will help things work well."
Tilisi Bryce, whose late husband Most Rev Jabez Bryce was Archbishop and Bishop of Polynesia, has known Bishop Sione since she taught English at St John's in Suva while he was a student.
"One of his gifts is that he is quite firm, which I like. Something I admire about him is he listens, and he considers the different opinions we give, but once he decides...he doesn't waver."
Rev Amy Chambers, who was Fr Sione's predecessor as St John's Principal, reports that he is a strong advocate for women's leadership in church and ministry.
"He is always uplifting women, he is very much into equality for men and women."
"One word to describe him is approachable, he will make time for you and support you as he can – you know the word in Māori, "awhi" that's his way and he is humble too."
Preaching the final words of his kauwhau on Saturday, Archbishop Don explained that in Anglican parlance Fr Sione now becomes a Bishop by the grace of God and an Archbishop by the providence of God.
"You are here by God's grace, because there is nothing in you, or in any of us, that makes us righteous, worthy or entitled to the role to which you have been called...by providence, because only God provides for such a role."
Archbishop Don reminded Archbishop Sione that God offers that providence not only to Archbishops but to all who uphold Christian faith and ministry.
"Within that providence of God is every member of the clergy...and every beautiful man, woman and child who is giving in some way to the ongoing work of this Church....
"Everyone, great and small, rich and poor are a part of the providence of God that will enable you to become a shepherd in the Church of Christ.
"God bless you Sione in your call."