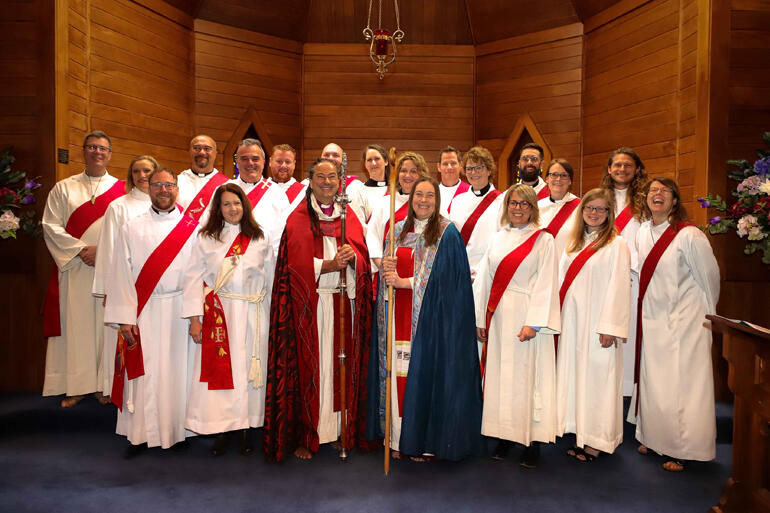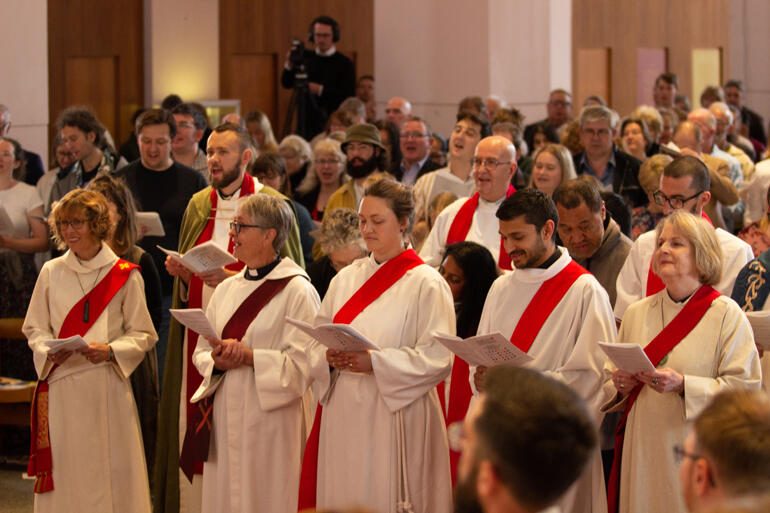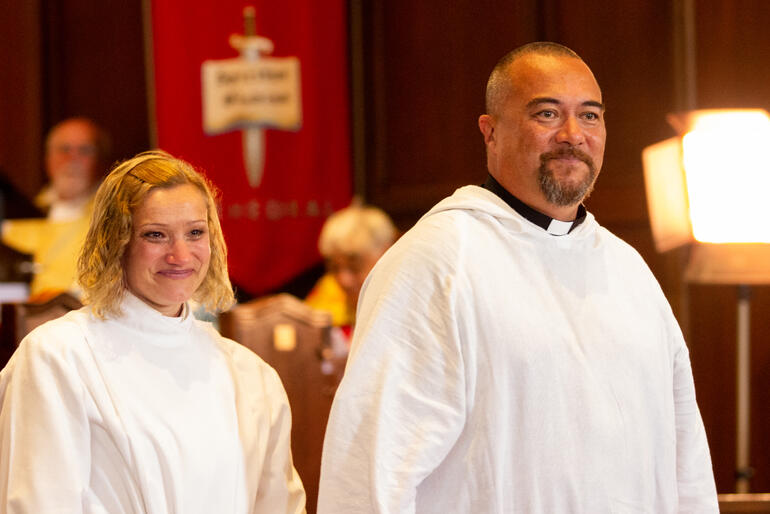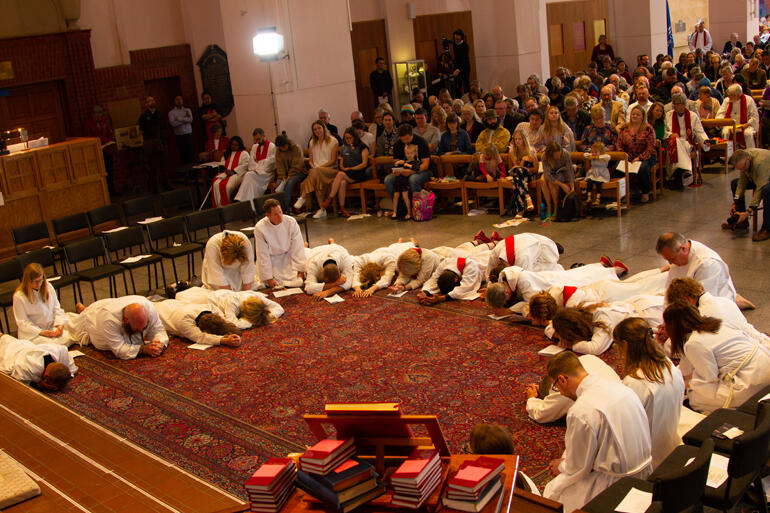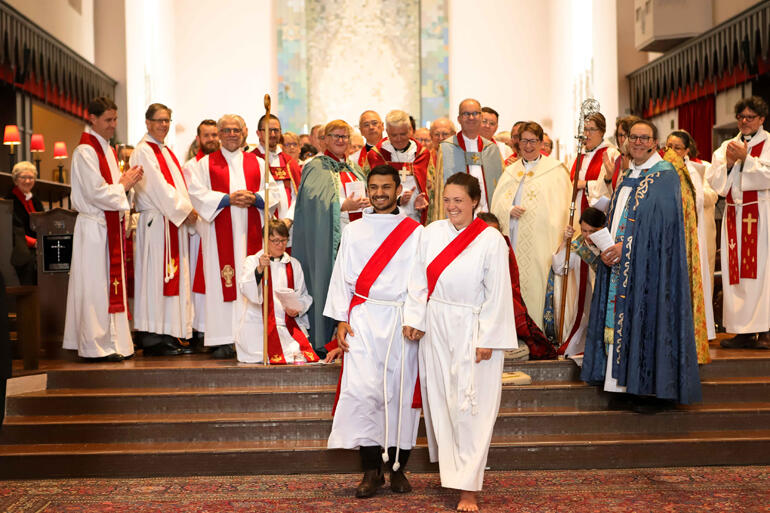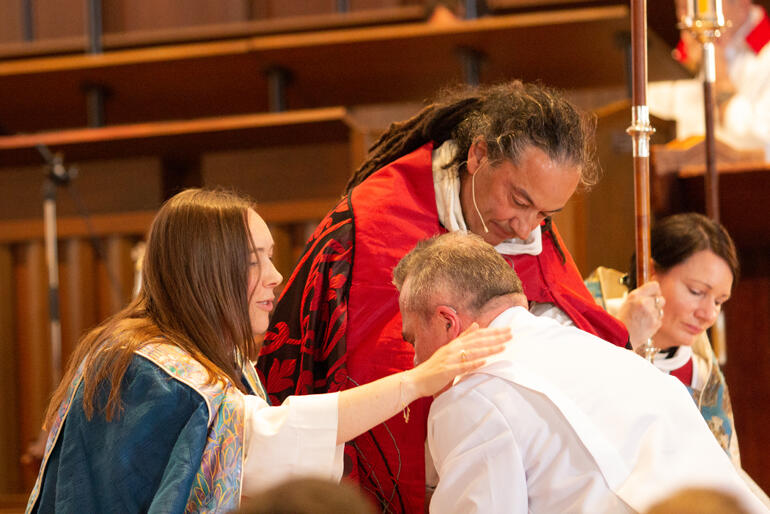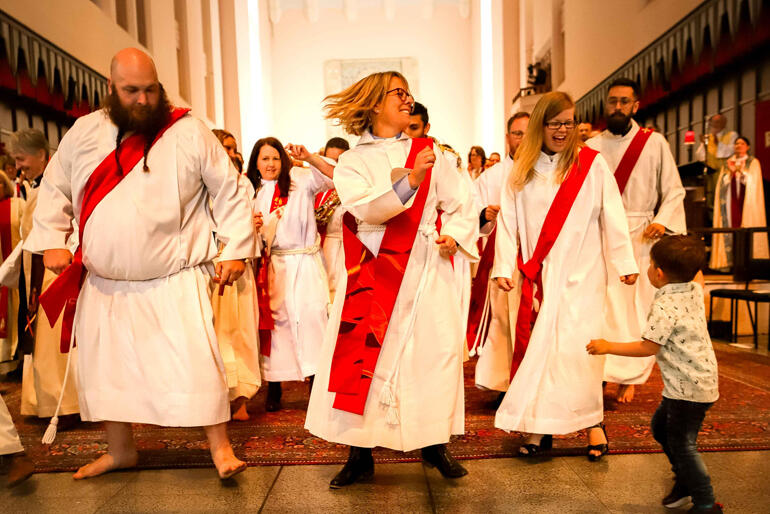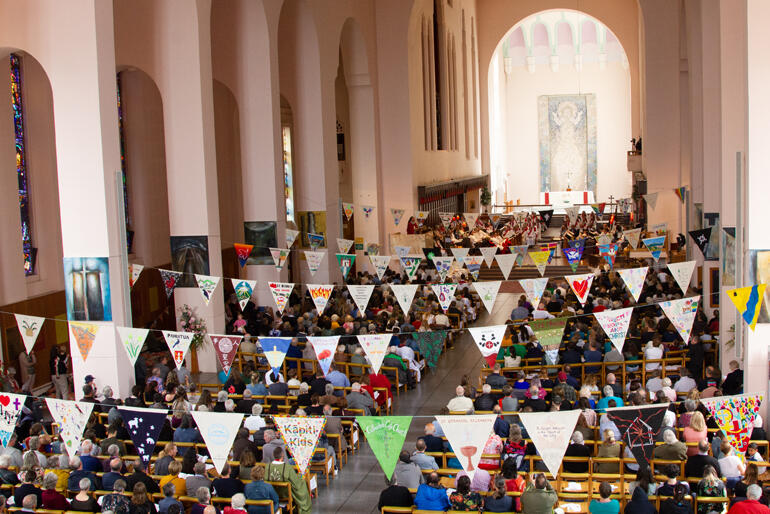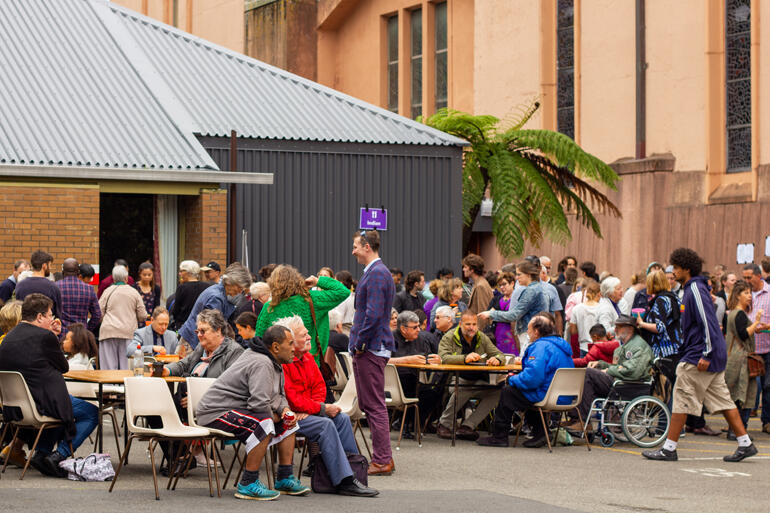 Around 800 of Wellington's diocesan whānau packed into St Paul's Cathedral Wellington last Saturday 21 November to celebrate as 23 ordinands entered Anglican holy orders at Wellington's Diocesan Thanksgiving and Ordination service.
Five deacons from across the diocese were ordained priest: Robyn Appleby, Chelsea Kirby, Chris Kirby, Pixie Rowe and Philippa Young.
A further eighteen women and men were ordained as transitional deacons: Rebecca Apperley, Richard Apperley, Kath Bier, Guy Benton, Summer Benton, Jessica Falconer, Michael Hartfield, Peter Hull, Amilie Paynter, Luke Paynter, Mel McKenzie, Janie McPhee, Alan Maxwell, Kat Maxwell, Andrew Spence, Emily Spence, Adrian Tofts and Jeremy Woods.
Twelve of the newly ordained clergy (ten deacons and two priests) are couples who have undergone the discernment process at the same time.
Rev Amilie Paynter and Rev Luke Paynter were one of the married couples who were ordained deacons together this week.
"One of the reasons couples get ordained together is a recognition of a reality that it's never one person doing the ministry, it's always joint," said Luke who has worked closely with his wife Amilie in their ministry with the diocese's Anglican Youth Movement (AYM).
Rev Summer Benton and her husband Guy Benton, who are also involved in AYM, were another couple both ordained as deacons in Saturday's service.
"This diocese is leading the way in showing what it looks like to be a family on a mission together, and that's what Guy and I try to embody…how to serve God together in wholeness with each other and our children," said Summer.
While the two new deacons walked with God and discerned of their call to ordained ministry as individuals, Summer said the decision to be ordained at the same time affirmed their desire to live out that calling together.
Bishop Justin said it makes sense to ordain couples together.
"If the members of a couple are individually called, then it's great to ordain them together, so that they can share the covenant journey together as they have covenanted with each other [in marriage]," he said.
Wellington's new deacons and priests have served and will serve in a diverse range of ministries: from Victoria University chaplaincy, to new expressions of church in Castlecliff in Whanganui, to AYM, Urban Vision ministries and a Defence Force chaplaincy.
"It is encouraging to see our Anglican whānau being faithful to the call of God in their lives in committing to caring for those from all walks of life with various engagements and understandings of faith." said Holly Morton reporting for the diocese.
National Director of Anglican Missions Rev. Michael Hartfield, who is a long-time member of the Anglican Parish of Island Bay was one of those ordained deacon this week.
He believes that his call to serve in both the missions space and his parish align well with the same values,
"We have a very strong servant leadership role at St Hilda's [Island Bay] and at Anglican Missions…"
"…everything we do [in both spaces] is focussed on the five marks of mission of sharing the gospel, supporting and nurturing Christians, serving the poor and sharing our love, addressing issues of injustice and poverty, and caring for God's creation."
Michael was particularly moved by the service and highlighted the blessing he received from Bishop of Wellington Justin Duckworth and Assistant Bishop of Wellington Eleanor Sanderson during the service.
"… the Holy Spirit speaks through Bishop Justin and Bishop Eleanor in an extraordinary way."
"From the congregation you saw the ordinands kneeling as they prayed over us, but if I could have written down ten things I absolutely had to hear, they spoke over all of them, which just drew me to tears."
At the close of the laying on of hands in ordination, the newly ordained clergy burst into a dance flash mob that they had prepared during their pre-ordination retreat at Ngatiawa River Monastery this week.
"This was a great transition into celebration and the thanksgiving portion of our Saturday service, as all those attended poured into the carpark for pork buns, paella, and a sausage sizzle." said Holly Morton.
"The kids made for the bouncy castle and the space filled with song, chatter, and messages of hope and encouragement from our Thanksgiving Soapbox."
Wellington's diocesan day of celebration ended with a Eucharistic celebration led by the two bishops with the newly ordained deacons and priests taking part.