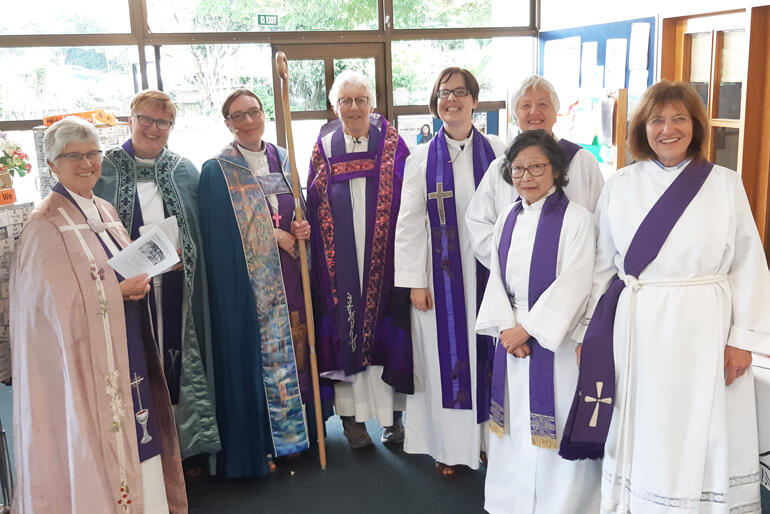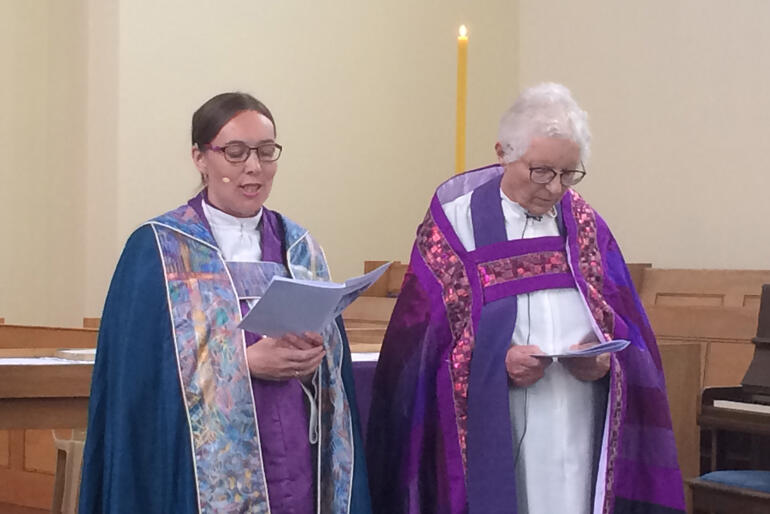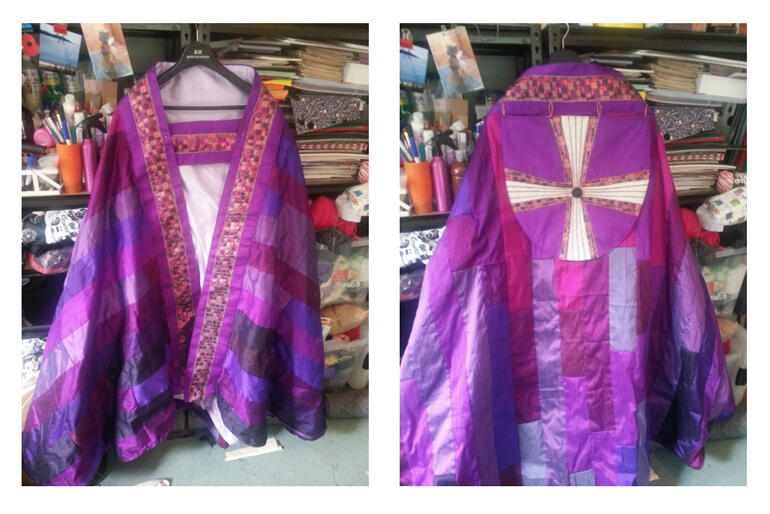 The Rev Annette Cater and clergywomen of the Diocese of Wellington have gifted a cope to their cathedral to honour the ministry of Wellington's female leaders and celebrate 40 years of women's ordination in the diocese.
The cope that was gifted this week was unveiled at a eucharistic celebration at St James's Church Lower Hutt on 1 December, where around 70 gathered to mark 40 years since Wellington gained its first female priests. The first women priests in Wellington had been ordained at St James Lower Hutt by Bishop Edward Norman in 1978.
Assistant Bishop of Wellington, the Rt Rev Dr Eleanor Sanderson co-presided at the service of thanksgiving, where the newly-made cope honouring women's leadership was worn for the first time by retired Bishop of Dunedin, the Rt Rev Dr Penny Jamieson DCNZM.
Bishop Eleanor told the gathering it was a privilege to have so many clergywomen present, both deacons and priests, and in particular her retired episcopal colleague, Bishop Penny Jamieson.
In 1990, Bishop Penelope Bansall Jamieson became only the second woman in the Anglican Communion to be consecrated bishop, following on from the Rt Rev Barbara Harris who had been appointed Suffragan Bishop of Massachusetts in the Episcopal Church USA in 1989.
At Bishop Penny's enthronement in June 1990, she became the first woman in the Communion to be elected diocesan bishop. Bishop Penny served as Bishop of Dunedin for 15 years – from 1990 until her retirement in 2004 – when she returned to live in the Diocese of Wellington.
Bishop Penny was pleased to contribute to the service, as she had been ordained deacon and priest in Wellington and now worships at St James.
"I was astonished it had been so long since those first women's ordinations here – 40 years has passed very quickly."
Bishop Penny explained to the gathering how St James received the honour of that historic moment because Bishop Edward Norman had not been able to face ordaining women in his cathedral, even a year after most New Zealand bishops had already done so.
Bishop Penny shared her recollections of women priests who had preceded her, highlighting the ministry of the Rev Sidney Koreneff, one of the first women priests in the diocese, along with the Rev Pam Mildenhall.
Sidney Koreneff served as a deaconess for 11 years before she was finally priested. In WWII she had worked in the French Resistance, during which time she had been arrested by German forces and escaped. She returned to New Zealand to become the managing editor of the Wanganui Herald newspaper, at a time when that role was the exclusive preserve of men, and later after being ordained priest she ministered in Patea, particularly working in pastoral care in the Māori community there.
"Sidney was unstoppable." said Bishop Penny. "But at that time it was not done for a woman to stand out, even an exceptional woman like her, so her achievements were kept below the radar."
"That is why it is so good to have occasions to retell these stories, to remember women like Sidney, and make sure their stories are not lost."
Bishop Eleanor offered her thanks for the trailblazing gains made by many women and men before her.
"I'm enormously appreciative of the changes to the Church that have paved the way for the next generation of women." she said.
The celebratory liturgy where the new cope made its first outing was compiled by Rev Jean Malcolm (St Peter's Willis St.), Rev Jennie Sim (Newlands-Paparangi) and Rev Annette Cater (Roseneath) based on the 40th anniversary liturgy prepared by Archdeacon of Auckland Carole Hughes and a three-Tikanga team of contributors.
"There was an overwhelming sense of honour at the service, not only towards those pioneering women who paved the way for other women to be ordained as priests, but towards women everywhere." said the Rev Judith Wigglesworth.
"We also remembered women like Tarore of Waharoa and Rosa Parks who bravely took a stand for what is right, and had an impact that reached far beyond their own lives." she said.
Rev Jenny Dawson reflected that both the early December event and the cope communicated a strong sense of celebration, women present did not shy from telling the tougher side of the story,
"There was recognition of pain and struggle…" she said. "But also that we are growing in our care for each other, our recognition of diversity, and our valuing of difference."
The cope honouring women in leadership in the Anglican Church will now be adorned with an array of buttons, each of which will be added with the story of another clergywoman remembered as it is sewn in. The cope will reside at Wellington's Cathedral of St Paul available for visiting female clergy to wear.