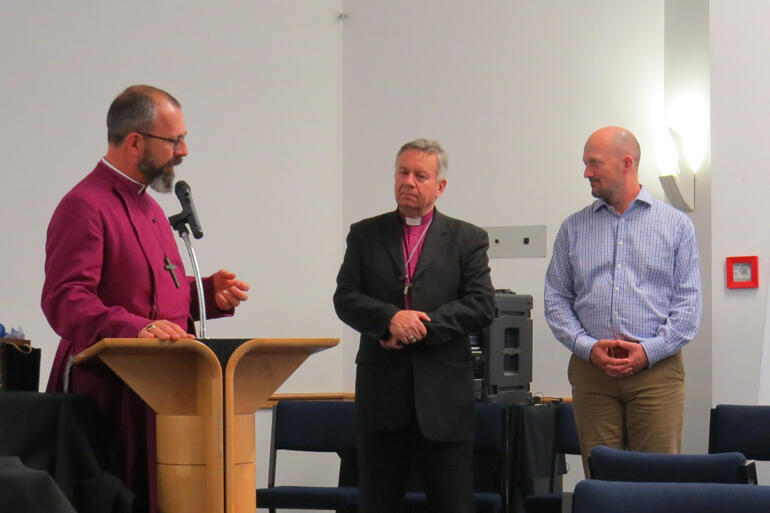 The Diocese of Waiapu Synod meeting this November has stepped onto a pathway to put its Trust capital to work for social, environmental and mission goals – alongside making financial returns.
The Diocese of Waiapu has directed its major Diocesan and Social Services Trusts to adopt a strategy of Mission-Aligned Investment as part of Waiapu's expression of the five-fold mission of the Church.
Bishop of Waiapu Andrew Hedge was inspired by the ethos of Mission Aligned Investment when he first got an in-depth look at the model in December 2019.
"It stretched our imaginations and caused us to think about how we could use capital in a way that could give us not only a financial return, but show us a 'measurable impact' in environmental, social and mission benefits, including equity issues between the diocese and our Tikanga partners."
Waiapu Anglican Social Service Trust Board CEO Lucy Laitinen says their Trust moved quickly towards Mission Aligned Investment, because under Trust law their beneficiaries were the same: the people of Waiapu and their welfare.
WASSTB received $50m from the sale of its rest homes and retirement villages three years ago, which has grown due to the strong investment market. WASSTB's Trustees are now looking to see if anywhere up to 40% of their investments could be opened for projects such as social housing, environmentally sustainable or ecological regeneration projects, or Tikanga partnerships responding to social needs.
For Trustees these are radical ideas. That's why Bishop Andrew invited Waiapu's Trust Board members and fund managers to deliberate together with synod on the motion.
"It's brave of the Trustees to take this on and be prepared to establish a policy that for some goes against the grain of what they have been told and worked on for many, many years." said Lucy Laitinen.
"For Trustees accustomed to the 'financial return only' model this represents a complete transformation of the way things are done. It requires them to look again with fresh eyes."
Bishop Andrew also acknowledged the support of the Rev Jo Crosse and Tim Anderson who put the motion before synod, and particularly the panel of experts from the Provincial Mission Aligned Investment Working Group who helped synod unlock the new plan's potential.
Archbishop David Moxon laid out the prophetic and missional theology behind Mission Aligned Investment, which he said is neither new nor radical, but a rediscovery of the church's original way of using its resources to nurture people's health and wellbeing.
Working Group member Paul Gilberd spoke on how to move assets toward mission, and James Stewart from Gemelli Consulting showed how social impact investing is growing in popularity for philanthropists, NGOs and companies with a social conscience.
Bishop Andrew reported that synod members took very quickly to the new topic and engaged at a deep level. "Throughout the whole day of work on this in synod, people were motivated and committed to the conversation, and when we passed the motion it was passed with 100% support."
The three Waiapu Trust Boards' task will now be to develop and test strategies to better pinpoint how their investments can offer the best chance of improving people's lives.
Lucy foresees that process will invigorate a fresh perspective on the shape of mission, ministry and social services in the diocese, especially regarding Tikanga rua partnerships.
While Bishop Andrew has held preliminary conversations with Bishop of Te Manawa o Te Wheke Ngarahu Katene and Bishop of Tairāwhiti Archbishop Don Tamihere, Lucy says it's too early to say what might happen there.
"If you go in with too many preconceptions in this work you are already losing the heart of it." she said.
"What comes out of this may be a mission outcome that's more exciting than any of us can think of from here. We can't imagine it yet."
But despite the early days, Rev Jo Crosse said what's carrying this motion forward will be the renewed energy it has given people for mission. Lucy Laitinen agreed,
"I've never been to a Diocesan Synod where the whole room was fizzing like it was on that day."