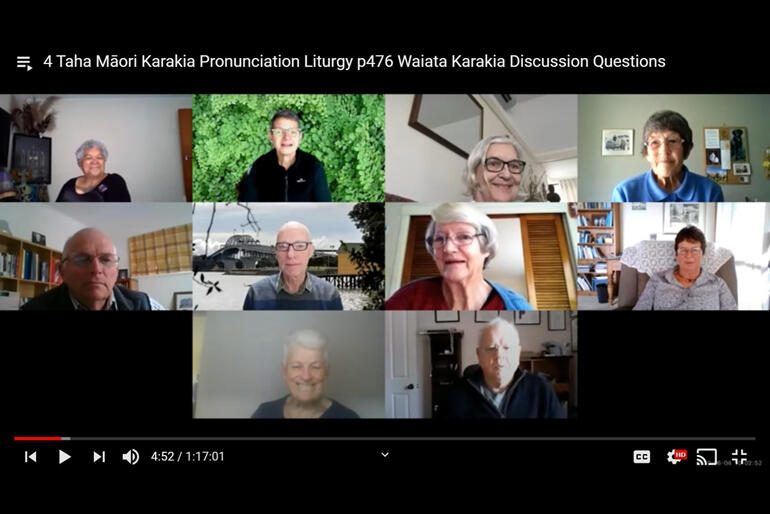 On Monday 14 September at midday, leaders from the Diocese of Auckland's 12 Local Shared Ministry teams joined the Aotearoa-wide "Be one in a million" Māori language moment, by praying together in Te Reo Māori over Zoom.
"It was great to see Local Shared Ministry leaders boldly step out of their comfort zones to take part in this nationwide initiative drawing on what they have learnt so far." said Rev Jacynthia Murphy who has been working with the LSM teams to build up their Taha Māori.
LSM Coordinator the Rev Megan Means came up with the idea of a Taha Māori Zoom meeting (Zhui) during the first Covid lockdown back in April, after she signed up for an online Kura Rāhui with Tūtiramai NZ.
Since then, Jacynthia Murphy has supported Megan to share Māori church history and resources for worship with the Auckland LSM teams. They have centred their study on Māori texts from A New Zealand Prayer Book - He Karakia Mihinare o Aotearoa, with LSM team members zoomed in from around Tamaki Makaurau-Auckland, up to Russell-Kororāreka in the north, Tūākau and district in the south and Tairua in the east.
The ministry teams learnt karakia and waiata (prayers, songs) and practiced chants from the Prayer Book's bilingual Eucharistic liturgy on Page 476, including He Tikanga Whakapono – An Affirmation of Faith, and Te Inoi a te Ariki -The Lord's Prayer.
They also looked into Te Pouhere resources (related to the Church's constitution), tangi preparation and delivery (Māori funerary practices), learning pepeha structure and preparation (introductions in tikanga Māori), plus sharing and storytelling.
Rev Jacynthia Murphy, of Ngati Kaharau, Ngapuhi says she has watched as the Taha Māori sessions helped participants strengthen their knowledge of Te Reo and tikanga Māori and build their confidence in leading prayer.
"It's been good to see worship leaders increase their kete of ministry resources to apply their own expression of the Māori language," said Jacynthia.
LSM Enabler Rev Edward Prebble was one who enjoyed the opportunity to refresh and develop on his Māori language, which he first studied at the University of Auckland 50 years ago with Bruce Biggs, Pat Hohepa and Hirini Moko Mead.
With recent practice, Edward's renewed confidence meant he was able to savour the experience of speaking alongside a much larger group last week.
"I am so pleased that we have taken the initiative to put these Taha Māori sessions together, and for me, revitalised some old skills", he said.
English sounds creeping into Māori words made speaking in Te Reo very daunting for others of the Pākehā learners.
Bream Bay LSM team member Jacky Arncliffe wanted to understand the Māori words in her Prayer Book and be able to pronounce them right. But sometimes she had to battle herself,
"It's too easy to revert to English ways of using the vowel sounds." she said. For her, learning kapa haka with songs helped to lock in the right sounds.
On the other side, Jacky was delighted to learn more about the spiritual gems hidden in the poetry of Māori prayers she had come to know through monthly services in Te Reo at St Paul's Ruakaka.
Liz attended the Zhui from St. Francis' Church in Tairua, homeground of Ngati Hei, but where she now ministers to a population comprised of 50% Pākehā retirees from Auckland and Hamilton – who haven't had much exposure to Te Reo Māori.
For Liz the Zhui were easier and more fun to take part in as a way to strengthen her own skills as leader for her community and more likely to grab her attention than the teach-yourself Māori books she had too rarely opened on her own.
Now that they have taken their first steps, Auckland LSM team members want to stay in practice and learn more with their various ministry units throughout the Diocese.
"Having Jacynthia use A New Zealand Prayer Book - He Karakia Mihinare o Aotearoa as the main resource and then explain and translate some of the Māori texts, was a real taonga." said Rev Megan Means.
More online resources for study of Te Reo Māori
Online Māori dictionary - https://maoridictionary.co.nz/
Basic pronunciation resource from Waikato University / Te Whare Wananga o Waikato - https://www.waikato.ac.nz/odw/modules/pronunciation
Te Kūaha app