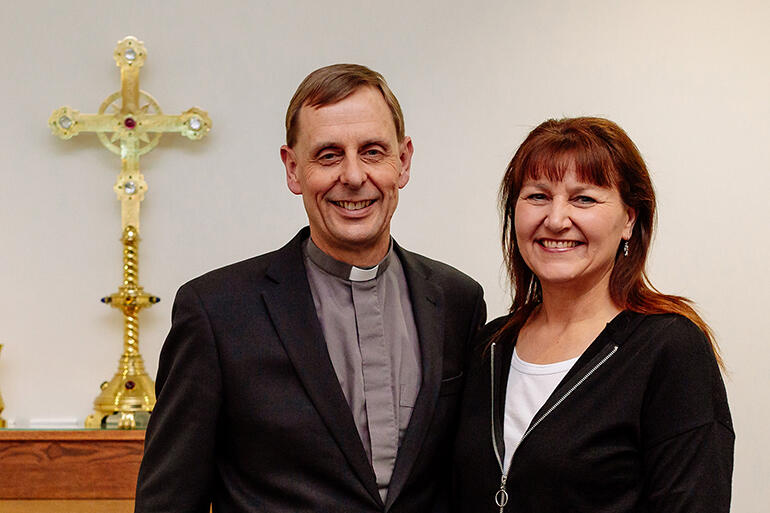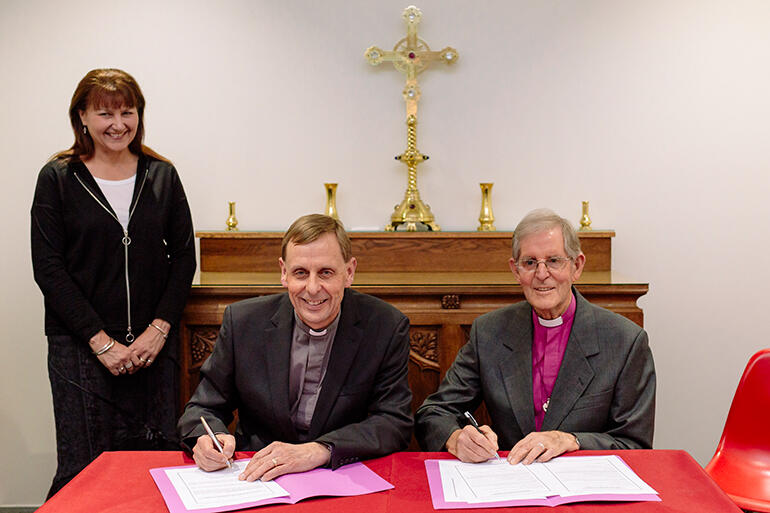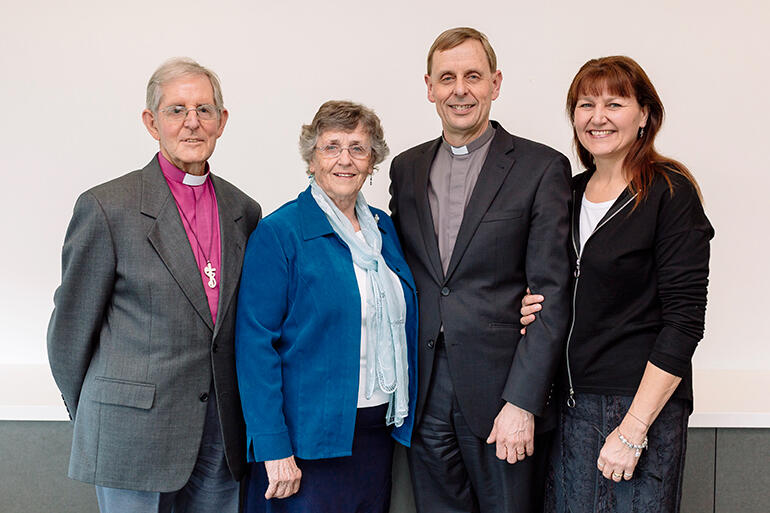 The Rev Dr Peter Carrell has been elected as the next Anglican Bishop of Christchurch.
Archbishop Philip Richardson has today announced that Peter, who is 58, and who is the diocesan Director of Education and Director of Theology House – as well as Archdeacon of Pegasus (Christchurch East) – will succeed Bishop Victoria Matthews.
Archbishop Philip says he rejoices in the election of the man who will become the 9th Bishop of Christchurch:
"Peter's experience and gifts are widely appreciated across our church," he says, "and his deep knowledge of the diocese and love for its people provides a solid foundation for his ministry going forward."
Bishop-elect Peter, who is married to Teresa Kundycki-Carrell, has deep roots in Christchurch, and in the Anglican expression of the Christian faith.
He is a son of a retired bishop, he was born in Christchurch and spent much of his growing up there – but he says it wasn't till he was enrolled as a private student at a Presbyterian seminary, Knox Theological Hall in Dunedin, that he recognised how deep-rooted his Anglicanism had become.
"I totally loved the experience of being at Presbyterian college," he says. "I thought my lecturers were wonderful, and I just loved the theological learning I had there.
"And nothing about the experience made me want to become a Presbyterian.
"In part, that's about what is most familiar to me. But what I love about being Anglican is that we integrate Word and Sacrament into our worship, weekly.
"I also like the sense and the order that flows from having bishops."
#
Peter is the son of Bishop Brian Carrell and his wife May, and he grew up in an evangelical Anglican home.
So, he knew from the beginning, he says, "that I had to make my own decision for Christ."
He says the moment that "tipped the balance" for him – "when the Christian life became my own life, rather than something I was brought up in" – happened when he was an 11-year-old boy on a Scripture Union holiday programme.
He has another reason to be grateful to Scripture Union. Because 16 years later, he went to another camp, this time as a counsellor – and that's when he met Teresa Kundycki.
They married in 1988, the year after he'd been ordained an Anglican priest.
Peter began serving his curacy in the Parish of Shirley in 1987. That completed, he embarked on postgrad theological studies at the University of Durham, from where he was awarded his doctorate in 1993.
He returned to the Diocese of Nelson, where he served as assistant priest in Stoke, Vicar of Blenheim South (from 1995 to 2001) and Ministry Educator from 2001 to 2010.
#
Peter, Teresa and their family returned to Christchurch just in time for the September 2010 earthquakes.
More than 10,000 shakes later, Peter sees the new city of Christchurch arising around him – and is impressed by the galloping pace of rebuilding.
He says much is going well in the Christchurch diocese, too – in parishes, chaplaincies, schools and Anglican Care, for instance.
"And one of the most important things we can do as a diocese is to celebrate all that is good, all that God is blessing us with."
But there are challenges, he says.
And one challenge to rule over them all.
"That is what I call: 'the spiritual earthquakes' that are following our physical earthquakes. The tectonic plates that are shifting in our society so that in the 21st century we become more and more secular.
"In other words, in society at large, we've forgotten about God.
"As someone wisely said: 'We've even forgotten that we've forgotten about God.'
"That's a huge tectonic plate shift in spirituality.
"It's a stress on all our ministry units and our missional projects.
"That's our greatest challenge. To meet that, and to respond to it.
"And to see it as an opportunity, and not as something that will drown us.
"We need to understand our situation, and to theologically reflect on what it means for understanding who we are and what the Gospel is.
"And then, and only then, we need a strategic vision, and from that vision, a strategic plan, and a will to implement that plan.
"I'm really excited about building the teams that will make this twofold response.
"New things will happen, and they are really exciting."
#
In his video presentation to the Christchurch electoral college, Peter named other challenges: about finances, departing congregations – and the reinstatement of the Cathedral in the Square.
He stood four-square behind the reinstatement of the Cathedral at the special Christchurch synod held last September – and he remains 100 percent behind its reinstatement.
What's more, with the deal to reinstate now signed, he relishes the prospect of the Diocese of Christchurch being "much less distracted" by that issue.
The easing of those tensions, he says, will allow the diocese to refocus "our contributions to the rebuilding of the city.
"In other words, on our mission to our people."
#
Bishop-elect Peter stands ready to be judged on one other challenge:
"I will have failed," he says, "if we are not a younger diocese within 10 years.
"Bishop Victoria rightly emphasized the raising up young leaders as a key plank of the diocesan strategy. I want to affirm that.
"But I also want to stretch that out to say – we need not only to continue raising up young leaders but raising up young people in the everyday congregational life of our church."
There is an indisputable need, he says, for a bishop to be a "pastor to the pastors."
"But I don't want to be a bishop who is smoothing the ruffles on the pillow of a dying church."
#
Bishop-elect Peter is well-known throughout the Province – in part, through his blog 'Anglican Down Under' – for articulating the conservative evangelical position.
And he says he sees it as his role as bishop "to encourage, and to keep gently reminding us as Anglicans, that the most important thing we can do is to share the Good News of Jesus.
"The news that the meaning and purpose of life is found in the God that Jesus revealed – that's what we need to keep at the forefront, and the centre, of all we are doing."
#
Nonetheless, he voted for the 2018 General Synod resolution which paves the way for the blessing of same gender relationships – and he will inherit a situation in which members of four conservative evangelical parishes in Christchurch will soon walk away over that decision.
He doesn't back away from his General Synod vote:
"Christchurch is a theologically broad diocese," he explains. "It includes some Anglicans who are delighted by that decision – and some who are deeply disturbed by it."
Bishop-elect Peter says he will try and lead the diocese "towards a deeper understanding of being Anglican: to live with difference and to not divide because of it.
"I'm prepared to authorise blessings where I'm satisfied that this will enhance the unity of the ministry unit concerned.
"I myself will not bless same-sex partnerships. I believe marriage is between a man and a woman and will uphold that teaching of our church.
"(But) in my view… our mission to our diverse population is diminished when the church is not perceived to love and care for those who identify themselves with the LGBT community."
#
In his candidate profile for the August electoral college, Peter lists a page of personal attributes – including being an arranger, connector, developer, includer and strategic thinker.
He had since reflected on another strength, which he thinks undergirds the others.
That underlying strength, he says, is "that I am a deeply secure individual in my inner being."
That sense of security plays out in his dealings with people, he says.
"I find I have the strength to reach out to people, to build bridges across difference, to build teams, and to be able to receive criticism."
"It also means that in my style of leadership, I am permissive: I like to say to people: 'Here's the task – get on with it.'
#
Bishop-elect Peter's wife Teresa is Lay Chaplain at Christchurch's Cathedral Grammar School.
They have four adult children: Leah, 28; Bridget, 26; Andrew, 24; and Alice 21.
Peter's ordination and installation as Bishop of Christchurch will be held in Christchurch in February – with the date and place to be confirmed later.