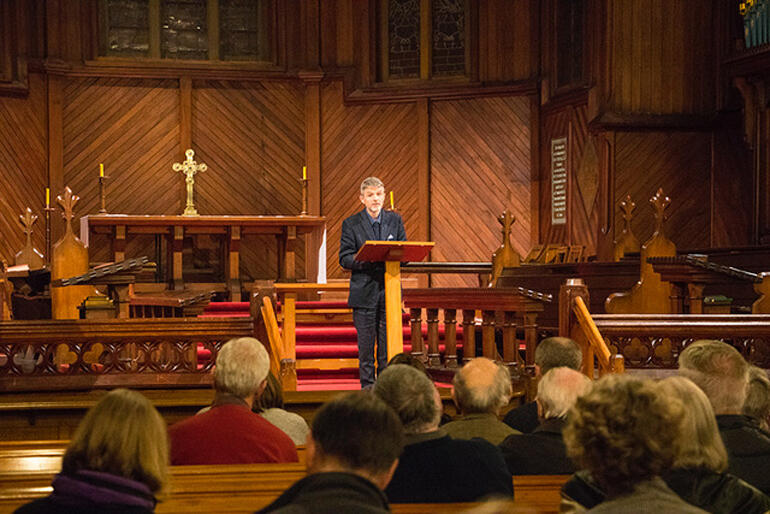 St John's College Visiting Scholar Professor Martyn Percy issued a challenge to Kiwi cathedrals during the Bishop Selwyn Lecture at St Mary's-in-Holy Trinity Cathedral on Thursday this week.
The Very Reverend Canon Professor Martyn Percy, who is Dean of Christ Church Oxford, said cathedrals hold power as sacred and social spaces, and provide sites where the church can be daring for the gospel by trespassing into society.
"Cathedrals are places for poetry and silence; lament and hope; blessing and condemnation; trespassing and convening," he said to his audience who included New Zealand's cathedral deans in Auckland for their annual conference this week.
Cathedral spaces can attest to God's ways, Prof Percy said, and this in turn enables them to promote an alternative social vision beyond cathedral walls.
Holy Trinity Cathedral's newly completed complex is a place of possibility, he said, calling it 'a big tent,' and 'God's marquee'. The cathedral's array of different spaces could enable it to present the Kingdom of God as a reality in everyday life, he said.
The cross situated outside the glass walls of the new Bishop Selwyn Chapel sends a powerful message, said Martyn.
"This is the cross for the world: and consecration is the public act of recognizing that the outward sign of salvation is held within these fine walls and exquisite glass".
Following the lecture, the Dean of Wellington, Digby Wilkinson, reflected that cathedrals in New Zealand must hold together the tension of being both parishes and cathedrals, but agreed they can still reach out to engage with wider society and go into the margins, just as Jesus did in the gospels.
Soon Wellington Cathedral will install 42 wooden statues in the shape of human figures onto its grounds, which will face Parliament for a month. Each statue will represent 1000 homeless people in New Zealand and comes alongside Wellington's diocesan call for prayer and action on the housing crisis.
Martyn Percy emphasized the need for every cathedral to keep on constructing itself, drawing on John Robinson's image of the church as a constructor's hut on God's building site – which is the world.
Recently installed Dean of Auckland, the Very Rev Anne Mills agrees. Now Holy Trinity Cathedral's physical construction is over, she says, it is time to focus on the ongoing task of spiritual construction – attending to how the Cathedral's mission and ministry will consecrate it as a space.
Next week Martyn Percy will visit the South Island to rekindle historic and contemporary ties between Christ Church Oxford and the Diocese of Christchurch. He will preach in the Transitional Cathedral on Sunday 13 August and speak on the same day as part of its 'Theologians at the Cathedral' series.