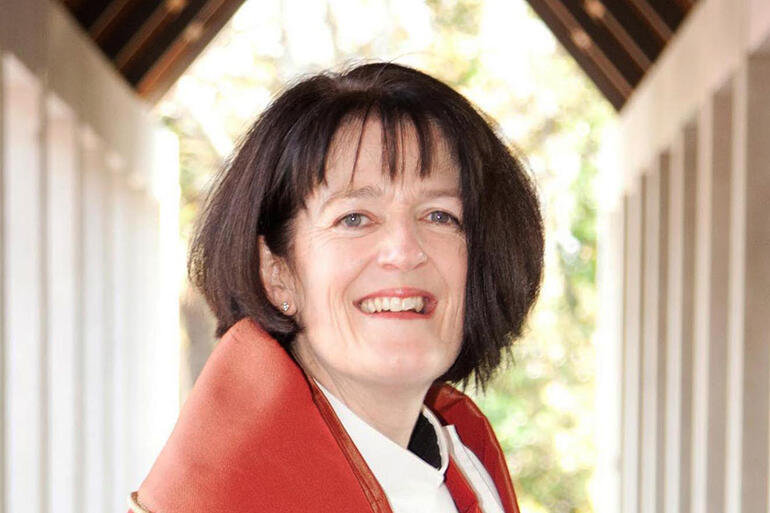 The Very Rev Jo Kelly-Moore, the Dean of Auckland's Holy Trinity Cathedral, will soon move to England to become the next Archdeacon of Canterbury.
She will work with the Bishop of Dover, Trevor Willmott, to oversee the archdeaconry, and her role will also include becoming vice-Dean of Canterbury Cathedral, the spiritual home of the Anglican Communion.
Bishop Willmott says Dean Jo's experience and talents will benefit the whole diocese:
"We have found in Jo," he says, "an excellent and astute theologian with wide-ranging leadership and management skills.
"I would like to assure Jo and her family of the prayers and support of our whole diocese as they embark on this new adventure."
Bishops Ross Bay and Jim White, the Anglican Bishops of Auckland, say Jo's new appointment is well deserved.
"There will be a real sadness," says Bishop Ross, "in bidding farewell to Dean Jo, her husband Paul and sons Adam and Nathan. But the role is an exciting opportunity and she will bring perspectives from New Zealand to England and the wider Anglican Communion."
Archbishop Philip Richardson, who is the senior bishop of the Tikanga Pakeha dioceses, has conveyed his warmest wishes: "This is amazing news – something for the whole Church to celebrate. Dean Jo's appointment... is a reflection of her tremendous ability and creativity. She has made an enormous contribution across the whole Church here."
Jo Kelly-Moore has been Dean of Auckland since August 2010, during which time she successfully drove 'Selwyn's Vision' a $14.9million project to complete the cathedral.
She also contributed to the work of the wider Anglican Church in this province (through, for example, the General Synod and General Synod Standing Committee) and she had also become a voice in Auckland civic life.
She moved into her Holy Trinity Cathedral role after serving six years as Vicar of St Aidan's Anglican Church in Remuera. Before training for ministry Jo Kelly-Moore was a lawyer, both in New Zealand and in London.
Bishop Ross says the completion of Holy Trinity is due to her "amazing leadership."
He has also paid tribute to Dean Jo as pastor: "At all times she has also been priest ready to offer care and compassion for people as well lead services for the city and the nation. She will be missed."
Dean Jo says she will be sad to leave Auckland – but is excited about what lies ahead:
"Ministry in Auckland has been such a privilege – as I am sure it will be in Canterbury. There are so many people I have been with in times of both joy and sadness – those names and faces of Aotearoa New Zealand will stay with me in England in my prayers and the prayers of our family."
Dean Jo and her family will move to England after Christmas.