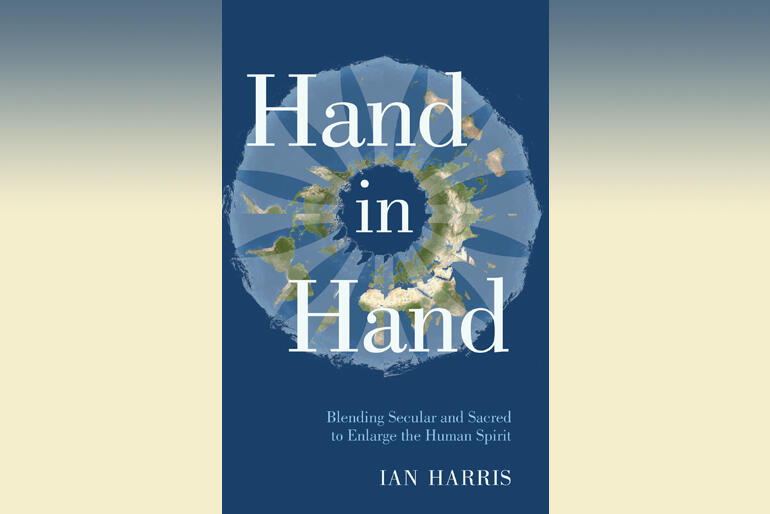 Journalist and religion writer Ian Harris' new book 'Hand in Hand: Blending Secular and Sacred to Enlarge the Human Spirit,' arises from the author's passion to make the essentials of Christian faith comprehensible to those inside and outside church walls.
His audience is the growing number of New Zealanders whose knowledge of the faith is characterised by a blank page, Sunday School literalisms, popular caricatures or imagery that is 2000 years old.
I share Ian Harris' convictions that there are many today searching for an intelligent understanding of Christianity, woven into the context of the major issues dominating life and society.
As Harris writes: 'it is essential to approach …[questions of faith] in a way that makes sense within the secular worldview Westerners live by'.
For 20 years Harris has been writing columns on secular and sacred, faith and reason in The Dominion, The Dominion Post and The Otago Daily Times - a total of some 331 columns.
His columns are filled with references to current events and writings from philosophers, scientists, theologians, ethicists and leaders in other disciplines. Most importantly, they are accessible to the average reader and full of interest.
Central to 'Hand in Hand' is the term 'theism -the traditional image of 'a God who is independent of this world and universe, who has planned it and kept it in existence, and has involved himself in its history'.
The problem with theism is that it gives rise to concepts of a three-decker universe, gods, spirits and demons, heaven and hell, judgment and punishment. Theism is an easy target for the likes of Richard Dawkins and those fundamentalist atheists who ignore contemporary images of God as spirit, mystery or love lest they be denied their simplistic target.
As the author writes, Christian faith is not an intellectual belief in doctrines and dogmas, but a life-changing encounter with the divine revealed in Jesus, which calls us into discipleship.
Harris sees the secular not as hostile to faith, but as the neutral setting for religion in the modern world. He quotes Albert Einstein on how religion and science are complementary: 'one can have the clearest and most complete knowledge of what is, yet not be able to deduce from that what should be our human aspiration.'
Harris also rejects the interpretation of 'dominion' in Genesis as giving humans the right to lord it over nature. Instead, he turns to Teilhard de Chardin's concept of the 'noosphere' – an awareness of others and of the earth where our lives enhance not only ourselves – or humanity in general – but also our planetary home.
In 2018 the Wilberforce Foundation published its report, 'Faith and Belief in New Zealand'. It showed that 42% of New Zealanders are open to exploring other views on religion and spirituality, while 41 per cent believe life has ultimate meaning and purpose.
'Hand in Hand' is a book that will speak powerfully to these beliefs, as well as being a challenge to the churches to look beyond their walls to engage with this large body of seekers. For preacher or study group leader it is a mine of rich resources.
Hand in Hand: Blending Secular and Sacred to Enlarge the Human Spirit is available for $30 plus postage and packaging from The Cuba Press. Free postage on orders over $100.
Bishop Richard Randerson CNZM is former Anglican Social Justice Officer, Dean of Holy Trinity Cathedral in Auckland and Assistant Bishop in Canberra and Auckland. He retired in 2007 and resides in Wellington. richardrandersonnz@gmail.com