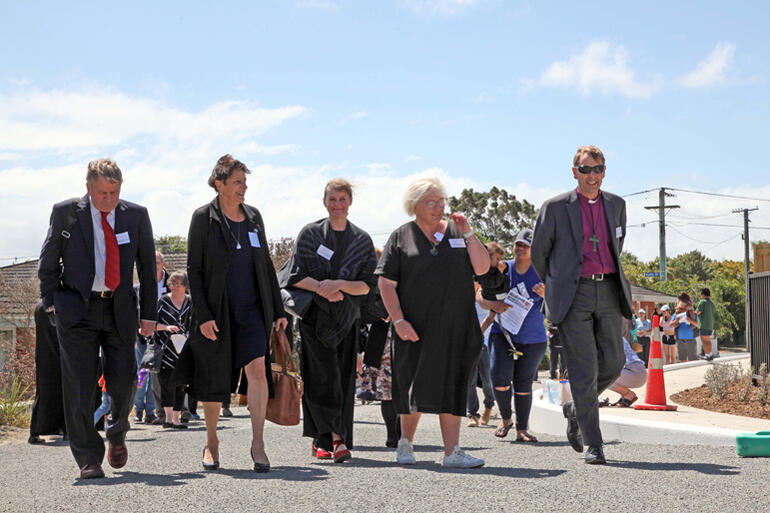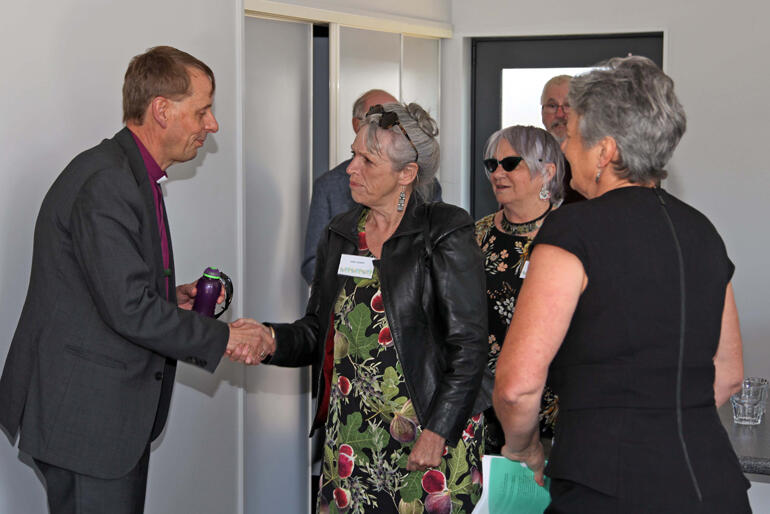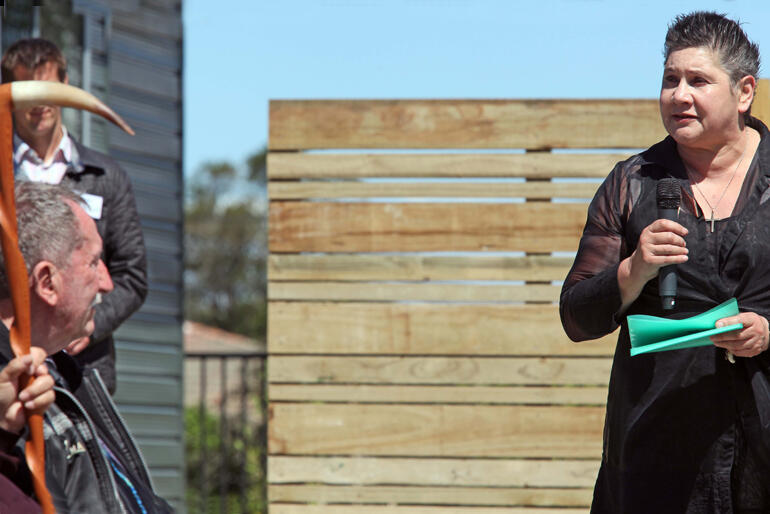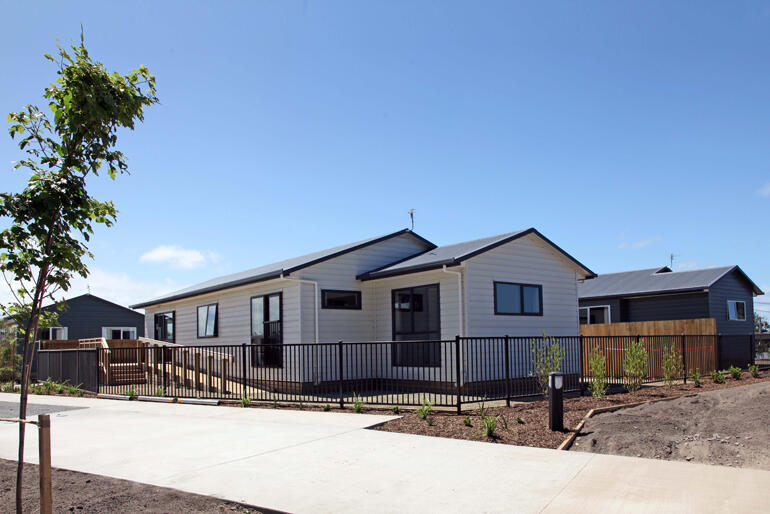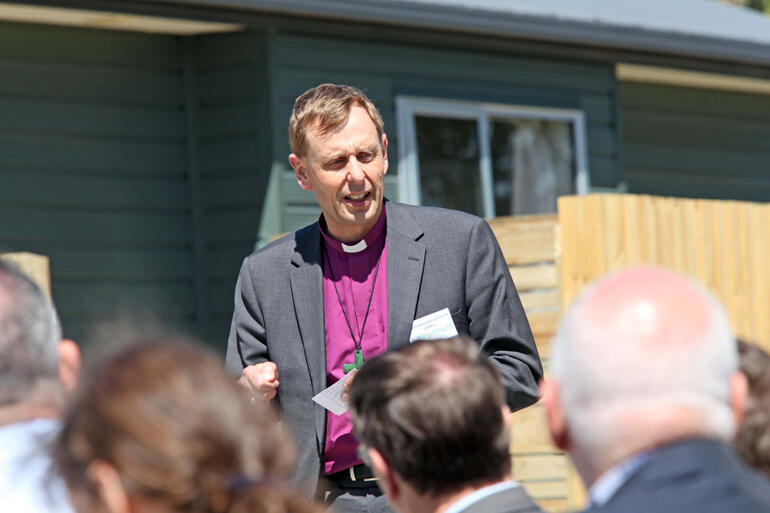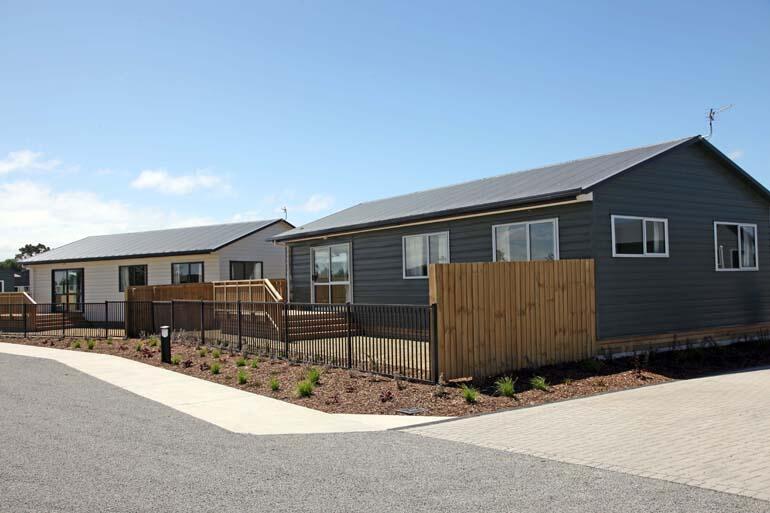 A partnership between Methodist and Anglican social service agencies has led to a new kind of social housing village springing up in the Christchurch suburb of Shirley.
Known as the Guild Street Housing Community, this 'good neighbourly' way of living together has formed out of a mission-aligned resource partnership between AnglicanCare – the Diocese of Christchurch's social service arm – and the Christchurch Methodist Mission (CMM).
The Guild Street Housing Community is made up of 16 relocatable Methodist-owned houses whose foundations now rest on Anglican-owned land.
The 16 'temporary' Earthquake Commission (EQC) houses were originally provided by the Crown for people moving out of homes during earthquake repairs, but they now stand on strong foundations built to withstand anything their TC3-zoned site can throw up during a shake.
Bought by the Christchurch Methodist Mission, fifteen of the houses will now function as permanent housing, while the sixteenth building serves as a 'Community House.'
CMM scooped up the 15 relocatable houses as they hit the market, planning for the 2 two-bedroom, 12 three-bedroom and 2 four-bedroom houses to become social housing. But straight away their vision was stopped in its tracks.
"We looked and looked for land to buy, but everything we found was either too expensive, or too small for the project." said Christchurch Methodist Mission Executive Director Jill Hawkey.
That's when CMM Board Chair Pam Sharpe had the bright idea of inviting the Anglicans to the party.
Pam turned her gaze onto an empty lot where once she had worked in an Anglican-owned resthome, Churchill Courts. That building had long since been demolished due to the earthquakes.
"Would AnglicanCare consider selling or leasing the empty land?" Pam wondered. "Would they be prepared to join us to develop a sustainable social housing model?"
Pam approached the then Missioner for AnglicanCare, Roger Sutton who walked over the site with Pam and became convinced of the plan's benefits. He put the idea to AnglicanCare's Trust Board Chair Moka Ritchie.
Moka and the Board came back with a resounding yes. The Diocese of Christchurch had been looking for ways to invest in social housing, but had only lacked the ability to offer the wrap around care such tenancies required. This was exactly the opening they needed.
"Our thought was that as a social service agency these resources were not ours to make a return on, instead they were there to serve people's needs."
As St Saviour's children's home, that land had housed children, and later it had served as a home for elderly people. It made sense for it to continue to offer a place that now families could call home.
But AnglicanCare didn't like the idea of selling the land, so they looked for a way to get the housing project off the ground anyway.
The solution was to offer the Christchurch Methodist Mission a special 34-year lease on the Guild St site.
Moka Ritchie had no hesitation in joining forces with another church.
"It is a natural thing for us to partner with one another. When it comes to service, it is not a matter of "this church or that church".
"As Christian agencies it is a natural consequence of believing in one God that we should work to together to serve God's people."
"As scripture says, we are many parts of one body: we each have different skills, talents and resources to bring and together we can find a solution to meet a need."
:: :: :: :: ::
That said, the Guild St Housing Community aims to do better than meet basic needs. What sets it apart as a place to feel at home is tied up with its sixteenth building, the 'Community House'.
Serving as a low-key meet-up space for anyone living on or visiting the site, the Community House has a friendly face in René Demeglilio, the Guild St village's full time community development worker.
René helps solve any issues as they arise and promotes healthy community life through shared activities such as cooking, budgeting, coffee mornings for parents, after-school clubs, holiday activities and book groups.
Jill says that the families at Guild Street all come from the social housing register, which means they were either homeless, in transitional housing or in housing that was totally unsuitable for their needs.
That also means that putting down roots in a stable, long-term neighbourhood has not been a common experience for most of them.
Jill reports that the Guild Street whānau are a real mixture of Māori, Pākehā, Pasifika and Afghani families, including two families that have come through a refugee experience on their way to Christchurch.
"It is a wonderfully diverse group of people."
With the community worker role funded for five years by the Wayne Francis Charitable Trust, CMM will now spend that time collecting research data to see what difference having both the community worker and the gathering space will make to families' quality of life.
"Our hope is that Guild Street could become a model for future healthy social housing initiatives." said Jill Hawkey.
From the Methodist parishioners who came to spring clean the homes before the families moved in, to the landscaping and adventure playground plans, to the wider residents' meetings to engage with the neighbourhood, CMM have worked hard to make their collection of houses a nice place to live.
"There's lots of space for the children to play in, with trees to climb and bike tracks to ride. We think it's going to be a beautiful place to grow up in."
:: :: :: :: ::
In late 2020, Bishop of Christchurch Peter Carrell and Bishop of Te Waipounamu Richard Wallace joined AnglicanCare, CMM and Methodist President Andrew Doubleday, Kaumatua Dr Terry Ryan and Methodist Synod Superintendent Kathryn Walters to bless the new housing community and declare it open.
Bishop Peter Carrell is delighted to see AnglicanCare backing this inspiring, positive project.
"It was so good to see some of the families at the opening day, and to see how pleased they were to be moving there. It is a lovely project."
Bishop Peter also values the proactive approach the CMM has taken, and he sees the practical value of the housing village.
"The idea of having a dozen or so houses on one site works better than each parish putting up a single unit for one or two people on their little plot. A dozen homes in one place means 'One visit, 12 cups of tea' and that means there's real opportunity to build a community."
The Guild Street Housing project went forward under AnglicanCare, rather than the Diocese of Christchurch or Pīhopatanga o Te Waipounamu, but both Bishop Peter Carrell and Bishop Richard Wallace are looking forward to meeting the challenges and opportunities that similar mission-aligned investments may offer for the future.
General Synod Te Hīnota Whānui was scheduled to consider a motion on Mission-Aligned Investment today. Now that meeting has been postponed, the motion on Mission Aligned Investment is due to come before the Anglican Church in Aotearoa, New Zealand and Polynesia later in 2021.