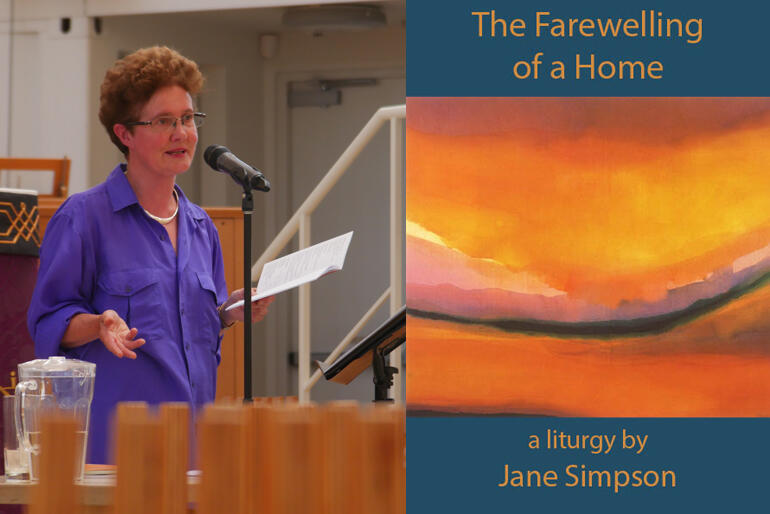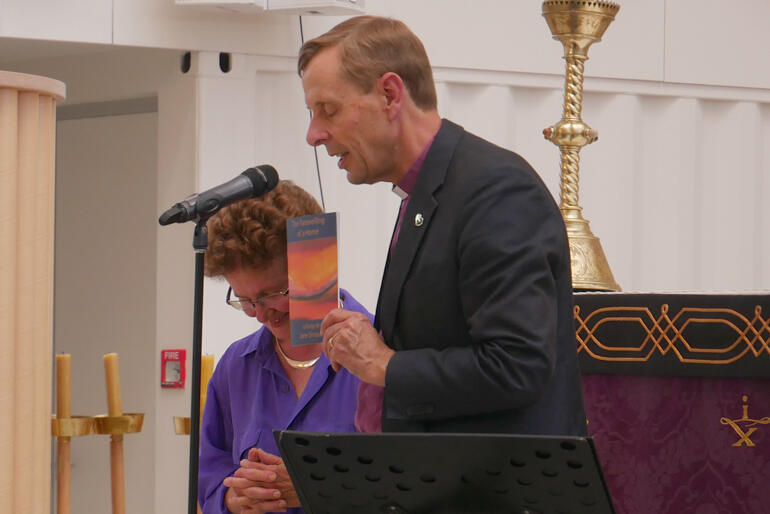 Ten years on from the devastating 2011 Christchurch earthquake, a new kind of service is being offered to all who lose their homes in a natural disaster.
Down the centuries, people have called on the church to bless their homes, but there has been no ritual, service or liturgy to farewell a home as it is left or when it has been lost.
In response to the need for such a service, Christchurch Anglican, historian and award-winning poet, Dr Jane Simpson, has written a new resource for use when departing a beloved home: The Farewelling of a Home: a liturgy.
The liturgy published as a small paperback book was launched by Canterbury poet, Bernadette Hall and blessed by Bishop of Christchurch, Bishop Peter Carrell on Saturday 20 February in Christchurch's Transitional Cathedral, two days prior to today's tenth anniversary of the 22 February 2011 earthquakes.
Today, Bishop of Te Waipounamu Rt Rev Richard Wallace will lead memorial karakia at the (Māori Anglican) Te Waipounamu Centre in Otautahi-Christchurch. He will lead prayers remembering the 185 people who perished as a result of the devastating Canterbury earthquake ten years ago today and for all those who remain affected by the losses of the earthquake.
Bishop of Christchurch Rt Rev Peter Carrell will represent the Anglican Church today at a civic memorial service, alongside religious and civic leaders at the Oi Manawa Canterbury earthquake national memorial beside the Avon River in central Christchurch.
:: :: :: :: ::
Over the last ten years, thousands of Cantabrians have had to walk away from homes due to irreparable earthquake damage, as have other New Zealanders affected by earthquakes, floods and fires around the country.
In Christchurch City alone – which is home to 400,000 people – the 2011 earthquakes damaged or completely destroyed 100,000 homes, prompting many people to leave and start a new life in another city or country.
Author Dr Jane Simpson remembers how Christchurch people approached her as a poet and asked her to help them find words to say goodbye to their homes.
"Householders in the eastern suburbs who had lost everything, or whose homes were unliveable, … asked me to write something to help them as they left their homes for the last time."
"They wanted to go to the site, acknowledge their loss and to grieve, if possible, to go through the rooms and evoke memories, and to affirm together hope in the future," she said.
As an historian, Jane first wanted to establish if there were any rituals, services or liturgies across world religions that offered this service to bless the departure from a home. But her search drew a blank.
Still, she knew that people's homes were not that easy to let go.
"Home is redolent of memories, it impresses itself on our hearts and minds, in our imaginations." she said.
The earthquakes also gave Dr Simpson a new motivation to not give up when no resources appeared.
"If existing religious rituals proved to be inflexible in a natural disaster, new ones were needed."
The first version of The Farewelling of a Home: a liturgy, was published in the Australian Journal of Liturgy last year, and emphasised lament for a home taken by earthquake, fire or flood, or due to sea levels rising as a result of global warming.
The book launched this week provides for a wider range of contexts of loss, including moving into a retirement village, a service to farewell a home after already having left, or one following the householder's death.
To bring her new service to the wider public, Dr Simpson set up her own publishing site: Poiema Liturgies.
The Farewelling of a Home: a liturgy is available there for $15.00.
For more poetry, to donate toward the development of more liturgy resources, or to contact Dr Jane Simpson go to www.poiema.co.nz
Book cover image by Gretchen Albrecht, 'Golden Vapour Cloud' 1973.