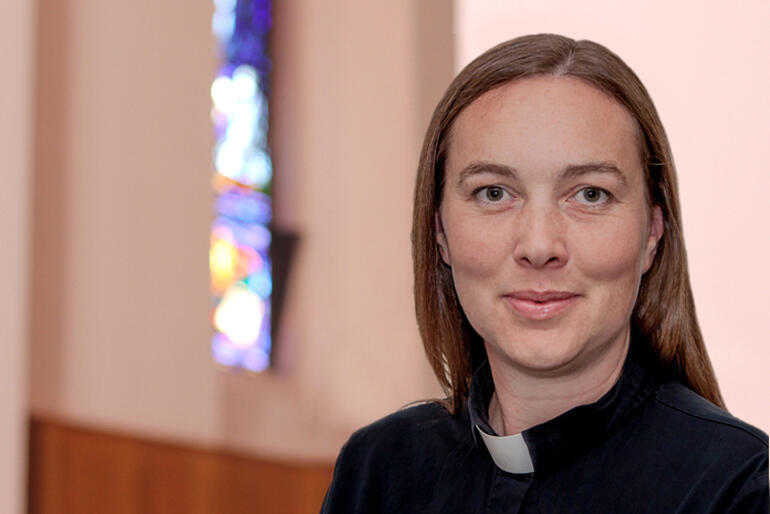 The Rev Canon Dr Eleanor Sanderson has been elected to serve as Assistant Bishop in the Diocese of Wellington.
Archbishops Philip Richardson and Winston Halapua announced the result of Wellington's recent election this afternoon – and Archbishop Philip says he is delighted at the outcome.
"Ellie Sanderson brings a deep spirituality, a pastoral heart and a breadth of learning that is respected across our Church," he says. "She is a person whom other people easily warm to.
"We are grateful to God that Ellie has been called to leadership alongside Bishop Justin in the Diocese of Wellington, and to serve as a bishop for the whole Church."
Bishop-elect Sanderson, who is now serving as the Vicar of St Alban's, Eastbourne, is also chaplain of Wellesley College in Days Bay, and she is the Diocesan Canon Theologian.
She holds a PhD in Geography – which was awarded for her thesis which explores the intersection between community development and Christian spirituality, through case studies of a Melanesian Anglican parish in Fiji, and a Mother's Union group in rural Tanzania.
She also holds a Master's degree in Theology, is a Fellow of Public Theology at Virginia Theological Seminary, and a Research Associate at the School of Religious Studies at Victoria University.
Saying 'yes' to God's call...
Ellie Sanderson has served in various roles in the Diocese of Wellington over 16 years – she was ordained to the priesthood in 2006 – and her leadership skills and pastoral gifts are celebrated within her diocese, says Bishop Justin Duckworth.
"We are so thankful to Ellie and her family," he says, "for saying 'yes' to God's call. We see a strength and depth of leadership in her that we believe will help catalyse a next generation of leaders amongst us."
Bishop-elect Ellie's appointment will allow Bishop Justin to spend more time in the north of the diocese, and he plans to move to Whanganui soon.
"As we seek to build our family culture in this diocese," he says, "the force of gravity tends to pull our focus towards Wellington.
"I'm therefore looking forward to being more present on the ground in the north, knowing that the good work already underway in Wellington will have strong leadership."
What it means
Meanwhile, Ellie Sanderson, bishop-elect, has been reflecting on what becoming the Assistant Bishop of Wellington means for her:
"My role", she says, "will be to support Bishop Justin in leading from what is already a strong platform.
"For me, this is about enlivening the vision to which we've already committed. I've been in the diocese for sixteen years, I know the nuts and bolts of things – but in this role, it's important for me to get alongside the people of the diocese and listen, so that I can hear their challenges and lead with greater clarity.
"In a sense, when you enter ministry you marry the church – you love the church in all its humanness, its beauty, and its brokenness. So in this position, I aim to operate from a place of love."
Transforming church, and nations...
Bishop-elect Ellie has been reflecting too, on the manaakitanga of God, and of God's people.
"I have been impacted by people's generous hospitality many times in my life and faith journey. The invitation to step into this new call is another expression of that hospitality.
"Above all, though, this role invites me to explore further the hospitality of God's heart of compassion and desire to transform our church and nations. Experiencing God's love for the people and places of our province is a profound privilege, for which I am very thankful."
Ellie, who was born and raised in the UK, is married to Tim, who was born and bred in the Hutt Valley, and they have two sons: Zachary (9) and Joseph (7).
She was nominated at a Diocese of Wellington electoral college held in Palmerston North's Convention Centre on May 11, and her nomination has since been ratified by the House of Bishops and the members of the General Synod.
The Rev Canon Dr Sanderson's ordination as a bishop will take place Wellington's Cathedral of St Paul on the evening of Friday June 2nd, 2017.