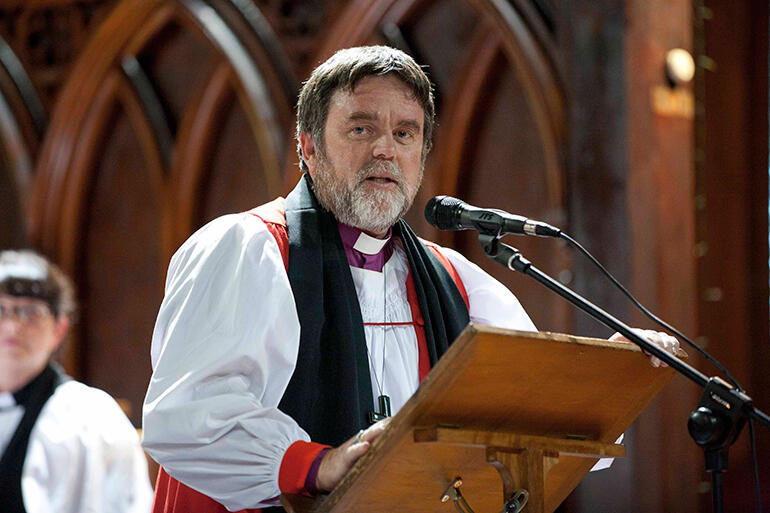 The leader of the country's Pakeha Anglicans, Archbishop Philip Richardson, says the offence caused by the Canterbury T-Shirt display needs to trigger a wider national debate about freedom and its limits.
"Muslim New Zealanders are becoming the targets of reaction to Islamic State and Al Qaeda," he says, "police are this week investigating the desecration of Jewish graves in Dunedin – and the Canterbury Museum is now showing a T-shirt which the censor's office has described as not only 'aggressive and misogynistic' but also as representing Christians 'as inherently inferior'."
These three examples, says Archbishop Philip, illustrate the need for an "urgent national conversation" to be held on how "we celebrate and live respectfully with diversity."
"Freedom of expression and freedom of speech are rights cherished in democratic societies – but we need careful debate about whether there are any limits on such freedoms. Because freedom brings with it the responsibility to exercise wisdom.
"True freedom is not cherished when the exercise of freedom degrades, demeans, humiliates or denies the dignity of any individual or group. We are our brother and sister's keeper.
"Christians need to enter fully into this debate, with humility, and with a determination to help build a respectful, tolerant society where freedom of expression and human dignity are held together."
#
In a 2008 ruling, the Office of Film and Literature Classification banned the T-shirt on display at the Canterbury Museum from being sold or worn in public.
It reasoned that the T-shirt would "degrade, dehumanise and demean the woman depicted, and women more generally, to such an extent and degree" that the sale or wearing of the T-shirt in public "is likely to be injurious to the public good".
It also wrote that the T-shirt "represents Christians as inherently inferior by reason of their religious belief…"
To read the official censor's 2008 classification – which contains an offensive word – click here:
To read a 2008 news report in which the then chief censor, Bill Hastings, described his own reaction to the T-shirt: "I have to say, I can't remember seeing a stronger T-shirt than this one" click here: