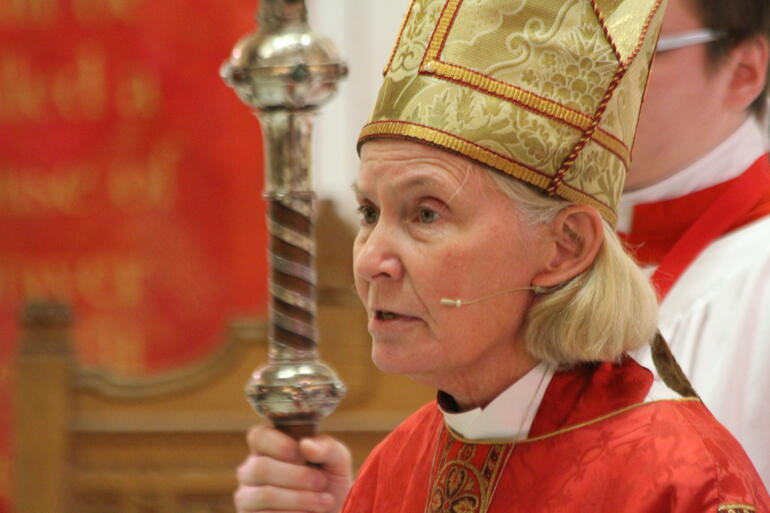 Bishop Victoria Matthews is determined that the deadlock over the ruined ChristChurch Cathedral should be broken by Christmas.
And she has announced that an independent Government-appointed consultant will be brought in to negotiate a way forward for the earthquake-ravaged cathedral.
Plans for the future of the cathedral stalled in 2011 after the diocese announced plans to partially demolish the building.
But the diocese was stonewalled by heritage campaigners, particularly the Great Christchurch Building Trust (GCBT), which wanted the old cathedral to be fully restored.
Bishop Victoria made the announcement at the Transitional Cathedral last evening at the end of the opening service for the 2015 diocesan synod.
"The Diocese and Church Property Trustees (CPT) have been concerned at the time it has taken to confirm the plan to return to Christchurch Cathedral in the Square," she said.
"Just to restate our situation: we own 290 buildings, of which 230 were damaged (in the earthquakes).
"In the midst of many people telling us how to proceed, we have not wanted disproportionate resources focused on the Cathedral especially when we have wider responsibilities in Christian leadership.
"We are also aware that indecision about the future of ChristChurch Cathedral is having a significant effect on the re-birth of Christchurch from the centre outward."
Bishop Victoria said the consultant would "engage with the experts" of both CPT and the GCBT, and analyse conflicting engineering evidence before reporting back to the Government.
"The Government does acknowledge the need for a safe and liturgically appropriate worship space whilst recognising the city's need for an identifying symbol in Cathedral Square."
CPT had agreed to participate on the condition it was not responsible for the cost of the consultant or any outcomes.
"It is my hope," said Bishop Victoria, "and my commitment, that before Christmas we will know the details about the future of Christchurch Cathedral as well as the larger diocesan recovery plan."
Bishop Victoria also alluded to the ongoing Cathedral in the Square drama during her charge:
"If we are secure in our identity in Christ," she told the synod congregation, "then I truly believe no earthquake or other disaster (including the debate over the Cathedral in the Square) can make us lose our way.
"We are Jesus people and because Jesus loves every person, we are called to do the same.
"We know there are forces that want to turn the churches, especially the pretty ones, into museums but that is not the journey we are on. Ours is a living, loving faith that brings liberation and abundant life."
It's understood that the GCBT co-chairman, Jim Anderton, has also welcomed the Government's move to bring in an independent consultant.
Footnote: Last evening's service took place exactly five years since the corresponding service for the 2010 diocesan synod - which had to be abandoned because of the 7.1 quake that roared in later that night.