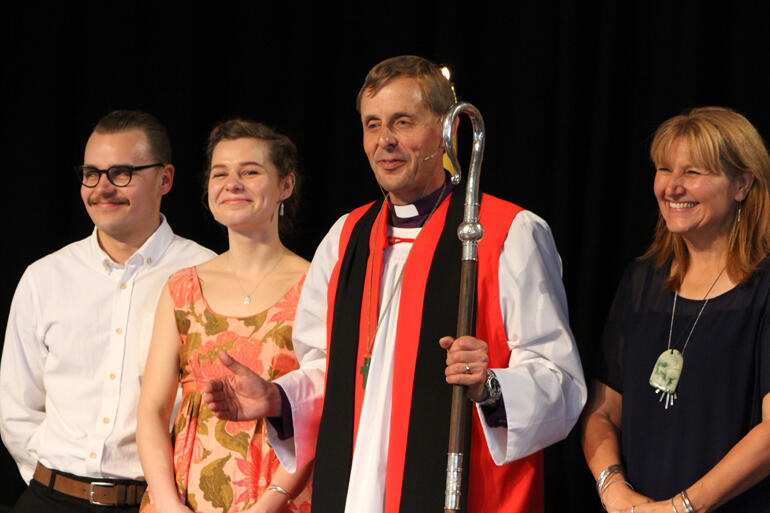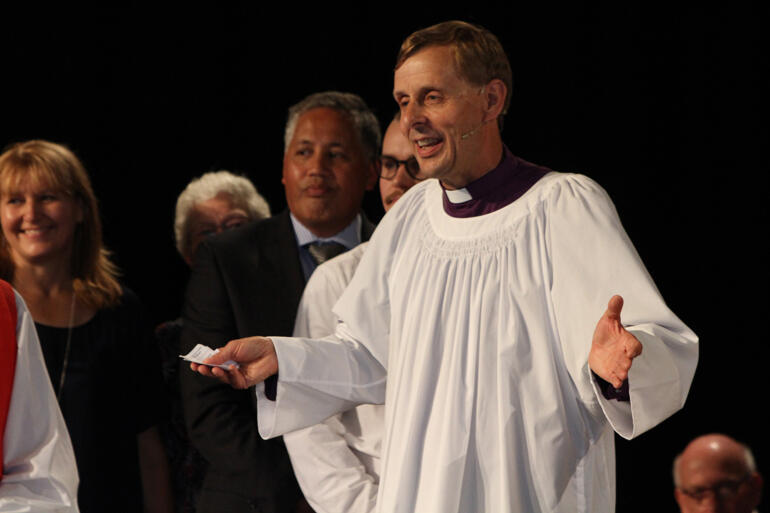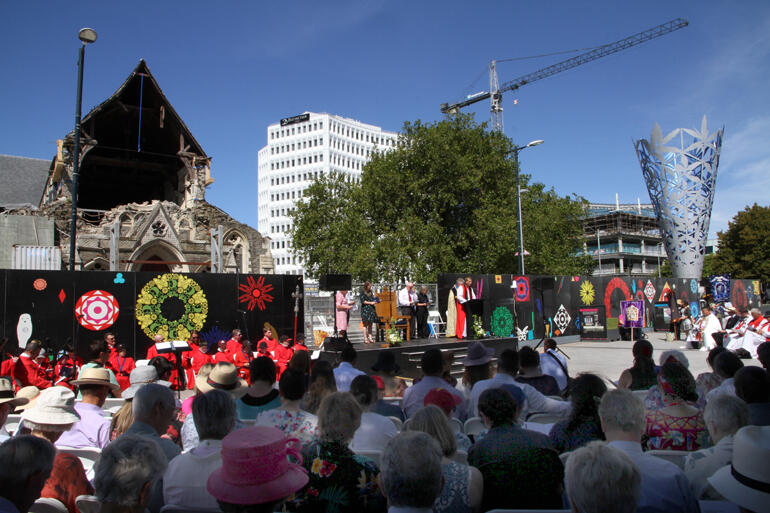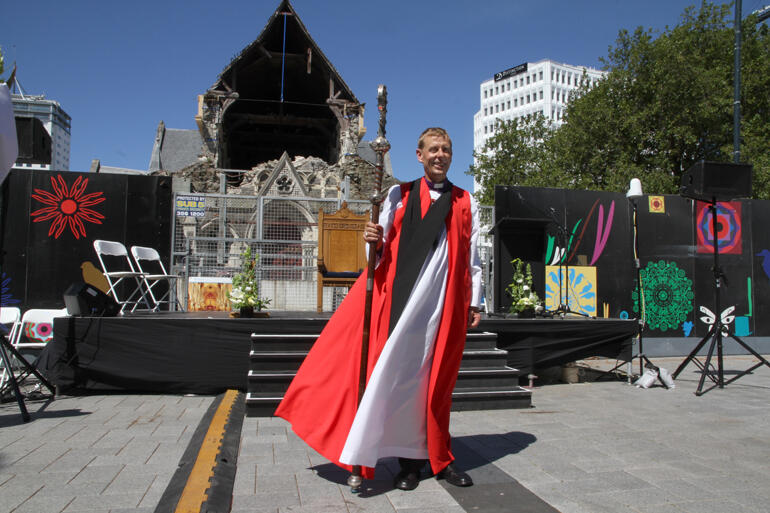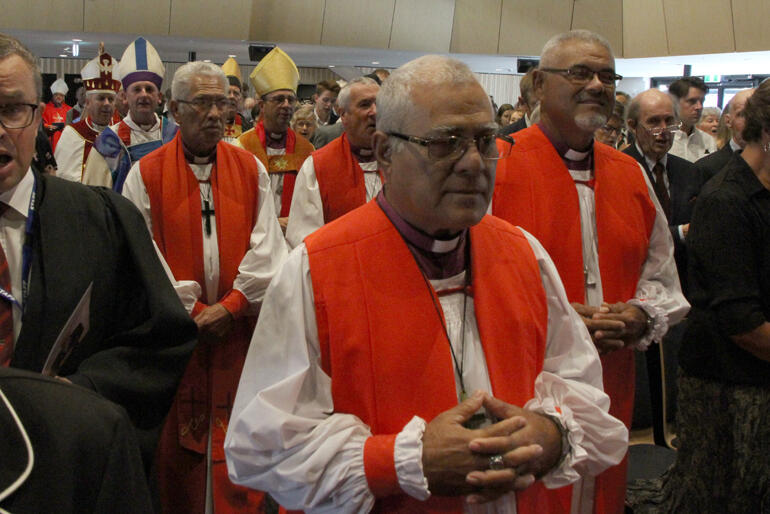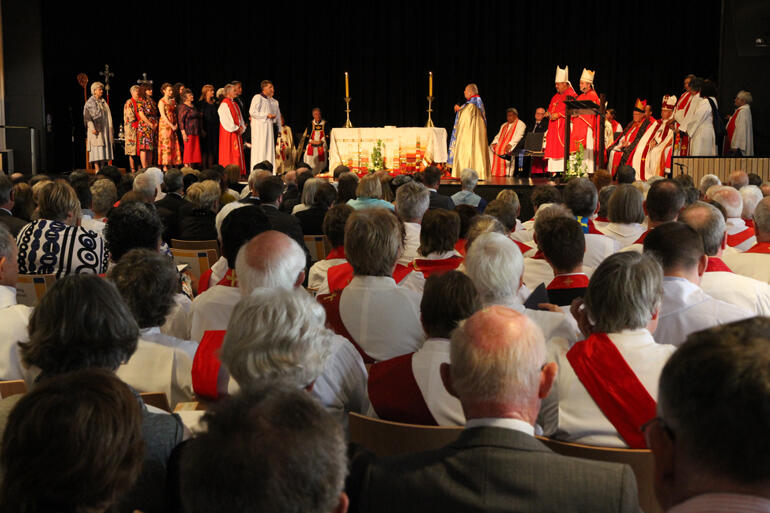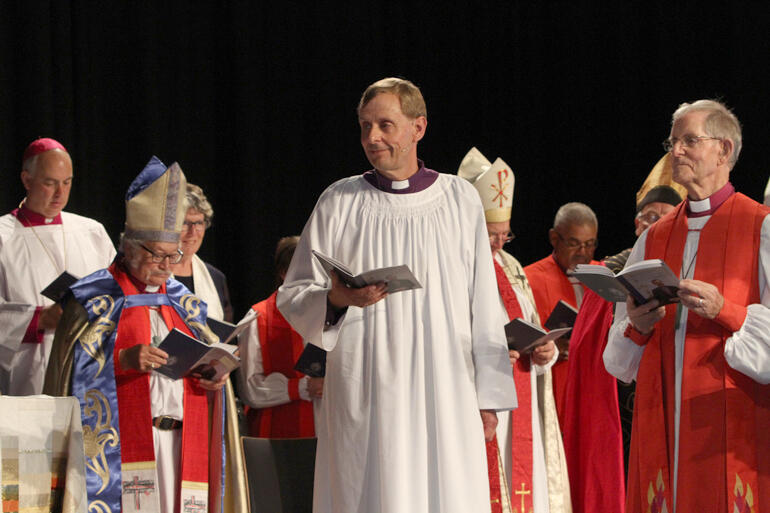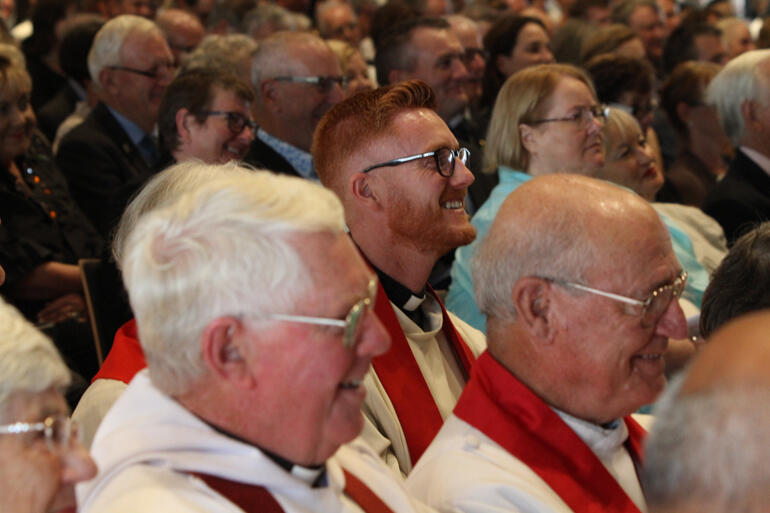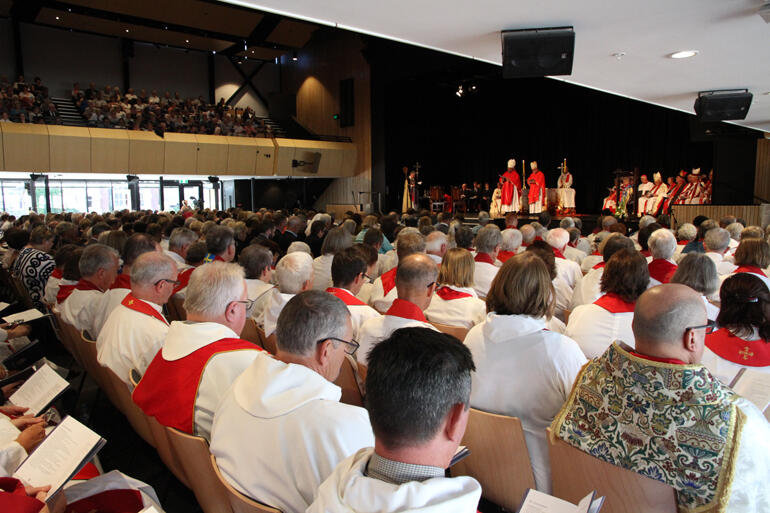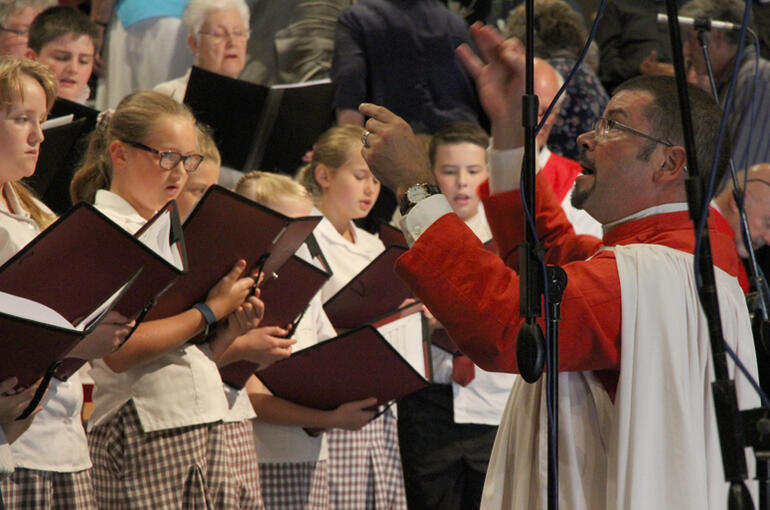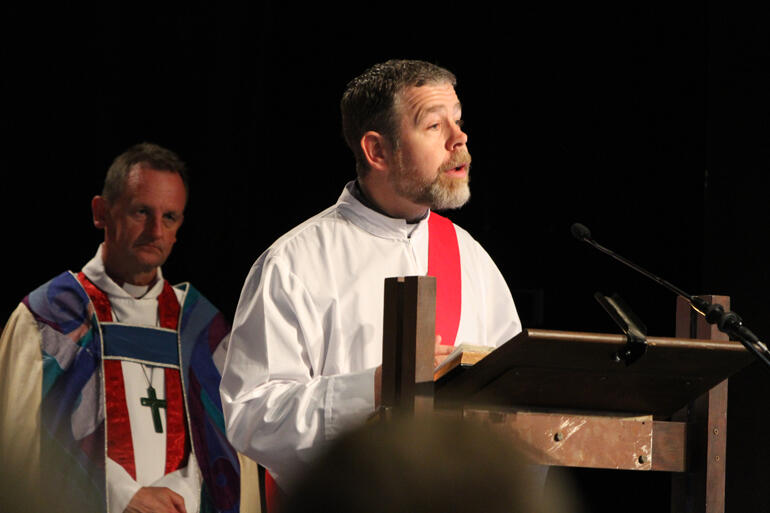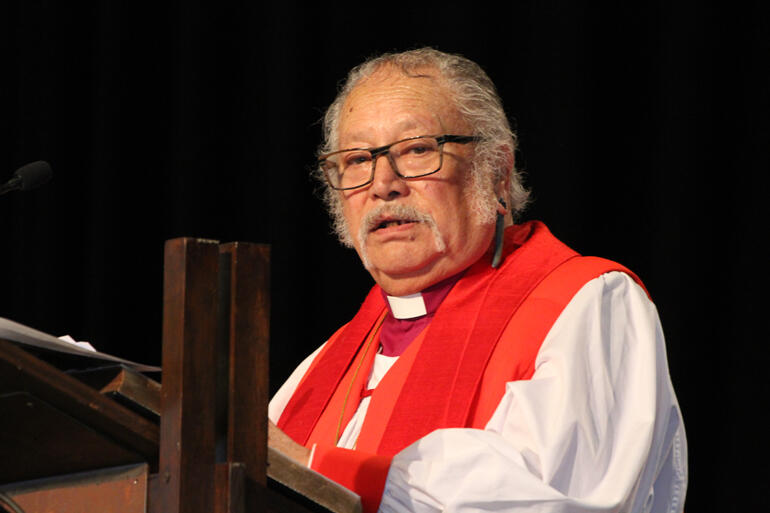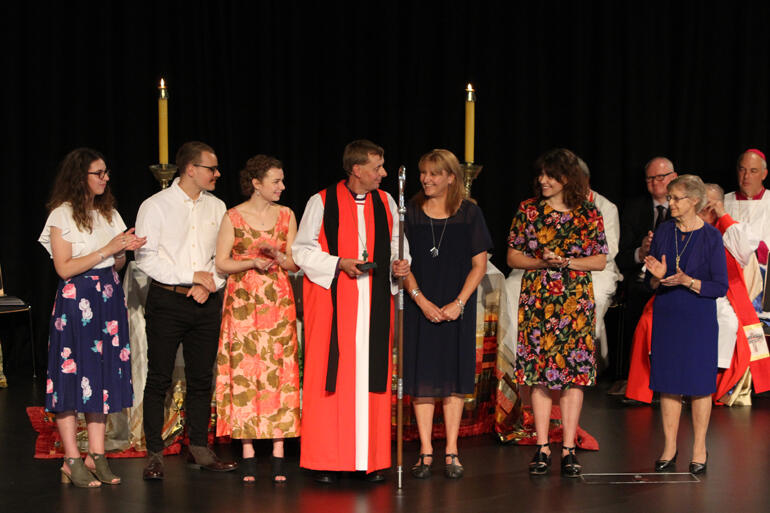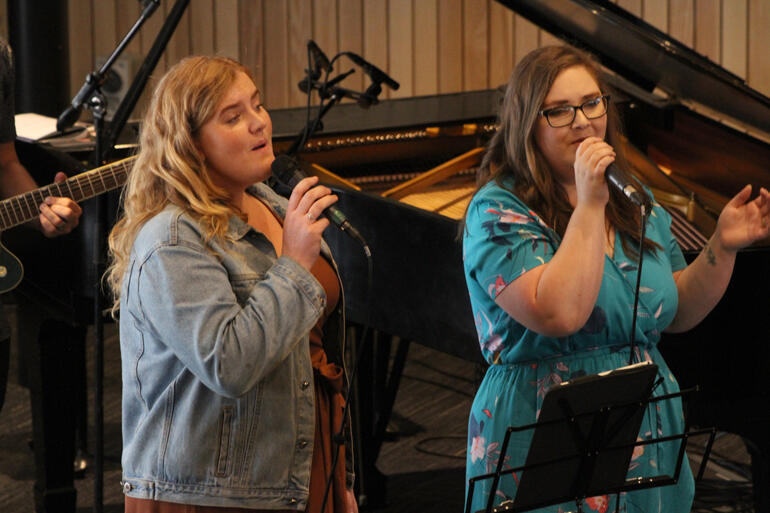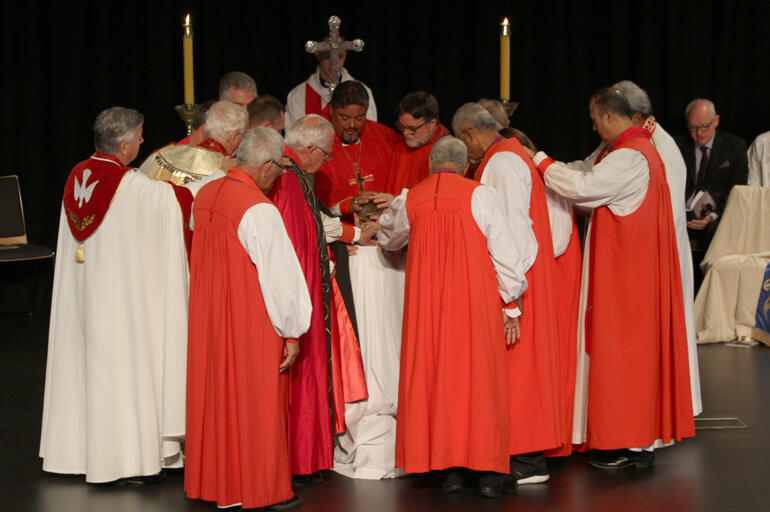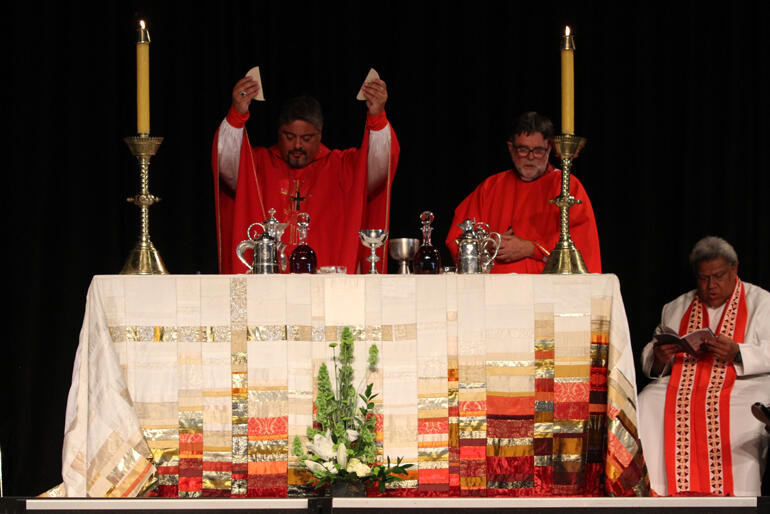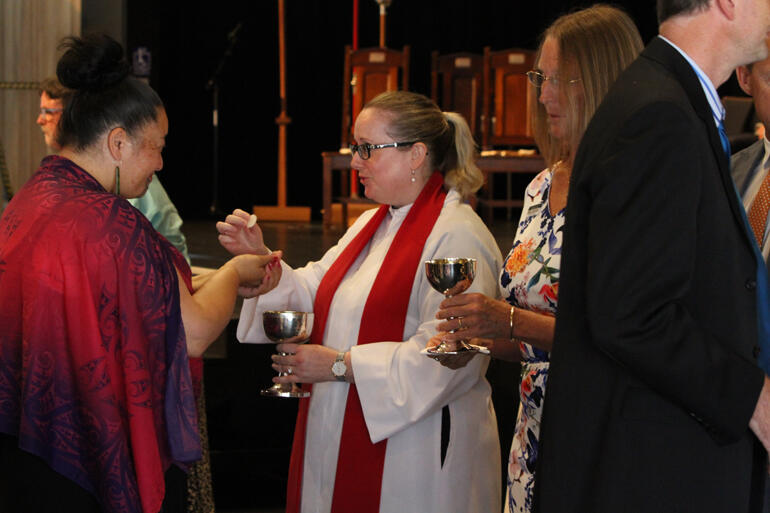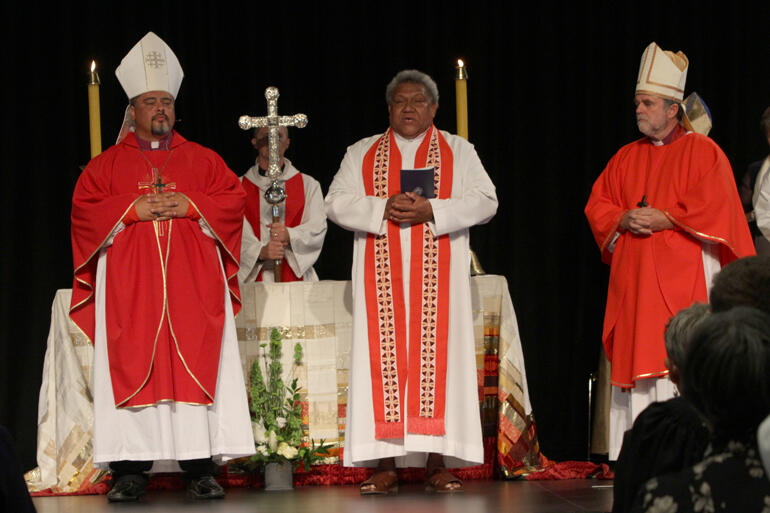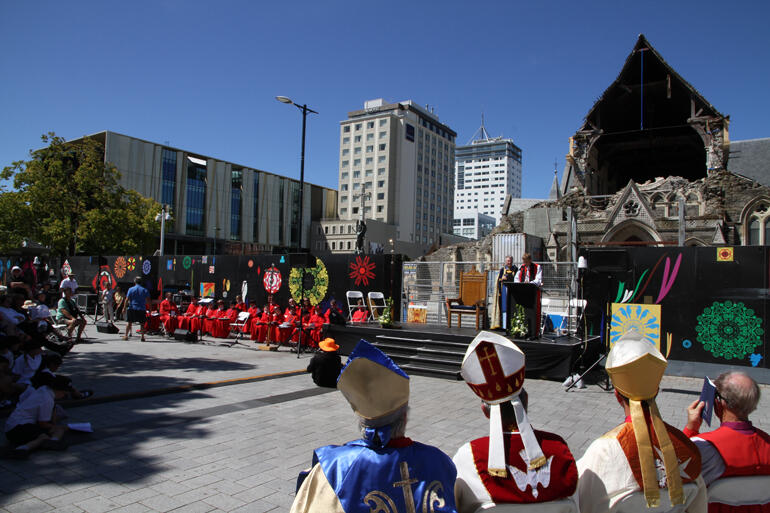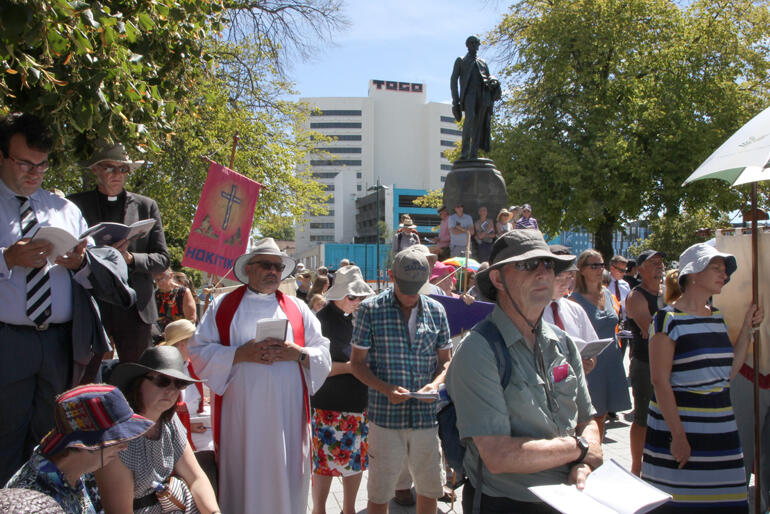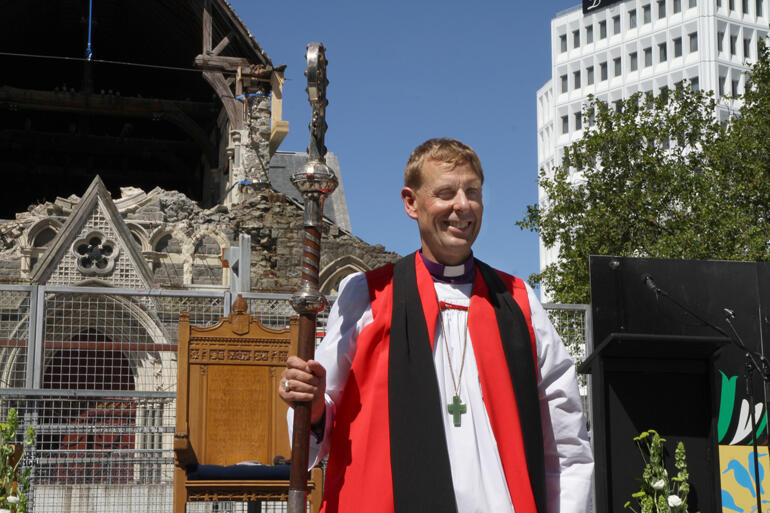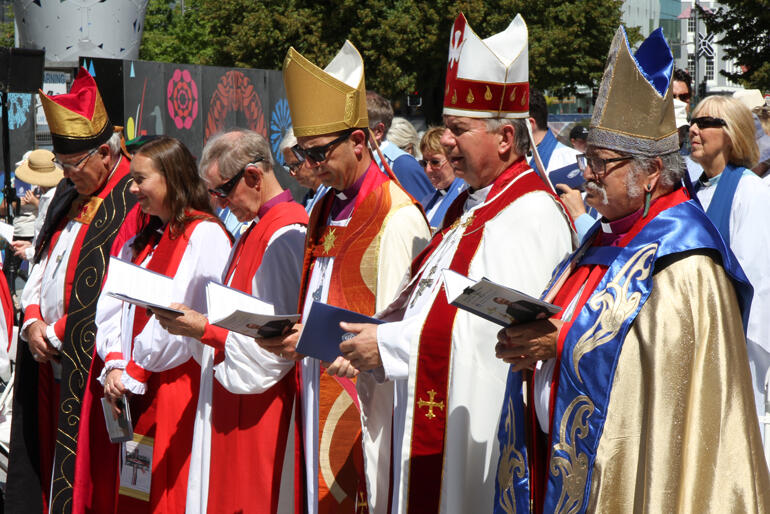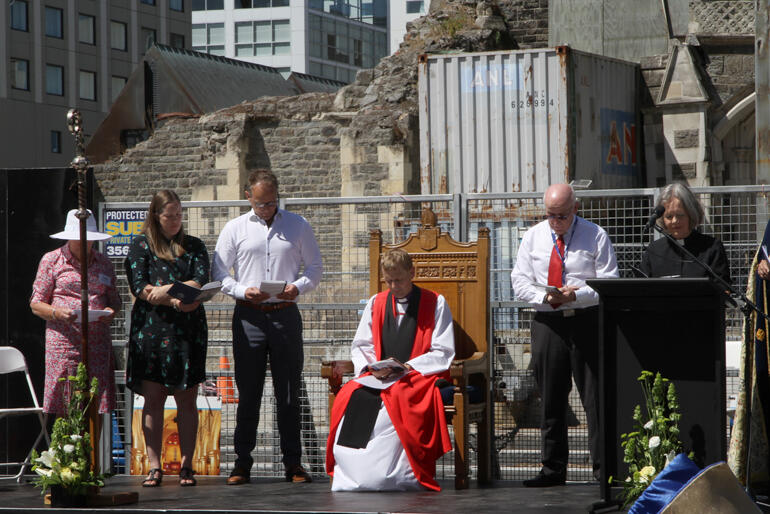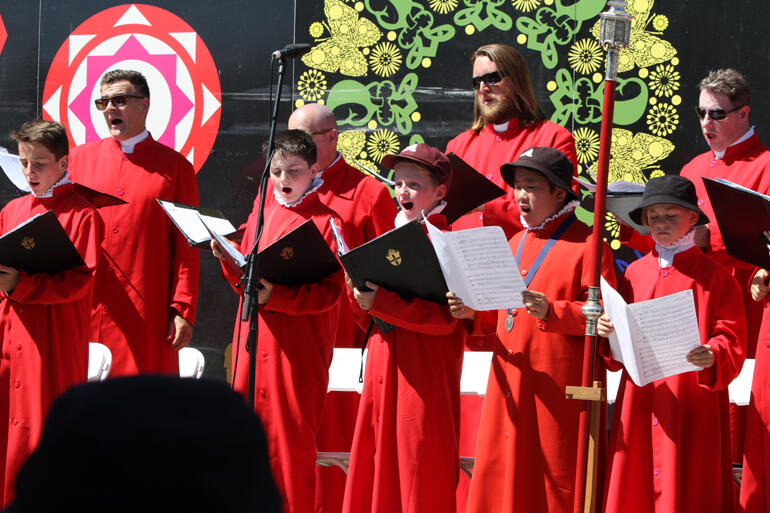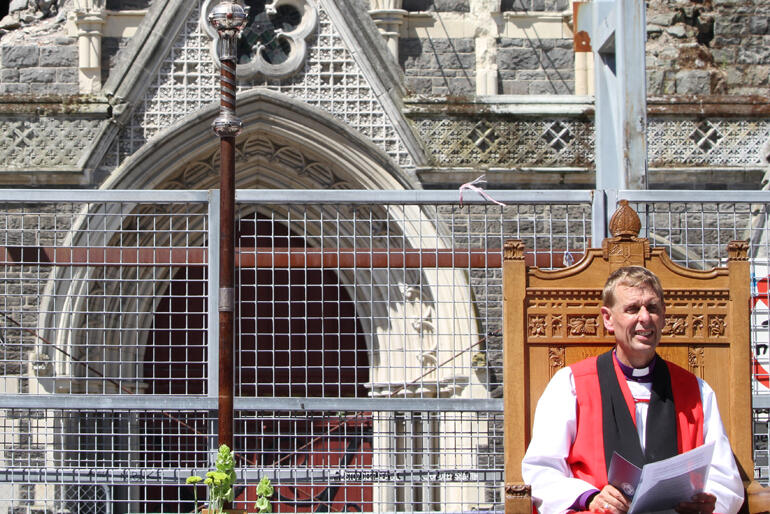 About 1000 worshippers celebrated the ordination of Rev Dr Peter Carrell as the ninth Bishop of Christchurch yesterday. (February 9).
"Peter's leadership marks an opportunity for the city, the diocese, the regions, for church and society to move forward together," Archbishop Philip Richardson said in his opening remarks.
"After all, we are a people of resurrection, and our song is hallelujah."
The Archbishop opened the service at Christchurch Boy's High School auditorium with a welcome to Bishop-elect Peter's family, friends and wellwishers from across the province of Aotearoa, New Zealand and Polynesia and around his diocese, which takes in Canterbury, Westland and the Chatham Islands.
Archbishop Don Tamihere reflected he had seen a 'quiet joy' during the day, and a willingness to work together with the new bishop coming from all sides, across diocese and city, family and tikanga.
"There's a sense of hope, of positivity for the future." he said.
The Diocese of Christchurch was battered by thousands of earthquakes following the two huge shocks in 2010 and 2011, and the iconic Anglican Cathedral of city and diocese is still standing in ruins.
At 3pm on the day of Bishop Peter's ordination, banner-carrying Anglicans came from the four winds into Cathedral Square at the heart of their diocese to install their new bishop in sight of the damaged cathedral he has pledged to see restored.
But before that, the Rev Dr Peter Carrell had been embraced warmly and upheld in his call to lead at an ordination service yesterday morning.
Peter was born in the Diocese of Christchurch and served many years of ministry there, most recently in ministry education as Director of Theology House and Archdeacon of Mid-Canterbury.
He has also served in the Diocese of Nelson, and the wider church as a biblical scholar, theologian, member of General Synod, teacher, pastor, published writer and blogger.
Both the quality of Peter's work, and his character in ministry attracted praise yesterday.
The Ven Nicky Lee, Archdeacon for the Household of Deacons, said there was widespread hopeful expectation from the many who know Peter, that he would shepherd the diocese in an inclusive and open way. She saw that demonstrated by the diverse groups who turned out to help with the nuts and bolts of Saturday's events.
"Leading up to today people have been volunteering from all over the place – clergy, lay people, from schools, from all different parts of the diocese and a good number of young people were stepping up too."
Retired Bishop of Nelson, Rt Rev Richard Ellena spoke of Peter's valuable ministry in his diocese, and Bishop Richard Wallace, Bishop of Te Waipounamu who preached at the ordination service, looked forward to a strong partnership between the new bishop and the Pihopatanga with its Maori Anglican vision for the region,
"Since Peter was elected we have already begun to find areas of mutual interest for our people and put strategies in place for how we will work together. It is good to see that he is looking to build that relationship. We both see it as hugely important."
Vicar of Mount Herbert, Rev Dr Meg Harvey who chairs the Theology House Board, believes Peter's working style will get the traction that the earthquake and division weary diocese were looking for.
"Peter is going to bring an energy and cohesiveness that we desperately need at this time." she said.
"The consequences of the earthquakes and of General Synod's decision to authorise same-sex relationship blessings have taken a toll on clergy in this diocese. We need a clear, decisive, kind leader – and I think we have found one in Peter."
In the karanga that rang out to begin the ordination service, Susan Wallace from Te Pihopatanga o te Waipounamu picked up on another feature of Peter's ministry DNA that shone through the day.
"I called on Peter's whanau to bring not only the living family to support him, but also his tipuna, and I added 'those who have trodden the path before him,' to recognise his father here today who went before him as a bishop."
Peter Carrell's father, Bishop Brian Carrell presented Peter for ordination, along with Rev Joshua Taylor and Fay Deam. Before retirement, Bishop Brian had served as a regional bishop in Palmerston North and in many aspects of the wider church.
Peter acknowledged yesterday that both his parents, Brian and May had continued to influence his vision of faith and ministry. And they set him on track from the start with his grounding in a strong Evangelical Anglican household. According to Peter, the foundational mission of drawing people into the love and redemption of a relationship with Christ still drives his ministry today.
But Peter is quick to point out that the biggest supporter of his life's ministry has been his wife, Teresa Kundycki-Carrell. And he also thanked his four children - Leah, Bridget, Andrew and Alice, who are all in their 20s, and played an up-front role on his special day.
Peter's children were not the only young people backing the new Bishop of Christchurch. Byron Behm, for one, already rated his new bishop before he took up the crozier.
Young Anglicans know Peter well said Byron, because he has long since travelled with them. Lately Byron has seen that through the "The Kiln" a monthly leadership development meeting set in train by Peter's predecessor, Bishop Victoria Matthews, to encourage young leaders. Byron knows that Peter will build on what Bishop Victoria began.
"He has been there with us, praying that God will move freshly in the Anglican Church, through something new and different. Something that can put us on the map."
"The church has fallen behind a bit in our culture. It is seen as 'old news'. Peter knows that as young people we want our church to get back out there with what we have to offer and we know he is with us on that."
At Peter's ordination the diocese got a musical taste of how Peter might go about that.
The Anglican cathedral tradition was still there, with a combined choir conducted by Dr John Linker bringing in singers from St Barnabas, St Peter's Riccarton, St Michael and All Angels and All Souls churches, Cathedral Grammar School, St Margaret's College, and the Cathedral choirs.
But as the assembly waited in prayer for the Holy Spirit to descend for the sacred moment of laying on hands in ordination, the two singers locked in harmony were backed by a contemporary worship band, calling on the Spirit through contemporary song, "Wairua Tapu naumai – Holy Spirit welcome."
In the sun-soaked square after Peter had taken his bishop's seat in the carved wooden 'cathedra' atop a podium just outside the ruined cathedral's cordon, Mayor Lianne Dalziel thanked Bishop Peter for choosing to be installed in the square.
Peter hoped that symbolic gesture would underline his and the church's commitment to rebuilding not only the broken church at the heart of the diocese, but to be there for the still hurting people throughout the whole diocese, through the ministry of the churches, social services and mission arms in their care for those beyond church walls.
In his final words Bishop Peter Carrell zeroed in on the Gospel promise that had brought him to take up the bishop's mantle – the call to lead his people to be in the world to offer the hope of Christ for all, and especially for the last, the lost and the least.