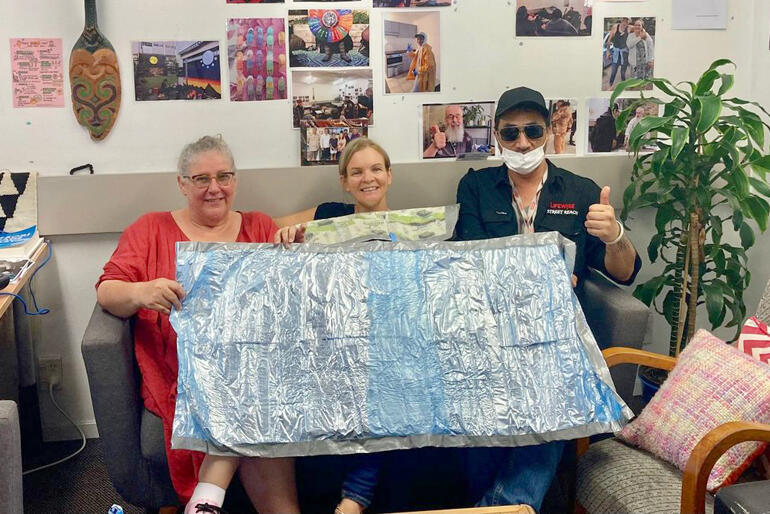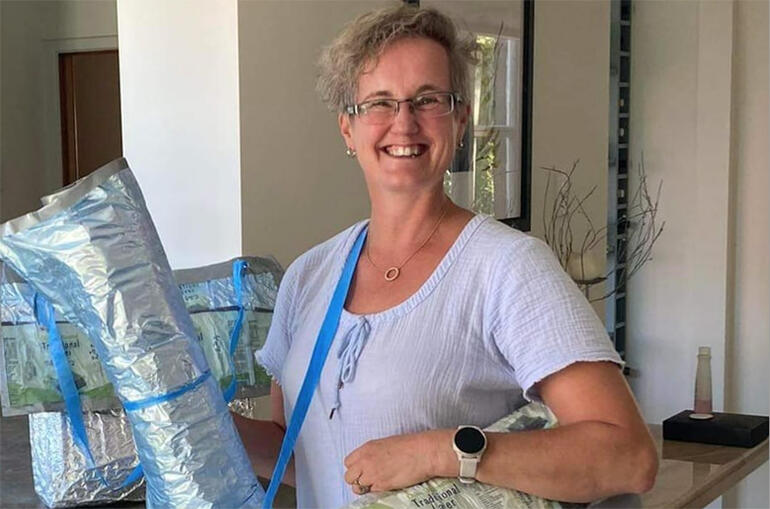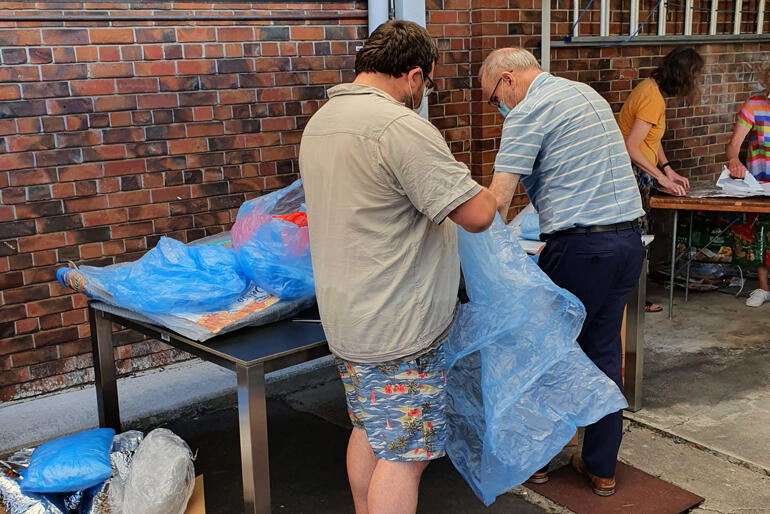 Auckland Anglican Terrena Griffiths is encouraging churches to get involved in a new project she launched for Aotearoa New Zealand during the September 2021 lockdown.
Known as the "Chip Packet Project NZ (CPPNZ)," the national organisation that Terrena coordinates is modelled on the UK's Chip Packet Project started by Hastings-based artist Pen Huston. Worried by news of people dying from exposure on UK streets, Pen found she could make survival blankets to protect people sleeping rough by fusing together washed and flattened foil-lined chip packets.
Today her organisation has grown to provide the survival bag service in several UK cities.
In Aotearoa, volunteers have taken up the challenge of upcycling used bubble wrap and foil-lined single use packaging – from the foiled-lined packets of potato chips, nachos or crackers and fusing them together to make survival sleeping bag covers. The tools they use are simple: an iron, some baking paper and a breadboard.
Once the flattened and fused packets are attached to a bigger sheet of plastic they can be used as survival blankets, pillows or ground sheets to help protect people sleeping out in the elements.
"It's actually fairly easy to clean, dry and fuse packets together to create all sorts of useful items like survival sheets, pillows, ground rolls and other essential items for those without a place to sleep." Terrena reported.
Chip Packet Project NZ works to coordinate groups who collect packets and make survival sheets and then works with support services to get the survival covers out to people in need.
"Sadly these survival sheets may not only be helpful for people who are sleeping outside, but also for those who are unable to heat their homes due to fuel poverty." said Terrena.
The Chip Packet Project NZ's sleeping bag covers work in the same way as commercially-produced survival sheets that New Zealanders might take tramping – by reflecting heat back onto the body via their foil lining.
The chip packet survival bags are designed to go over the top of sleeping bags or blankets as an extra layer of protection from the cold and rain, while their pillows and ground rolls use layers of plastic, foil packaging and bubble wrap to help keep people up off the ground.
Two pillows and two survival blankets made by CCPNZ teams are currently being trialled in the field through the Auckland City Mission, with the help of the Mission's Health and Social Services manager Jacqui Dillon, and more are being trialled by the Lifewise Trust.
At Terrena's Anglican Church of St Philip's in St Heliers, the parish sustainability champion Tsana Plessius pitched the CPPNZ idea to vestry late last year. They agreed to get on board and now a dozen or so congregation members take part in "Think Fusion, Think Friday" where they meet to make the building blocks for the 144-chip-packet survival blankets.
During the September 2021 Tamaki-makaurau lockdown St Philip's also set up a contactless chip packet drop-off box.
"Fusion Fridays have been a great atmosphere, with people excited to learn how to help out." said Tsana Plessius.
"Our congregation members were keen to take the packets out of landfill and to help protect people in need at the same time."
CCPNZ lets its volunteers know it takes 80 years for a chip packet to decompose in landfill – which means each survival cover saves a good chunk of plastic. So far CCPNZ has removed 2592 chip packets from landfill, to make its first 18 survival covers.
This year, a new CPPNZ partnership with the Duke of Edinburgh Awards' Environmental Kākāriki Journey scheme has invited students to prepare CCPNZ survival gear as part of their Award.
Terrena acknowledged the Chip Packet Project does little to address the two huge problems that tower above it: plastic waste and housing poverty.
"Unlike the UK where this project began, there is no sign that our Government has any inclination to phase out foil packaging, even though it is so damaging to the environment." Terrena said.
"But we hope this chip packet project will have a ripple effect...especially with young people as they learn about the waste that each foil package leaves behind. It takes a couple of minutes to eat your chips, but it leaves a bag that takes eight decades to decompose."
"Taking part in this project will also teach young people what some New Zealanders face when they can't afford to heat their homes in winter."
Terrena says it's important to understand that the Chip Packet Project set out as a humble scheme to help people living without shelter get through that crisis moment.
"As one person in the UK put it, 'When you have nothing – this is something.'"
Now the CCPNZ wants to create momentum by establishing fusion groups in each New Zealand city. As a former youth and families minister at Holy Trinity Cathedral, Terrena sees lots of ways church communities could play their part.
Currently, there are four CCPNZ foil packet collection points in Auckland, one in Dunedin and one in Wellington.
For more info on how you, your church, your AAW or youth group can take part in CCPNZ, go to the CCPNZ Facebook page @chippacketprojectnz.