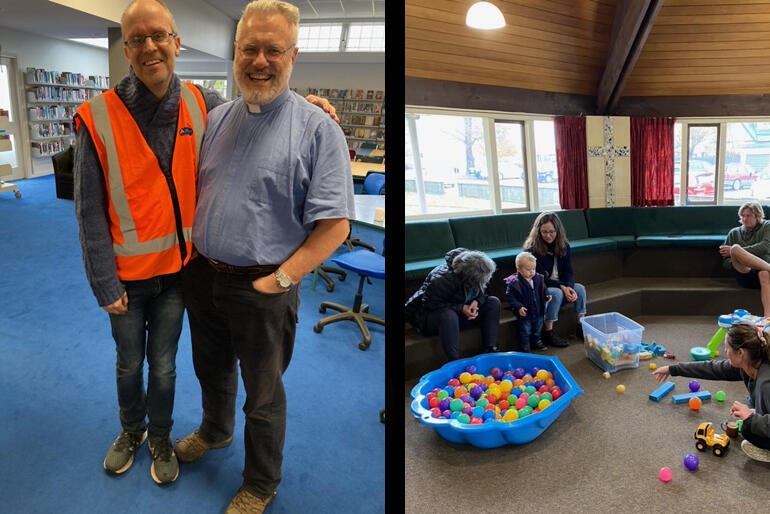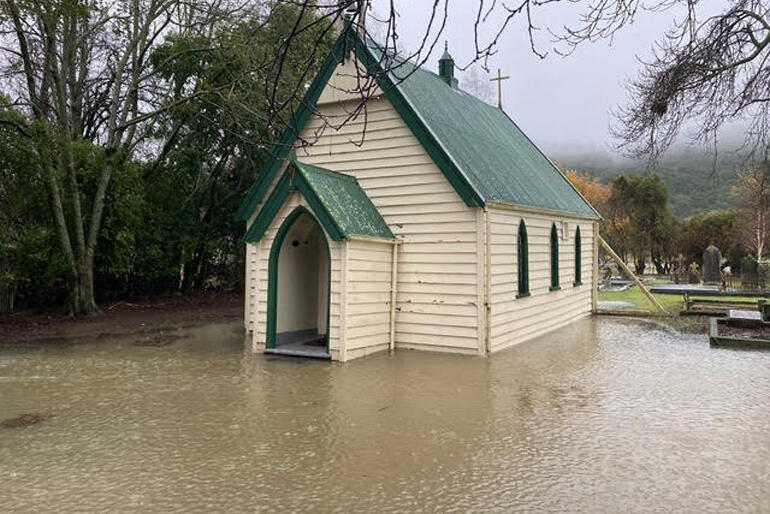 Anglican clergy in Ashburton, Geraldine and Temuka have stepped up to support their communities in rural Canterbury as multiple rivers burst their stopbanks and caused widespread flooding across the region on Sunday 30 May, resulting in road and bridge closures.
With rivers in flood last Saturday night, churches in Geraldine, Temuka and Pleasant Point made the decision to close their doors on Sunday, as rising water levels threatened to strand parishioners. Most churches in rural Canterbury's flood zone look to have fared well in the weekend's deluge, although to date no flood impact reports have come in from Te Pīhopatanga o Te Waipounamu.
Archdeacon of Mid-Canterbury Ven Joan Clark reports that while Anglican church buildings in the district look to be undamaged, farming parishioners at Rakaia, Methven, Mayfield-Mount Somers, Hinds and Ashburton parishes will now face hundreds of thousands of dollars of damage to farm infrastructure and winter baleage, as well as lost income from milk dumped due to road closures.
"At the moment it's hard to get in touch with everyone, because farmers are very busy managing their flood-damaged fencing, moving and feeding stock and assessing pasture and infrastructure damage. Some farming families are also still isolated by closed roads." said Archdeacon Joan.
"As a church we are staying in touch with people to let them know we care, and that we are ready to help in whatever way we can."
Joan also reports that in Canterbury towns flood-related road closures have put pressure on grocery supplies. Supermarket shelves were left stripped bare in Tinwald earlier this week after road closures set off panic-buying.
Vicar of Geraldine, Rev Tony Kippax joined his town's civil defence response on Sunday morning, when at 6.30am Presbyterian minister Rev Alastair McNaughton rang to say the town centre's Waihi River was threatening to cut the town in half, after rising approx. 3.5 metres in 24 hours.
"He asked to deputise me to a second welfare centre at Geraldine High School, in case the river closed the bridge and cut off our side of town from the library welfare centre he was staffing on the other side."
That was no problem for Tony, who after 27 years in military service knew how to be on deck at a moment's notice. Tony joined two other staff and Centre Manager Jenine Maguire to welcome people who needed a dry calm place to figure out what to do, including some who had evacuated from homes or temporary accommodation.
"Our job was to let them know what services were available (via contacts with Fire, Police and road crews at the twin welfare centre) and provide reassurance and a dry, warm environment where people could take stock and work out their next move. It worked well."
Also on Sunday, Tony stepped into a chaplaincy support role in a civil defence team evacuating residents from a low-lying Geraldine resthome into another facility on higher ground.
"It was good to be there to help reassure both residents and staff as they made the move."
Tony reports that a 160 year-old wooden Anglican Church in his care had a near miss during the flooding, when St Anne's in Pleasant Valley saw the edges of the Hae Hae Te Moana River lap right up to its floorboards before receding again.
In Temuka, where the Orari River cut the town off to the north, Vicar of Temuka Rev Shirley Hawke opened St Peter's Anglican Church Hall to welcome people looking for a safe warm space where children and families could take a break as flooding stranded them in the town.
Shirley says that even though the church buildings around the district look to have been spared, everyone in those parishes will be directly affected in some way.
"It is going to take a long time for farmers to clean up. There's so much damage on all the affected farms."
In the meantime, Shirley says Anglicans in Temuka have connected flood hit farmers with help from the Rural Support Trust and assisted a local family flooded out of their home.
Rev Tony has driven around his district as far as he can reach to find out how people are faring. That's reminded him how resilient rural Canterbury people are, and he's confident that even though they're facing a setback, they will find the resources to do what needs to be done.
"But we will still need to be looking out for each other."
"People are feeling good to see the rivers go down and the downpour stop, but at the same time pastoral needs won't end once the rain has drained away."
Photos
Geraldine Revs: Rev Hugh McCafferty
Temuka play space: Rev Shirley Hawke
St Anne's Anglican Church: Paul Sagar