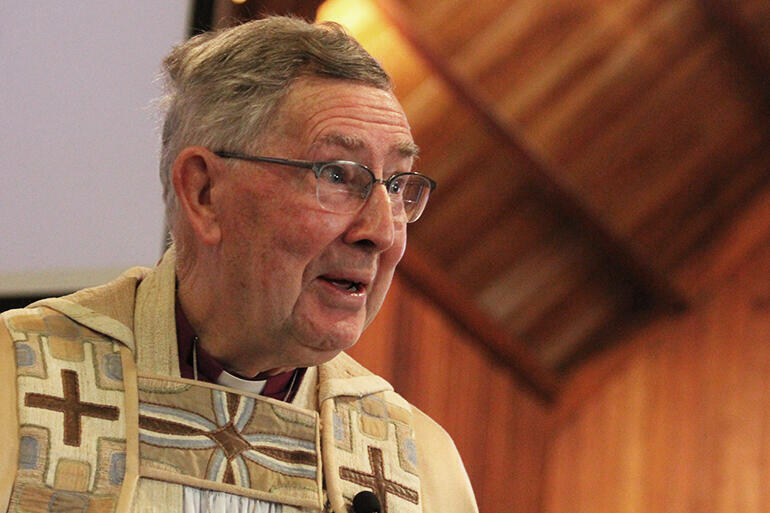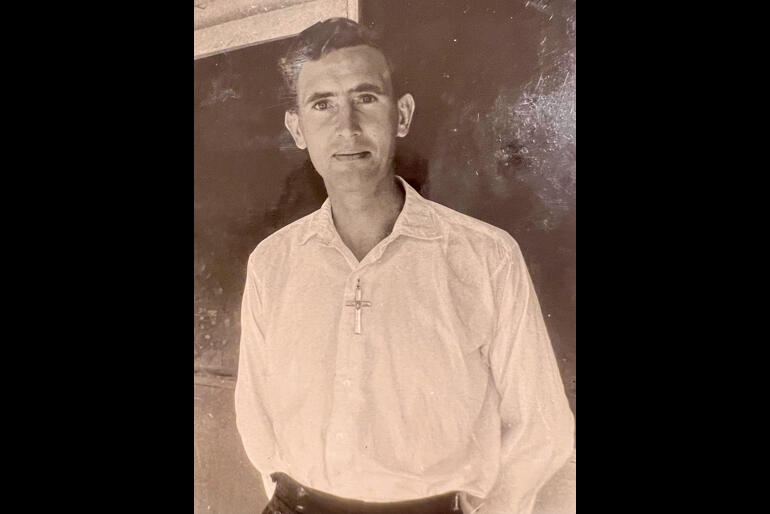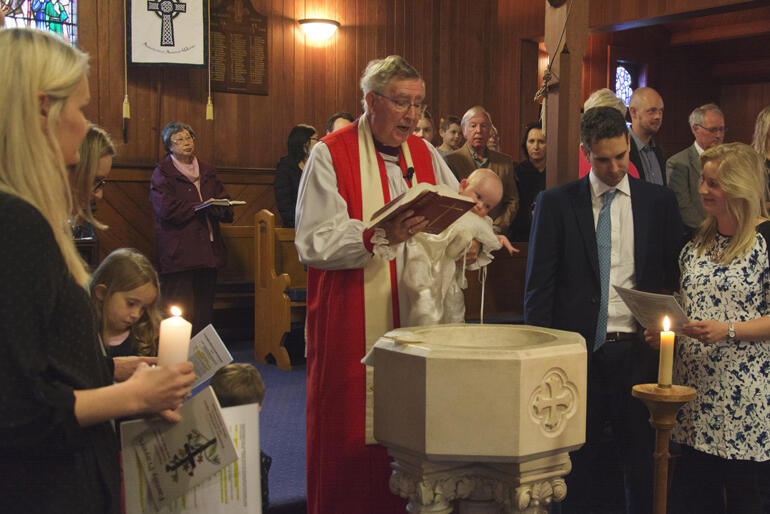 Bishop Peter Atkins, who died aged 86 this May, has left a legacy of ministry service that reached far and wide over his lifetime of 60 years in ordained ministry and continued to touch the lives of people he cared for right up until his last days.
Peter Atkins began life in West Cork in Ireland in 1936. He then went on to schooling in England where he attended Former Archbishop of Canterbury Robert Runcie's old school, Merchant Taylors' School in Crosby.
After school, Peter undertook his military service in the Irish Guards, and then like his father before him, served as an Officer in the King's Regiment of the British Army. The Army taught Peter many of the same skills that he would later apply to his ministry in church, community and ecumenical collaboration – organisation skills, attention to detail, and working in teams to make things happen.
Peter inherited a passionate dedication to education from his family, which led him "by grim determination and work ethic" to gain a scholarship to Cambridge, where he gained a BA and MA from Sidney Sussex College.
After moving to New Zealand, Rev Peter Atkins was ordained in 1963, and served as the curate of St Mary's Karori in Wellington, gaining his Licentiate in Theology and Bachelor of Divinity (1964). While in Karori parish he met his future wife Rosemary, who was to become his lifelong partner in ministry – but not yet.
In 1966 Peter moved to the Solomon Islands, to serve as a priest tutor at St Peter's Theological Seminary in Siota.
Bishop George Connor first met Peter Atkins when George arrived to take over the Theological College teaching post in Siota. He soon discovered the extra care Peter had taken to support his students' learning.
"Students at that time – from throughout Melanesia and from multiple cultural and linguistic backgrounds – were mostly ex-senior catechists, for whom English was their third or fourth language."
"The students were grateful for Peter's careful and encouraging teaching."
And when teaching resources fell below the standard, Peter took the matter into his own hands.
"One of Peter Atkins' projects there was to prepare an edition in basic English of a comprehensive Theology of the Old Testament (somewhat parallel to the West African edition of A.M. Hunter's Introducing New Testament Theology.)"
And when Peter departed Siota he left behind him the Christian education syllabus that he and Brian Macdonald-Milne had developed for junior and senior primary schools across the Solomon Islands.
When Rosemary visited Peter towards the end of his ministry in the Solomons he proposed to her there, beneath a frangiani tree. Shortly after his return in late 1967, they were married and together moved to Dannervirke where Peter was curate; his first role in the Diocese of Waiapu.
"Their life was centred on faith, family and fulfilling their ministry in every place they lived. Hospitality was always key." recalls Peter and Rosemary's daughter Sue Atkins (Taylor).
Peter and Rosemary then went on to parish ministry as Vicar of Waipukurau, then as Diocesan Registrar from 1973-1979 and as Vicar of Havelock North up until his election as Bishop of Waiapu in 1983.
Former General Secretary of the Anglican Church in Aotearoa, New Zealand and Polynesia, Robin Nairn followed on from Peter Atkins as Registrar of the Diocese of Waiapu in 1979 and was glad to receive his predecessor's friendship and support for many years thereafter.
"The wisdom, guidance, interest, friendship and care of both Peter and Rosemary Atkins, helped sustain me in that position for sixteen years, then for a further twelve years as General Secretary of our Church. I will always be grateful."
For Robin Nairn, Bishop Peter's life and ministry was epitomized in 2 Timothy vs.15:
'Do your best to present yourself to God as one approved by him, a worker who has no need to be ashamed, rightly explaining the word of truth.'
Bishop of Waiapu Andrew Hedge reports that Peter and Rosemary Atkins are remembered fondly in Waiapu for their team approach to ministry and their welcoming hospitality. Many appreciated Peter's care for education and detailed concern for the liturgical life of the church.
"Peter will also be remembered for his dedication for seeking justice and equity in the life of the church and community." said Bishop Andrew.
"In many ways the work the Anglican Church is doing now with Nga iwi o Tauranga Moana has been work that Peter contributed to decades ago as Bishop of Waiapu."
Bishop John Paterson has highlighted Peter Atkins' support for the Pīhopatanga when he served as its registrar through the Diocese of Waiapu.
"When I first took up the role of Secretary of Te Pihopatanga, it was Peter Atkins who handed over the books and records, including the cheque book, because in his role of Diocesan Secretary of the Diocese of Waiapu. Peter had cared for the Bishop of Aotearoa and managed his ministerial and administrative responsibilities."
"Peter then was able to use that experience, that cultural understanding, to be a wise and effective partner bishop."
As well as working for the Bishop of Aotearoa, Peter spent long hours travelling around Waiapu alongside Bishop Paul Reeves, offering priestly formation and training for Māori ordinands preparing for local ministry. As a member of the Prayer Book Commission, he advocated the importance of texts in Te Reo Māori in A New Zealand Prayer Book – He Karakia Mihinare o Aotearoa.
Bishop George Connor also worked closely with Bishop Peter Atkins when Peter was Bishop of Waiapu and George was Regional Bishop in the Bay of Plenty.
"Bishop Peter Atkins was the model of collegial consideration and courtesy."
Peter Atkins made his mark on the Anglican Church at national and international levels too, particularly in his writing and editing work on the Commission to prepare 'A New Zealand Prayer Book He Karakia Mihinare o Aotearoa'. He served on the Pension Board and on the founding Board of the NZ AIDS Foundation.
Later Bishop Peter chaired the General Synod Commission to "Examine Diocesan Boundaries in Relation to Synodical and Episcopal Care", a significant body of work that enabled General Synod to establish "internal provinces" for Te Pīhopatanga o Aotearoa and the Diocese of Polynesia.
Bishop Peter also contributed to the work of the Anglican Communion, serving on the group that planned the 1988 Lambeth Conference.
In 1990, Bishop Peter stepped away from his episcopal post to once more take up his passion for theological education, becoming Dean of St John's Theological College in Auckland, a ministry he continued until his retirement in 1996.
During his time at St John's, Bishop Peter trained and mentored ordinands and newly ordained priests, a role he enjoyed long into his retirement, alongside supervising students' academic work.
Through his leadership at St John's College, Peter served on the NZ Qualifications Advisory Board, playing a role in shaping education programmes, including NCEA and tertiary standards frameworks.
As well as supporting others' writing, Bishop Peter Atkins' wrote a number of books on scripture and liturgy and with his wife Rosemary published two volumes of prayers for children in 2004 and 2007.
On retirement, Bishop Peter Atkins took on a supporting ministry role at St Aidan's Remuera where he remained a parishioner until the end of his life this May.
St Aidan's Vicar Rev Louise Anderson, says that amongst Bishop Peter's many contributions in ministry, training and leadership, it was the practical outworking of his faith that continued to be an inspiration to her and the St Aidan's parish community.
"I was always struck by Bishop Peter's servant heart. Whilst he was my Bishop for some of my early Waiapu years, it was his practical 'rolling up the sleeves and getting stuck in' attitude that has stayed with me."
For years Bishop Peter had not only led and assisted services and contributed in many ways to the parish, but had joined St Aidan's cleaning bee each year, cared for parents and children at Mainly Music, and offered much in pastoral care standing alongside community members as he did the dishes with them.
"His involvement spoke of doing the mahi, not just empowering others and watching from the sidelines… it spoke of the church community working together as a team no matter what ministry role you may hold, it reflected the Jesus with his sleeves rolled up washing the disciples' feet."
Bishop Peter Atkins died on 11 May 2022. He is survived by his wife Rosemary Atkins, his daughter Sue Atkins (Taylor), son-in-law Bryan Taylor and granddaughters Meaghan and Caitlin.
May he rest in peace and rise in glory. Amen.