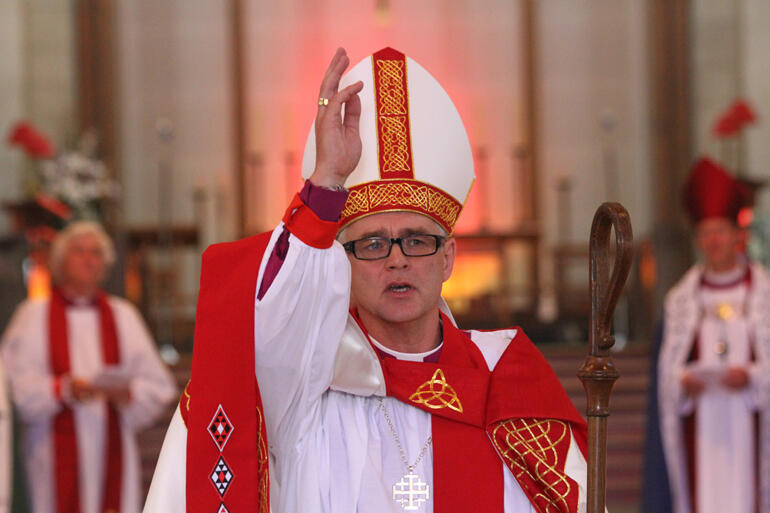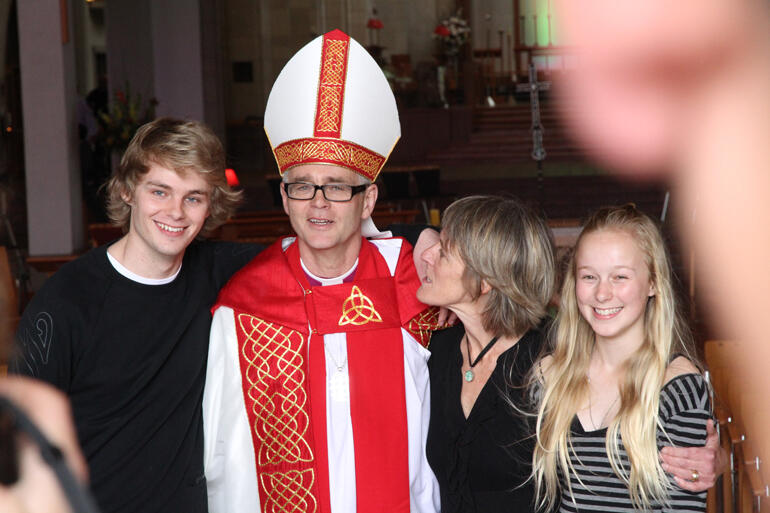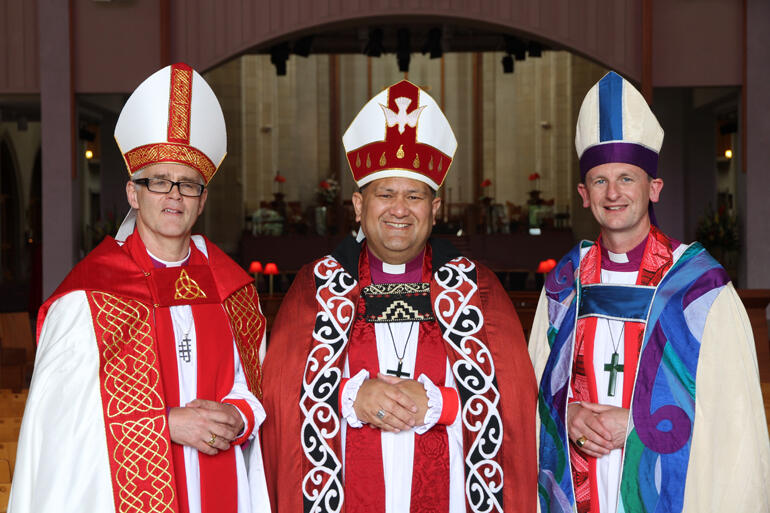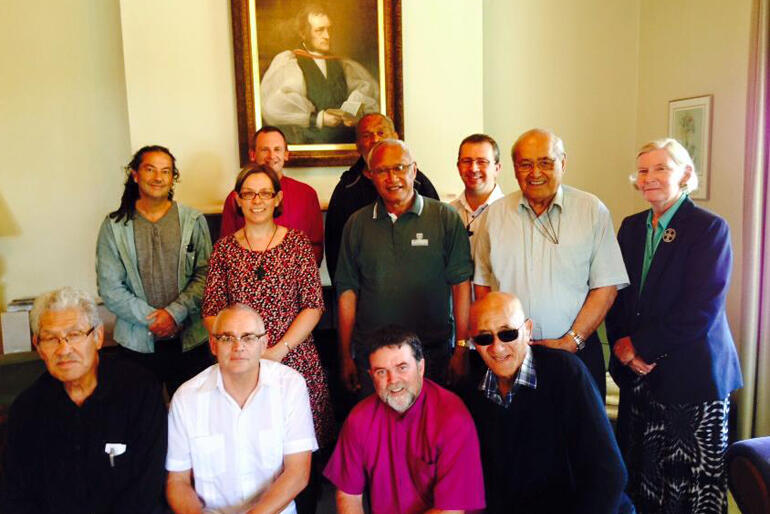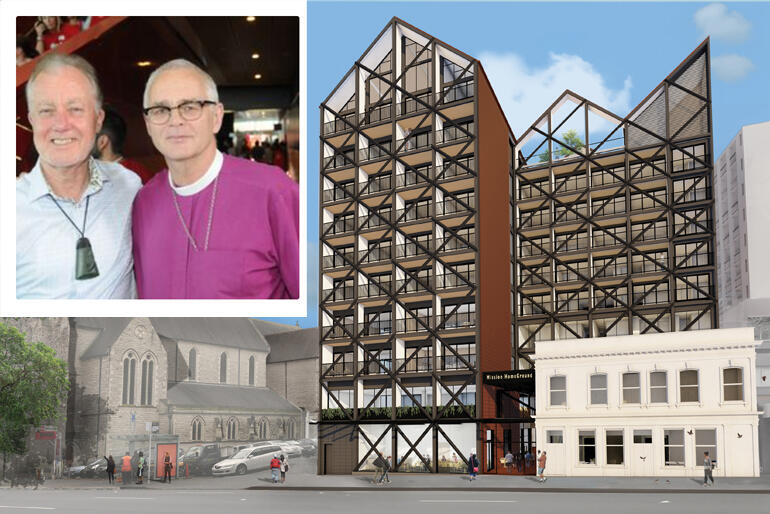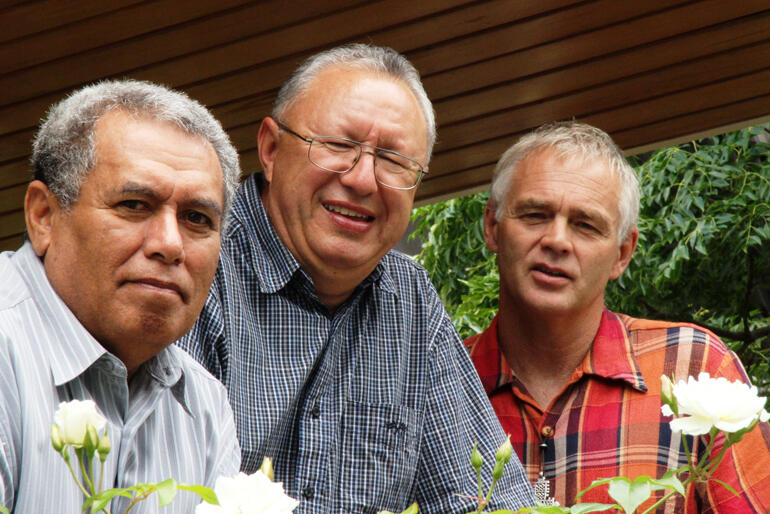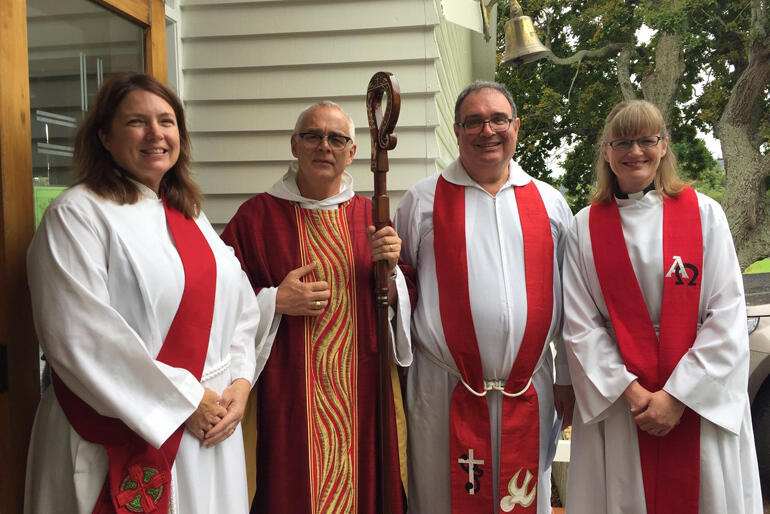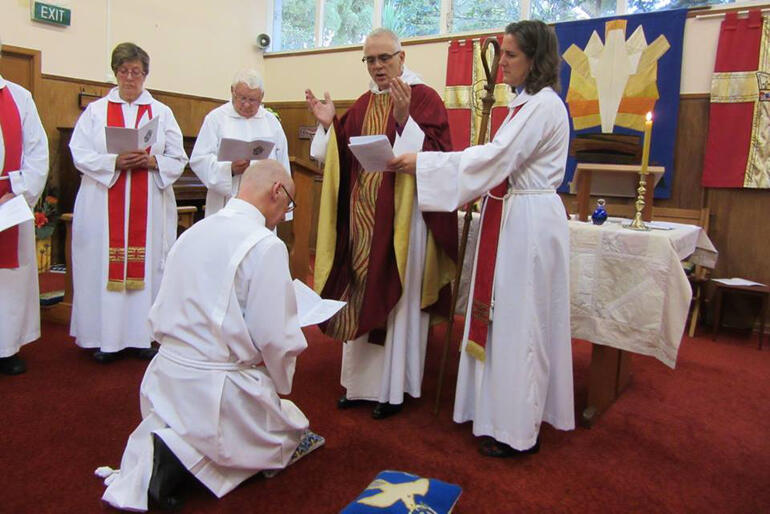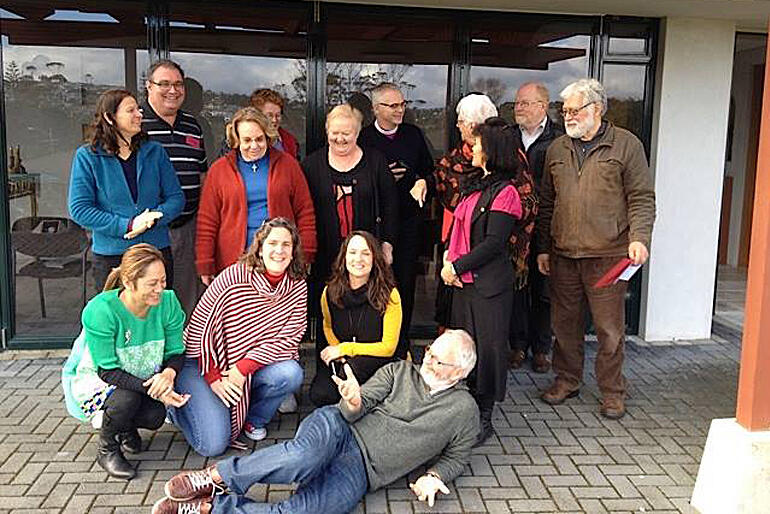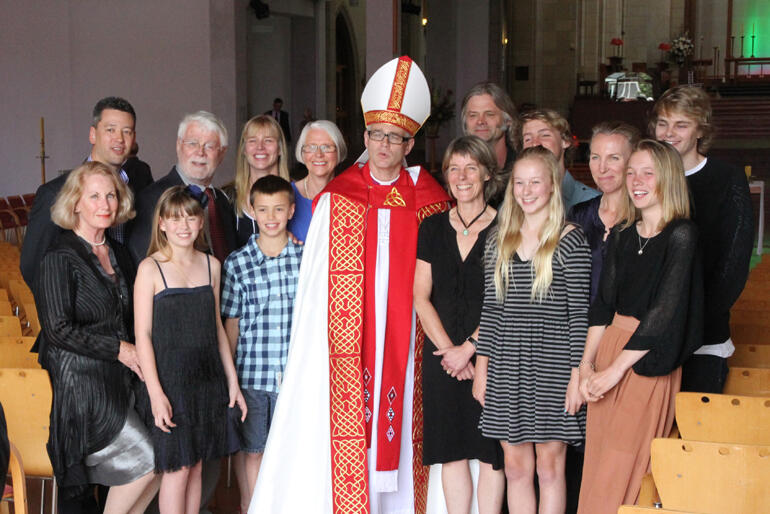 Assistant Bishop of Auckland Jim White has died in Auckland aged 58.
Bishop Jim died in hospital on Wednesday 30 September, more than a year after he was diagnosed with aggressive T-cell lymphoma.
Archbishop Philip expressed his sadness at the loss of his longtime friend and brother in Christ today, who he has known since they first met as members of the same Auckland parish in the 1970s. He talked of the many qualities Bishop Jim has brought to life and ministry in this Church over his years of service.
Archbishop Philip spoke of Bishop Jim's love and friendship, his sharp intellect, his commitment to parish ministry and the uniqueness of the priestly vocation, and his extensive academic pursuits as a 'classic scholar priest'.
Archbishop Philip recalled Jim's time as Dean of Tikanga Pākehā at St John's College, where he says Jim set high expectations of students and nurtured their experience of prayer and the daily office and cultivated their love of the Eucharist.
Archbishop Philip respected and admired Jim for his ability to follow what he deeply believed no matter what the cost – and remembered how that had led to a few rocky patches in their friendship.
"Jim had a strong sense of what was right and just. He was a powerful and uncompromising advocate for the things he believed in."
"At times over the years we needed to come together to seek each others' forgiveness."
"He could be impatient with the Church and its 'careful' ways, especially when those ways seemed to lose sight of those pushed to the margins."
Jim (James Andrew) White was born in Mangakino in 1962 and raised on Auckland's North Shore where he developed a lifelong love of the sea.
In 2014 Bishop Jim described himself as "a husband, father, a bishop in the Anglican church and a pilgrim." He met his wife Jane Hart early on when both were students at Rangitoto College. Jane survives him today, along with their two children Samuel and Sophie.
An early sign of Jim's strong commitment to justice came in the 1980s when he took to the water in the anti-nuclear flotilla that protested US nuclear warships entering Waitematā harbour.
In 1983, then Bishop of Auckland Paul Reeves, recognised Jim's call to ministry and sent him to Dunedin to study theology at Knox College and the University of Otago. Jim graduated with a Bachelor of Theology in 1986, was ordained deacon in 1987, and priested in 1988.
He ministered at St Luke's Mt Albert in 1987- 1988, and then served as Chaplain of Diocesan School for Girls from 1989 to 1991. He was priest assistant at St Matthew's-in-the-City in 1992, and in 1993 began a 12-year ministry as vicar of inner city Auckland parish, All Saint's Ponsonby. During that time he served as a Rector in the Diocese of Newark in a clergy exchange in 1996.
While at All Saints, Jim served on the clergy roster for Auckland Community Church, which ministered to the LGBTQ community. That helped inform his years of dedicated work for full inclusion of LGBTQ people in the life and ministry of the church.
A strong player in the Anglican Church's move to enable clergy to bless same-sex couples' relationships, Jim also led work for the whole Church on developing liturgies of relationship blessing, which were presented to General Synod Te Hīnota Whānui in 2018.
Fe'iloakitau Tevi served by Jim's side in a working group that looked at Bishop Jim's draft of those liturgies.
"In Jim I was able to see a real leader of the Church in his care to ensure we were all heard in that group…. in discussions and talanoa around same gender relationships. His leadership and commitment to the Church will be sorely missed.
"Rest in Peace and rise in glory Bishop Jim. 'Ofa atu moe lotu."
After some time on St John the Evangelist Theological College Boards, and teaching Anglican Studies, Jim served as Dean of the College of the Southern Cross at St John's from 2009-11.
Rev Peter Bargh and Kahu Bargh were students at that time and remember Bishop Jim as a gifted teacher and sensitive pastor.
"As Pākehā Dean at St John's he led ably in turbulent times. He was sympathetic to students who struggled, and exhorted capable students to loftier goals. He had one of the sharpest theological minds in our Church," they wrote this week.
"We will miss his wisdom and leadership. He was a friend and mentor, somebody we appreciated being able to debate, joke, lament, discuss and pray with."
From 2011 up unto his retirement on medical grounds last October, Bishop Jim White served as Assistant Bishop of Auckland, and as a partner in episcopal ministry with Bishop of Auckland Ross Bay.
Bishop Ross said many around the diocese have expressed their sense of loss at Bishop Jim's death, especially those he cared for most closely: the Auckland City Mission Board, Local Shared Ministry teams and parishes he cared for as a visiting Bishop or a leader of the Diocese's Healthy Church Consultations.
"There is a huge amount of respect and affection for Jim, and appreciation for the wisdom he shared. Jim has contributed enormously to the Church's life both in the diocese and beyond."
Auckland City Missioner Chris Farrelly worked with Bishop Jim on a weekly basis over the last five years, since 2015 when Jim became Chair of the Auckland City Mission Board.
"Jim was passionate about changing the lives of people who are in the most vulnerable circumstances. But he also challenged the Board on tackling the deeper reasons for our work and called into question the unjust structures below the surface."
"He was a man who fought for justice and equity and he brought a rich and diverse Board along with him to make that happen."
Chris Farrelly reports that Bishop Jim's quiet advocacy gathered in faith communities, community groups, City Council and Government into the Mission's vision of a shared project for all Aucklanders, growing the once-stalled HomeGround project from a $70m plan with only $8m on the books, to a $110m project with only $4m left to raise.
"Jim broke the mould of the past. Many organisations had been saying 'Our flag is bigger than the others' flag, our cross is bigger than the others' cross.' Instead of that, Jim said, 'We're going to do this together.' He changed the mantra, and it worked."
"Jim is a huge loss to us. He really was a man for the times. A man of the future. To have that cut off at this time is a real loss."
Jim White was as an avid student of theology.
Bishop John Bluck met Jim as a young student in his class at Knox College more than thirty years ago. Today he says Jim has grown to hold a unique place in our Church's leadership.
"Jim represented an Anglican tradition that is catholic, liberal, inclusive and increasingly hard to find."
"His legacy will continue to be a source of inspiration to all those who feel they are working against the grain in their attempts to build a community that is just and generous and inclusive, one that shows what it means to be salt of the earth in Aotearoa – as he used to say."
After study for the priesthood, Jim White completed a Master of Arts at Auckland University; and in 2001 he received a St John's post-ordination scholarship to study philosophical theology at Yale for a Master's in Sacred Theology (STM). While studying in the USA Jim served as an Assistant Priest at Christ Church New Haven in the Diocese of Connecticut.
Rev Jacynthia Murphy worked on a small group with Bishop Jim where she observed up close his careful, thorough and scholarly approach to a review of the Church's liturgies of Christian initiation.
"Bishop Jim put his heart and soul into that research, and we watched how he went deep into the history to follow the course the theology had taken up till today."
Jacynthia remembers fondly how Bishop Jim responded when the group became nervous how the church might receive the research.
"He was so good to work with because he was so willing to be open, and to question authority when needed."
"He had a raw honesty and could apply a frankness when our being nice would get in the way."
In May this year Bishop Jim graduated (remotely) with a Doctorate in Ministry from the University of the South in Sewanee, Tennessee. His thesis, 'Locus Iste: Sacred Space as Sacrament' delved into his love of sacred space, profound liturgy and the sacramental power of church architecture.
As Assistant Bishop of Auckland Bishop Jim had a close pastoral and professional support role for Local Shared Ministry (LSM) enablers and their church communities.
LSM Coordinator Rev Megan Means worked with Bishop Jim over the nine years he cared for Local Shared Ministry enablers and their teams and worked with parishes across the diocese through the Bishops' Healthy Church Consultation.
"Bishop Jim brought integrity and wisdom to his work. He was loved and appreciated not only as a great preacher and teacher, but for his loving pastoral care and guidance."
"It was sign of people's affection for Jim, just how many people continued to ask after him and how often, well after he retired. They still had loving concern for him right through his illness. We are very sad to lose him."
A Requiem Eucharist will be held for Bishop Jim White at Holy Trinity Cathedral, Parnell in Auckland at 11am this Friday 9 October 2020.