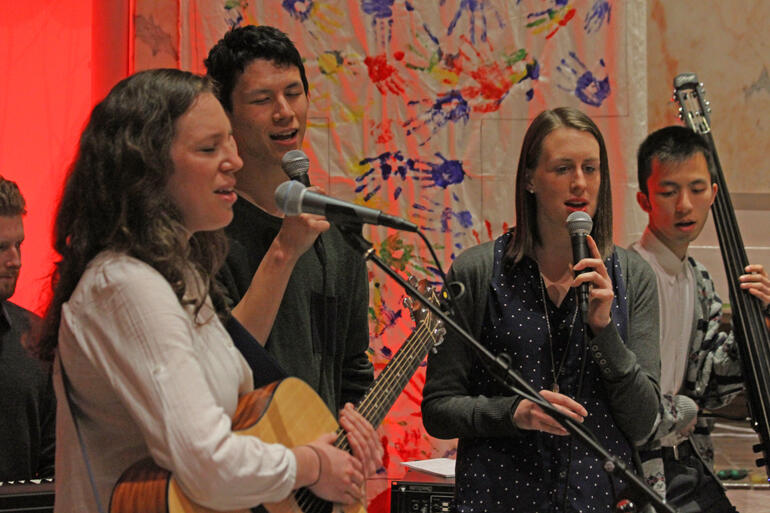 Wellington's Blueprint Church has released an album of contemporary arrangements for corporate worship drawing on the Eucharist liturgies, Night Prayer and the Daily Offices from A New Zealand Prayer Book / He Karakia Mihinare o Aotearoa.
Reconciled is a full-length recording that ties together threads from the prayer book services alongside original songs from Blueprint's journey as a young adults' congregation in Central Wellington.
Blueprint became a pioneer mission unit of the Wellington Diocese in 2013, and seeks to find ways to re-engage young adults with faith in Jesus and the beauty of the Anglican tradition.
"As our community began to embrace a culture of daily common prayer, and sharing the Eucharist together each Sunday, we started to feel new songs arise that helped us engage with the richness of Anglican tradition in an expression that made profound and powerful sense to millennial Christians" said Blueprint's Rev Scottie Reeve.
"The album is about the reconciliation that Christ brings in every sphere of our lives and our world. Reconciliation between us and God, between old and new, and between peoples in Aotearoa.
Reconciled draws from ancient liturgy and scripture, and our unique experience as a community trying to reconcile the broken things in our central Wellington neighbourhood."
Blueprint's musicians spent a weekend at Ngatiawa River Monastery refining musical arrangements in late 2017, and then recorded in March this year with Vivek Gabriel in the chapel of St Jude's Lyall Bay, where Blueprint has recently sent a team to replant a dormant parish.
The album is free to all on Spotify, iTunes, and at reconciled.co.nz from today. Parishes wanting chord charts can request them from blueprintchurch@gmail.com