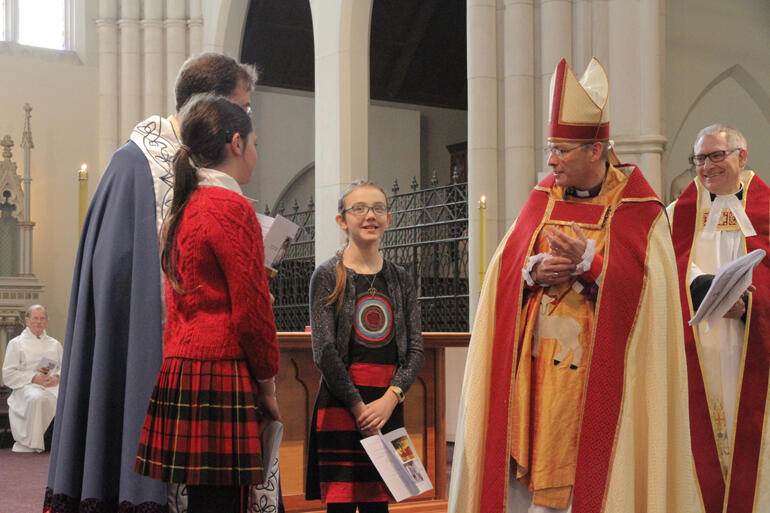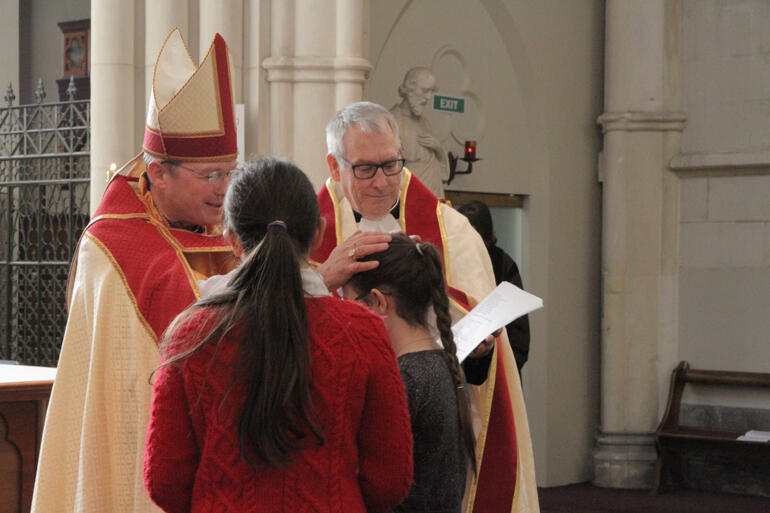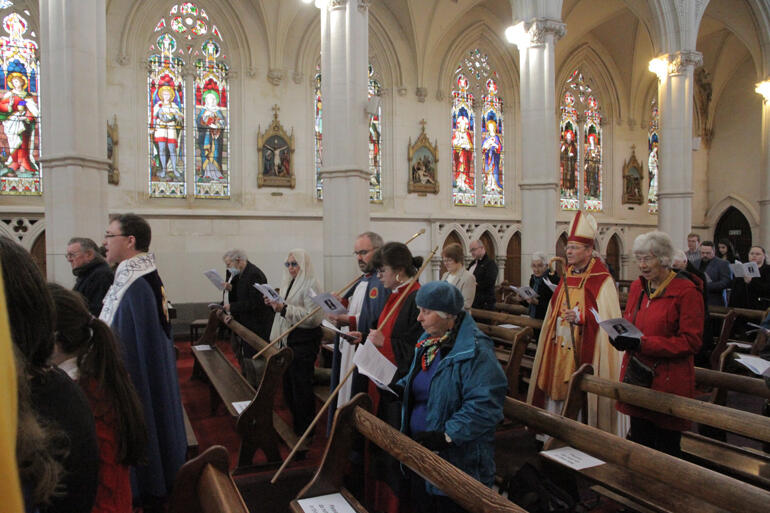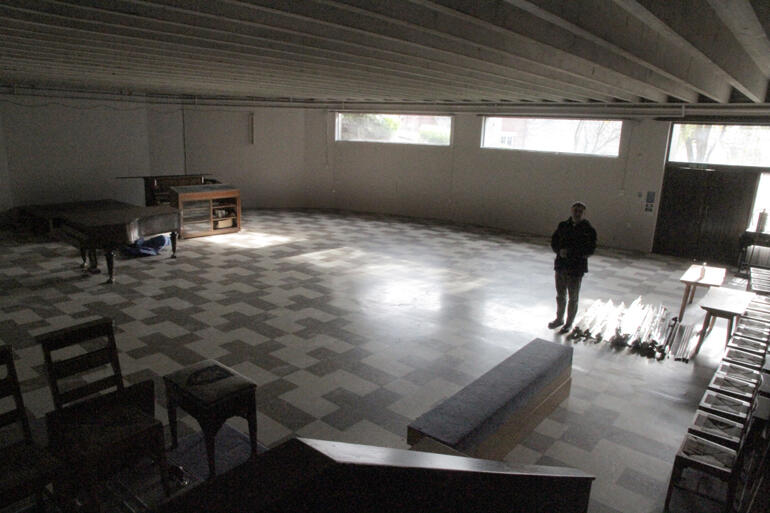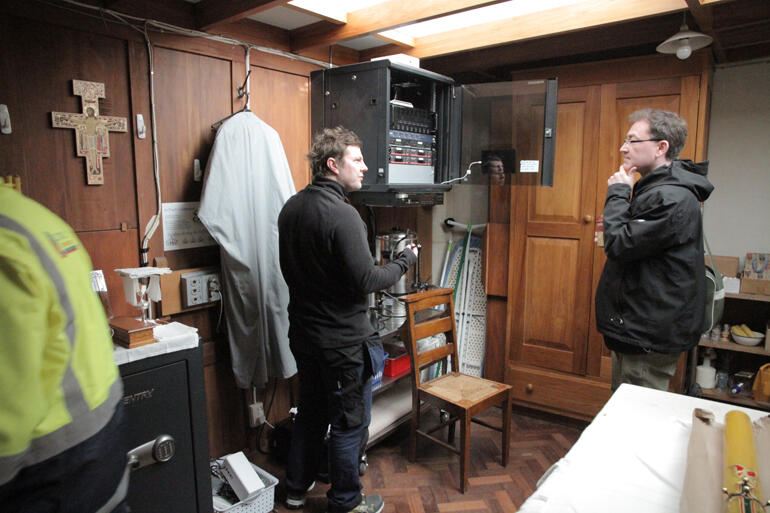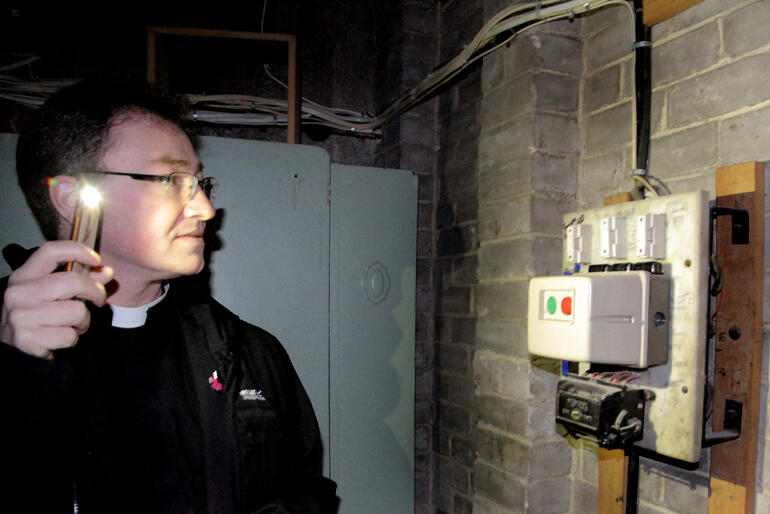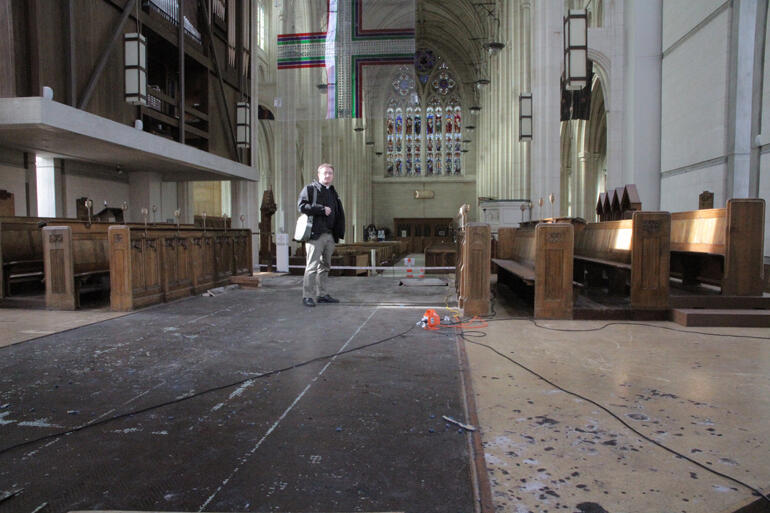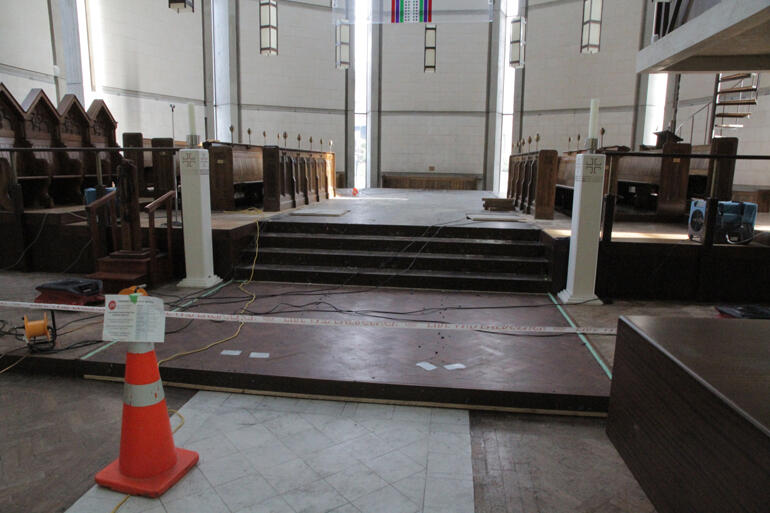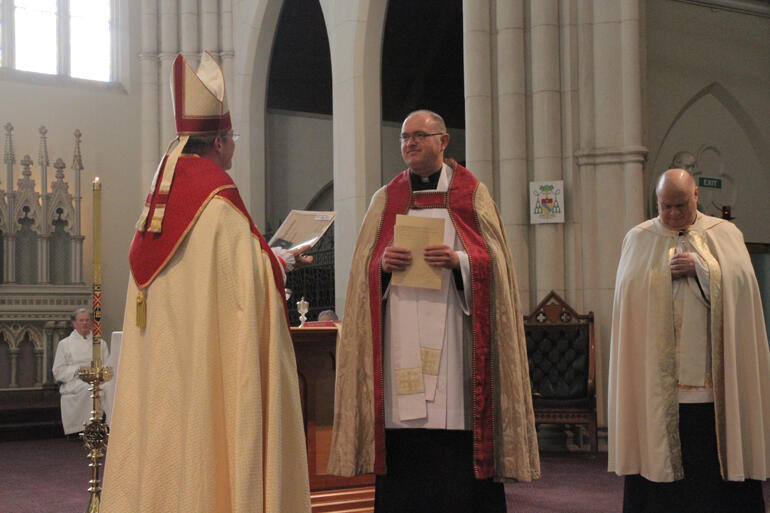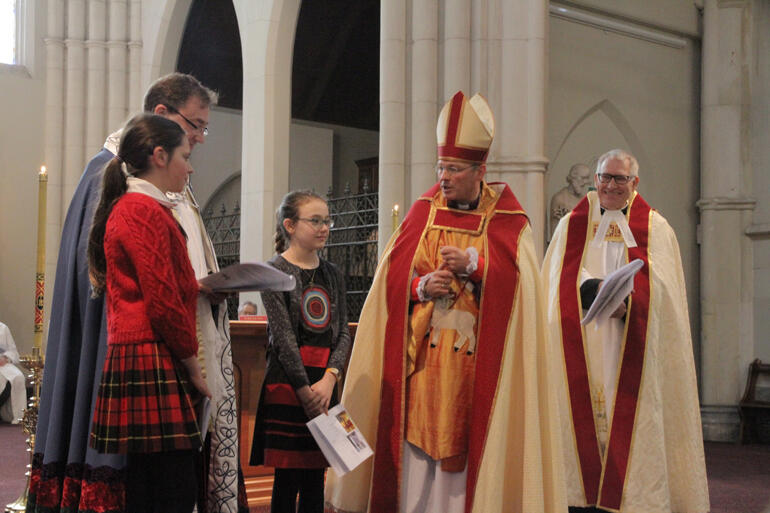 Dean of St Paul's Cathedral Dunedin, the Very Rev Tony Curtis has reported a week of ups and downs since last Tuesday's Cathedral fire.
On Wednesday morning, Dean Tony arrived to find the Cathedral crypt flooded back to the same level they had pumped it dry from the previous day.
"The water seemed to come from nowhere, but it had kept running through the building all night. We could see this clean-up was not going to be as straightforward as we'd hoped."
Water had seeped through the scores of holes drilled into the Cathedral floor that fed wiring into the building's heating systems, lights and electrical fittings.
"After two days of water running through the Cathedral wiring, everything electrical in the crypt is now unsalvageable," said Dean Tony yesterday as he pointed out a dozen now-useless heating panels and a full set of defunct fluorescent lights.
While power remains out in the sanctuary and Cathedral crypt, expert assessors are roving over St Paul's both inside and out to report on the extent of damage to electrical wiring, apse roofing, sanctuary staging and floors and to the pipe organ's blower mechanism.
Eight industrial-sized dehumidifiers have been on the go 24 hours a day this week in St Paul's Cathedral sanctuary, and two more are drying the blower room beneath the pipe organ, which turned into a dripping cave for 48 hours, streaming water through its two electrical boards. Further damage to organ pipes has left behind a $20,000 repair job.
Meanwhile in the Cathedral sanctuary, with carpet already gone, the whole built-up staging area must be removed to install builders' scaffolds so that workers can get up to reconstruct the burnt-out and waterlogged sections of the apse roof.
"It is looking like a rebuild and repair project that we'll be counting in years rather than months." said Dean Tony yesterday.
One bright spot on the Cathedral's horizon is that when damaged flooring comes out of the sanctuary, undercroft kitchen and facilities areas, the Cathedral will be able to build in some already planned accessibility upgrades.
"We had decided to put in better access for people with disabilities already, so this will be a good opportunity to build that into the reconstruction, especially in the crypt." said Dean Tony.
An unexpected shock for the Cathedral as they reeled from the fire last week, was the sudden return to Covid-19 Alert Level 2.
Almost immediately, two Anglican inner city churches – All Saints' Dunedin North and St Matthew's – had reached out with offers for St Paul's to join them for worship last Sunday morning.
But the new Level 2 restrictions on gatherings of no more than 100 meant the Cathedral congregation couldn't take up either offer.
So a new offer from Monsignor John Harrison and Bishop Michael Dooley came at just the right time. The St Joseph's congregation had space free for St Paul's to use the downtown St Joseph's Cathedral building on Sunday afternoon.
"We were overjoyed that St Joseph's reached out to us with such generosity." said Dean Tony.
Bishop Steven Benford echoed that sentiment to the St Paul's congregation gathered at St Joseph's Cathedral last Sunday, giving thanks for how quickly and generously the Roman Catholic Diocese and St Joseph's community had responded when they saw St Paul's was hurting.
Dean Tony was particularly grateful for the chance for St Paul's to celebrate,
"It really made the difference to be able to hold a joyful celebration of all we have, rather than being focused on all the limitations we faced as we looked toward last Sunday." said Dean Tony.
"It was wonderful that as a community we could celebrate with Ziva as she renewed her commitment to God, as well as license Canon James Harding and Fr Brian Kilkenny to their new Cathedral roles."
As St Paul's faces the discoveries and decisions that will come in the days and months ahead, Dean Tony is praying the Cathedral community will hold onto that same sense of perspective.
"We have so much to be thankful for. We have a wonderful Cathedral team and so much support already offered by the City Council, the mayor and the churches, and that's what we need to keep in front as we work through everything from this point on."