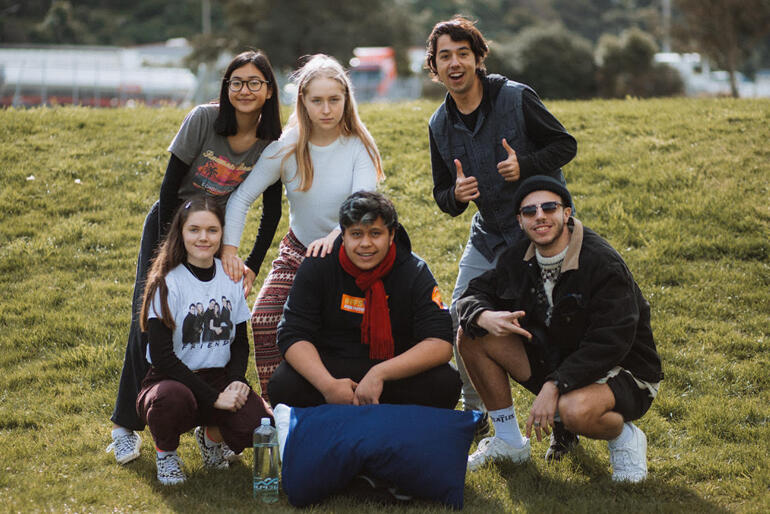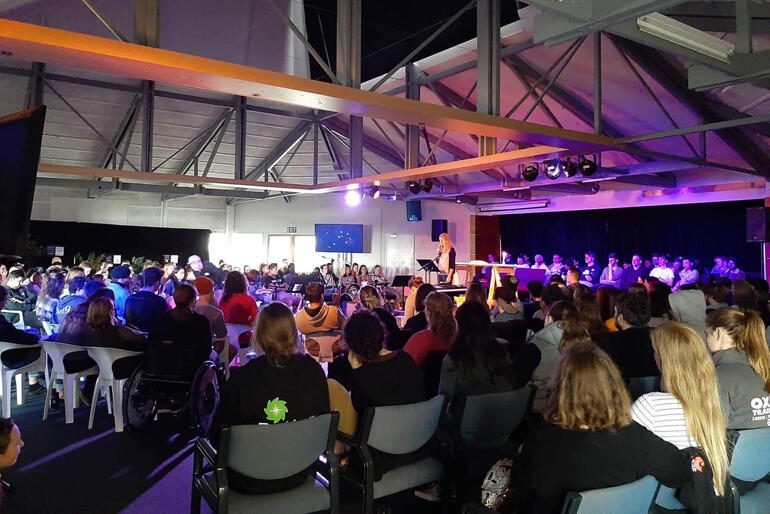 This year 'The Abbey' ministry leaders' conference for Tikanga Pākehā Anglican youth gathered around the theme 'Finding the Way' for its three days of workshops and worship, fun and friendship over 23-25 August.
Around 280 Anglican youth leaders entered into the theme of wayfinding as they wound through the rural hills outside of Christchurch towards their destination for 'The Abbey' which was held at Living Springs Camp on Banks Peninsula.
"Christians have long been called people of the way," said Tikanga Pākehā National Youth Enabler Lorna Gray.
"We remember astrologers following a star across the desert to discover Jesus, and we have a history of the waka that navigated across the Pacific to come and make Aotearoa home."
"As a team we were passionate about weaving together the big story of our faith with the cultural tale of our land, holding the Bible in one hand and Te Tiriti in the other."
With this in mind, the weekend explored fresh ways for Anglican youth leaders to passionately live the counter-cultural way of Jesus alongside our young people.
"It was amazing to see young people who follow Jesus come together and spend time being challenged to more fully live out the call of God as youth leaders in Aotearoa." said Wellington Free Store General Manager Alana Hathaway on her visit to share the story of her inner city food-sharing ministry with the Abbey.
The opening night began with a welcome from Bishop of Te Waipounamu Rihari Wallace on behalf of mana whenua, who was joined by Bishop of Christchurch Peter Carrell, Archbishop Philip Richardson and Bishop of Wellington Justin Duckworth. Bishop Justin offered a profound korero on "Finding our way in the neighbourhood," while the Christchurch-based band led worship joined by Aaron Hardy from Te Rautini in Hamilton, who is well-known for songs such as Tuhia and Kia Kaha.
On Saturday and Sunday of The Abbey a range of inspiring leaders from across Aotearoa led workshops on prayer, prophesying, art, songwriting, spiritual practices, as well as workshops with an outward focus on welcoming the stranger, transforming neighbourhoods, and setting up missional communities.
Aaron Hardy gave a moving kōrero on Saturday night about the need to "Ka Mua, Ka Muri" – looking back in order to move forward.
He spoke of the pain inflicted on tangata whenua through colonisation, and called young Anglicans to spend "…less time looking to what Hillsong are doing, and more time listening to what the people of this land are saying.
A three-hour workshop on decolonisation was led by Danette Aperhama-Tiatia and Anna Reeve's workshop got participants underway in Te Reo Māori.
Prayer underpinned the weekend, with the daily devotions from A New Zealand Prayer - Book - He Karakia Mihinare o Aotearoa shared morning and evening, while a team held constant intercessions and deliverance throughout the weekend in two prayer tents.
Through the 'Heartache' campaign, Anglican youth joined in a nationwide call to prayer for the transformation of New Zealand's appalling rate of youth suicide and mental health trauma.
Light-hearted fun balanced the powerful workshop content with a live recording of the 21 Elephants Podcast, and a Saturday Night Swing Party featuring Royal Rumble - a bouncy brass band - which brought out the best and worst in Anglican dancing skills.
Saturday featured the highly anticipated North vs South football match, which Wellington won after a strange turn of events resulted in the capital fielding a team against every other diocese.
"Throughout the weekend, it was heartening to see the joy coming from so many leaders learning and worshipping together," said Abbey organiser Rev. Scottie Reeve of Blueprint Church in Wellington.
"Between the dining hall, the prayer tents and the football field, people of all ages gave generously to one another, and the Spirit moved powerfully." Scottie said
In 2019, St John's College, Bishopdale Theological College, Laidlaw College, Better World, and NZCMS sponsored the event. In 2020, The Abbey will be held at El Rancho in Waikanae from August 20-23. More information at www.theabbey.co.nz
Tessa Guest is an Anglican youth leader from the Diocese of Waiapu.