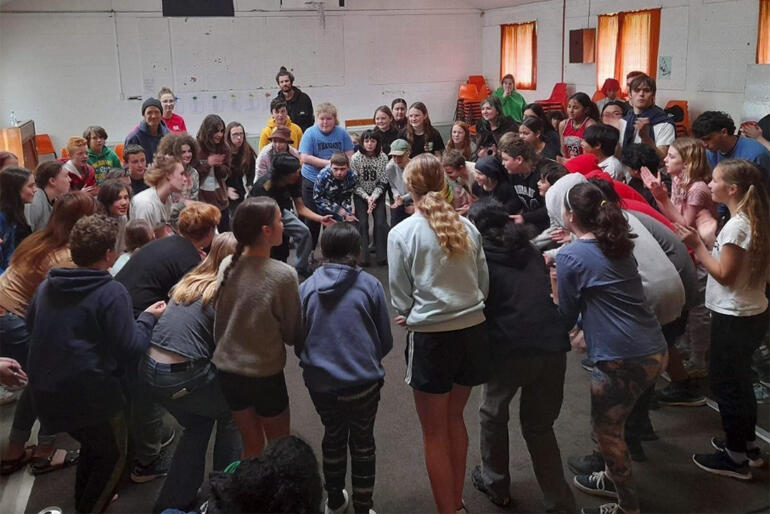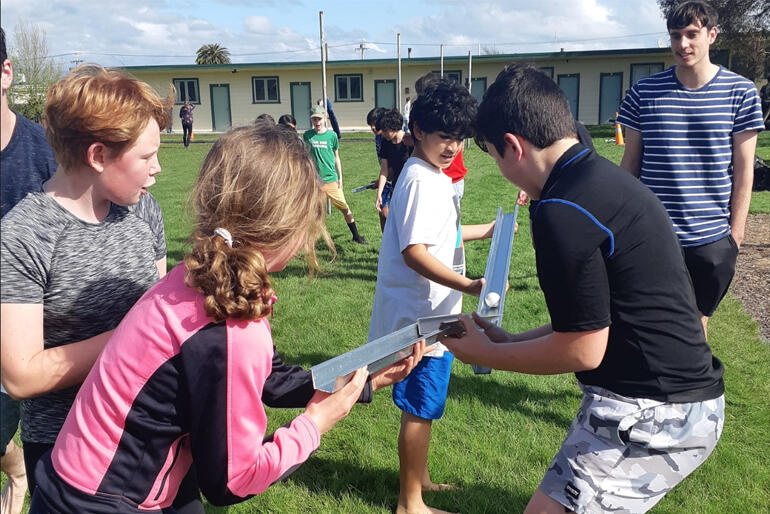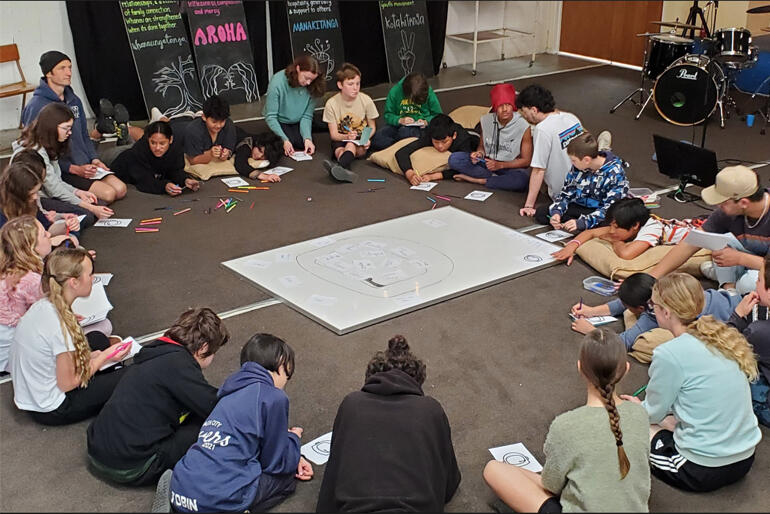 This September 17-18, the Diocese of Wellington's Anglican Youth Ministries (AYM) have held their first annual Intermediate age diocesan youth weekend since the pandemic began.
The Intermediate Camp is an annual live-in event for Anglicans in Years 7 & 8 and their youth leaders, that Anglican Youth Ministries Coordinator Tama Bucknell describes as "a whirlwind 24 hours packed with laughs, worship, sunshine, trampolines, and everything in between."
"Festival events like these help our rangatahi feel connected to the wider Anglican movement," said Tama this week.
As well as welcoming kids from parish youth groups to camp, the weekend was an opportunity to gather in some 11-13 year olds with no youth group of their own.
The Camp's Saturday afternoon is all about crazy fun and games, with its 'Top Town,' competitive showdown that zeroes in on the team that can win the most events such as the fastest airbed surf down a waterslide, or "three to a sack" race.
Intermediate aged children from across Wellington City, Wairarapa and Whanganui moved into the camp's four elemental teams of Air, Water, Earth and Fire for the competition, rotating around each event, providing a great way for kids to work together and get to know one another from around the regions.
On Saturday night, the kids watched the movie 'Wonder' – a story about a ten year old boy who lives with a face disfigured by multiple plastic surgeries. The main character Auggie paves a way for himself, despite the hurtful and unthinking behaviour of his peers. The film provided the focus theme for the rest of camp, as leaders encouraged campers to take part in the exercise of 'wondering' about the big questions in life such as: What will high school be like? Why do bad things happen? Or will I like tonight's dinner?
Leaders talked with campers about how 'wondering' can help them go deeper with God, because wondering challenges us to think and makes us stronger. Tama Bucknell reminded campers that being open to wonder helps remind Christians that we are 'fearfully and wonderfully' made.
One camper reported that the film really made them think.
"Just because someone looks different, it doesn't affect their personality or how they would help people."
Another camper took home a rock with the word 'courage' written on it, to act as a reminder to work at being courageous like Auggie was in the movie.
Zoe Lewis from Johnsonville reported that the time spent together was precious after the years spent apart for safety reasons in Covid times.
"Camp is a magical part of our journey with Jesus as it helps us reconnect with our commitments and learn about God in a new way." she said.
"Overall, it was great to reconnect with groups across the Diocese over a shared experience. These camps are our 'drink stations' for the marathon we are collectively running, so we really value the chance to attend despite a challenging few years."
Around the country a number of Dioceses and Hui Amorangi run programmes designed for 11-13 year olds, while most include this age group in wider youth programmes such as the rangatahi camps in Manawa o Te Wheke and the Diocese of Auckland's Efest Diocesan camp for years 7-13, as well as various youth worship opportunities and sports events.
The trailer for the movie 'Wonder' can be viewed here.
Anglican Resources for working with 11-13 year olds:
Te Aka Mihinare lectionary-based children's resources
Anglican youth resources Resourced! Intermediate
Strandz Intergenerational Ministry resources