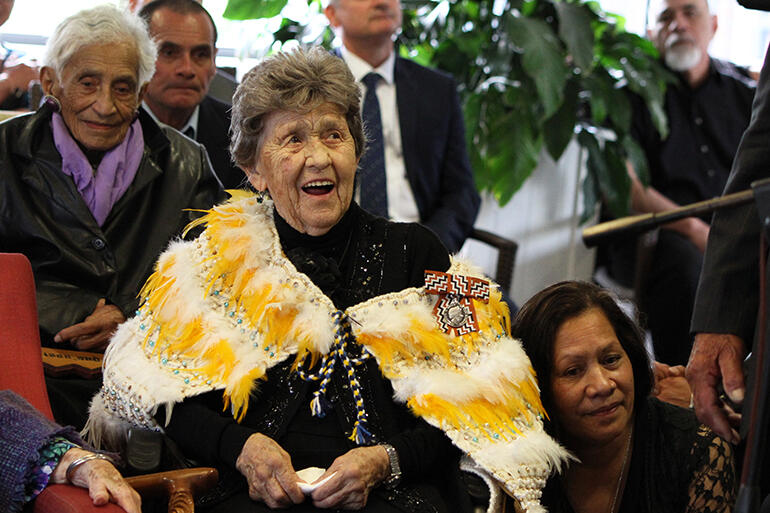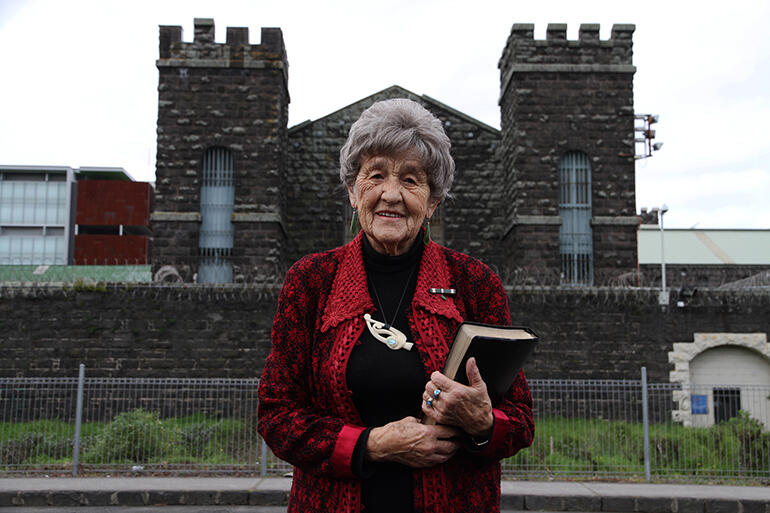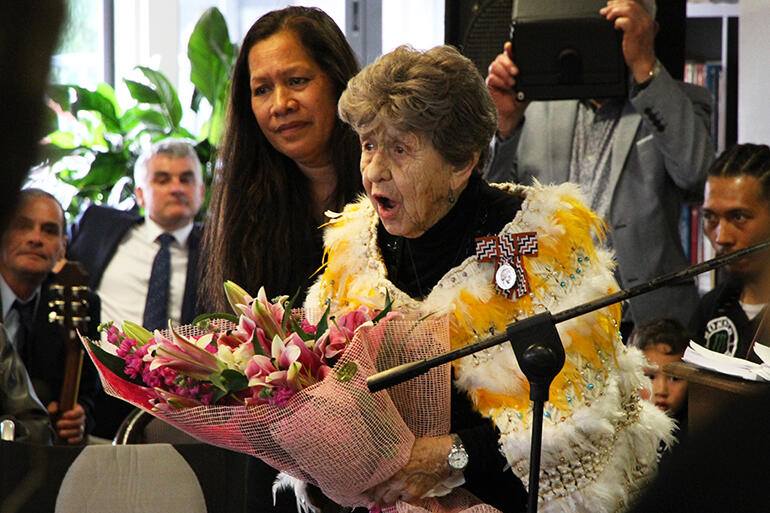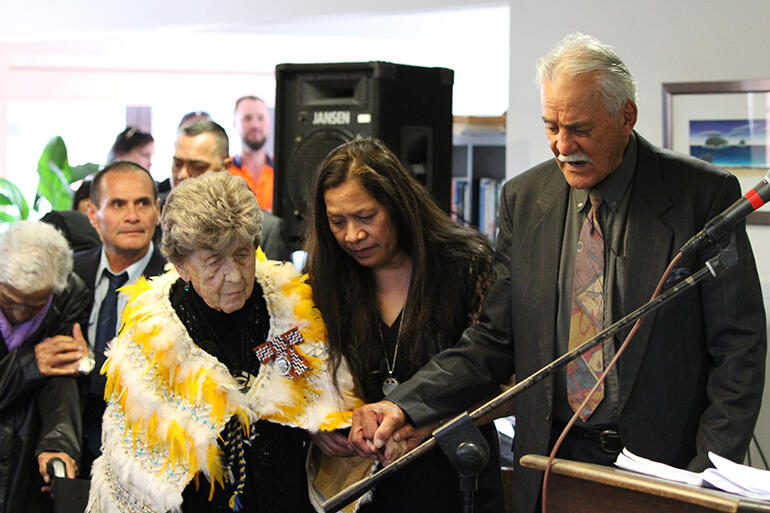 About 150 well-wishers jammed into an Auckland rest home yesterday afternoon to celebrate a 98-year-old woman who is "an icon of prison ministry" in New Zealand.
Those well-wishers had gathered following May Mackey's investiture, earlier in the day, with the Queen's Service Medal.
As the Governor General Patsy Reddy had told it, May had provided "compassion and aroha and prayer support without judgement" to prisoners for decades.
May, who is Pakeha, and whose story was told in the Winter 2013 issue of Anglican Taonga[1], was born in Dunedin.
She became a Christian as a teenager, and in her mid-20s, she headed to Auckland's Bible Training Institute (the forerunner of today's Laidlaw College) to train to become an overseas missionary.
While she was at BTI, though, her story took an unexpected turn.
She became mates with Emma Kake (Nga Puhi) who was first Maori woman to attend BTI. The Kake whanau took May under their wing, and into their whare, and May decided her life's work would not be in China, or Bolivia, or Pakistan, or wherever – but at home, in Aotearoa, among Maori.
So that's how, in 1948, May came to be Matron of the Shelly Beach Maori Girls' Hostel in Ponsonby, looking after young wahine who'd been sent to the big smoke to learn a trade.
Sometimes those teenage girls would be inclined to slip the leash and head out to parties – and May would find herself walking the streets of Freemans Bay and Ponsonby at night, looking to bring her girls back home.
Inspector Wally Chalmers of Auckland Central warned May of the dangers of her solo wanderings.
Turns out that Wally was solo too – and in 1960 May and Wally married, and adopted a couple of kids.
But inside three years tragedy struck.
Wally was killed in the line of duty, gunned down by a psychopath in an incident that led to the formation of police armed offenders' squad.
#
In 1968, May remarried. Dave Mackey was a Tainui man, an ex United Maori Missions hostel boy who'd gone farming down Mangakino way.
Dave's first wife had died.
So May and Dave were both grieving, both struggling to raise young kids, they'd been friends for yonks – so getting married was a no-brainer.
Not long after they'd tied the knot, May and Dave went back into looking after young Maori men in Auckland trade training hostels.
In 1982, they volunteered for extra duties. They signed on with Corrections to became prison visitors, and three years later they renewed contact with Nehe Dewes.
Nehe is a Presbyterian Minister from the Coast who'd been the chaplain at Waikeria prison. In 1985, he'd been asked to move to 'The Rock', to Mt Eden jail, to sort out some raruraru up there.
At Nehe's Mt Eden induction, Dave Mackey had slipped his card into Nehe's lapel pocket: "If you ever need a hand", Dave had said, "just give us a call."
The following day Nehe had turned up to the prison chapel to lead his first Sunday service at Mt Eden – and found he'd been sentenced to solitary.
There he was in that Mt Eden jail chapel, on his own.
Not a soul to share with. Not a soul to support him.
Nehe was stricken with loneliness, he recalled at Tuesday's gathering, and "having a tangitangi".
So he returned to his office, reached into his lapel pocket, dialed Dave's number – and within the hour Dave, May and a few of their friends[2] were sitting with him in Mt Eden.
So began the transformation of prison ministry at Mt Eden: Nehe as chaplain, with a committed crew of supporters behind him.
Dave Mackey died in 2005. He dropped dead in a police station – he was at the prison mahi to the very end.
But May kept her hand to the plough, visiting both Mt Eden and Paremoremo on an almost daily basis until at the end of 2013, at 93, she knew she had to call time on that work.
May has never had the least interest in fuss. And even less desire for self-promotion. Over the years, she'd batted away requests for interviews – and only consented to her name being put forward for the QSM because of the pleas of her family and friends. And her knowledge that the ceremony would trigger a reunion of her family and friends.
May explained her thinking to Taonga in 2013:
"The significance of a person", she says, "is not in themselves.
"It's in whom they represent."
#
Some who'd lived through the kind of tragedy May had known would've found it impossible to mix with convicted crims. Murderers among them.
But it was never an issue for her, she said, to go into the prisons.
"No hurdle," she said. "None. At. All.
"It was just the most natural thing.
"I didn't have to grow into it.
"I've always had a yen for the underdog. Always. It was part of me."
In all her 30-plus years in prison ministry, she says she never felt intimidated, either.
"Never even had a harsh word. No feeling of fear, at any stage."
Part of the reason for that, maybe, is the way she and her ministry friends viewed the men inside.
"They're people to us," she said.
"We see them as people.
"In fact we're so removed… that we never ask why they're inside."
#
Several of the speakers at yesterday's hui drew attention to what they saw as the secret of May's success.
It was the aroha, they said. The aroha that she manifested, and her knack for engaging with people inside, without so much as a whiff of judgement.
May spoke to Taonga about that in 2013, too.
"We don't go in to talk religion.
"Not. At. All.
"We don't need to.
"We go in as friends.
"We know how to feel our way – to present what we represent.
"And they know… if they've got a need, they seek you out."
#
So if it's not hard-sell religion, what motivated May?
Simple.
"The message of redemption, which changed me, motivates me.
"With due respect to all the help the men get from psychologists, from programmes, from help from outside, from all these paid people… we know our message of redemption is the absolute. It's the only answer."
Part of the reason for May's rapport with the men is that she knows the world from which so many have come.
"You just ask: 'So where do you come from?'
"And when they tell you: 'You say: Ohh… I know your relations. And you just mention some names…
"This is the Maori world, so it's all whanau stuff. It's all family stuff."
#
Nehe Dewes – who served in Mt Eden for 12 years, before moving to Wellington to become the country's senior prison chaplain – is now 80, and living back in Tikitiki with his wife Lucy.
But wild horses wouldn't have kept them away from yesterday's celebration.
Nehe was the one who told those gathered that May is "an icon of prison ministry", and the benchmark by which all work in that field would be judged.
Former inmates, Corrections staff, old boys and girls from the trade training hostel days, May's family – including her sons who had returned from London and Perth – and her dozens of friends joined with Nehe in affirming his assessment, and sharing their delight at May's recognition.
It was significantly a Maori occasion. Which means, among other things, that there was a welcome, a full acknowledgement of the house, and that the contributions of the many speakers were garnished with waiata.
And the himene they chose at the end of the get-together is one which has become a prison ministry anthem.
It's a hymn which contains a plea which May had persuaded her friends to believe would never be denied, no matter who makes it:
Tenei hoki au, e Ihu
Whakarongo mai
I te mano e popoke
Kei kapea ko au
Pass me not, O gentle Savior,
Hear my humble cry;
While on others Thou art calling,
Do not pass me by.
[1] https://issuu.com/anglican_taonga/docs/f_334_ang_anglican_taonga_web_2
[2] Including Wally Haywood, who went on to become a chaplain at Paremoremo, and the late Ben Dickson.