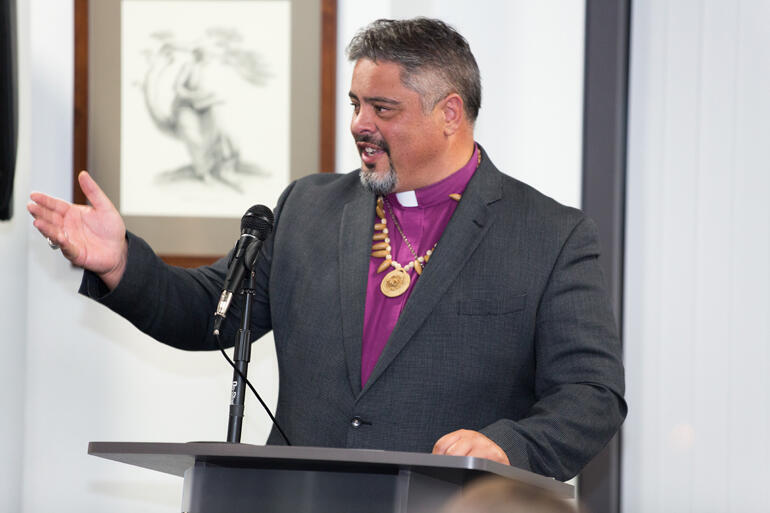 Pīhopa o Aotearoa Archbishop Don Tamihere has spoken out on Māori radio station Radio Waatea and Radio Ngāti Porou to encourage Māori whānau to get their Covid-19 vaccinations done.
"We have to accept that Covid is real and it is a great threat to our people if we do nothing about it."
"Covid-19 is no joke, it's a virus. It doesn't care about our sense of our personal freedoms or rights. It doesn't care about what's said on Facebook, or Twitter or Instagram.
A virus just seeks to infect, to harm, in some cases to kill."
Archbishop Don went on to point out that Māori can still see the mass burial mounds within urupa in their own rohe where the many tipuna who died in the 1918 flu epidemic lie. But Archbishop Don says today doesn't compare with those times, because now Māori have a way to fight back and stop the disease taking people's lives.
"Vaccination is the best protection that's available to us... so I am encouraging whānau to get vaccinated to protect our tamariki and our mokopuna, to protect our whakapapa and to look after each other."
At a Zoom hui on 27 October, the Māori Anglican bishops and members of Runanga Whaiti (the Standing Committee of Te Pīhopatanga o Aotearoa) discussed the kaupapa of new Government Covid-19 settings on gatherings with or without vaccinated communities.
Runanga Whaiti affirmed that within Te Hāhi Mihinare the message is clear: as people of whakapono, of faith Christians have a duty and an obligation to protect themselves and others.
"Our Lord calls us to sacrifice and service of others...
"Every Anzac Day we hear the lines of scripture from the Gospel of John: 'Greater love has no one than this, than to lay down their life for their friends..."
"Today we might say: Greater love has no-one than this, than to lay down their rights for their whānau, their hapū, and their iwi - and to take the vaccination against this virus."
Then Archbishop Don went back to scripture to answer the question, "Where is God in this pandemic?"
"Biblical plagues went through populations that were unprepared and unwilling to have faith. And the thing about faith is that it's directly connected to action. It is directly connected to wisdom. We must be wise enough to do the right thing."
Archbishop Don reminded Māori whānau who are struggling with vaccination, that science and faith do not have to sit in opposition. Instead, he says that biblical teaching leans much more towards wisdom and practical, even scientific understandings.
He directed whānau to remember the public health work of tipuna like Sir Apirana Ngata and Sir Maui Pomare, who urged Māori to use the best of medical and scientific advice around hygiene and health to protect themselves from the epidemics of their day.
He says that good advice stands as much for people of faith as anyone.
"We don't need miracles to clean our hands; we have soap."
We don't need a Holy Spirit forcefield to social distance, we can stand two metres away.
Science has afforded us a tool called vaccination, that helps our bodies to prepare this wonderful machine that God created and gave us- that can be helped to prepare to defend itself against the virus."
Archbishop Don says the Anglican Church also stands in solidarity with those iwi and Māori leaders that have maintained a critique of the new protection framework, which they say is set to exacerbate the ongoing systemic inequities in healthcare for Māori whānau.
"In the midst of supporting the right health choices for people, we have to remain sensitive to inequity and injustice wherever it exists, and do what we can to mitigate those things.
We want to work more fully with our iwi, and we're encouraging the Government to do the same."
Archbishop Don says that the Māori Anglican Church is ready in the meantime to explore ways to work within the proposed protection framework as it stands while action is urgently needed.
Mihinare leaders have also thought and prayed about how to respond in situations where whānau are doubting about the vaccines or are strongly opposed to vaccination.
He acknowledged that the reality for the Church is the same as for most families, where at least one or two members will doubt the public health advice and be vaccine hesitant at some stage.
He says doubt is not a problem and neither are questions.
"So we are encouraging open conversation about those things – not to ostracise whānau –but to always remember that we're connected, that we're in this together, and to hold these conversations with aroha."
Archbishop Don said he believes the majority of whānau who have questions about the vaccines have genuine reasons for struggling to trust a health system that has been inequitable to Māori all along.
"So they need help with positive conversations."
"They need to see our kuia and kaumatua who are leading the way – our people have genuine questions and there's nothing wrong with helping them to seek the proper information."
He also said that for those whānau that have solidified their minds against vaccination there is only one appropriate response,
"For those who have decided that come hell or high water they are going to refuse to be vaccinated – well, we still have to extend our aroha to that whānau, to those people, because they remain a part of us."
Archbishop also says it is unfortunate that some people are confusing tino rangatiratanga and mana motuhake (Māori rights to autonomy and self-determination) with individual rights from a western framework.
"Because ultimately our rangatiratanga, our mana motuhake – our safety, our oranga – can only be realised in ourselves together as a people."
"So, we might split off into groups and say, "Mātou – koutou – rātou," but ultimately the only place that we can survive as a people, is when we realise that "tātou" is the only applicable word: We are all in this together."
The Runanga Whaiti of Te Pīhopatanga o Aotearoa has released a statement on vaccination which follows below:
"We fully support and strongly encourage full vaccination within a framework of tikanga/principles including grace, inclusion, embrace, aroha, tika and pono.
We stand in solidarity with the Maori critique of the new protection framework and the ongoing inequitable approach to this pandemic by the Government, and ask that they work more fully with iwi/Maori in order to realise true partnership.
We will explore ways to work with the proposed protection framework, alongside the knowledge that our tikanga and our whakapono is dynamic, resilient and responsive."
The two interviews with Archbishop Don Tamihere are available online:
Archbishop Don Tamihere talks about vaccination in Radio Waatea interview (8 mins)
Archbishop Don Tamihere on Vaccination and Ka Hao Choir (16 mins)
Māori health experts share Covid-19 information here: Te Rōpū Whakakaupapa Urutā