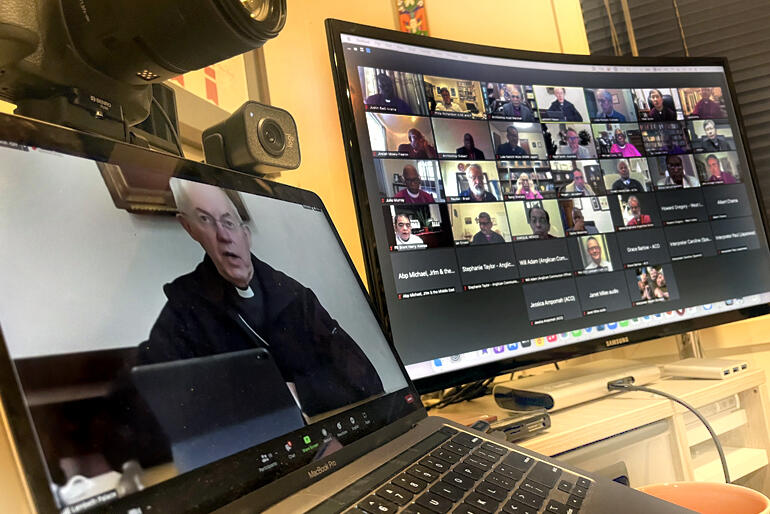 The Primates, Presiding Bishops and Moderators of the Churches of the Anglican Communion have issued a communiqué from their 22 -23 November online meeting that urges equal distribution and access to vaccines across the nations of the world and backs efforts to help better inform vaccine hesitant people.
The Anglican primates first spoke out on this issue back in November 2020, soon after vaccines came onto the market, and in May this year Archbishop of Canterbury Justin Welby once again joined with WHO and global faith leaders to push for better access to vaccinations around the world.
The Anglican Primates meeting last week highlighted the way the Covid-19 pandemic has exacerbated existing health care disparities between rich and poor around the world, with lower income nations and peoples facing surging Covid cases without the protection of vaccines to slow infection rates or reduce pressure on overburdened health systems.
"We are united in calling for greater vaccine equity, based on a spirit not of charity, but of recognising the common good in resolving the current disparity." said the Anglican Primates in their meeting communiqué.
The Primates heard how earlier this year the World Health Organisation(WHO) set a target for countries to be able to vaccinate 10% of their populations by September 2021. But to date a total of 56 countries – most of them in Africa – have been unable to reach even that 10% mark, because the pharmaceutical companies and rich countries have priced them out of the vaccine market.
At the same time, more than 80% of the world's vaccines have gone to wealthier G20 countries, while low-income countries have received just 0.6% of all vaccines.
"We call for generosity from those who have - towards those who have not - and for a greater acknowledgment of the effect of the pandemic on health and education." said the Primates' in their communiqué.
Currently the nations of the Anglican Church in Aotearoa, New Zealand and Polynesia are aiming for, or have already achieved, greater than 90% vaccination rates. The exception to that rule is among communities in parts of Tonga and in Tai Tokerau and Tairāwhiti where health investment to improve vaccine accessibility has not been sufficient thus far to raise the vaccination rate above 75%.
The Primates' communiqué called on the World Health Assembly Special Meeting that is taking place now (from 29 November -1 December) to 'be bold and courageous,' in its deliberations as representatives from across 194 countries work to establish a shared global instrument to prepare for and respond to global pandemics.
In this province, Anglican Missions continues to promote vaccine funding through its Get One Give One campaign, where a $10 gift provides a Covax vaccination to someone living in a country where vaccines would otherwise be unavailable.