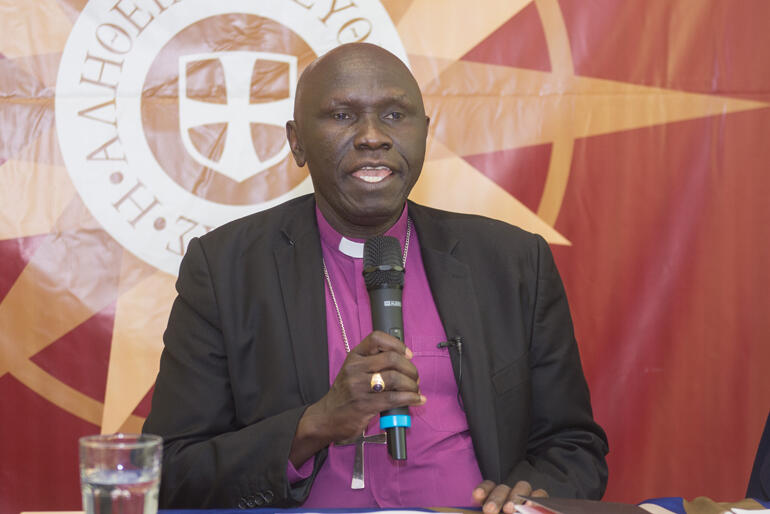 Secretary General of the Anglican Communion Bishop Anthony Poggo has spoken out on the need to offer hospitality to people from overseas coming to live in our communities, especially people displaced from their homes by dangers beyond their control.
Bishop Anthony Poggo made his comments in the USA during his keynote lecture 'Reframing migration: bringing hospitality to a hostile world' delivered at the Albert T Mollegen Forum, Center for Anglican Communion Studies at Virginia Theological Seminary on 19 April 2023.
Bishop Anthony spoke of unequal economic and power gaps between nations, saying that these often serve as root causes compelling people to move across the globe.
While the immediate reasons for migration might be conflict, persecution, poverty, climate change, lack of food or jobs, or human trafficking, he said that hostile Government policies in places where people arrive can add more danger.
"The Church can use its moral authority to challenge the cultural and governmental context in which it (displacement) exists, particularly when that context is hostile to migrants or contributing to their mistreatment," he said.
The Communion's Secretary General encouraged Christians to act in the interests of people forced to migrate, but warned that if they do, they may face some of the hostility that people seeking asylum face.
"Any attempt to make change is likely to meet opposition – especially when it challenges vested interests", he said. "When we participate in the work of God, we can expect even more opposition."
Bishop Anthony encouraged Christians to remain firm and stand with people seeking safety, calling on Anglicans to remember their mission to challenge unjust structures.
Speaking on the UK Government's policy of deporting asylum seekers to Rwanda for processing – a policy that is currently held up by legal challenges – Bishop Anthony said that the destination country of Rwanda is not the issue, the problem is the UK's failure to recognise its share of global responsibility.
He noted that the Archbishop of Canterbury had spoken against the policy in the House of Lords, the upper house of the UK Parliament, while "the Church in Rwanda understood the basic need for hospitality and did not find fault with the UK policy."
Bishop Anthony said the differing Anglican responses on either side of the Rwanda policy is a prime example of the Anglican Communion responding from different perspectives.
"Despite so many different experiences and opinions, can we seek to find a way of holding differences together, to find a theology that shows how different responses form complementary parts of one body as they tell good news stories about how churches are responding?" He asked.
Bishop Anthony lauded Anglican churches that have committed time and effort to aid people seeking asylum, and the 150,000 UK households that signed up to host Ukrainian refugees after the Russian invasion.
Bishop Anthony highlighted the Episcopal Church USA's Migration Department which is dedicated to supporting people on the move, a ministry which gives him hope for positive change in the US.
Bishop Anthony – who has been displaced three times in his life: to Uganda, in Kenya and internally within Sudan – said that the church is known for stepping into the gap to care for people when other systems break down.
He gave examples of inspiring Anglican responses including the Anglican Church of Canada's community based refugee sponsorship since the 1970s and the Anglican Church of Cyprus' strategies to 'welcome the stranger'.
He pinpointed another good example from the Church of Uganda:
"After a decade of conflict in South Sudan, many Church leaders and bishops have crossed into the Province of Uganda. In 2017, one of the Ugandan bishops, in the Diocese of Madi & West Nile, authorised the South Sudanese displaced bishops to take care of the refugees within their own diocese and to be able to perform their episcopal ministry freely."
"Through this small act, he has created a home away from home for them, where they can carry on their ministry and calling."
Bishop Anthony also picked out Australia's Diocese of Perth, where Sudanese diaspora communities have been embraced by the Anglican Church and in turn have made a positive contribution.
Today in the Diocese of Perth, a purpose-built Sudanese church community centre in Malaga holds services in two South Sudanese languages (Bari and Dinka) every Sunday and 150 people attend, with more than 500 gathering for special occasions.
Bishop Poggo said that when we look at our responsibility to welcome the stranger, personal hospitality is just as important as encouraging our societies and political leaders to make changes for good.
"The Bible encourages us to be hospitable and when this is our conviction, it influences our lives in all that we do."
"In Hebrews 13: 12, it says 'Do not neglect to show hospitality to strangers, for by doing that some have entertained angels without knowing it' (NRSV).
Bishop Anthony Poggo has been visiting the United States to hold meetings on migration and the rights of people seeking asylum.
Also on the same tour Bishop Anthony visited the United Nations' headquarters in New York to introduce Martha Jarvis, the Anglican Communion's new Permanent Representative to the UN.
Bishop Anthony Poggo's speech at Virginia Theological Seminary is available here to read in full.