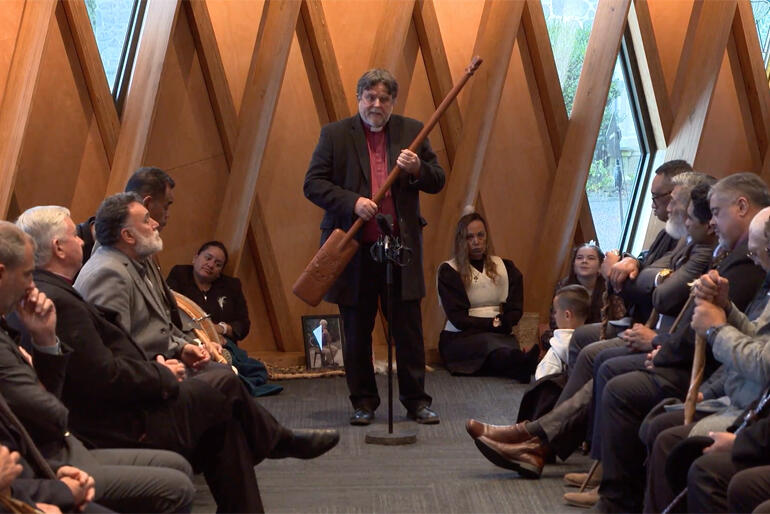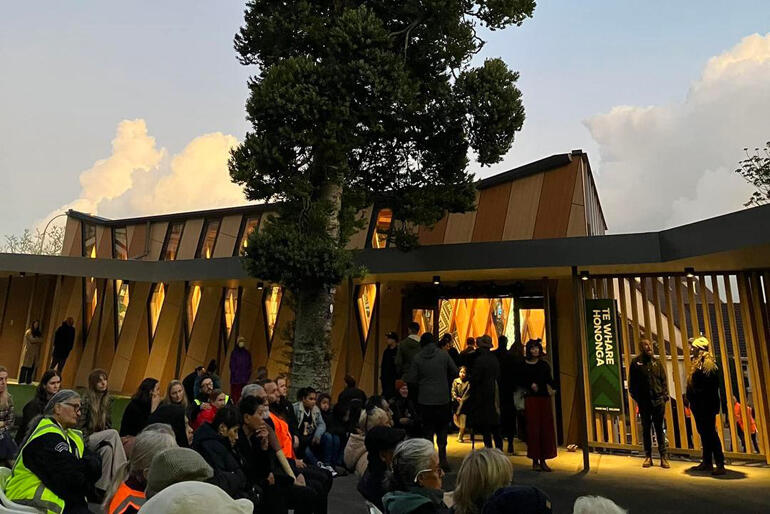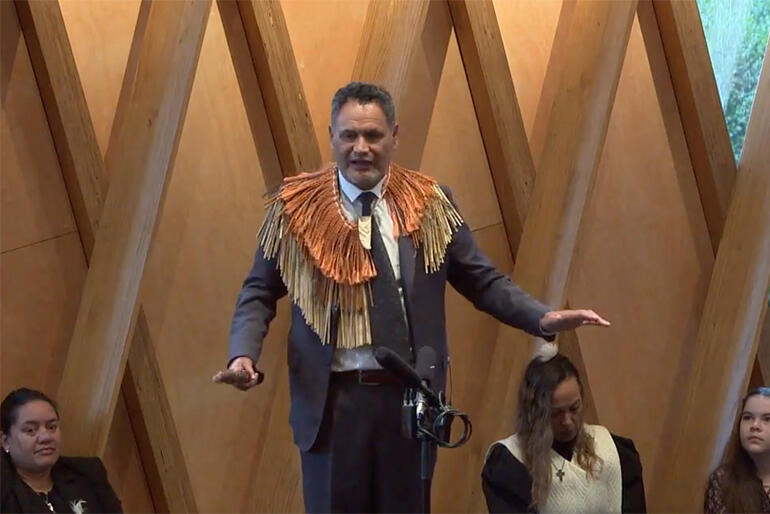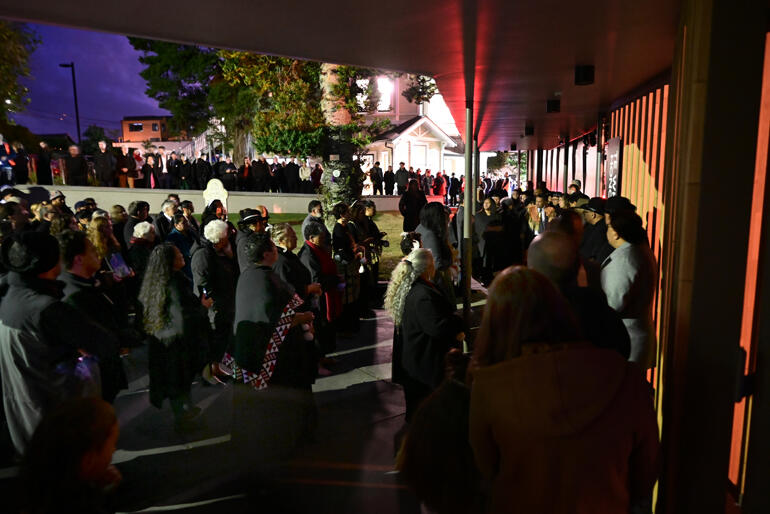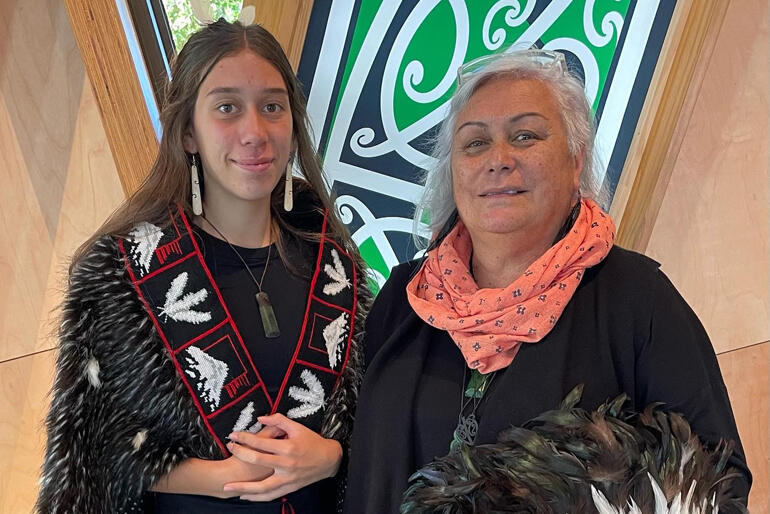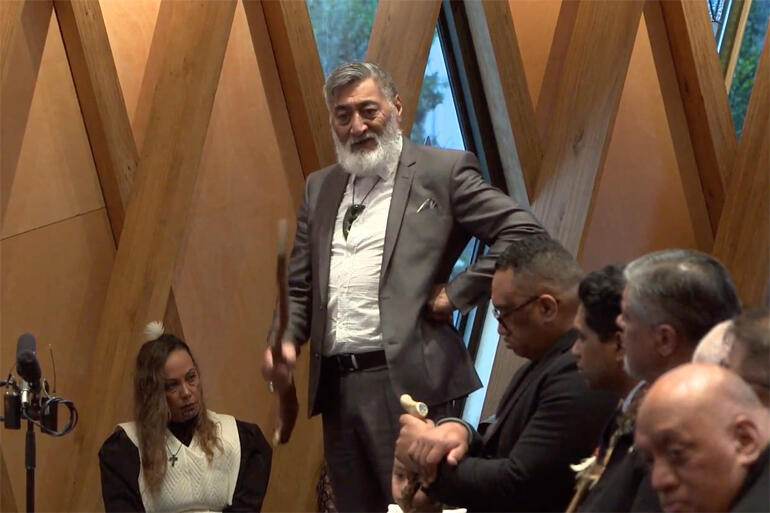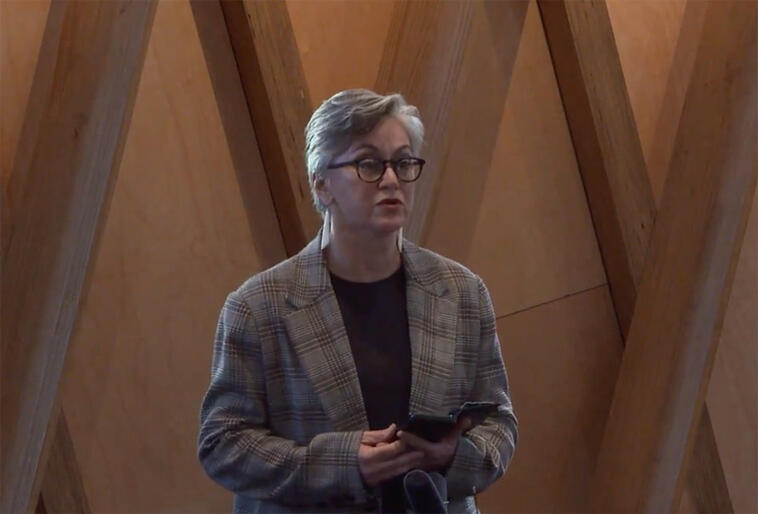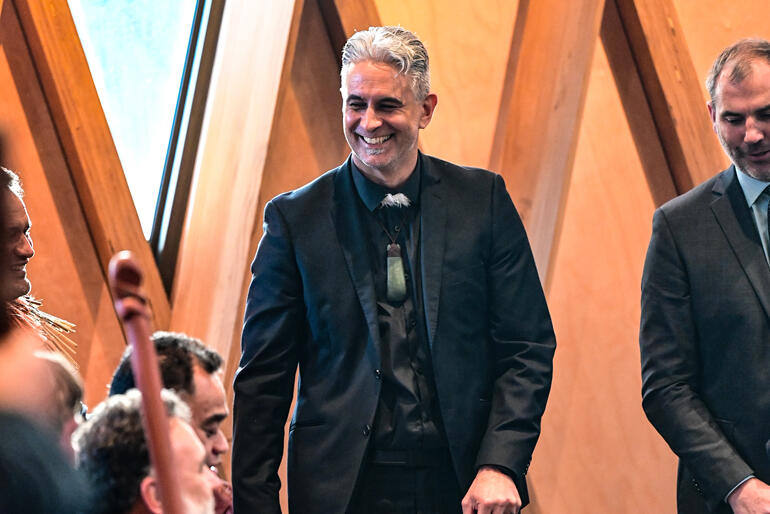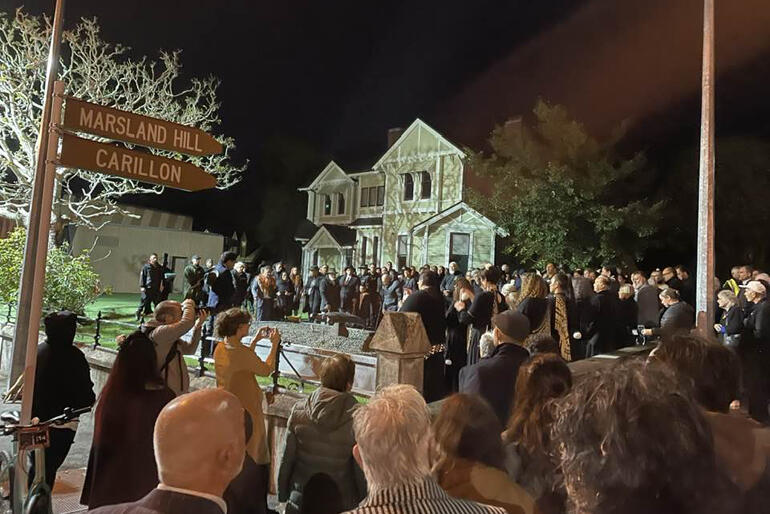 At dawn on Thursday 13 April, Ngāti Te Whiti and local Taranaki leaders welcomed more than 300 visitors to an opening ceremony at Pūkākā, the site where Taranaki Cathedral stands, to open two new bicultural education spaces and unveil a memorial for six fallen Waikato warriors.
Visitors for the morning's events included Pīhopa o Aotearoa Archbishop Don Tamihere, Kiingitanga Tumuaki Hone Thompson and 120 further representatives of Ngāti Haua, there to honour their fallen tupuna.
Alongside mana whenua Ngāti Te Whiti were wider iwi o Taranaki whānui, as well as the late Sir Paul Reeves' widow Lady Beverley Reeves, Judge Sarah Reeves, Bishop of Waikato and Taranaki Archbishop Phillip Richardson, Archbishop Emeritus Sir David Moxon, MP Glen Bennett & New Plymouth Mayor Neil Holdom.
Karakia were said to open Te Whare Hononga (The House that Binds) the new purpose-built wānanga and education centre for Ngāti Te Whiti, which will operate as their space alongside the Cathedral on the whenua of their ancient Pūkākā Pā.
Also unveiled on Thursday morning was the 3-metre cast bronze toki by Te Atiawa artist Rangi Kipa which honours six Waikato warriors who died at the battle of Mahoetahi in 1860. It commemorates by name: Ngāti Hauā rangatira Wetini Taipōrutu, his son Hemi Taupōrutu, Ngāti Apakura rangatira Whararangi and Ngāti Kōura rangatira Hakopa.
Ngāti Haua speakers were moved to see their chiefly graves venerated and adorned on the land. Both Ngāti Haua and Te Atiawa raised the example of renowned Ngāti Haua Christian prophet, paramount chief Tarapipipi Te Waharoa, Wiremu Tamihana, pointing to his story as a guide for the future.
Last Thursday's event also saw the refurbished former St Mary's Anglican Church vicarage reopened as the Sir Paul Reeves Centre, a new site for hospitality and bicultural education.
Te Atiawa speaker Wharehoka Wano acknowledged Archbishop Philip and all those who had worked towards making the day a reality.
He recalled that the whare at Pūkaka Pā was the dream of the late Sir Paul Reeves and of Archdeacon Tikituterangi Raumati whose grave now lies at Pūkākā.
"It was more than a dream, it was a tohu*[a sign, a guiding mark, a proof] both to the Hāhi and to us as a community…" he said.
"And we've got some work to do whānau, and it's all around that historic period of the 1860s, because it wasn't just our land we lost, we lost our identity as a people, we lost our language and all those things that we claim today."
Wharehoka encouraged mana whenua to see the new space as one that can hold the work ahead.
"We need to have honest, courageous conversations as a community in Taranaki. And we're going to, in a safe environment."
Archbishop Philip Richardson offered his gratitude for the grace and generosity that Ngāti Te Whiti had shown in allowing him to stand on their land.
"I offer gratitude for all who have helped to bring this day to pass. And humility, because I, we, have made many mistakes, and we have tested the generosity of relationship, and that generosity has never been lacking. It's always been forthcoming."
Archbishop Philip shared his vision for what Te Whare Hononga might become.
"My hope is that Te Whare Hononga, as Ngāti Te Whiti's house, will be a place where we can meet, learn, debate, be challenged and so formed into the community the Treaty invites us to become."
Dean of Taranaki Very Rev Jay Ruka (Te Ātiawa, Ngāti Mutunga) was delighted to see this long planned-for day finally arrive. He thanked a host of contributors for the construction, design, artistic and educational work including: Rangi Kipa and Lynette Hunt from Tihei; Julie Healy and Damon Ritae from Ngāti Te Whiti; Jenny Goddard the Project Manager who seeded the idea; Hoani Russell and the Clelands Construction team; and all the volunteers from many churches and iwi that had made the day special.
Dean Jay said that Te Whare Hononga will be a home for honest story-telling and its interactive multimedia exhibitions would help everyone to explore the history of Taranaki and its Cathedral through a lens of truth and hope.
"We've tried to be honest in how we tell the story too: it's got the good, the bad and the ugly."
Dean Jay thanked the design team at Tennent Brown Architects for their imagination in creating Te Whare Hononga, which he sees as a contemporary wharenui.
"When [the architects] brought the design forward, Ngāti Te Whiti and Meri Tapu all gasped and went "Wow!"
"And in preparation for opening, everyone that has walked into this space has felt a sense of maungarongo, of peace in this place…"
Judge Sarah Reeves said that the new developments would keep the church focused on issues close to her father's heart: Te Atiawa ngā iwi o te Taranaki maunga, justice, reconciliation and peace.
"…I think he would have been overjoyed to see the culmination of that dream and a place where that work can continue, so that the community of ngā motu can face our shared history together in order that we can live out those values of justice, reconciliation and peace."
Te Whare Hononga is now open for bookings and group visits. The Sir Paul Reeves Centre hospitality space is in use for Cathedral and community events, while education programmes at the Centre will commence later in 2023.