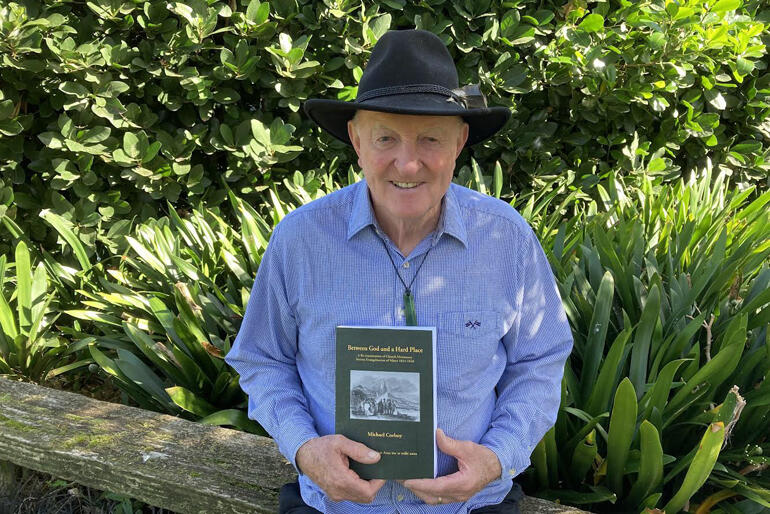 Education historian Michael Corboy has published a ground-breaking book, "Between God and a Hard Place" which investigates the activities and responses from Māori to the Church Missionary Society missionaries who travelled to Aotearoa in the 19th century.
This investigation is a first that offers a close reading of a wide range of primary sources that trace the nature of first contacts between Māori and Anglican missionary cultures, cosmologies, spiritual beliefs and practices.
Reviewing the new book, Professor in History at Massey University, Michael Belgrave described it as properly considering the role of European missionaries as 'mediators between the Māori and European world' which he says cannot be ignored in the story of New Zealand.
Bishop George Connor reports that in this book, Michael Corboy has gone further to research the early contact period than many historians before him.
"Rather than offering generalisations that lack sufficient evidence to be credible historiographically, Corboy has exhaustively researched the correspondence, the diaries and the reports of those early missionaries."
"The result is an account for the period from 1814 to 1840 that is neither pro-missionary nor anti-missionary. This fills a gap between those extremes."
Professor of History for Massey University in Auckland, Peter Lineham adds that this is a book that should have been written many years ago, that will now ensure that subsequent writers have no excuse for getting details wrong.
Michael Corboy describes 'Between God and a Hard Place' as an account of how initial intercultural and spiritual understanding was lost in miscommunication, acrimonious inter-missionary relationships and under-resourced as they were, in their struggle to survive.
As the missionaries determined that their strategies had to be modified, they had disagreements with their agent, Rev Samuel Marsden, chaplain to the New South Wales Penal Colony.
Contrary to previous studies, this study identifies that this discord over how to win Māori allegiance to Christianity began before 1820 and lingered into the 1830s.
The book details how a number of Ngāpuhi people gradually accepted CMS missionaries' presence, and why after fifteen years of missionary activity, a small number of Bay of Islands Māori chose to be baptized into the Anglican Church.
The book reveals there was no early 1830s rush to embrace Christianity by northern Māori. In addition it unravels the political impediments, intertribal warfare and demographic changes that negatively affected Pākehā missionary progress with people to the south of the Bay of Islands.
The book shows how as Pākehā missionaries moved south, a number of influential young Māori leaders became biblical scholars. Then when Pākehā were forced to abandon their mission stations due to war, the Māori scholars continued Christian study and instruction of their iwi members, using literature they gathered during Pākehā missionaries' fleeting visits.
Michael Corboy, a secular education historian, counters previous suggestions that Māori converted to Christianity in a manner that 'fell well short of what missionaries fondly hoped', showing that by the 1840s there was a small but significant group of baptized Māori Christians.
Bishop George Connor believes that this book has covered new ground that will resource future scholars of the early CMS missions in Aotearoa.
"As a retired Bishop of the Anglican Church I have, over the years, had to try to answer accusations and questions about the role of the missionaries and of the church in the colonial period."
"Some of these charges are reasonable and some are not. I have often had to do my own research because accurate, well-researched information was not readily available.
"In my view, Corboy provides a narrative that will be useful for church members who care about the truth and for those who seek a thorough and reliable account.
"I commend this book to all such readers."
'Between God and a Hard Place: A Re-examination of Church Missionary Society Evangelising of Maori 1814-40' by Michael Corboy is available for $60.00 from RealNZ Books.