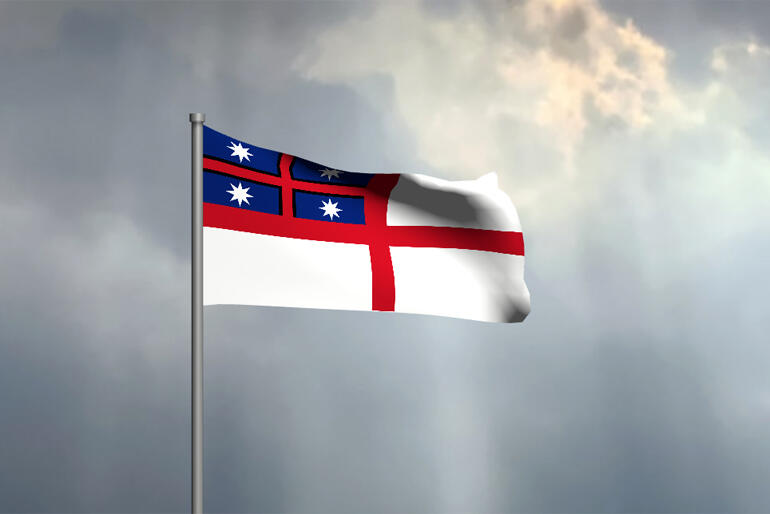 On Wednesday this week I noticed that in the Lectionary, and on my phone, that as well as 'Simon and Jude, Apostles', it was the day we noted the "Māori Declaration of Independence 1835" and "Rā Mahara National Day of Commemoration of the New Zealand Wars."
Except that, it seems, we don't take much note of either. Perhaps that's because it's a weekday entry, or perhaps it's because (at least for Pākehā) these events fail to rise above the line of 'need to take note'.'
These entries in the lectionary mark The Declaration of Independence that was signed in 1835 by a confederation of Māori leaders in the north of the North Island under the banner of the United Tribes and the first major military conflict in our nation's history.
When I happened to go to an Anglican Historical Society event this week, I drew attention to these two hugely significant moments in the history of Aotearoa New Zealand, that somehow even we as historians weren't remembering as a matter of course.
It turns out that as a Church we don't have any agreed way to observe or recognise these commemorations that surface each year in our cycle of readings. This is an opportunity lost.
The move to reclaim these aspects of our history for their insights into today is growing amongst young people.
Back in 2016, a group of female history students from Otorohanga High School led a hīkoi to Rangiaowhia to highlight what they saw was a lack of teaching about the New Zealand Wars in our schools.
Later that year they presented a petition to the Government with 12,000 signatures calling for a national day of commemoration of the New Zealand Wars.
Their request was for the Government to include teaching about the NZ Wars in the curriculum and to proclaim a national day to remember all who took part and were impacted by our NZ wars.
They identified 28th October as the suitable day, to recognise the already well established 'Te Whakaputanga o te Rangatiratanga o Niu Tirene - the Declaration of Independence 1835' commemoration, which for some time has been held annually in the north on that day.
Last year our Liturgical Commission added the New Zealand Wars commemoration to the 28 October date, which we had already set in our lectionary back in 1992 to mark the Declaration of Independence.
#
Over many years our Church has rediscovered, recognised and chosen to commemorate both people and events that previous generations believed were not due particular attention.
Tarore of Waharoa is one example of a well-known evangelist from our early history, now honoured due to her story of faith and the story of her Gospel book.
But we only know about Tarore because of the many people who worked to lift up her story, including iwi Māori and Māori churches, children's book authors and publishers, Christian NGOs, Christian schools, youth ministry leaders and pilgrimage organisers.
We have to thank all those who chose to raise her up as an example of Christian witness to the radical story of faith and reconciliation she offers as a blessed figure within our history.
In the story of our beginnings as a church, Ruatara is now widely known as the person who invited Samuel Marsden's New Zealand Mission to Oihi in 1814, and as the one who delivered the kauwhau in Māori to the people assembled at the first Christian service recorded on Aotearoa New Zealand soil.
But it wasn't always that way. We only know about Ruatara today, because of the many people who chose to present the truer picture of our history – one that did not exclude key actors because of their language, tikanga or race.
With October 28 already in our calendar, we have the opportunity to open our churches' eyes to what this forgotten or hidden history means for who we think we are.
Perhaps our parishes could get hold of the 1835 flag of the United Tribes and fly it on 28 October to remember the Declaration of Independence? Or display it at church on the nearest Sunday? Even doing that would offer us the chance to bring this moment in our history into our conversations and to celebrate the document that first made us a nation, one that James Busby called "New Zealand's Magna Carta."
With the commemoration of the New Zealand wars falling so close to All Souls' Day, would it make good sense for us to purposely remember in prayer the fallen in our first large-scale conflict, praying each All Souls' day for all those who were killed in the New Zealand Wars?
For Pākehā parishes, where these moments in history may be unknown to many, even simple acts of commemoration could open up conversations that revisit that history, not only for its own sake, but with the chance to view our history through the hopeful lens of faith, love and reconciliation.
As far back as 1992 our Church chose to mark 28 October in our lectionary as a day to remember and reclaim our history in the light of the Gospel.
Let's not leave it to lie in our lectionary, instead let's take up this opportunity to retell and reshape our nation's story through the eyes of faith. Even if we can manage only small gestures of remembrance for now, that's not a bad place to start this journey.
For an overview of how the drive to remember and understand these events better is gaining traction in our nation's life beyond church walls, see this blog from the National Library of New Zealand Te Puna Matauranga's Dylan Owen.