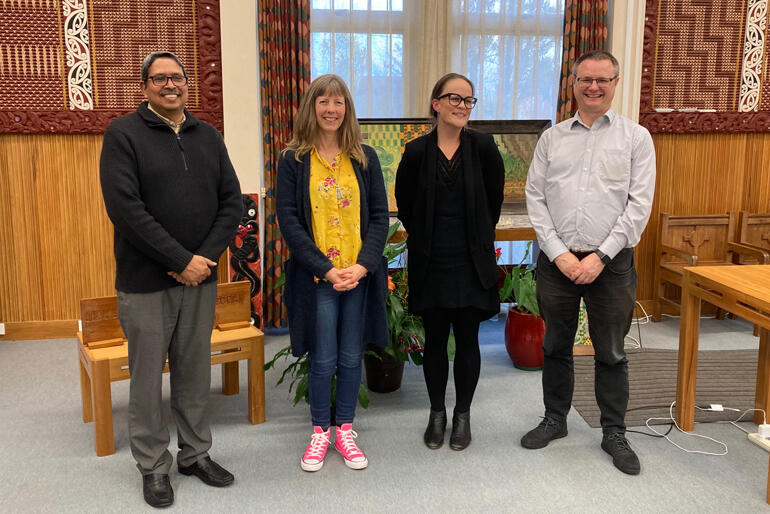 Auckland-based St John's Theological College and Trinity Methodist College have joined forces with the Centre for Theology and Public Issues at the University of Otago to hold a seminar series investigating the causes and consequences of sexual abuse in church contexts.
Seminar series Chair, Rev Dr Paul Reynolds told the gathering that sexual abuse in the church must be brought out into the open where frank discussions can occur on where the church has failed abuse survivors, and where it must change itself to prevent any further harm.
"The series offers an important opportunity to facilitate honest discussion about sexual abuse in our church, in a time where our state and church institutions are being scrutinised as to the care they have provided over time to people throughout Aotearoa New Zealand," said Paul.
"Institutions are being called to account for significant failings in church and state care, which have resulted in severe trauma for many people, which for some has become intergenerational."
The seminar series is entitled "Sexual Abuse in the Church: Honest Conversations" and held its first session on Friday 10 June featuring four speakers:
– Professor David Tombs spoke on ideas of victimhood and shame from his book, 'When Did We See You Naked? Jesus as a Victim of Sexual Abuse'
– Rev Dr Miryam Clough spoke on the systemic problems that can contribute to the clergy sexual abuse of adult women with vocations to ministry,
– Dr George Zachariah addressed the topic of 'Toxic Theologies and Sexual Violence: Honest Conversations,' and
– Dr Emily Colgan spoke on the need for the church to take responsibility to equip clergy to adequately respond when sexual harm is disclosed to them.
Prof David Tombs presented on the recent book by Jayme R. Reaves, David Tombs and Rocio Figueroa (eds.) When Did We See You Naked? Jesus as a Victim of Sexual Abuse. Dr Tombs examined Matthew 27 verses 26-31 as evidence for understanding Jesus as a victim of sexual abuse due to his repeated stripping by a cohort of soldiers and his naked exposure on the cross. He discussed how acknowledging Jesus as a victim may help the church to address sexual abuse and think more deeply about victim-blaming. Theologian Serene Jones has described Jesus' experience of sexual abuse as an 'undertapped resource' for theology, and David suggested that it offers the church an important opportunity to discuss sexual abuse openly and honestly.
Rev Dr Miryam Clough described clergy abuse as systemic in the church, locating abuse in the church's language, theology and culture, and acknowledging the power of personal stories to effect change. Miryam drew on her book 'Vocation and Violence: The Church and #MeToo' (Oxford: Routledge 2022) to consider clergy sexual abuse of adult women with vocations to ministry and the structural conditions that support it. Dr Clough's research draws together evidence from survivors and views of church leaders and educators and places them in dialogue with theoretical perspectives. Dr Clough particularly considers clergy sexual abuse of adult women with vocations to ministry and reveals the conditions in the church that support it. Dr Clough argues that alternative theological models and relational ethics are essential if the church is to truly address the problem of clergy sexual abuse and give greater priority to survivors.
Dr George Zachariah critically evaluated the way that theology which claims imposed suffering as redemptive, can lead to a false understanding that could legitimise sexual harm and violence in the thinking of abusers. George made specific reference to atonement theologies that valorise externally imposed suffering. Dr Zachariah drew on his paper which expands on this thesis which is titled, Legitimising Sexual Violence: Contesting Toxic Theologies that Valorise Suffering as Redemptive.' George explained that Christianity has been a primary force in shaping much social acceptance of abuse, especially in many women's lives. "Our task is not to glorify and worship the cross but to strive together to abolish all unjust crosses and to bring down the crucified people and the crucified Earth from those crosses."
Dr Emily Colgan made an emphatic call for church leaders to be well equipped and prepared to deal with sexual harm when it is disclosed to them. She too unpacked how false readings of biblical texts have the potential to validate unacceptable ideas and attitudes about sexual harm.
Dr Colgan previewed a 'soon to be launched' educational resource for clergy and lay leaders, titled 'Accompanying Survivors of Sexual Harm: A Toolkit for Churches'. The upcoming toolkit resource is the culmination of four years of work with a small group of experts who have developed the resource to assist clergy and lay leaders in responding sensitively to issues of sexual harm in parish contexts. The resource begins by outlining the prevalence of sexual violence in Aotearoa and examining the ways in which churches (often unwittingly) contribute to a culture where sexual violence can flourish. From there, the resource moves to explore how church communities can act positively to confront and resist sexual violence. It draws on pastoral, biblical, and theological approaches to equip church leaders in creating spaces where survivors of sexual violence feel safe, heard and supported.
The second seminar in the series of 'Sexual Abuse and the Church: Honest Conversations,' will be led by Johanna Stiebert, Professor of Hebrew Bible at the University of Leeds (UK) and Co-Director of The Shiloh Project. Prof Stiebert will speak on 'The Bible, Black Lives Matter and #MeToo' at 2pm on Friday 12 August 2022 at St John's Theological College in Auckland.
Professor David Tombs is a lay Anglican theologian and the Howard Paterson Chair Professor of Theology and Public Issues at the University of Otago, Aotearoa New Zealand. His work draws on liberation and contextual theologies to address public issues. His current writing focusses on crucifixion and recent work includes the edited collection with Jayme Reaves and Rocío Figueroa, When Did We See You Naked? Jesus as a Victim of Sexual Abuse (SCM 2021). Originally from the United Kingdom, David previously worked at the University of Roehampton, London, and at the Irish School of Ecumenics, Trinity College Dublin, Ireland.
Rev Dr Miryam Clough is a Postdoctoral Fellow at St John's College and adjunct tutor at Ōrongonui. She is researching whakamā/shame and gender violence in Aotearoa, exploring the effects of colonisation and church/state appropriation of indigenous, female, and LGBTQ+ identities, bodies, and sexualities. Her first monograph Shame, the Church and the Regulation of Female Sexuality (Routledge 2017) focused on Ireland's Magdalen Laundries.
Dr George Zachariah is a lay theologian of the Mar Thoma Church, a Reformed Syrian Church originating in India that is in full communion with the Anglican Communion. His theological perspectives are informed by his long-standing association with different social movements. He has been working as a theological educator for the last two decades in India and in other countries. Currently, he is serving the Trinity Methodist Theological College as Wesley Lecturer in Theological Studies. He has published several articles and books on ecotheology, climate justice and human sexuality, including Decolonizing Ecotheology: Indigenous and Subaltern Challenge (Wipf and Stock, 2022), coedited with Lily Mendoza.
Dr Emily Colgan is Senior Lecturer in Biblical Studies at Trinity Theological College in Auckland. In her research and writing, Emily is particularly interested in depictions of gender and violence in the Bible. She is also co-director of the Shiloh Project, an online research community committed to fostering scholarship focusing on rape culture and religion, both throughout history and within contemporary societies across the globe. Her most recent publication in this area is a multi-volume work, which she co-edited with Caroline Blyth and Katie Edwards entitled Rape Culture, Gender Violence, and Religion (Palgrave, 2018).