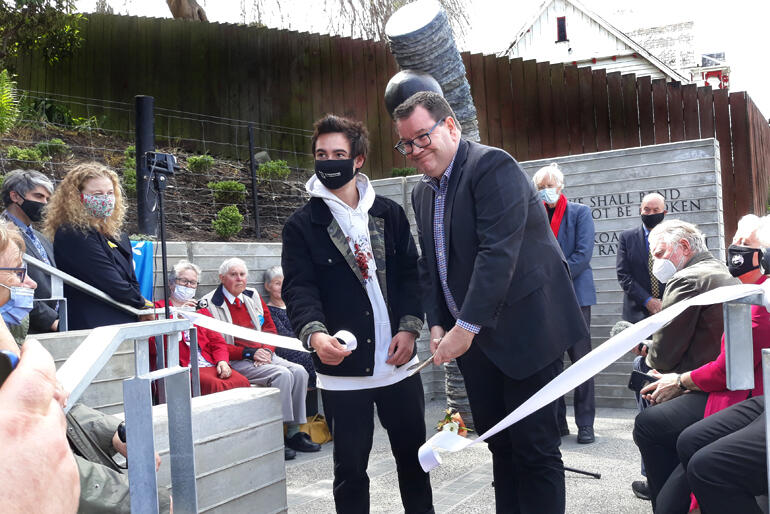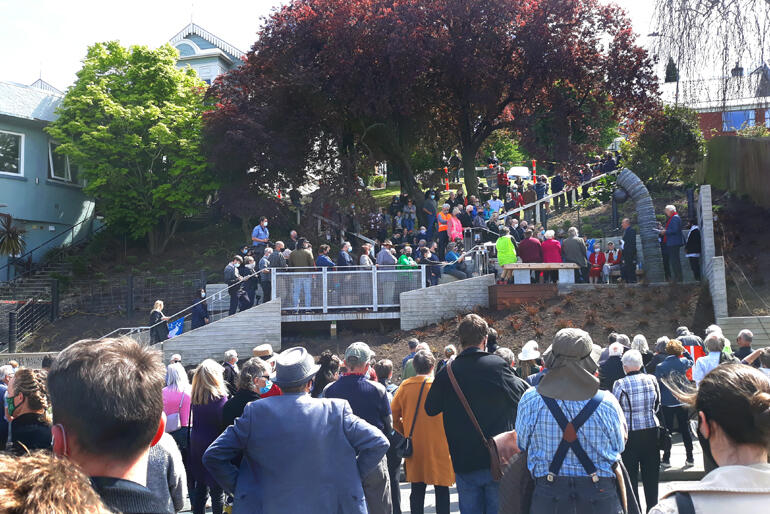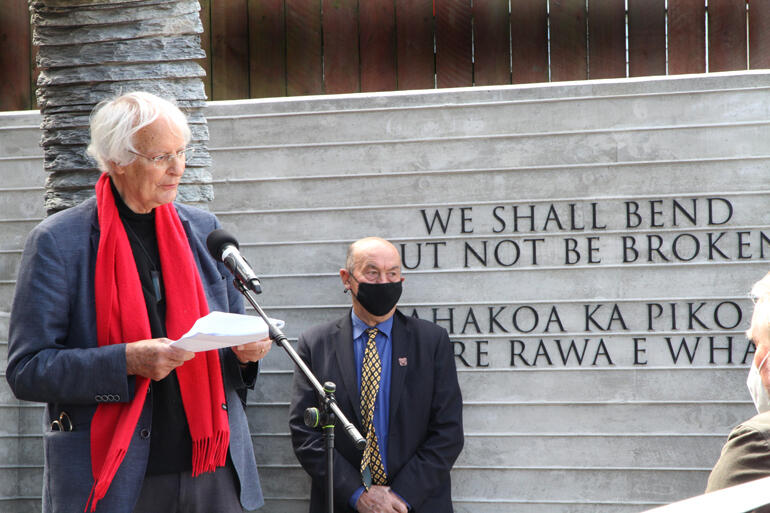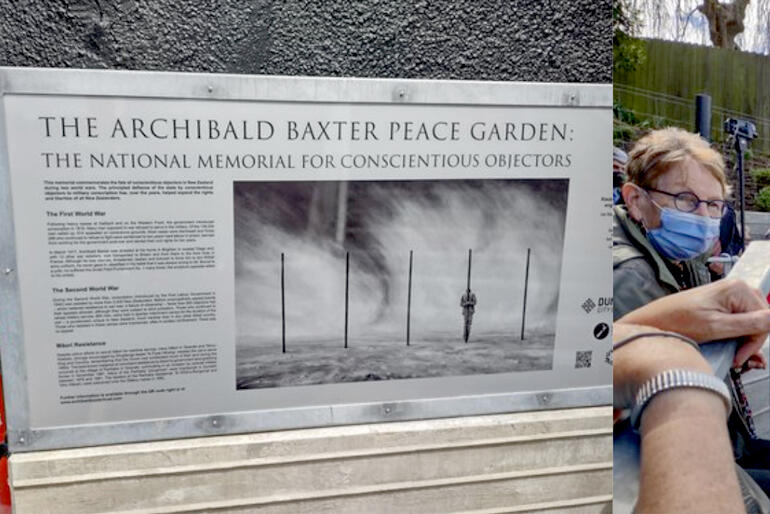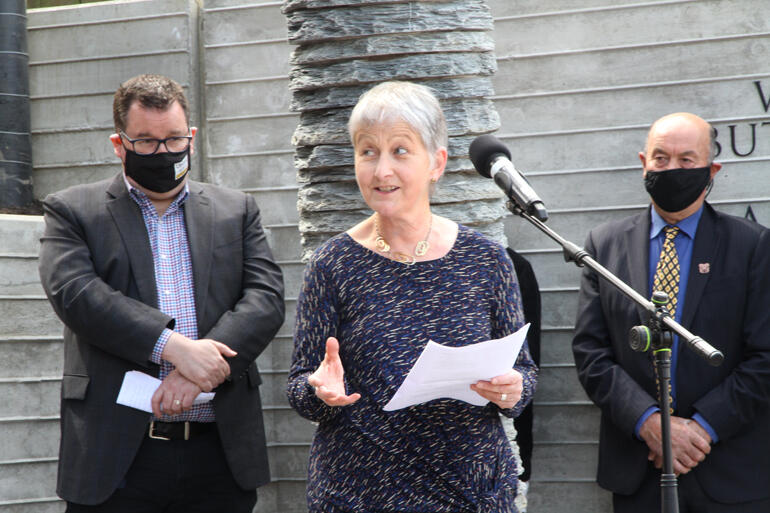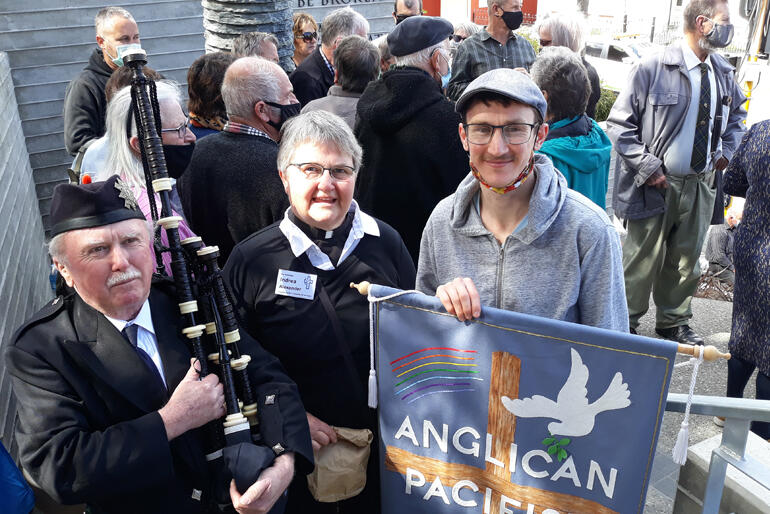 Archdeacon Indrea Alexander, Secretary of the Anglican Pacifist Fellowship in Aotearoa New Zealand, says it was an emotional moment for her and the many family members of conscientious objectors who were present at the opening of the Archibald Baxter Peace Garden in Dunedin on 29 October.
"For me it is wonderful that the courage of conscientious objectors is now being publicly acknowledged."
"It is an incredibly healing thing to have this memorial for people who have been marginalised by the glorification of war and military service for so long."
Indrea Alexander first joined the Anglican Pacifist Fellowship in her teens, where she got to know many WWII conscientious objectors, and heard firsthand their experiences of being silenced, imprisoned and excluded from employment, as well as facing widespread public disdain and abuse for their stand against conscription.
Emeritus Professor and founder of the National Centre for Peace and Conflict Studies at the University of Otago, Prof Kevin Clements spoke at the memorial opening as Chair of the Archibald Baxter Memorial Trust, which has worked towards its establishment over the last ten years.
Kevin told the outdoor crowd of around 300 (masked) supporters that the Archibald Baxter Peace Garden stands not in opposition to the hundreds of war memorials around the country, but in conversation with them.
"I want to draw your attention to the fact that when you look behind you up the hill, you'll see the solider's memorial on the (Otago) Peninsula."
"It's entirely appropriate that that's there – to acknowledge all those that lost their lives in war."
"And the soldier up there can look down here to a very different kind of memorial, a memorial to those who chose a different path, who had to have a different kind of courage to say no to war."
The Garden commemorates renowned New Zealand WWI conscientious objector Archibald Baxter, an Otago farm labourer who went on to become an author and lifelong peace activist.
The Peace Garden contains a stone sculpture by Shane Woolridge symbolising the tortuous practice Baxter suffered in Belgium, known as 'Field Punishment Number 1'. This was the excruciatingly painful practice that saw the conscientious objector tied to a pole on the front line, where he was left to hang exposed to crossfire for hours at a time.
When Archibald Baxter was first sent to the front, the New Zealand soldiers refused to drag him out to field punishment. Then later in Belgium, soldiers who saw it referred to Field Punishment Number 1 as 'crucifixion'.
Archibald Baxter was the amongst the four New Zealand objectors to be punished in this way in WWI, who formed the end of the line following the thousands that had initially resisted conscription. Earlier resisters were either exempted from service, persuaded to take up (sometimes non-combatant) military roles, or imprisoned in New Zealand.
These included men who rejected the call-up based on political, philosophical or (unauthorised) religious convictions.
Amongst the WWI objectors were hundreds of Māori objectors, particularly from Taranaki and Waikato, where men loyal to the Kingitanga rejected conscription. Also at this time, two Tūhoe men were killed by police while protecting the peace prophet Rua Kēnana from arrest for his preaching against military service.
In WWI, some Christian objectors were exempt by membership of recognised peace churches: notably Quakers, Christadelphians and Seventh-Day Adventists, while others such as Methodist or Anglican objectors couldn't count on automatic religious exemption.
Others not exempt were socialists, and Irish objectors – who like the Māori objectors – rejected the call to arms from the British Empire that had disenfranchised their people and used its army to suppress their resistance to colonial rule.
In mid-1917, Archibald Baxter became part of "The 14" a group of conscientious objectors chosen by the Government to go to the front as an example of how the state would retaliate against 'defaulters'.
Archibald Baxter was the final one of the 14 to stand his ground and refuse military service. The other thirteen all entered military service after deprivation or torture, or in the case of Mark Briggs, suffered such serious injury from his field punishment that he was sent home unfit for active service.
Archibald Baxter, who was a Christian socialist, converted to Roman Catholicism later in life, encouraged to do so by his son, the poet James K Baxter. Archibald Baxter continued to advocate for peace for the rest of his life, and published an autobiography of his experience as a conscientious objector titled, "We Will Not Cease."
On 29 October 2021, Deputy Prime Minister Grant Robertson was in Dunedin to open the Archibald Baxter Peace Garden. He began with a word to honour the fallen,
"The sacrifice, trauma, courage and loss of those who fought in war is acknowledged in memorials across New Zealand, and I acknowledge that again today."
"What we do today is to give full recognition, finally, to those whose courage (to resist war) also saw them experience trauma and hurt."
Grant Robertson also offered an apology for what Archibald Baxter and others had suffered at the hands of the state,
"This memorial's depiction of Field Punishment Number 1 is a stark reminder of the suffering of Archibald Baxter and other conscientious objectors."
"Today it would – and indeed should be – seen as a gross and inhumane form of state-sponsored torture."
"And for what it is worth, on behalf of a Government who in some way was part of that in our past, I want to say sorry. I want to say it was wrong."
Grant Robertson went on to speak on the value of recognising multiple strands of history, taking as an example his predecessor as MP for Wellington Central and as Deputy Prime Minister, Peter Fraser, who in WWI was imprisoned for publicly opposing conscription, and then later served in the WWII Government responsible for conscription.
"History is not a single story told in a linear narrative. It's the weaving together of our collective stories and memories, our principles and our passions, but also our contradictions and our compromises.
"And we have to tell all of our history."
As an Anglican pacifist, Archdeacon Alexander agreed that we need to tell the whole story, saying that a plan to commemorate land girls in south Canterbury was another example of widening the understanding of our country's history at war.
"I hope that events like ANZAC Day will become a commemoration for all suffered in any respect in the wars.
"All that happened needs to be acknowledged, not simply the story of one part of the community at the expense of another."
Prof Kevin Clements concluded the Baxter Peace Garden opening with the organisers' vision of a future where different views of how to bring about peace can remain alive in the public sphere.
"We want these two spaces to be in conversation with each other, so that together we can be thinking of ways in which we can be more creative in future, about how to build peace and maintain it."
Note: The NZ Minister of Defence during WWI who scrutinised the terms for what would be deemed genuine religious exemption, and who issued orders for the transport of "The 14" to the front in mid-1917, was Dunedin Anglican Sir James Allen, whose son John Hugh Allen was killed at Gallipoli in June 1915.
* Several speakers on October 29 connected the Baxter memorial with the peacemakers of Parihaka, who are honoured by the Rongo stone memorial at Otago Harbour that commemorates their peaceful resistance in Taranaki and ensures the city never forgets how the colonial Government imprisoned so many from Parihaka in Dunedin.