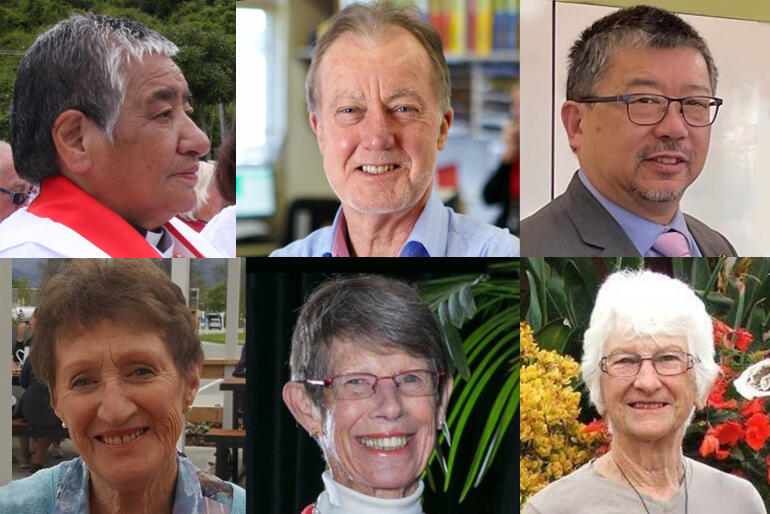 Seven people in Aotearoa New Zealand's New Year's Honours list have received awards that cite Anglican ministry as most or part of their contributions to community leadership and service.
Those seven are: Sir Chris Farrelly KNZM, Malcom Wong ONZM, Rev Canon Ihipera Waikare (Bella) Morrell QSM, Noeline Watson QSM, Hazel Georgantis QSM and Jillian Lord QSM.
Sir Chris Farrelly KNZM, Auckland
Sir Chris Farrelly was knighted in the 2022 New Year's Honours for his lifetime of humanitarian service, which most recently saw him serve five years as the Auckland City Missioner.
Current Auckland City Mission-Te Tāpui Atawhai Missioner Helen Robinson was delighted to hear the news of his honour.
"[Sir Chris's] leadership and lifelong commitment to helping society's most vulnerable people is truly inspiring."
Helen reported that Sir Chris's primary legacy at the Mission was the HomeGround project, a building complex due to open this year, that will house formerly homeless people and provide wrap-around support services for many Aucklanders in need.
"During Chris's time as Missioner, people were brought together in unity over HomeGround, designs were finalised, funds were raised and the long-held dream became a reality."
"He dreamed big and delivered on that dream."
Malcolm Wong ONZM, Dunedin
Malcolm Wong, a parishioner of St John's Roslyn Anglican Church in Dunedin, became an Officer of the New Zealand Order of Merit for his more than 20 years' service to the Community and New Zealand - China relations.
Malcolm has been Chair of the Dunedin Chinese Gardens Trust since 2008 and was previously Treasurer and Secretary between 1997 and 2008 and chaired the fundraising sub-committee. He also put many voluntary hours into the Dunedin-Shanghai sister city relationship including a decade as Chair of the Dunedin Shanghai Association.
Malcolm has served the community as a Trustee on the Lawrence Chinese Camp Trust and Anglican aged care facility, Leslie Groves Society of St John's Roslyn.
He is currently a ministerial appointee to the Chinese Poll Tax Heritage Trust, Otago University Council and Otago Community Trust.
Rev Canon Ihipera Waikare (Bella) Morrell QSM, Dunedin
Rev Canon Ihipera Waikare (Bella) Morrell received a Queen's Service Medal for her 60 years of service to Māori and the Dunedin community.
Canon Morrell was cited for her leadership in promoting and teaching Te Reo Māori, tikanga Māori including waiata and kapa haka as well as serving as a priest, kuia and cultural adviser for many community organisations. Rev Canon Bella Morrell helped found Arai Te Uru Māori culture club and Arai Te Uru marae in Wakari Dunedin, Ōtākou Māori Women's Welfare League and in 1970 founded the 'Pani Club' women's kapa haka group.
She served in Te Pīhopatanga o Te Waipounamu as a deacon (from 2002) and priest (from 2004), leading worship and serving communities' pastoral and spiritual needs through the Dunedin Māori Pastorate and hospital chaplaincies at Wakari and Dunedin Public Hospitals.
Responding to Canon Morrell's honour this week, Dunedin Hospital chaplain Rev Maureen Cribb was quick to tautoko the recognition for her work,
"She has been and still is the epitome of all that we aspire to be as strong, influential godly wahine. We are honoured to have her in our lives."
Hazel Georgantis QSM, Taupo
Hazel Georgantis was awarded a Queen's Service medal for a lifetime of voluntary community service which began with her service in pastoral ministry and community service as a vicar's wife in the 1950s.
Hazel's 2022 honour cites her community service as a volunteer hospital chaplain at Taupo Hospital since 2005, as a committee member and volunteer at Taupo InterChurch Welfare Opportunity Shop and her leadership in the arts (pottery) and work with children with disabilities, especially through the Taupo Creative Clay Group.
Vicar of St Andrew's Taupo, Rev Jenny Chalmers wholeheartedly endorsed Hazel for the honour,
"Hazel is a talented and humble person who gives generously of her time and talents. She can be absolutely relied on to give of her best, in any situation."
"As chaplain, she reassured many patients, worried and anxious by the uncertainty of their illness with her confident, yet unassuming presence."
"And she does it all quietly and without any fanfare."
Noeline Watson QSM, Cromwell
Anglican laywoman Noeline Watson, who is people's warden of Upper Clutha Anglican Parish was awarded a Queen's Service Medal for her more than 20 years' service to the Cromwell community.
Her citation included her work to organise and run social, housing and food support services for elderly people, including coordinating meals on wheels, and running the Trust behind the Cromwell Food Bank and Care and Friendship Days programme.
Noeline's contribution to Cromwell also included her volunteer service preserving Cromwell historic buildings and as voluntary parish secretary and lay preacher at St Andrew's Anglican Church in Cromwell.
Archdeacon of Central Otago Ven Damon Plimmer said Noeline has served her community across both secular and religious spheres and has an innate ability to enable others to shine.
"Noeline is a doer. She is a great advocate for those doing it hard, the vulnerable and the elderly, leading by example, and is never afraid to get her hands dirty.
"If anyone is deserving of recognition in this region it would be Noeline."
Janet Oakley QSM, Auckland
Janet Oakley (known as Jennie) received a Queen's Service Medal primarily for her volunteering work connected with the life and ministry of Holy Trinity Cathedral Auckland. Janet's QSM cites her service in volunteer administration and lay leadership at the Cathedral, welcoming and caring for international students, providing meals and transport for people in church and community.
Former Dean of Holy Trinity Cathedral, Rev Jo Kelly-Moore strongly supported Jennie's nomination from afar,
"Jennie is a true saint. She has served, and continues to serve, so many community groups – and has supported so many people in every community she has been part of."
Jennie's citation also included her 12 years' service on the Executive of the University of Auckland Alumni and 14 years voluntary service for the Friends of the Auckland Philharmonia.
Jillian Lord QSM, Christchurch
Jillian Lord, whose citation included her leadership in the Anglican Association of Women in Merivale, received a Queen's Service Medal for her 45 years of service to genealogical research through her leadership, international and national representation, archives, library and research support through the Family History Society of New Zealand. Jillian's honour also included a citation for her work in the Friends of the Court Theatre. (not pictured)
Also honoured in the New Year's Honours list, (while not cited for their Anglican involvement) were:
Monica Stockdale, known by many Anglicans in the Hawkes' Bay alongside her late husband Rev Tony Stockdale, Monica has been made an Officer of the New Zealand Order of Merit for her almost 40 years' service as a psychotherapist, addiction and mental health specialist, particularly for her work as a trailblazer in the sphere of Māori health.
Monica Stockdale created a new health service for gambling issues, Te Rangihaeta Oranga, and the Ngā Punawai Aroha specialist programme for Māori and Pacific people, as well as working with Awhina Whānau services for counselling, psychotherapy and group education for whānau.
Sir Jim Mann KNZM who worships at St Paul's Cathedral Dunedin, has been knighted for his national and international leadership in epidemiology over the last 34 years, specifically in the prevention of non-communicable diseases.
Prof Jim Mann's epidemiological and nutrition-related research, published in almost 400 scientific publications and 90 book chapters, has informed world-leading interventions in the fields of coronary heart disease and diabetes since 1988.