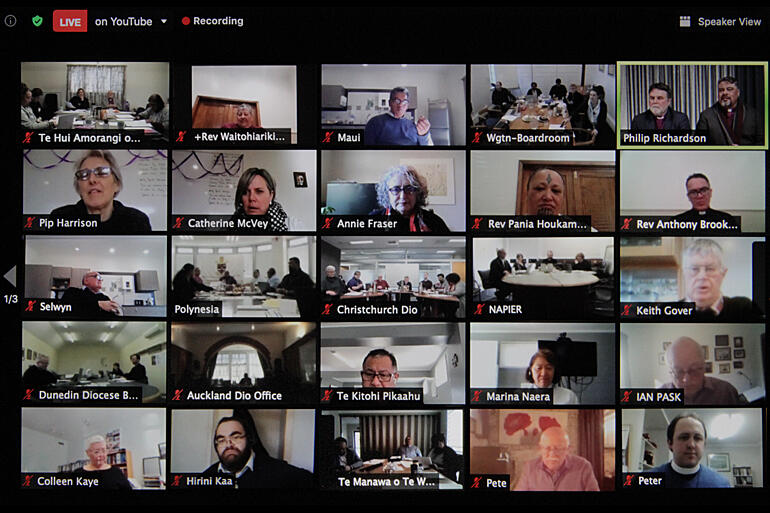 General Synod Te Hīnota Whānui spent the best part of its day-long virtual meeting on Saturday considering and then approving a Bill to reform "Title D," the Church's canons governing Ministry Standards.
Work on the reform predated the establishment of the Royal Commission of Inquiry into Abuse in Care, but its timing is appropriate.
The reform has been welcomed by Jacinda Thompson, a national Board member of SNAP Aotearoa - Survivors' Network of those Abused by Priests, Aotearoa.
She said the existing "Title D" had the potential to be a process that could cause further damage and told Te Hīnota she was saddened that the Church had found itself "behind the times" on its work to uphold ministry standards.
The 90-member Synod, which met from locations across Aotearoa, New Zealand and Polynesia by Zoom, approved the proposal on Saturday afternoon.
The newly reformed Title D now requires the Church to establish a Ministry Standards Commission that will oversee the Church's system for handling complaints and instructing bishops, Anglican bodies and institutions on disciplinary matters regarding people licensed to minister in this Church.
The new independent, Province-wide body will receive and investigate all complaints of misconduct, or failure to adhere to ministry standards by deacons, priests, bishops, church trustees, and all lay office holders that serve under licence to an authority in the Anglican Church in Aotearoa New Zealand, Fiji, Tonga, Samoa or American Samoa.
Title D as it stood before yesterday, already set out the standards of behaviour and personal holiness required of lay and ordained ministers of the Anglican Church in these islands.
These standards affirm that every person interacting with the Anglican Church is entitled to kindness and self-disciplined service from anyone delivering the Church's ministry as they offer spiritual nourishment, ensure honest dealings and provide professional pastoral care.
Title D also defines those actions that fail to meet the high standards of conduct Anglican lay and ordained ministers owe to those in their care.
These failures range from serious criminal offences, such as financial mismanagement or physical or sexual abuse, through to offences against the Church's own standards on issues such as inappropriate consensual adult sexual relationships, or failure to display behaviour conducive to good pastoral care.
Introducing the Bill on Title D reform to Synod yesterday, Archbishop Philip Richardson explained that the Bill's drafters – including Diocese of Christchurch Chancellor Jeremy Johnson, Diocese of Auckland Chancellor and Legal Adviser to the Primates Bruce Gray QC, and Diocese of Waikato-Taranaki Chancellor Judge Chris Harding – had worked tirelessly to research, draft, widely consult on and redraft the new canons and structures over the last three years.
Archbishop Don Tamihere said the legal advisers' detailed and exacting piece of work stands as a testament to the care that the Church is taking to guard and uphold its ministry standards.
"This legislation establishes processes that can better reflect the deep aroha and manaakitanga of our faith: providing for independent accountability, fairness, and just outcomes in spaces where this may not have been the case in the past."
Despite their legal complexity, Archbishop Philip said the new structures' aim was simple,
"The fundamental reason [we are making these changes] is because we want people to experience the Church as a place of love, of wholeness and of safety," he told Synod members.
Advising Synod as it considered the Bill, Bruce Gray said the new canons would help to hold the Church accountable for all whose ministry roles means they are "clothed with the authority of the church" and therefore must reflect the integrity of the Church in all that they do.
The Church's new systems for dealing with ministry standards issues were developed after listening to people who have experienced the process of seeking redress through the Church's existing Title D.
The drafting team have heard from Title D complainants and their legal advocates, lay and ordained Anglicans in ministry, church lawyers handling Title D complaints and garnered insights from best practice systems employed by other churches in this Province and beyond.
Jacinda Thompson, a survivor of clergy abuse and former Title D complainant, played a critical role at Synod, as she shared her comprehensive take on how the new Title D would provide survivors with a more consistent and reliable response when they come forward to the Church.
She discussed the benefits offered by the reforms.
"My experience has made it clear to me that Title D has the potential to be a helpful, healing process for complainants. But as it currently stands, it is also a process that can cause further damage.
"The number one driver for upholding ministry standards must be that the Church cares for all people and genuinely desires to keep them safe." she said.
"The Church should be the leader in society when it comes to this."
She echoed the Church's own legal advisers' assertion that to be credible, the Ministry Standards Commission must be independent.
As a result, the Ministry Standards Office outlined in the new Title D now not only removes the pressure of handling complaints from bishops, but also offers a professional third party to handle the complaints process, removing bishops from being called on to carry out both judicial and pastoral responsibilities for the same individuals.
Jacinda Thompson said placing bishops in that position could lead to bias, and even if bishops were able to act independently, perceived bias was enough to undermine the whole Ministry Standards system.
Without independence complainants would be afraid to use it, and people would not trust its findings.
Another quality of the new Ministry Standards Commission's work she believed would build public trust was its intentional aim of transparency. The new Commission will publish findings in cases where misconduct has been proven, unless publications would cause harm to any person or to other legal processes that are underway.
Under the new Title D, the Anglican Church in Aotearoa New Zealand and Polynesia has a maximum of six months to set up the Provincial Ministry Standards Commission and its Ministry Standards Office, both of which will be run by professionals with a range of expertise, tasked to provide a fair, robust and consistent system for investigating complaints across all ministries, institutions, ministry roles, trusts, tikanga and bishoprics of the three-Tikanga Church.
The General Synod Standing Committee will lead the process of establishing the two new Ministry Standards bodies before the close of January 2021.
The following minor amendments and organisational matters related to Bill I to reform Title D were discussed by Synod before it was passed:
– Nelson member of General Synod Te Hīnota Whānui, Ian Pask pointed out a lack of defined terms for the Ministry Standards Commission, which led to an amendment that appoints Ministry Standards Commission members for three-year terms with eligiblity for re-election after that period.
– Bishop of Christchurch Peter Carrell, Archdeacon of Auckland Carole Hughes and Pihopatanga o Te Tai Tokerau Synod member Anne Candy QSO all raised the issue of gender representation on the new Ministry Standards Commission, and especially the need to provide female contact people for complainants. The legal advisers confirmed that the new Ministry Standards Commission would fall under Standing Resolution 5, which requires the Anglican Church in Aotearoa, New Zealand and Polynesia "to give effect to … the Millennium Development Goal of equal representation of women and men in decision making at all levels..."
– Clause 25 of Canon II was split into two clauses 25 and 26 to clearly differentiate the concept of chastity (clause 25) from the crime of sexual abuse (clause 26).
– An additional clause was added to the canons under Schedule I Canon II, giving the Appeal Tribunal the power to give permission for a Special Appeal and direct how it should be handled, in the case where extraordinary evidence comes to light that was unable to be considered under a former hearing. (This power has recently been used in the New Zealand court system in the cases of Teina Pora and Peter Ellis.)
– The proposed Canon VII, which would have required Anglican institutions to add a new clause to all employment agreements to bring these employees under Title D, was withdrawn pending detailed work to establish what categories of the Title D statute would apply when employees were not involved in licensed ministry.